I absolutely love waterparks in Southern California, my wife…….not so much. Every summer it has been a tradition of mine to take off work on Friday and have "family fun day with dad" and take the munchkins on an adventure. Sometimes it's movies, sometimes trampoline parks, but my favorite thing to do in the summer is hit up the waterparks. Thus, here is a breakdown of the Best Waterparks in Southern California, cause I have been to them all.
My Personal Favorite Water Park in Southern California – Aquatica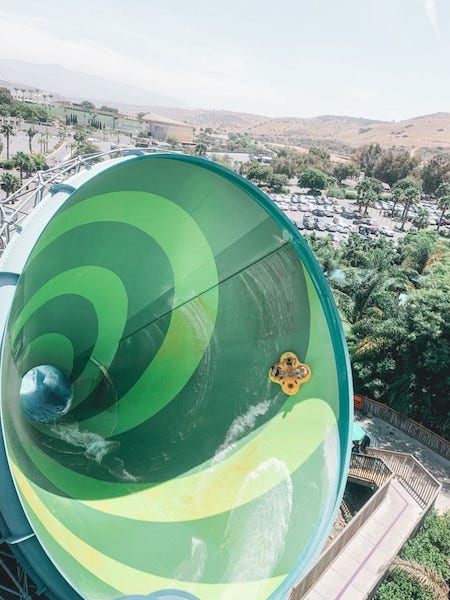 My personal favorite water park in Southern California is Aquatica. While, not the biggest water park it really has some amazing slides and, the grounds are kept immaculate. Located near San Diego, this waterpark has some incredible slides and a super fun wave pool.
---
The Best Waterslides at Aquatica
Tassie's Twister – A Family Funnel Slide with a 6-foot drop – Hit this ride first thing or in the morning or late in the day as the line gets super long.
Walhalla Wave – This 78-foot ride is for the whole family to enjoy as well. Not as fun as Tassie's Twister but still a blast!
Taumata Racer – This is by far, the best racing slide I have been on. Rather than just a straight shot, you twist and turn through the slide before heading down the final straightaway where you try to beat your friends and family…..(my kids just figured out that I always win cause I am the biggest)
While at Aquatica, you can also see some Flamingos turtles and other animals and there is a fun kids area for the little ones. I really love this park because it is just always kept so clean. Check Ticket Prices Here!
*Pro Tip – The Unlimited Quick Queue is pretty inexpensive compared to most waterparks (starting at $20 and it makes your day at the waterpark 100 times more fun! Check out my full review on Aquatica Quick Queue here)
The Biggest Variety of Water Slides – Raging Waters – San Dimas
Each year we head to where the 10 and 210 meet in San Dimas to Raging Waters because it is the biggest water park in Southern California. There are an incredible amount of slides, so if you are looking for bang for the buck, this is definitely your spot. My one downfall about raging waters is it is not as well kept as some of the other parks. I would say it's definitely towards the bottom, however, their slides do make up for it.
The best water slides at Raging Waters –
Aqua Rocket – The only water coaster in Southern California shoots you up and down and around in a two-4 person raft.
High Extreme – This is my personal favorite ride at the park. You head up a tower (it's good exercise) to race down a 600 ft. mat slide, You hit approximately speeds of up to 35 miles per hour. This ride is a ridiculous amount of fun.
Dark Hole – Dark Hole is a two-person raft that shoots you down a 500 ft. flume with drops as big as 52 feet. (The line for this ride does get long. So head here early)
Dragon's Den – This two-person bowl slide shoots two people down a 45-foot-drop through a fully enclosed flume and then you spin around a 35-foot bowl.
Pro Tip* These 4 rides tend to have the longest lines so hit them up first and then do the racing slides, drop out, wave pools and lazy rivers
Kid Areas –
Raging Waters also has the most amount of kid areas. You can take your little ones to
Volcano Fantasea– a giant volcano towering forty feet. Children and parents alike can climb through the volcano and glide down twisting slides to the water below
Splash Island Adventure – Five water slides, water cannons, web crawl tunnels, spiral cargo nets and swinging bridges. Splash Island's also has the classic 1,000-gallon bucket t tips hundreds of gallons of water over the whole attraction every few minutes.
Kid's Kingdom – 30,000 Square foot water play area with slides, waterfalls and a maze of tunnels
Fastpass – H2Go Pass
The H2Go Pass is Raging waters version of a fast pass. The way the pass works is a little odd to me. You pay $25 or $40 and it gives you a watch to use to get return times. With the $25.00 pass, you get a return time equal to the time of the current wait time. You can go on other slides as you wait and then return at the given time. The $40 premium pass does the same thing but cuts the wait in half. I wasn't a big fan of either package cause it only worked on 8 rides.
Aqua Rocket
Thunder Rapids
Raging Racer
Dark Hole
Dragon's Den
Dr. Von Dark's Tunnel of Terror
Neptune's Fury
High Extreme
Pro Tip * Do not put your shoes in the locker as the ground is very hot and you do not want to have throbbing feet like I did after a full day at the water park. Just leave your sandals at the beginning of the line as they all have a shoe bin.
The Only Indoor Water Park & Only Water Park open 365 Days a year! – Great Wolf Lodge Garden Grove!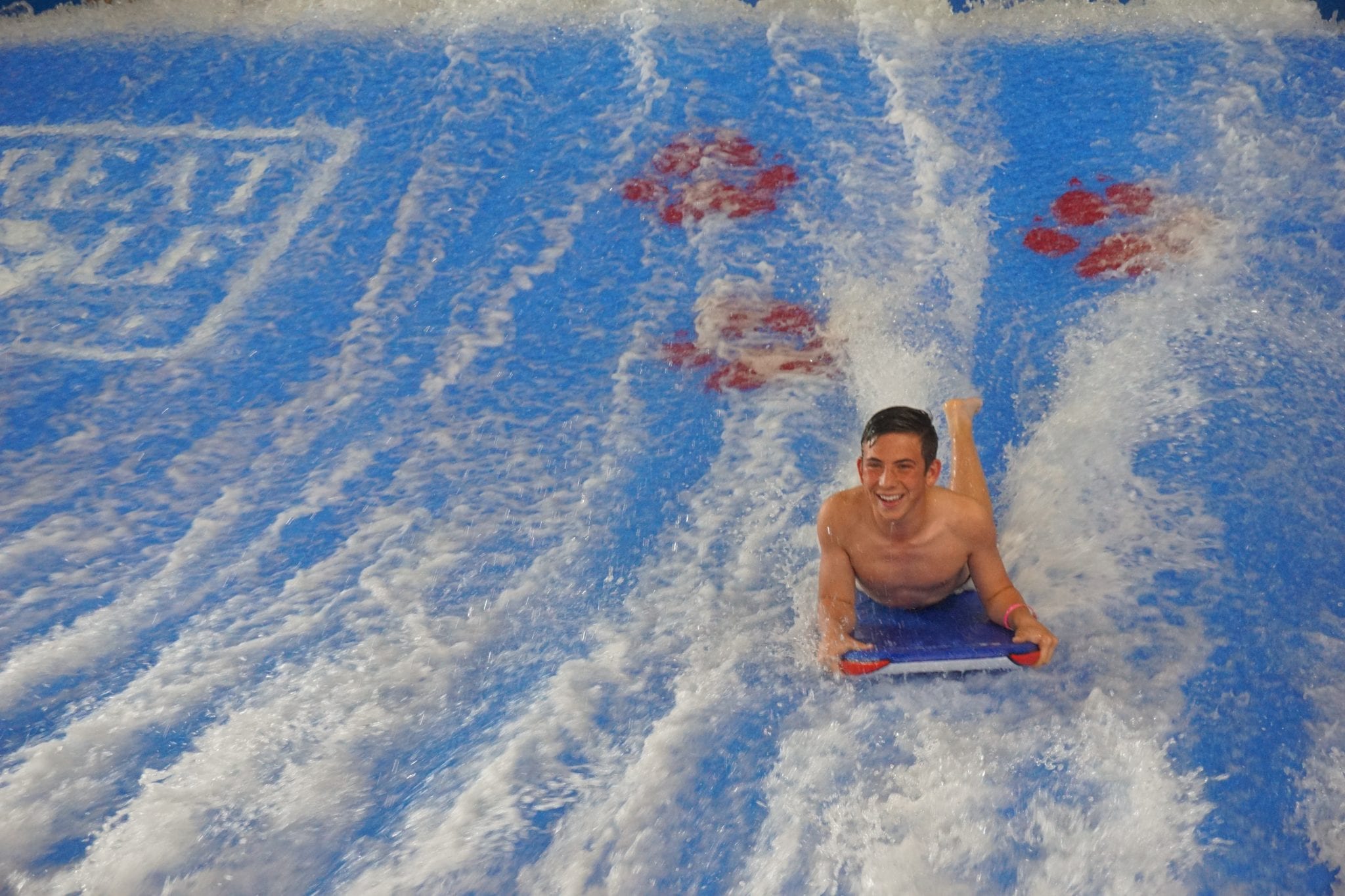 I absolutely love Great Wolf Lodge, (you can check out my wife's review here). The last two 4th of July's we hit up Great Wolf Lodge for the holiday. You might be thinking, Mike oyu are crazy, why would you want to go during a holiday weekend, well that is exactly when you want to go because Great Wolf Lodge only allows hotel guests to be in the water park, so it is never too packed.
Some of the best features of Great Wolf Lodge Water Park include:
Wolf Tail – Drop slide where you step into a vessel and you hear the sound of a heart-pounding as you wait for the floor to drop out from under you
Howlin Tornado – The ultimate family fun water slide which drops four people into a gian funnel that goes outside the waterpark and then whips you back inside.
Wolf Rider Wipeout – A flow Rider machine to practice your boogie boarding and surfing skills. Make sure your pants are on tight as my brother in law gave people a little show while he was boogie boarding
Chinook Cove – A Great Area where you can play basketball in the pool and also do rope climbs and lily pond jumps
Fort Mackenzie – This is an awesome area for the little ones, my three year old never wanted to leave the area as their are fun slides for kids, water cannons and of course the giant bucket
Pro Tips –
Sign up for Great Wolf's newsletter and if you book 180 days in advance you get 50% Off
Stay just one day and you get two days of water park fun as you can begin using the water park at 11 am on the day of check-in. The say 1 pm but we have always got in at 11 am
Free puddle jumpers & lifevests – There is no need to pack a lifevest for the little one as there a plethora of free ones.
Best Waterparks in Southern California for Little Ones – Legoland Water Park!
Legoland Waterpark is a great waterpark located in beautiful Carlsbad, California….(my wife keeps trying to convince me to move there) The one thing to note about the water park is you have to pay for an admission to the regular Legoland Park to get into the water park. Basically, the water park is considered an add-on to the existing park. (You might want to check out our article on discounted Legoland Tickets). I recommend buying a 2-day ticket so you can have time to enjoy both parks.
I love Legoland for the little ones is for a few reasons.
Tons of Lifeguards – Everywhere you turn there are multiple lifeguards ensuring your kids safety.
Tons of kids areas – The number of kids areas at Legoland is great so there is always something to keep your kiddo entertained
Lazy River – The lazy river is tons of fun for the little ones as their are giant soft Lego blocks floating throughout the river for the kids to play and build with
More Lego Areas – There are also other Lego areas where kids can create Lego vehicles and have them sail in some fun interactive areas
What about the older kids?
Legoland water park definitely does have some slides for the older kids and even a water ride, but if you only have big kids then I would head to nearby Aquatica or Knott's Soak City.
Amazing Southern California Water Parks with a theme park right next door.
If you want to hit up both a theme park and a Southern California water park, then the next two waterparks are right up your alley as you just walk a few steps from the water park and voila, you are at a theme park.
Knott's Soak City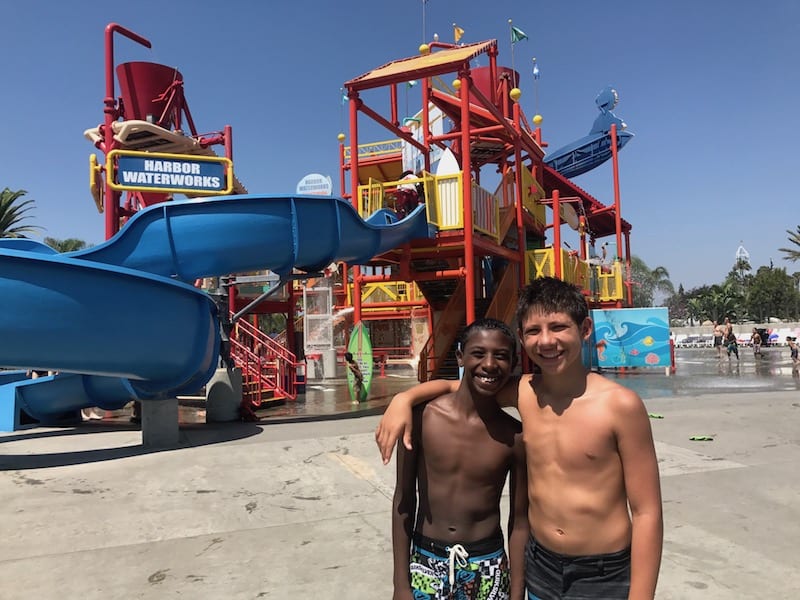 Located next door to Knott's Berry Farm is Knott's Soak City. They have a ton of waterslides, they even just added a whole new area with a bunch of drop slides that I absolutely loved.
They also have a great lazy river that is super long to take you throughout the park, plus some super fun family water slides (Please note the family slides have the longest wait, so head to those first).
Best Rides at Knott's Soak City
Shore Break
Malibu Run
Old Man Falls
Pacific Spin
The one downside to Knott's Soak City is the wave pool, it is small and often very crowded.
Check Discounted Ticket Prices Here!
Six Flags Hurricane Harbor
Just outside Los Angeles in Valencia, Ca. is Six Flags Hurricane Harbor. Right next to Hurricane harbor is Six Flags Magic Mountain which has some of the most intense rides. Hurricane Harbor has some pretty intense water rides as well but also a great kids area.
Best Rides at Hurricane Harbor
Black Snake Summit
Bonzai Pipelines
Castaway Cove
Lightning Falls
Lost Temple Rapids
Overall, Southern California has some of the best waterparks around. There are many great waterparks in Southern California, the tough part is deciding which one to go to. In my opinion, if you love rides, hit up Raging Waters. If you hate lines visit Great Wolf Lodge, and overall I still love Aquatica the best.
Waterparks in Southern California Map
You Might Also Enjoy:
Top 20 Super Amazing Things to Do in Palm Springs with Kids!
Top 10 Amazing Things To Do in Anaheim beyond Disneyland
Pin for Later – The Best Waterparks in Southern California – A Complete Guide