Back in January, I traveled to Savannah, Georgia with 60+ extended family members for my cousin's wedding! I wrote all about our experience, including our favorite spots, for Alamo's Scenic Route blog here.
This wasn't the first time we traveled as a group. Truth is, when you are traveling with an immediate family of seven you are pretty much considered a group no matter where you go! But we travel with our extended family a few times a year and have learned a few strategies that help make group travels fun for everyone.
Thinking about planning a group trip in the future? I recommend you check out Savannah, Georgia. It's no secret that Savannah has become a well-known vacation destination over the past few years.
You might be surprised to find that Savannah is great for families, offering activities for children of all ages. Some of our favorite activities included strolling through Forsyth Park, shopping and dining on Broughton Street, and touring the Savannah River. TIP: Check out my article for Alamo's Scenic Route blog here to learn about the free ferry that takes you across the river.
Things to Do in Savannah
Take a Stroll Through Forsyth Park
Before we left for our trip, we all voiced things we hoped to do and places we wanted to see which I think is a very important step when planning a group trip. One thing that everyone agreed on was visiting Forsyth Park. Forsyth Park is the largest of Savannah's many green spaces and offers a great place for families to enjoy, free of charge. Located in the center of the southern part of the Historic District, it is easy to access by vehicle and offers ample parking. Groups will love the variety of activities within Forsyth Park.
Young children will enjoy the park's playground with slides and swings perfect for burning off energy before a meal. While adults check out the various historic monuments and sculptures peppered throughout the park. A picturesque fountain marks the center of the park and is a great way to cool off after snapping a family photo. Be sure to check out the many cafes and restaurants that line the eastern and southern perimeter for some refreshments after your visit. Local 11 Ten is a restaurant with a great rooftop bar known as The Perch, which offers excellent views and comfy seating and Brighter Day Natural Market is a great place for a grab-and-go smoothie or sandwich.
Shop and Dine on Broughton Street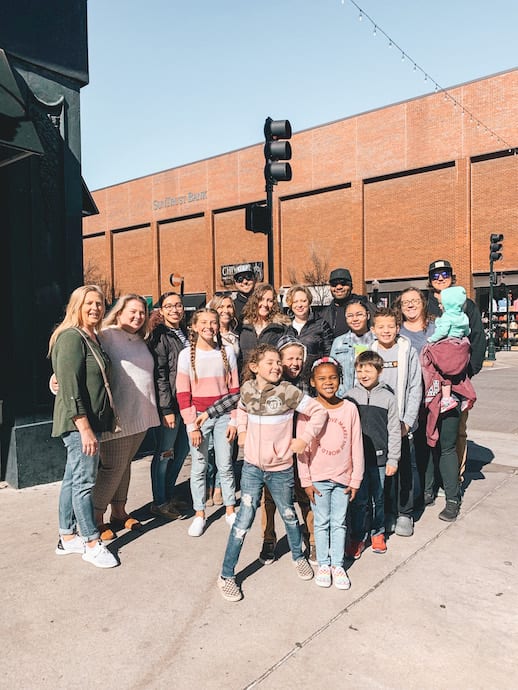 Broughton Street is one of those streets where there is something for everyone. When it comes to shopping, there is a wide variety of local artisan shops with unique offerings to enjoy. We found the most adorable French coffee shop called Paris Market which served homemade macarons and had the most adorable interior decor.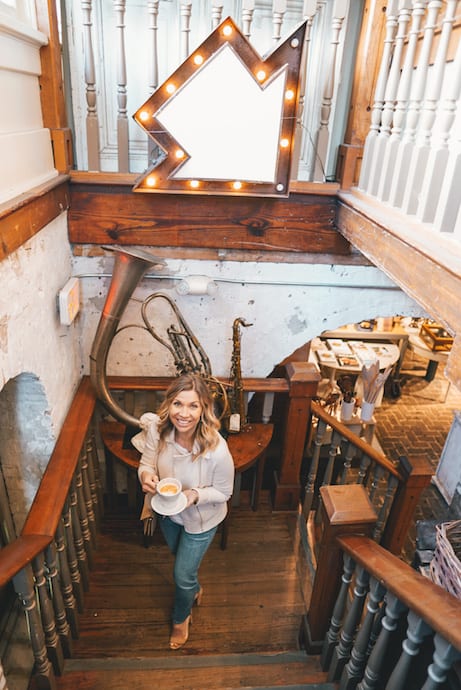 When it comes to dining, you can find a variety of options all across Savannah (including a venue completely devoted to biscuits). Our group divided and conquered when it came to food, with half the party enjoying southern BBQ at the Savannah Taphouse and others, including myself, finding a delicious vegan eatery called Kayak Kafé. It is important to not feel obligated to stay together the entire length of the trip. We often split up on activities that appeal to different people in the group and then meet up to share our experiences later.
Touring the Savannah River
There are two great ways to explore the Savannah River, which is in many ways the lifeblood of the city.
Savannah Riverboat offers a family-friendly sightseeing tour on weekends. The tour is on the Georgia Queen, a paddleboat steamer replica, and leaves the heart of the Historic District to travel down the eastern lengths of the river. It provides great views of the skyline (be sure to snap pictures in front of Fort Jackson) and appeals to the whole family. Discounts are available for children under 12, and children 4 and under are free.
Map of Things to Do in Savannah
Frequently Asked Questions on Things to Do in Savannah
When is the best time to visit Savannah?
The best time to visit Savannah is between March to July, when the weather is warm and there are plenty of things to do and see around the town.
What to do in Savannah with kids?
Hop on an Old Town Trolley Tour
Stroll Through City Market
Drive Through Bonaventure Cemetery
Take a Riverboat Tour
Visit the Ships of the Sea Maritime Museum
Walk Through Cathedral
Have Lunch or Sunday Brunch in Gryphon Tea Room
Don't forget to check out Alamo's Scenic Route Blog here for more family-fun travel ideas.
You may also like these articles-