So, with 5 kids currently homeschooling I needed to find a place where I could get my work done. I initially thought I did not need a home office remodel and could work in our outdoor area. But with the temperature hitting 115 (yes, 115) even underneath my patio cover was unbearable.
Since I found myself working from our kitchen counter, I decided it was to create a home office space where mama could get her work done. It was time for a serious home office makeover.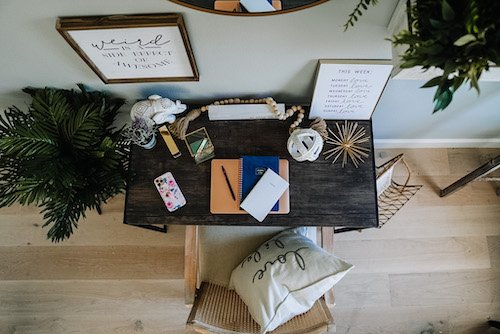 Custom Home Office
Our first step was we invited Closet World and California Closets to do some quotes on our home office remodel. I really loved the California Closets design, the quality, and pretty much everything about the product. My husband was not a fan of the price, as it was about $4,000 -$5,000 to set up the office setup I wanted. Since we just spent way too much on our kitchen remodel (it's worth it though), he said he would put together an office space for me for less than $500 that I would love. I had my doubts.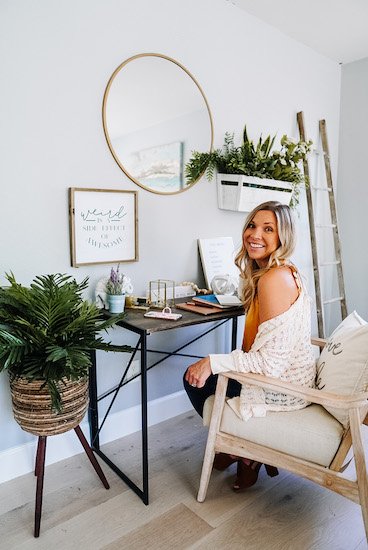 Our $500 Office Remodel –
The Desk
The first step was the desk, I initally wanted a desk with drawers and he scoffed at the idea. He said "have you seen the drawers in our house, they are filled with junk, and a office desk will just be filled with papers you never look at." This was my reaction ?, but I went along.
So, he ordered a desk from Amazon for $105. It seemed fine, but he insisted to trust him
Wall & Floor Decor
The next step was the wall decor. I told my husband I was obsessed with the She Shed from my friend Cotton Stem, so he took a little inspiration from her look to create my office.
First stop, Hobby Lobby – There he and my daughter (she is definitely the designer in the fam) found tons of adorable items for my new home office.
Here is the full list of wall decor for my office and where to grab it:
Wall Decor Total Price – $247
Desk Accessories
Part of a home office remodel is finding fun desk accessories. For my desk accessories, Mike and Ella picked up several adorable items to make my desk complete and add some personal touches. My personal favorite is the elephant, it reminds me of our trip to Bali. I also swung by Staples to pick up some functional but still stylish office accessories.
Total Price for Desk Accessories – $76
Desk Chair
Lastly, we had to find a nice chair to work in and only $72 in the budget. I wanted something that would be functional and comfortable. Here is where I broke the bank on our $500 budget. I found this incredibly cute desk chair from Target and decided to splurge. I did not want a stand office chair with wheels, I wanted one which was aesthetically pleasing and comfortable.
Chelmsford Camel Chair – $280.00
Well, if we didn't splurge on the chair, we would have done our home office model in under $500, but I think $700.00 is a pretty decent job for my new home office.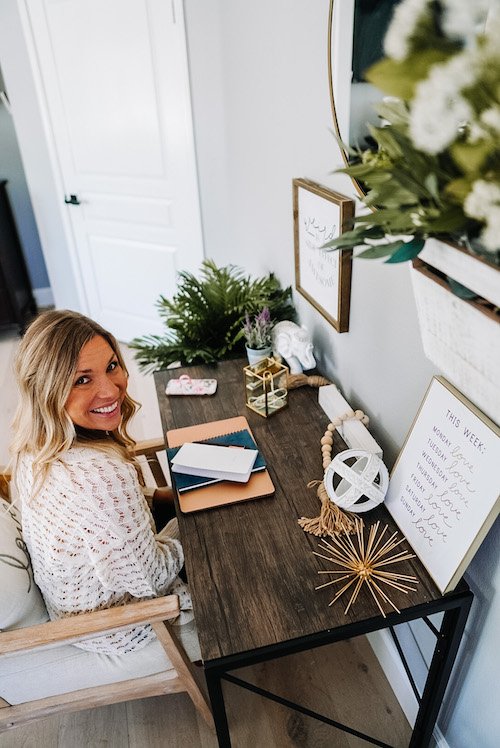 You Might Also Enjoy:
How to Choose the right flooring for your home?
How to Create Resort Style Living
Pin for Later: How to Create a Chic Home Office Remodel for Under $500