You have probably seen the iconic Sandals Resorts commercials on TV, but what are they really about and what's it like to stay there? The Sandals properties vary greatly in the experiences they offer, from adult-only to family-friendly, so it's important to look into each location when considering booking.
Below we have broken down the Best Sandals Resorts by different categories to help you decide which Sandals resort is best for your next vacation!
---
Best Sandals Resorts – The All-Inclusive Promise
It is no surprise Sandals Resorts ranked consistently as some of the best all-inclusive resorts across the world over the last decade. They include most of your activities, food, and drinks which makes your vacation effortless. They even often have private beaches just for guests!
Basically, you never have to leave the resort grounds to have the vacation of your dreams.
---
Nestled in between majestic mountains and the stunning ocean makes Halcyon Beach a truly romantic spot. In my book, it would be the best sandals resort for honeymoon-ing.
Whether you want to learn to dance together or take on the challenge of becoming a scuba diving duo, you can find your perfect adventure here.
For an additional fee, you can arrange a delicious dinner right on the beach or in the beautiful gardens. Better yet, never leave the room and dinner can be brought right to your private terrace. Check Prices Here!
---
Sometimes the most romantic destination is the one that offers an intimate setting with old world charm which is exactly what the Royal Plantation location offers. There's just 74 ocean-view suites, each with butler service.
You also get access to other Sandals resorts nearby, like Ochi Beach Resort, giving you the best of both worlds with your loved one. You definitely will want to add the Royal Plantation to your list of best Sandals Resorts to visit. Check Prices Here!
---
This resort makes our Best Sandals Resorts list because it is the ideal honeymoon vacation. Sandals South Coast has a fantastic pool and lovely, isolated beach. Visit a forgotten part of Jamaica to experience its breathtaking natural beauty.
This is a massive resort and is set against an incredible setting of blue mountains, lush palm groves, unspoiled coastlines, and beautiful turquoise waters within a 500-acre wildlife preserve.
The polished elegance of Europe and the exotic attraction of the Caribbean are expertly merged in Sandals Whitehouse Europe Village & Spa. The restaurants are some of the best the dining options any of the Sandals resorts has to offer.
---
Ochi Rios is a pinnacle of beauty in Jamaica with both lush rolling hills and white sand beaches. It's about as dreamy as a getaway destination can get, so it is no wonder it's consistently one of the highest rated Sandals Resorts.
The Sandals Ochi Beach Resort highlights the beauty of the area perfectly with their couples-only inclusive experiences.
There's plenty of opportunity for privacy, but tons of opportunities to socialize in trendy restaurants and bars. In fact, the first speakeasy in Jamaica is on the resort.
The reviews on the resort rant and rave about how amazing the service made their vacation. This is because the resort staff is constantly going above and beyond to make every couple's stay uniquely special.
Another highlight in many reviews is how fun the pool, swim up bar, and pool activities are and how they get everyone involved. Check Prices Here!
---

When you think of the Sandals Resort commercials, it's probably the Royal Bahamian Spa Resort that comes to mind. Everything is bright and open.
There are even large regal white columns surrounding the pool area, to assure you feel like you're living in luxury.
In fact, before Sandals took over and made it theirs the resort was a retreat for British royals. No wonder if frequently tops the list of Sandals rankings. The entry lobby still displays the ceiling details and chandeliers of the time.
Don't worry there's plenty of adventure to be found here too. From their seven pools to their complementary kayaking and scuba gear, this place is a dream.
Did we mention this resort also has its own private island to visit with 2 beaches, a lagoon, and a yummy restaurant? Yeah, goals.
---

LaSource Grenada is one of the newest Sandals additions and the only one in the exotic tropical location of Grenada. They offer high in the sky suites with infinity pools, the first Sandals steakhouse, and tons of entertainment from day until night.
It is located on Pink Gin Beach which offers great snorkeling with guests claiming to see tons of beautiful fish, eel, and even octopus.
Guests also state this resort is very quiet and one of the most relaxing Sandals Resorts. Check Prices Here!
---

There are many special things about this resort, but if you're looking to have your wedding at a Sandals Resort the Grande St. Lucian's overwater wedding chapel is something special and can seat up to 15 guests or 20 standing guests.
Like much of the resort, it offers beautiful panoramic views of Rodney Bay. Wedding or not, the over-the-water bungalow suites are worth checking into.
They each feature of spa tub for 2, a sun deck with a swim-up platform, and modern luxury decor and architecture. Best of all… They have an overwater hammock! Just imagine the best vacation naps ever.
You'll be sad to ever leave this beautiful resort. That's what everyone unanimously agrees is the worst part of staying here. Check Prices Here!
---
Laying on a private white sand beach in Jamaica, you will find Sandals Montego Bay. This resort is chic yet casual, making it a wonderful place to kick back and relax on a romantic getaway.
It has recently been redone, making it feel like a brand new resort with a more modern feel than ever before. They also have a new open-air lobby and have added additional restaurants.
If you are looking for ultimate luxury, be sure to check out their new swim-up suites. Check prices here!
---
For couples who love golf and tennis, there is no better choice than Sandals Emerald Bay. The signature golf course on the property was designed with 6 oceanside holes, so you can experience a game of golf with some of the most spectacular views in Exuma. That would be one way for my husband to get me out on the course!
Aside from golf and tennis, this resort is absolutely gorgeous and will have you feeling like you are in a tropical paradise deep within a tropical forest. Check prices here!
Overall Best Sandals Resort 2023!
Our vote for the best Sandals Resort is….. Sandals Grande Antigua Resort and Spa.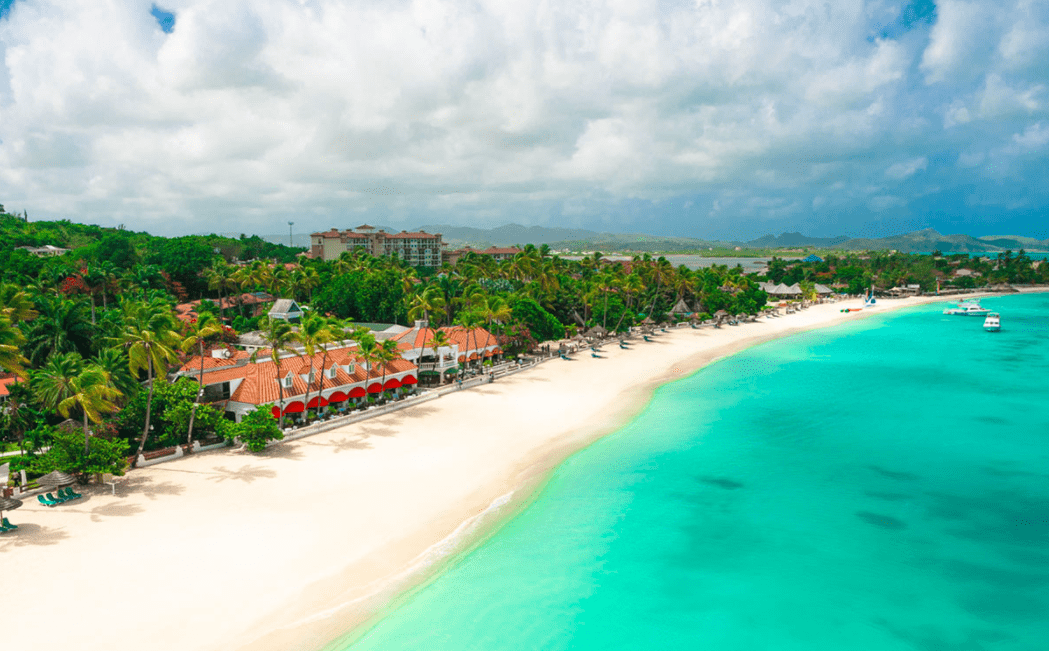 You're probably wondering how we decided which Sandals Resort is the best considering they are all so incredible! First of all, this is widely considered the most romantic resort in the world.
So, as you can imagine this place is pretty magical from the garden oasis with meandering pathways to the silky white sands.
The resort is a quick 15 minutes from the airport which is a big bonus. It's even home to the beautiful Dickenson Bay, which is the longest white sand beach in Antigua. The Rondoval suite options offer their own private plunge pools and make you feel like you're among a hidden garden.
---
Best Sandals Resorts Honorable Mentions
It was hard to whittle down our list to 10, so we included some honorable mentions below for you to consider.
The Sandals Royal Barbados
One of the best features of Sandals resorts is the rooftop pools. The Sandals Royal Barbados, for example, boasts stunning rooftop infinity pools that offer breathtaking views of the Caribbean Sea. This is a great spot for moms to relax and unwind while taking in the stunning views.
Sandals Golf & Country Club
If you're an avid golfer, the Sandals Golf Country Club is a must-visit destination. Located in Ocho Rios, Jamaica, this course is a golfer's paradise with stunning views and challenging holes. The club also offers professional golf lessons for those looking to improve their game.
Sandals Regency La Toc
Another Sandals resort that moms will love is the Sandals Regency La Toc in St. Lucia. This resort is situated on a stunning beachfront location and features luxurious accommodations and top-notch amenities. With a range of activities and dining options available, there's something for everyone at this resort.
Sandals Royal Curacao
For those seeking a truly unique experience, the Sandals Royal Curacao is a top pick. This resort is located on the island of Curacao and features luxurious accommodations, world-class dining options, and stunning views of the Caribbean Sea. Moms will love the resort's water sports activities, which include kayaking, snorkeling, and scuba diving.
---
Here are the 3 incredible Beaches Resorts for Families!
Let's look at family style! The Sandals Resort company has expanded their brand to include some incredible family-friendly options with their Beaches Resorts. You will find these Beaches Sandals Resort locations in Turks & Caicos and Jamaica.
This resort is expansive and so is its list of thrilling activities. One of the coolest things is that it has 4 villages distinctly modeled after different regions transporting you to different places throughout your vacation; the Caribbean, France, Key West, and Italy.
Their Pirate's Island Waterpark is also a special highlight and makes this resort a great spot for your littlest to your oldest.
The activity camps are great and the staff is amazing with kids, so you will get some peace and relaxation too. Check Prices Here!

Beaches Negril is a little different than most Sandals Resorts because rather than the typical luxury resort vibe, this place will have your family feeling like you've been transported into a lush secretive sanctuary. It's a little bit smaller meaning your family can explore every corner of the resort in just a week and will be in close walking distance to every attraction.
The jerk chicken is to die for here according to many guests, so you have got to make sure you try it out. Check Prices for Sandals Negril Here!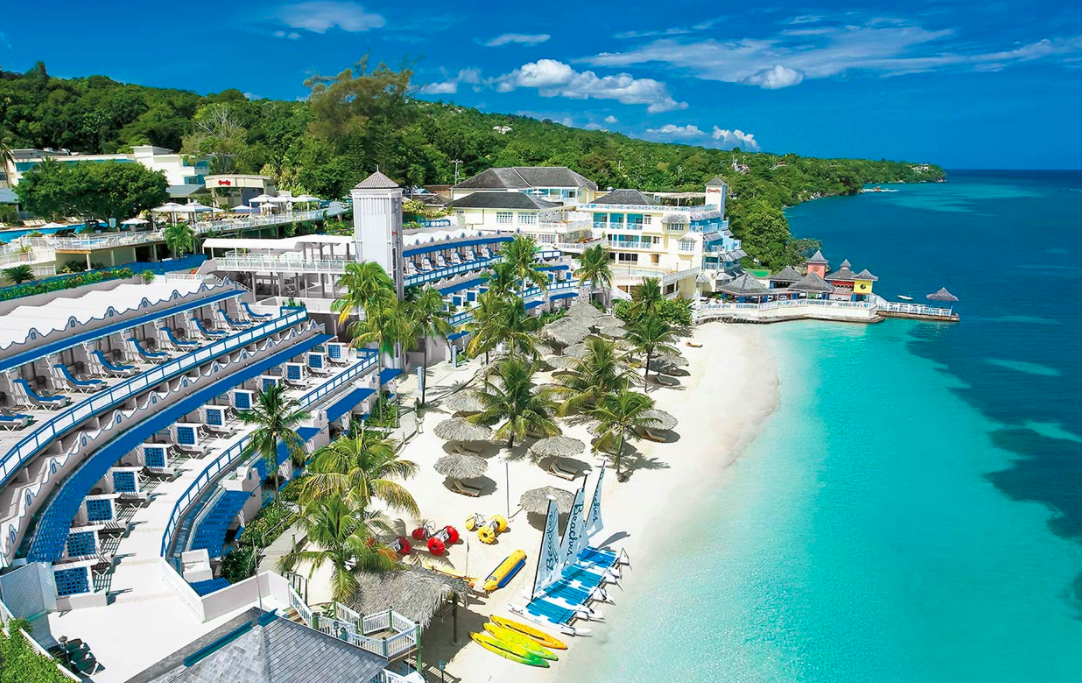 I would say this is the best Sandals Resort in Jamaica. This paradise was included in the top 10 Best Beach Resorts by Parents Magazine, so you can take comfort in knowing it's got the stamp of approval from tons of moms and dads.
It's pretty easy to see why when considering their bright blue beaches, 3 pools, an awesome water park, kids clubs, and game room. They also have a pool to learn scuba diving and a DJ school.
Our kids loved their DJ experience in Cancun and I have no doubt this one offers a comparable super cool experience. One thing is guaranteed, no one will be bored on this trip and your kids will be thanking you for a long time. Check Prices Here!
Romance is what Sandals Resorts are all about from the private dreamy rooms to the poolside relaxation and even the adventurous excursions that will give you memories for a lifetime. We've decided on the two most romantic of them all.
---
What is the best Sandals Resorts ever? Well, that is for you to decide! Let us know your favorite in the comments.
---
Frequently Asked Questions about the Best Sandals Resorts
What are the best all-inclusive Sandals Resorts for Families?
Hyatt Ziva Cap Cana, Dominican Republic
Bluefields Bay Villas, Jamaica
Beaches Turks & Caicos, Turks and Caicos
C Lazy U Ranch, Colorado
Coconut Bay Beach Resort & Spa, St. Lucia
Woodloch Pines Resort, Pennsylvania
Paradisus Playa del Carmen La Esmeralda, Mexico
What are the best all-inclusive Sandals Resorts for Adults?
Sandals Grenada
Sandals Ochi, Jamaica
Sandals Royal Plantation, Jamaica
Sandals Grande St. Lucian
Sandals Grande Antigua
Sandals Royal Barbados
Sandals Emerald Bay, Bahamas
Sandals Royal Bahamian
Are drinks included at Sandals Resorts?
At Sandals Resorts, all drinks are included and unlimited! All alcoholic beverages and soft drinks are always on the house and available 24/7.
---
If you enjoyed our article about the best Sandals Resorts, you might also enjoy:
Beach Vacation Packing List + FREE Printable
3 Reasons Falmouth Jamaica Excursions Rock!
Turks & Caicos Family Vacation!
Pin-It: Best Sandals Resorts! A look at the leader in All-Inclusive Resorts