As a mom, I can tell you that Tennessee may not be the first place that comes to mind when thinking of beaches, but the state actually has some fantastic options. From the Great Smoky Mountains to the Clinch Mountains, and from Douglas Lake to Paris Landing State Park, Tennessee offers plenty of opportunities for fun in the sun.
Despite the fact that Tennessee is technically a landlocked state, there are still plenty of Tennessee beaches thanks to the gorgeous lakes sprinkled across the region.
If you're heading to Tennessee, definitely hit up Knoxville, Chattanooga and of course Nashville, but if you want to enjoy some time by the water, make sure to check out this list of the best beaches in Tennessee!
You can enjoy the usual beach activities, such as boating, swimming, fishing, and kayaking. Plus, since the majority of these lakes are adjacent to state parks, you can enjoy camping, hiking, and biking as well.
---
Check Out the Best Beaches in Tennessee
Tennessee may not be known for its beaches, but that doesn't mean they don't exist. In fact, the state is home to several great options for those looking to enjoy some sun and sand.
Beach trips are amazing in Tennessee, all you have to do is pack up the right beach gear, and you are set for a pretty incredible day.
---
Big Ridge Lake
Big Ridge Lake opens its sandy beach to visitors each summer. Families who go there can enjoy many exciting activities in the area, including beach volleyball, basketball, tennis, softball, and more!
If you want to camp for a night or two, there are more than 50 campsites and 20 cabins. There is tons of room to swim and plenty of open tables for a nice family picnic.
Big Ridge Lake is a small lake located in the Big Ridge State Park in Union County, Tennessee. The lake is surrounded by lush forest and rolling hills, making it a picturesque spot for swimming, fishing, and boating. We highly suggest adding Big Ridge Lake to your list of Tennessee beaches to visit!
---
Cordell Hull Lake
Cordell Hull Lake is a large reservoir located in the Upper Cumberland region of Tennessee. The lake is named after Cordell Hull, who served as the Secretary of State under President Franklin D. Roosevelt and is known for his role in the establishment of the United Nations.
Cordell Hull Lake was built by the U.S. Army Corps of Engineers and offers plenty of fun activities for families!
There are plenty of recreational opportunities at this beach, including boating, fishing, picnicking, and more.
For those who want to camp a night or two, make sure to check out the two adjacent campgrounds, which have over 150 sites in total.
---
Cherokee Lake
Cherokee Lake is a large reservoir located in East Tennessee, and it spans across parts of Jefferson, Grainger, and Hawkins counties. The lake was created by the construction of the Cherokee Dam on the Holston River, and it offers a wide range of recreational activities for visitors.
Cherokee Lake is one of the most popular spots for bass fishing in the area. Surrounded by gorgeous hills and farmland, it is a great beach for campers, fishermen, and paddlers alike. There are several boat docks and picnic areas, as well as campgrounds for those who want to stay.
There are plenty of events that go on near Cherokee Lake, including fireworks shows and parties, so make sure to check their local calendar. This place is truly gorgeous and one of our favorite Tennessee Beaches!
---
Cheatham Lake
Cheatham Lake made our list of best beaches in Tennessee! It is a man-made lake located in the Cheatham Dam, in Ashland City, Tennessee. It is a part of the U.S. Army Corps of Engineers Nashville District, and it is known for its recreational activities and natural beauty.
The lake offers a wide range of outdoor activities such as boating, fishing, swimming, and camping, as well as hiking and picnicking opportunities.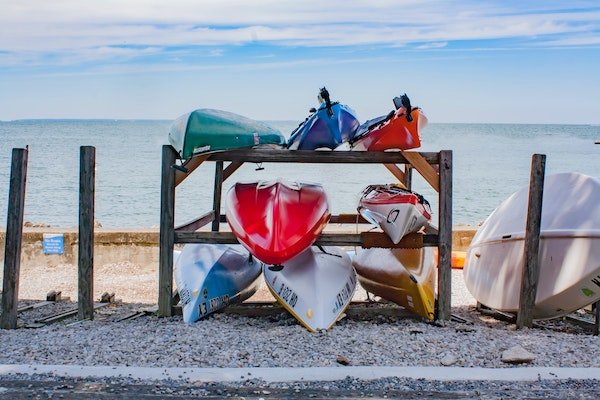 Cheatham Lake has more than 320 miles of shoreline for families to enjoy. The beach has 18 boat ramps, 14 playgrounds, and two marinas. This location is wonderfully kid-friendly and great for water activities, such as kayaking, wakeboarding, and water skiing.
The lake is stocked with fish such as bass, catfish, and crappie, making it a great spot for anglers. There are several campgrounds, boat launches, fishing piers and hiking trails around the lake that provide access to the lake and the natural beauty of the area.
---
Center Hill Lake
Center Hill Lake is the product of the Colins River and the Caney Fork River. With 400 miles of shoreline, three historic structures, and two scenic waterfalls, there are many things to behold at this gorgeous beach. The Caney Fork River is great for fishing, boating, kayaking, and hiking, which Center Hill Lake has a wonderful layout for swimming and fishing. There are also two campgrounds with 60 campsites and ten cabins.
---
Chickamauga Lake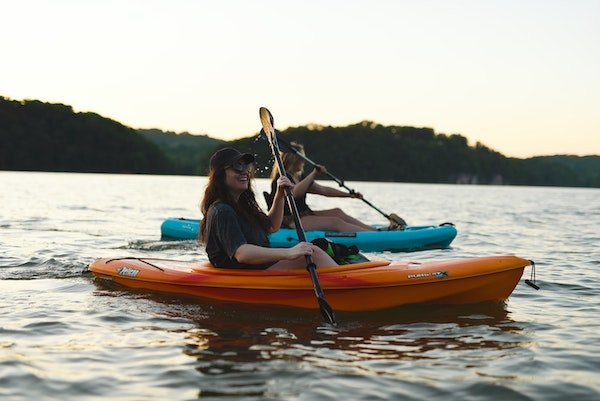 Chickamauga Lake is named after the Chickamauga Cherokee Tribe that use to live on the land. It is an incredibly popular destination for families thanks to its 1,300 kilometers of shoreline. Plus, the lake is adjacent to two wildlife centers, a museum, and eight parks. Enjoy some of the lake's most popular water activities, such as paddle boarding, water skiing, swimming, fishing, and boating.
---
Grundy lakes
The Grundy Lakes area is home to some of the best historical sites and hiking trails. Have a picnic by the water or spread out your blankets to soak in the sun. With 30,485 acres, the surrounding state park spans well across four state counties and offers plenty to explore. From woodlands to waterfalls to streams to cliffs, there are so many ways to elevate your beach day at Grundy Lakes.
---
J. Percy Priest Lake
If you're in Nashville for a vacation, we highly recommend checking out J. Percy Priest Lake. not far from downtown Nashville, you'll find wakeboarding, fishing, sailing, swimming, water skiing, horseback riding, biking, picnicking, and wildlife watching. If you're looking to stay for the night, check out the three campgrounds sprinkled along the 42 miles of shoreline.
Kids will enjoy the rustic playground near Bryant Cove while adults will enjoy hopping in on a game of pickup volleyball. This is one of the best beaches in Tennessee!
---
Kentucky Lake
You could almost look at Kentucky Lake and swear it was an ocean considering how large it is. With more than 160,300 acres covered by the lake, there is plenty of room for group camping, fishing, and water activities.
The coastline features nearby campgrounds, nature trails, and historic sites. Make sure to keep an eye on the event calendar to be part of one of the many annual attractions.
---
Dale Hollow Lake
The Dale Hollow Reservoir is another project credited to the U.S. Army Corps of Engineers. Situated on the Kentucky-Tennessee border, there is plenty of room for families to enjoy boating, fishing, swimming, and water sports. The quiet yet scenic beach is often enjoyed by campers and houseboaters.
There is a small park near First Christian Church that kids can enjoy playing in, as well as the putt-putt course by the Methodist Church.
---
Rock Island State Park
One of my favorite places to visit is Rock Island State Park. This park is located on the Caney Fork River and offers some of the best swimming beaches in the state.
There are several day use areas with picnic tables and grills, making it the perfect spot for a family picnic or BBQ. The park also has a designated swimming area with lifeguards on duty during the summer months, so you can feel confident letting your little ones splash around.
---
Map of the Best Beaches in Tennessee
---
Frequently Asked Questions about the Best Beaches in Tennessee
Are there any sandy beaches in Tennessee?
J. Percy Priest Lake
Center Hill Lake
Big Ridge Lake
Cordell Hull Lake
Cheatham Lake
What are the best boating lakes in Tennessee?
Watts Bar Lake
Chickamunga Lake
Cherokee Lake 
Norris Lake
Old Hickory Lake
Which are the best family friendly beaches in Tennessee?
Cordell Hull Lake
Big Ridge State Park
Cheatham Lake
Cherokee Lake
Chickamauga Lake
Center Hill Lake
J. Percy Priest Lake
Grundy Lakes
---
If you enjoyed our list of the best beaches in Tennessee, you might also like:
15 BEST KNOXVILLE AIRBNBS FOR YOUR TENNESSEE VACATION
15 AMAZING THINGS TO DO IN CHATTANOOGA WITH KIDS!
12 AMAZING THINGS TO DO IN NASHVILLE WITH KIDS
8 AWESOME THINGS TO DO IN KNOXVILLE FOR FAMILIES
---
Pin-It for later: Best Tennessee Beaches