We love living in California and it is not just the warm Cali sun and the beautiful beaches along the coast that keeps us here, but also everything California has to offer! California has so much more to offer than just star-studded sidewalks and stretches of serene cerulean sea.
There's also loads of history, as is the case of the often-overlooked San Juan Capistrano located in Orange County. In fact, the quaint town is lauded as the "Birthplace of Orange County" thanks to the iconic Mission San Juan Capistrano.
Today, it's a popular tourist attraction, offering a great blend of historical attractions, outdoor activities, family-friendly fun, shopping, and dining options. There's truly something for everyone.
---
Our List of the Best Things to do in San Juan Capistrano
So, pack your bags and let's get jet-setting to Southern California; here is our list of the top 8 things to do in San Juan Capistrano!
---
1. Mission San Juan Capistrano
San Juan Capistrano has loads of history to explore and, unlike the snoozefest that your high school history class was, checking out the storied past here provides plenty of excitement the whole family can enjoy!
One of the most visited attractions in San Juan Capistrano is the aptly named Mission San Juan Capistrano, which was founded in 1776 by Father Junipero Serra. Originally consisting of a single structure, erected in 1782, Father Serra named the place after Saint John of Capistrano, a warrior priest who fought the Ottoman Empire during the Crusades.
Today, tourists take a self-guided tour of the now sprawling grounds, exploring attractions like the Great Stone Church, lush gardens, and impressive museum, which hosts numerous events throughout the year.
Checking out Mission Basilica while you're there is a definite must. The beautiful Spanish architecture is truly awe-inspiring, complete with a massive bell tower, beautiful facade, and an interior design that looks straight out of the Renaissance.
You won't regret the visit!
---
2. Los Rios Historic District
It's an unwritten rule that you can't visit San Juan Capistrano and check out the Mission without segueing into a sightseeing stroll through the Los Rios Historic District. This charming neighborhood is smack dab in the heart of San Juan Capistrano, offering a glimpse into the past from historic sites to antiquated architecture.
It's a good time just walking up and down Los Rios Street and checking out the sights, but there are a few noteworthy destinations along the way.
The O'Neill Museum, for example, is a great place to learn more about the area's extensive history, that is if you haven't tired of hearing tales after the Mission San Juan Capistrano. The Montanez Adobe is a historic pitstop too, boasting status as the oldest building in San Juan Capistrano.
Once you've had your fill of historical sights and attractions, swing by The Ramos House Cafe for unique brunch dishes like Crab Hash with Smoked Bacon Scrambled Eggs, Vinegar Tomatoes & Sweet Potato Crispies. The food is excellent, but it's far from a secret so you should definitely expect at least a short wait during peak hours.
The Tea House on Los Rios is another local favorite spot, providing a picturesque backdrop for a hot cup of tea while enjoying brunch favorites like eggs benedict, quiches, omelets, and frittatas aplenty.
---
3. The Ecology Center
Who says a vacation can't be fun and educational?
You'll get a great blend of fun and facts at The Ecology Center, a 28-acre farm which also provides environmental education for children and adults alike. The center is dedicated to promoting sustainability and providing resources to educate the community on issues regarding industrial agriculture, self-sustaining ecosystems, green energy, and other important topics.
That's all good and fine, but you'll really love going because of the activities that let you and the kids get up close and personal.
The Ecology Center offers gardening workshops, cooking classes, guided nature walks, and hosts numerous events throughout the year, including a farmers market and a sustainable living tour.
If you're in the mood to reconnect with humanity's rustic roots and really experience what it's like to live off the land, a visit and tour through The Ecology Center will give you a taste of that life, and it's oh so sweet!
---
4. Zoomars River Street Ranch
If your kid is a certified animal lover, a trip to Zoomars River Street Ranch is a definite must. They have a petting zoo, where your family will get to see, feed, touch, and interact with a wide selection of cute critters including goats, sheep, llamas, and more.
Check out the guinea pig and bunny patch. It's absolutely adorable!
Everyone will enjoy petting and playing with the animals, but the ranch also offers train rides and pony rides. There's also a pretty sweet playground for when you want to send your lil' minions out to play and pop a squat on a bench for a quick refresher before you get back to your vacay.
All in all, there's plenty to do to put a smile on your kids' faces, and get some great pics, at Zoomars River Street Ranch.
---
5. Ronald W. Caspers Wilderness Park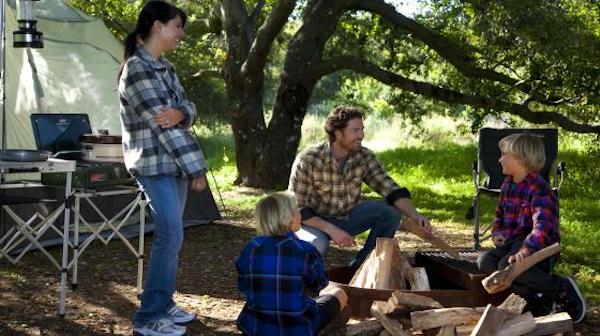 Cruise along Ortega Highway and you'll discover the Ronald W. Caspers Wilderness Park, a massive 8,000-acre expanse where you can set up a tent and enjoy a little R & R by the campfire. Nature enthusiasts, adventure seekers, and avid campers will feel right at home here.
It's a great spot to take the kids too, especially if they're adventurous, outdoorsy, or simply need a lot of space to run, jump, and explore their world. Hiking, mountain biking, horseback riding, camping, and picnicking are all great activities to try out, while the park also boats over 35 miles of trails winding through the hills, canyons, and streams of San Juan Capistrano.
It's truly awe-inspiring.
---
6. San Juan Capistrano Trails
There's no shortage of sweet San Juan Capistrano trails to choose from. You'll find a range of leisurely walks to rigorous climbs, all featuring plenty of encounters with California oak trees, wildflowers, and native animal species of the region amidst the backdrop of the Santa Ana Mountains.
Some trails also pass by the famous Mission San Juan Capistrano and Los Rios District, making it easy to sneak in a hike, sit down for an afternoon bite or cup of coffee, and get back on the trail before sunset comes.
One of our favorites is the South los Mares, Cerro Rebal and Patriot Trail. It's just shy of six miles and provides a moderate challenge to those looking to burn a few calories in one of the most beautiful places in Southern California.
Pick it up about seven miles from San Juan Capistrano proper in the adjacent San Clemente on Camino de los Mares. Parking is not allowed on Camino de los Mares, but there's a side street where you can leave the car while you get your steps in. Can't miss it!
---
Your San Juan Capistrano vacation is the perfect time and place to channel your inner fashionista and indulge in a long-awaited, much-needed shopping spree, and The Shops at Mission Viejo is the perfect place to do it!
Just five miles from San Juan Capistrano, The Shops at Mission Viejo features more than 150 stores, ranging from popular fashion retailers, nationally-recognized department stores, specialty shops, and local boutiques.
Splurge on a few must-have items this season, grab a trinket or souvenir to commemorate the trip, pick up a gift for that special someone waiting at home, or simply take a walk amidst retail paradise.
Once you've gotten your fix, grab a bite at the food court, featuring fast food and other casual eatery options, or sit down to a full-service fine dining experience at one of the many establishments located there.
The Shops at Mission Viejo are a quick trip outside of San Juan Capistrano, and we think it's well-worth the visit!
---
8. Ortega's Capistrano Trading Post
We love a good splurge at an amazing mall, but sometimes you don't want the same luxuries you're accustomed to back home. Sometimes, you want something that's a little more unique, a little more personal, and offers a little flair beyond what you'd find anywhere else.
That's what you'll get at Ortega's Capistrano Trading Post, a bright red building sitting almost directly across from Mission San Juan Capistrano. Here, you'll find collectibles and specialty items like Native American jewelry that will provide a memento of your time in San Juan Capistrano.
For the perfect souvenir, stop by Ortega's Capistrano Trading Post.
---
Frequently Asked Questions about Things to Do in San Juan Capistrano
What is the best time of year to visit San Juan Capistrano?
If you love high highs and hot weather, you can go in the summer, but the spring and fall are generally best to get the most bang for your buck. 
Spring and fall offer more mild weather that lets you really enjoy the outdoor stuff without sweating profusely and soon seeking refuge at the nearest spot with air conditioning.
Are there any guided tours available at Mission San Juan Capistrano?
There's a lot to check out at Mission San Juan Capistrano, but what really makes the visit is the history behind it. That's why we recommend taking a guided tour, self-guided tour, audio tour, or docent-led tour is the best way to truly experience the Mission and take it all in.
Is Zoomars River Street Ranch suitable for all ages?
They designed the petting zoo with younger children in mind, but everyone who loves animals should enjoy themselves at Zoomars. Just rehearse now what you're going to say when your children inevitably ask to take home a precious guinea pig or bunny pal.
"Maybe for Christmas, kids!"
---
If you enjoyed our list of things to do in San Juan Capistrano, you might also like:
TOP 10 ONCE IN A LIFETIME THINGS TO DO IN LOS ANGELES
54 THINGS TO DO WITH KIDS IN SAN DIEGO (20 ARE FREE!)
20 AWESOME THINGS TO DO IN HUNTINGTON BEACH YOU'LL LOVE!
---
Pin-it for later: The Best 8 Things to Do in San Juan Capistrano
Latest posts by Ashland Hendrix
(see all)