Dreaming of a tropical island getaway the whole family will enjoy but won't break the bank? Then you are going to love our newest find- El Conquistador, Puerto Rico.
The ULTIMATE Guide to El Conquistador, Puerto Rico + [Photo Tour]
photo courtesy of El Con Resort
Getting There:
El Conquistador is located on the gorgeous island of Puerto Rico. The main airport in Puerto Rico is the Luis Muñoz Marin International Airport located in San Juan (SJU). Flights into SJU are readily available from carriers including: American, Delta, JetBlue, United, Spirit and Southwest just to name a few so finding a flight isn't too difficult.
One thing that makes it incredibly easy to travel to Puerto Rico is the fact that you and you don't even need a passport (as a U.S. citizen) to get in. I would recommend checking The Flight Deal and Secret Flying often to secure the best rate. Make sure to follow me too as I am always posting amazing airfares I find for Puerto Rico ?
[bctt tweet="You don't need a passport as a US Citizen to travel to Puerto Rico! Click to learn more" username="globalmunchkins"]
Transportation:

The best form of transportation from the airport to the resort is the shuttle service offered through the resort. This service includes a hotel staff member that meets you at baggage claim making it incredibly convenient.
El Conquistador Resort offers a Family Shuttle Package for two adults + two children for $200 round trip which is a great deal. Otherwise, they charge $78 RT for adults and $58 for children 12 & under. (*prices reflected on their website 7/17/16)
Ella and I rode on the shuttle to and from the airport on our recent visit and found it to be a very pleasant experience. Not only was a staff member right there to greet us as we walked into the baggage claim area but the shuttle van was also very clean and we were treated to ice cold waters and sodas as we climbed onboard.
The drive from the airport to the resort was about 45 minutes but the beautiful scenery outside the windows made the time pass quickly. I would highly recommend it!
Staying at El Conquistador, Puerto Rico:
There is a multitude of accommodations offered at El Conquistador to suit each family/ person's specific needs and desires. The massive resort is divided into 4 villages: Las Olas and La Vista, La Marina, Las Brisas and then a separate luxury resort on the property called Las Casitas Village.
photo courtesy of Las Casitas Village
La Olas and La Vista
These two villages offer both ocean and garden views with rooms ranging from 408- 605 square feet of space and private balconies. Garden views look out over the stunning Arthur Hills golf course, lush gardens or the El Yunque Rainforest. Where as the ocean view rooms overlook the gorgeous collide of the Atlantic and Caribbean oceans. Such an incredible site to see!
La Marina
This building is located in the marina hence the name and every room has an ocean view. Guests enjoy 595 square feet of space and can choose from 1 King bed or 2 Queen. Guests looking to enjoy the private marina, water park and Palomino Island will enjoy the closeness of the proximity of this building. *note- you do need to take a funicular to and from the main resort, lobby, pools and spa when staying in the marina.
Las Brisas
If you are looking to stay closer to the main lobby than you might enjoy the rooms located in Las Brisas. This is where Ella and I stayed on our recent trip. Located 300 feet above the ocean on a gorgeous bluff these rooms are ideal for those who love sweeping panoramic views. We felt like we were waking up on a cruise boat each morning because from the bed all we could see out our sliding glass doors was ocean water. It was dreamy!!!
Las Casitas Village
For those looking for a more private and luxurious option El Conquistador also has a secluded luxury village located within the resort grounds. Las Casitas Village offers 1-3 bedroom private villas with 24 hour butler service, luxury amenities, private check in, personalized grocery service and vacation planning.
Guests who stay at La Casita are given access to all of the amenities that El Conquistador guests receive plus they also have their own private restaurant and multiple private pools including an infinity edge pool located upon a cliff with magnificent views of the Atlantic and Caribbean Oceans. They even have their own shuttle service to take Las Casitas guests around the expansive property.
Regardless of which accommodations you choose at El Conquistador you can be certain to expect unparalleled service and an exceptional experience!
El Conquistador, Puerto Rico Resort
1000 El Conquistador Ave.
Fajardo, 00738 Puerto Rico
888.543-1282
Pin for later-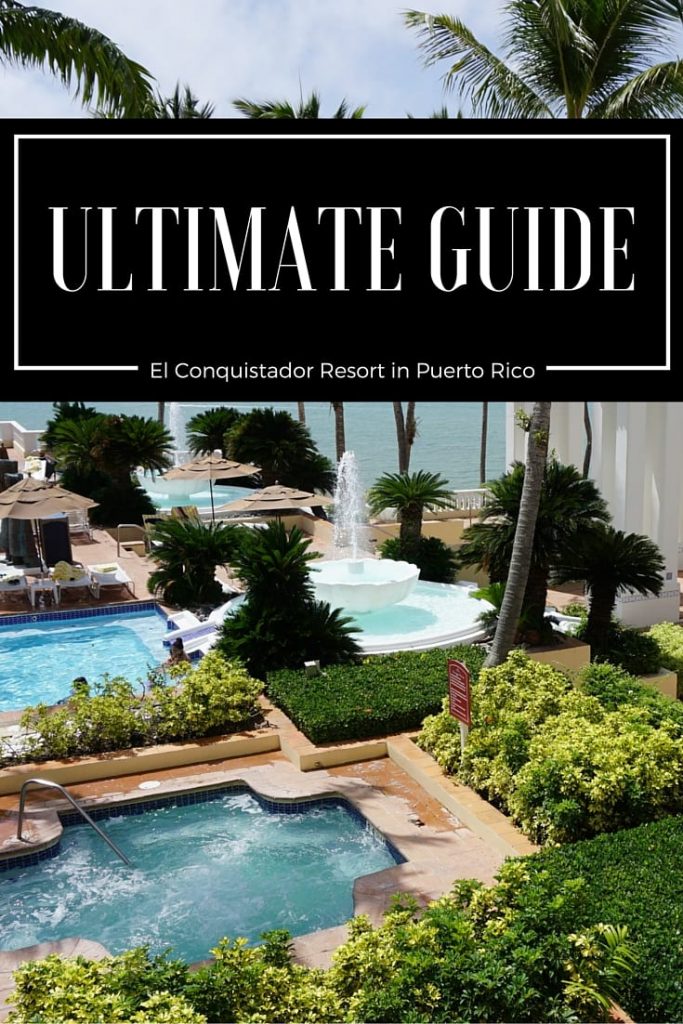 Top 10 Things To Do at El Conquistador Puerto Rico
I was invited on a press trip for purpose of reviewing this amazing resort. So, I was treated first hand to the very BEST of what El Conquistador has to offer and of course, I want to share the very best of what I experienced with you to ensure that you have an amazing trip as well!!!
Palomino Island-
photo courtesy of El Con Resort
The private island of Palomino is included in the price of your stay at El Conquistador. Daily ferry service to and from the resort and the island is also included. Service begins at 10am and you will want to be there about 15- 20 minutes prior to that as the line begins forming early.
Don't worry too much though as there are several ferries and they fit quite a large load of people. The ride to Palomino Island is only about 10 minutes long but Ella did a bit better on the bottom level vs up top where it was a bit more choppy- so sit accordingly. The views up top, if you can handle the motion, are pretty spectacular!
Once on the island, you will find a plethora of comfy chairs and palapa umbrellas, water sports, horseback riding facilities and tons of games. The water sports and horseback can be booked in advance and do have added fees but pricing was reasonable. Ella and I enjoyed kayaking to a smaller island off Palomino, taking pics with all the super fun giant floats they had and participating in the coconut painting activity that was being offered.
I also noted that my boys would have loved renting wave runners, hiking, playing gaga ball, basketball, ping pong or mini golf as well. All of which were also located in Palomino. Of course when we return Ella and I are signing up for a trail ride too!
This private island is such an incredible amenity. The only thing we have experienced that was similar is Castaway Cay, Disney's private island. But, Ella felt Palomino actually offered much more to do. So, there you have it!
Coqui Water Park-
photo courtesy of El Con Resort
Pools are a HUGE factor when we are booking hotels with the kids. But, slides bump up the excitement factor even more! So, the fact that El Conquistador has a water park on the property makes this resort a favorite among the munchkins.
Coqui Water Park boasts 3 thrilling high-speed water slides, a lazy river, pools (including an infinity edge pool) and a child's play area with mini slides. The water park does require a separate admission, however, fee the is nominal and packages that include the water park are available.
One of the body slides is an exhilarating 40-foot plunge slide aimed at the more daring audience. My kids all fall under that category so Ella forced me down it.
It actually was super fun and not nearly as frightening as I thought it might be. But, as much as I enjoyed it, the inner tube slide was still my favorite. I loved that Ella and I could hop on a double tube and ride down together.
Check us out as we slide down:

Waldorf Astoria Spa (+Ki' Kids Spa)-
Ahhhh… spa!!! The quintessential pampering session we all so badly need and deserve. Thank goodness El Conquistador totally gets it with over 26,000 square feet dedicated to their glorious spa.
There are 3 levels packed with 25 treatment rooms, couples suites and relaxation lounges. The spa also boasts an ocean view terrace, state of the art fitness center offering personalized training, yoga and movement center, tea lounge and Niwas (Japanese for resting place) featuring O'Furo waterfall jacuzzi, eucalyptus steam room and lockers.
There is even a kids spa dedicated to pampering your kiddos as well!
Ella and I enjoyed a Mommy & Me session at Ki' (the kids spa). It included an organic coconut full body scrub + 25 minute scalp massage and it was heavenly. This treatment honestly made Ella's whole trip.
She hasn't stopped talking about it since we have been home. She spent her souvenir money on a bottle of massage oil from the spa and now requests daily back rubs since we have been home. I think it's safe to say she's addicted 😉 Apple doesn't fall far from the tree I suppose.
If you get the chance I highly recommend you stop by the spa and splurge on treating yourself.
FootGolf (okay, real golf too!)-
Have you ever heard of foot golf? My son's had mentioned it but I had never really looked into it prior to traveling to El Conquistador. We were met one morning by their instructor and got a brief lesson on what this game is all about. It is basically a cross between soccer and golf where players take turns kicking a soccer ball into the oversized golf-like hole in the ground.
And, guess what? Ella and I are hooked!!! I am a terrible golfer so being able to enjoy the immaculate course with a laid back game like Foot Golf was pretty fantastic. I think this is such a fun and unique experience for families and I love that El Conquistador is the ONLY place in Puerto Rico where you can check it out. This activity definitely should be on your list!!
Besides Foot Golf and probably more important to most, the resort is also home to a stunning Arthur Hills Championship 18-hole golf course. As the El Conquistador website states,
"With unique elevation changes of more than 200 vertical feet, the course proves to be enjoyable and challenging for beginners and professionals alike. Experience the unique serenity of the golf course as you stroll along the rolling greens surrounded by magnificent ocean and rainforest views." If you are newer to golf or looking to improve your game lessons are available from a PGA Instructor as well.
ScoutAbout-
I don't know about you but, the more activities a resort has the better it is for my kids. When my kids are occupied there is less bickering, less complaining and we get to enjoy our time together. That is one of the reasons I love the ScoutAbout activity offered at El Conquistador. ScoutAbout is basically a scavenger hunt that sends the kids all over the resort property including Palomino Island as they try to collect colorful ScoutAbout bands from different points of discovery.
Players that collect all the bands can turn them into the concierge and receive a special Hall of Fame band and earn their spot on the Wall of Fame located in the hotel lobby!
Not only is this activity entertaining but the stops are also educational offering information about the flora and fauna found around the resort. And, because the stops are located outside it is also a great way to keep families active and having fun outdoors which I also love! And, the ScoutAbout program is included in your stay. Win/ Win!!
Check out Ella posting her certificate on the wall of fame-

Pools-
I love a good resort pool. It gives my family something to do, it is a spot where I can relax with a good book and they are all around pretty gorgeous to look at. At least the stunning pools at El Conquistador are that is 😉 Here they have 7 glorious pools where you can soak up that fiery Caribbean sun.
They also have a swim up bar and jacuzzi as well. I loved that the pools were surrounded by stunning views of the ocean below and were surrounded by impressive statues and bonsai trees. It made the whole area feel a bit more luxurious.
Ella and I enjoyed a Parkour Water Aerobics class one morning and it was a hoot! Totally kicked my pilates, HIIT workout loving body's butt. I was shocked! If you are looking for a fun way to stay fit while traveling make sure to sign up for that class. You won't regret it!
Camp Coqui-
Of course, traveling with kids is all about spending time together. But, I am a big supporter of parents also squeezing in some alone time while traveling as well. This is where Camp Coqui comes in handy. Kids 4-12 years of age can participate in this fully supervised kids camp on property.
The activity schedule is filled with awesome experiences like sand sculpting and nature hunts as well as hanging out in their fun activity room located near the main pool.
The camp is open from 9am- 4pm daily just be sure to sign up with the concierge desk before 5pm at least a day prior to sign your little ones up. *note- additional fees do apply.
Exquisite Dining Options-
I am a self-proclaimed fit foodie so I love food that is fresh, delicious and good for my body and it's a foodie paradise at this Waldorf Astoria Resort in Puerto Rico. Thankfully, with 23 restaurants, bars and cafes on property, there are choices to fit every type of guest. And, with an on-site garden, I knew the chefs cared about feeding their guests the freshest foods available. My favorites were:
Chops Steakhouse:
Dining in this sultry restaurant will make you feel like old Hollywood elite. Its got that speak easy vibe to it. But, looks are not what you came for so let's talk food. Chop's menu is innovative and delicious combining classic American dishes with Puerto Rican twists.
Try their Blue Crab Cakes, Pistachio Crusted Grouper with Coconut Lemongrass Cream and sample their Wild Mushroom Ragout. Make sure to save room for dessert though because their Pina Colada Cobbler is out of this world!
Stingray Cafe:
Enjoy fresh ocean air with views of the marina as you dine al fresco at the Stingray Cafe. Start with their Cream of Calabaza Soup with ginger cream, then you have to try their Pan Seared Chillo, Chorizo Salsa Fresca. It comes with Risotto al Mofungo (a play on the classic Puerto Rican dish) and it is incredible!!
Of course you may need to wear your stretchy pants because at Stingray Cafe they are known for their delectable souffles as well. You will have the tough choice of deciding between Valrhona Chocolate, Cream Cheese Guava or their new S'mores varieties. I'm getting hungry just thinking about it!
Blossoms:
Parents and kids alike will enjoy the fantastic teppan show at Blossoms. Here you get to take front seat as your meal is prepared right before your eyes by the talented (and entertaining) chefs. Your little one may even get the chance to try out their own chef skills. They also serve delicious and fresh sushi here as well.
Check out Ella below testing out her Teppan skills:

Las Brisas: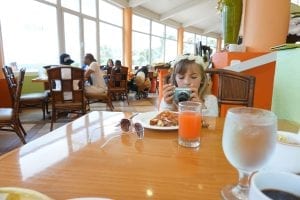 I love a good breakfast buffet and that is why I loved Las Brisas. Ella and I loved coming here in the morning and enjoying a nice slow breakfast while discussing our plans for the day and enjoying the views. There are unique mimosa options, an omelette & eggs your way bar, fresh pastries, yogurts and toppings, pancakes, french toast, oatmeal, fresh fruit, acai bowls & more. After filling up on a good morning meal you will be ready to conquer Palomino Island or Coqui Water Park.
Virgin Burger:

When you are in the mood for a burger & fries have no fear, El Con Resort has you covered. Their Virgin Burger is a 50's style cafe with all the classics to feed your cravings. Pair their Virgin Burger with one of their amazing milkshakes like the Peanut Butter Bourbon or for a taste of Puerto Rico try the Tripleta Sandwich- it's a Slow Roasted "Mojo" Pork, Cured Ham, Grilled Chicken Sandwich with Potato Sticks, Lettuce, Tomato, Garlic-Tomato Aioli and Melted Swiss Cheese all pressed between a Delicious Sweet Bread.
Besides all the fantastic table service dining I also loved that they had a full-service Starbucks in the lobby, as well as a wide array of grab & go options at Cozy's Gourmet Market.
Exceptional Service-
photo courtesy of Las Casitas Village
When it comes down to it service is what makes or breaks a resort. Thankfully, the staff here at El Conquistador will go out of their way to ensure every guest is treated with unparalleled service.
You will not pass a staff member without a warm smile + "hello, how can I help you?" It's like second nature to them. And, the best part? They really are happy to help you. They will not only give you directions but personally walk you there and talk to you like you were a long lost friend.
I can only imagine what it must be like to stay at Las Casitas Village as their service is a step up from the incredible service we were already receiving. Someday, right?
Art Collection, Gardens & More-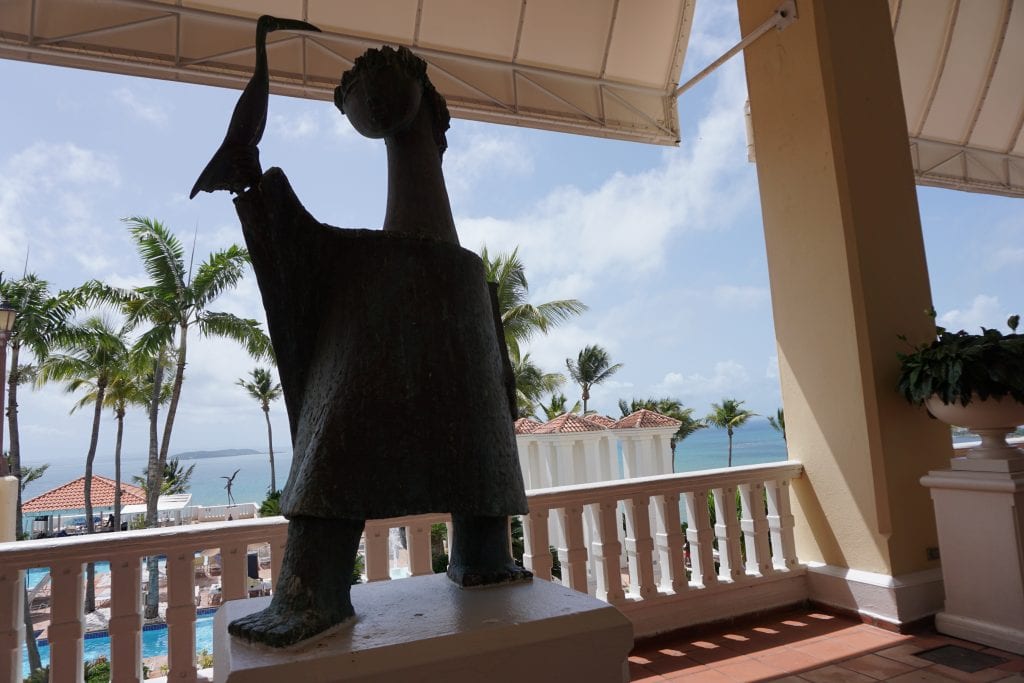 Lastly, I wouldn't be doing you justice if I didn't encourage you to take a stroll around the resort to admire the lovely pieces of art and amazing flora scattered throughout the property.
El Conquistador and Las Casitas Village is home to some of the best local and international artist collections. Ella and I especially loved Lindsay Daen's gorgeous sculptures. They depicted all the joy, freedom and happiness we felt while on vacation.
Of course, the gorgeous Bonsai trees that were scattered around were equally impressive. Whoever handles the flora program at El Conquistador is phenomenal. The hotel grows all their own orchids. You will see them attached to the trees all around the hotel.
They are picked and made into gorgeous displays eventually and then retired in the hotel gift shop so you can take them home. Plus, the hotel also has a useable garden full of herbs and greens that the hotel restaurants use as well. I love seeing that they truly care about what interests their guests and as people become more demanding of local ingredients they continue to grow their gardens including their hydroponic garden which develops much of the hotel's lettuce.
A Photo Tour

The view of the resort from my balcony (Las Brisas Village)
Gorgeous view of the cliffs meeting the ocean.
Overlooking the marina (Las Brisas Village)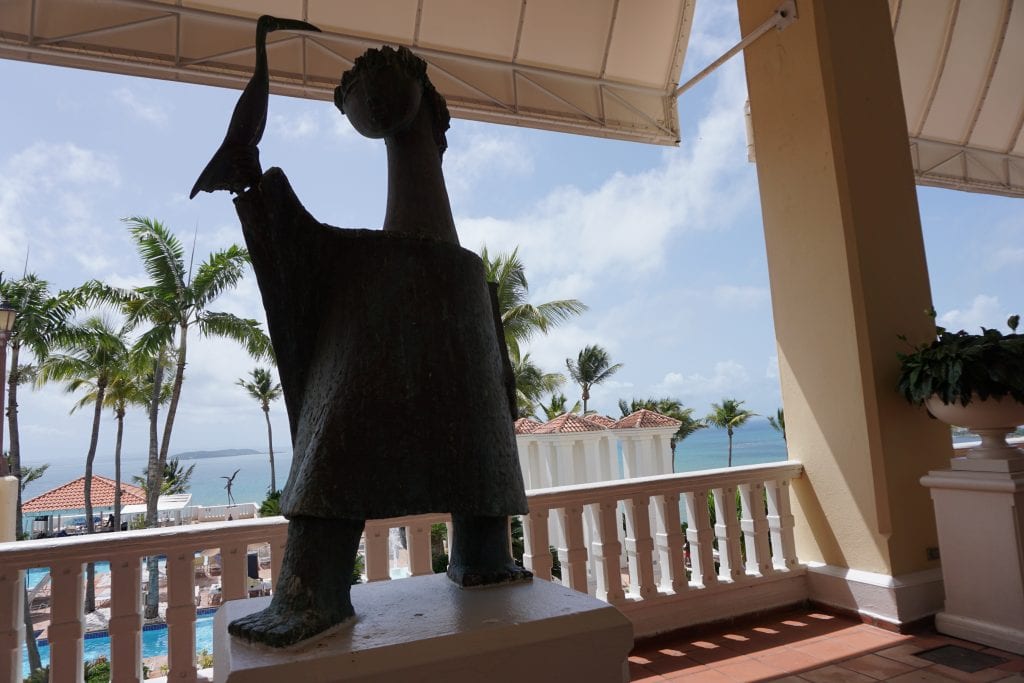 Statue welcoming you as you enter the lobby
Glimpse of the main pool area
More views of the main pool
Swimming in the main pool area. The water was the perfect temp!
Aren't the views incredible!!!
Statues & Bonsai love the art + flora all around the resort
View from entrance of Las Casitas Village overlooking El Conquistador Resort
More gorgeous Bonsai Trees
Waldorf Astoria Spa Entrance
Right before our mommy & me spa treatment at Ki' the kids spa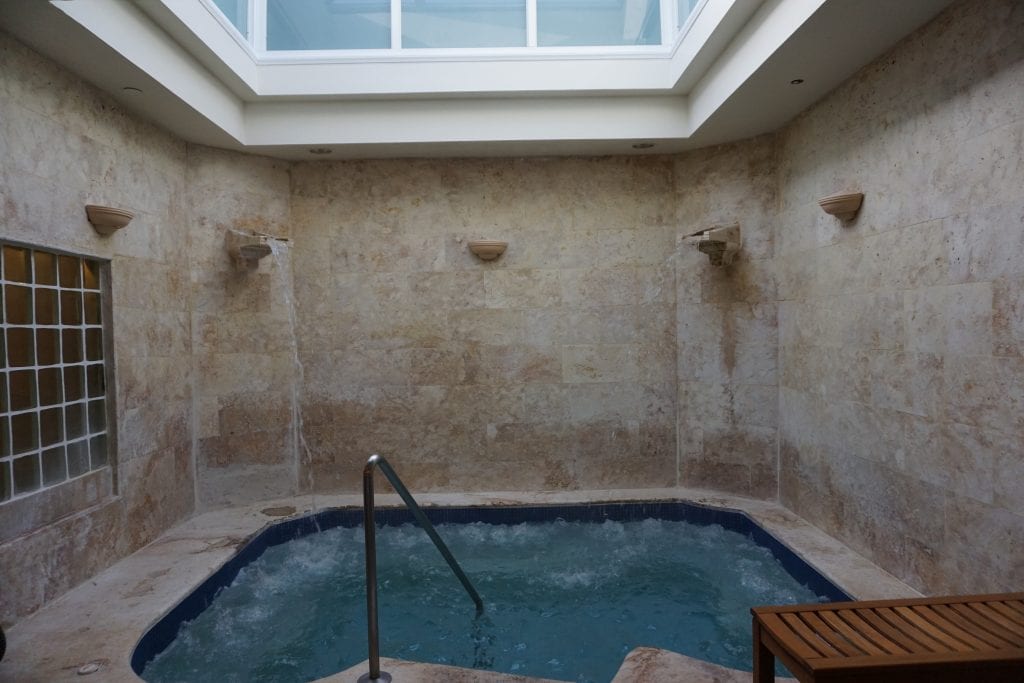 Incredible waterfall jacuzzi in the Niwa area of the Waldorf Astoria Spa
Spa treatment room
She received a popsicle after our treatment… look how relaxed she is 😉
The resort can make you picnic lunches so you can have a picnic on or off property. It was fantastic!
Her first ScoutAbout discovery spot!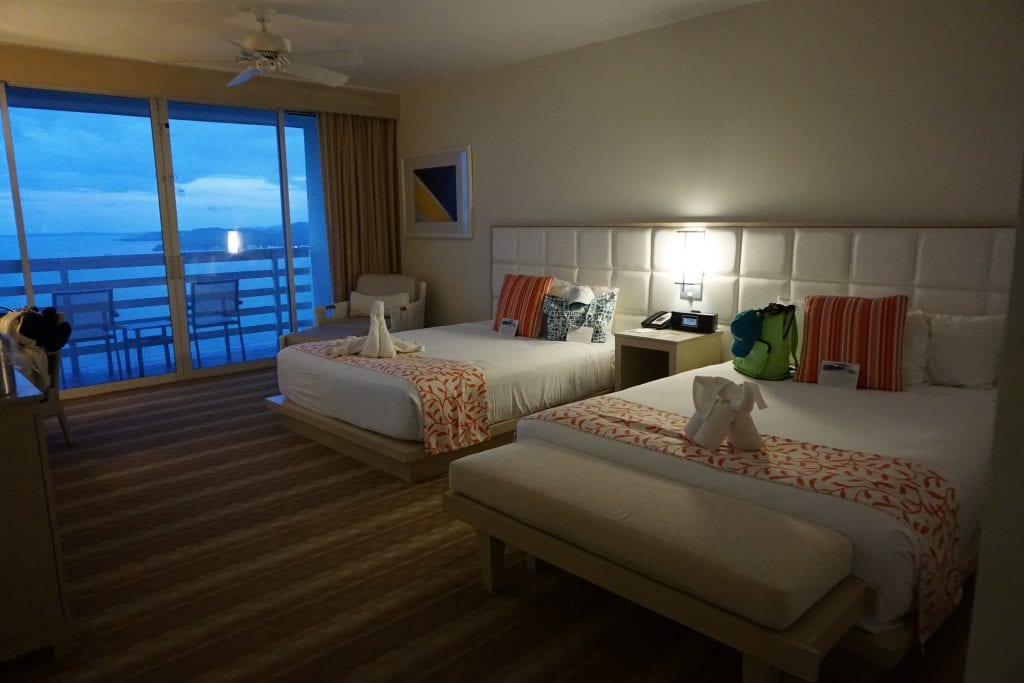 Our room the night of arrival… check out the cute towel animals!!!
Spacious bathrooms
We loved the sunken tub/ shower
Dreamy closet space in our room

I love the crisp white + vibrant colors!!!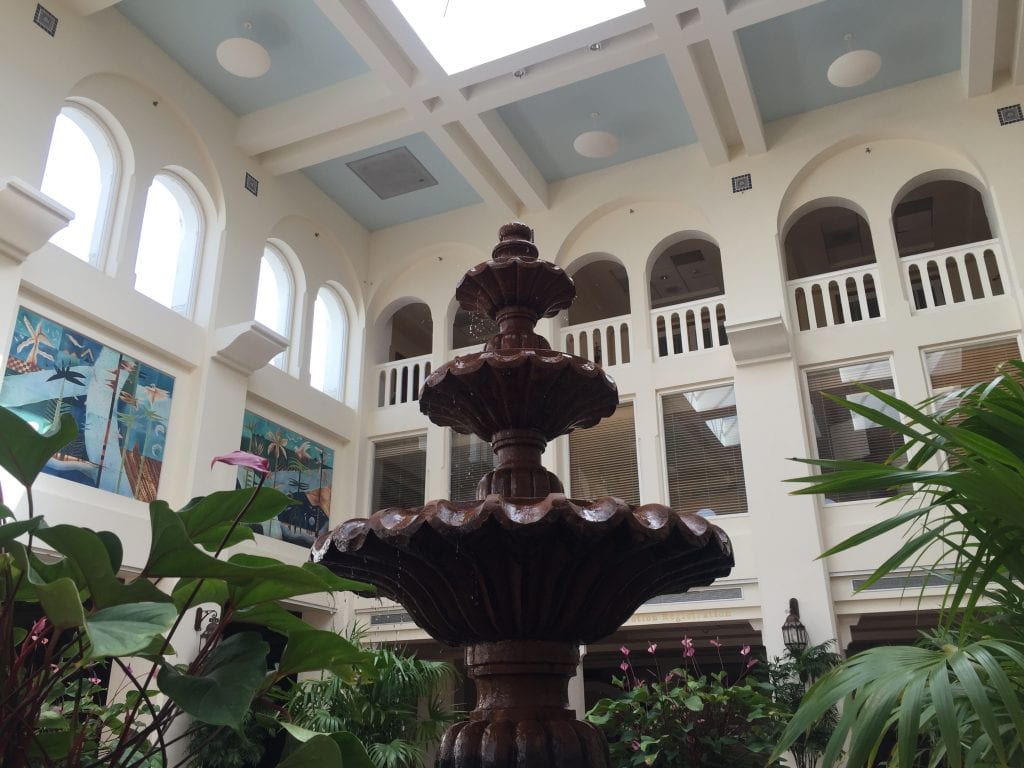 Fountain in the hotel lobby
The ScoutAbout program was something Ella totally adored. She was excited each day to go find more bands.
Arthur Hills Championship Golf Course
Playing a game of Foot Golf… you really need to try this!!
Another ScoutAbout Discovery Spot
Las Casitas Village
Overlooking Las Casitas Village from their pool area.
We loved our Snorkel Adventure- booked through El Conquistador
The water was crystal clear & warm!!!
We saw tons of beautiful friendly fish. Ella loved all the Blue Tangs (or Dory's as she called them)
How fun are snorkel pictures… they are too goofy!
We saw so many colorful fish!!
Ella saw this pizza float in the pool at Las Olas from up above and just had to go see it- ha!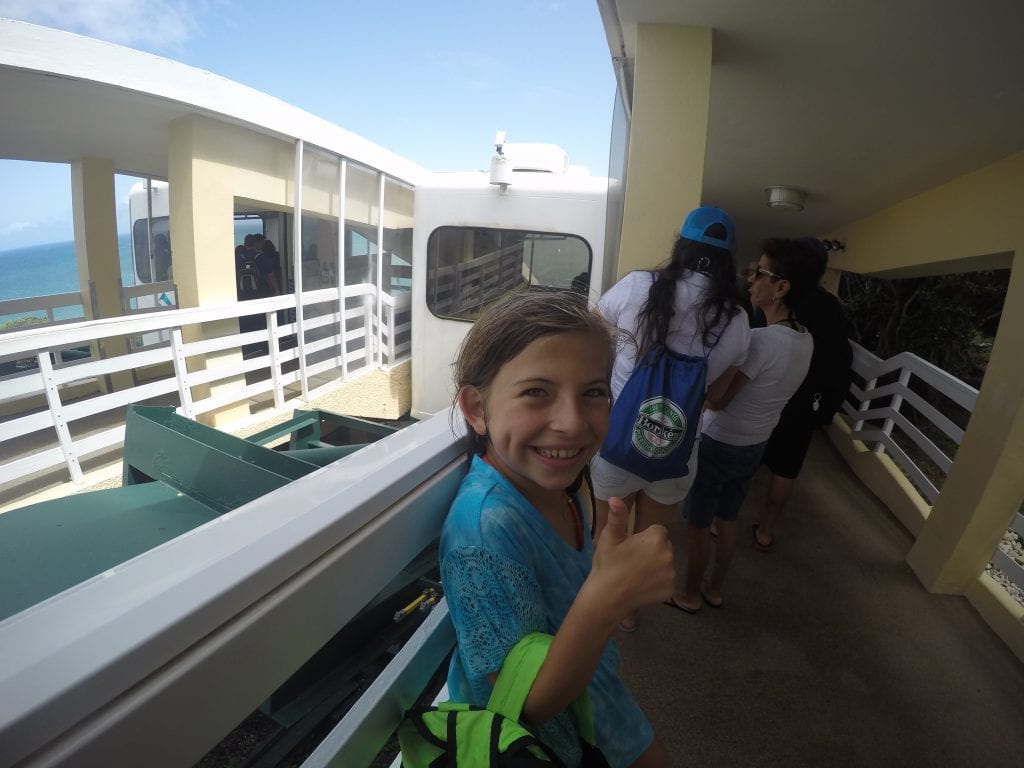 We had to take this funicular to get to Las Olas. This is also what you take to get down to the marina and water park
She LOVED that float!!!
Silly girl 😉
View from on top the water slide tower at Coqui Water Park
Piragua's are served at Coqui Water Park. They are similar to a snow cone but they also can be spiked with alcohol. This was my coconut + rum topped with besitos de coco cookies.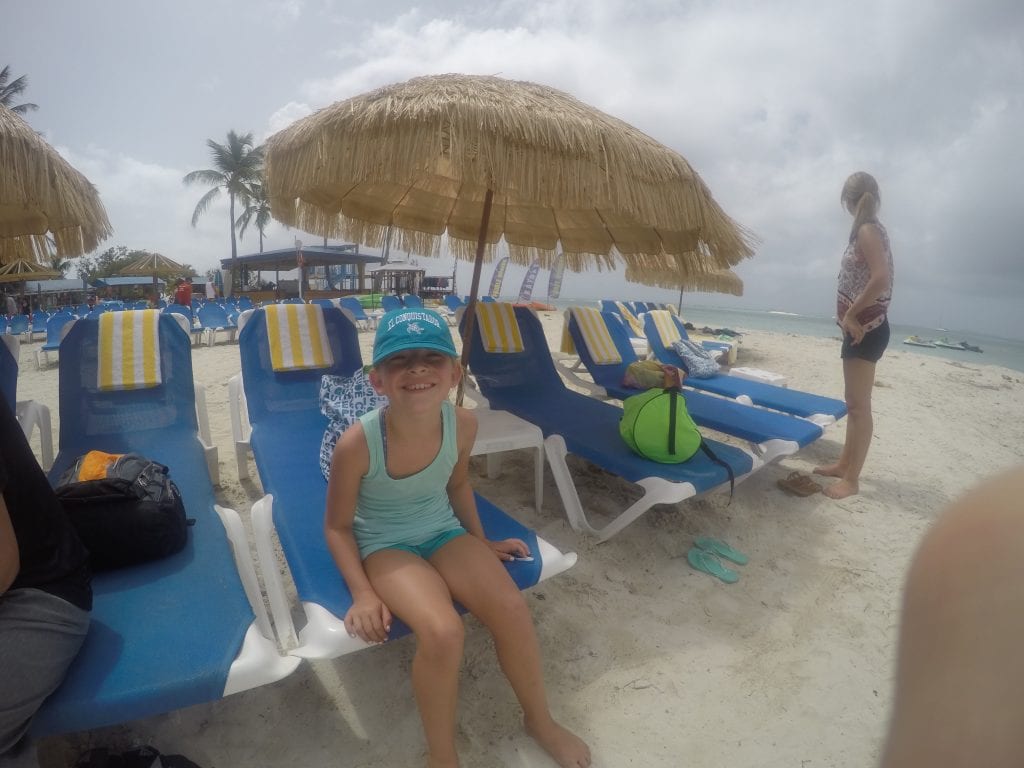 We loved exploring Palomino Island. There was SO much to do!
Ella decided the floatie photo shoots HAD to happen- ha!
My photo shoots had more to do with the heavenly Palomino Adventure- tasted like a delicious combo of a mojito or pina colada. Yum!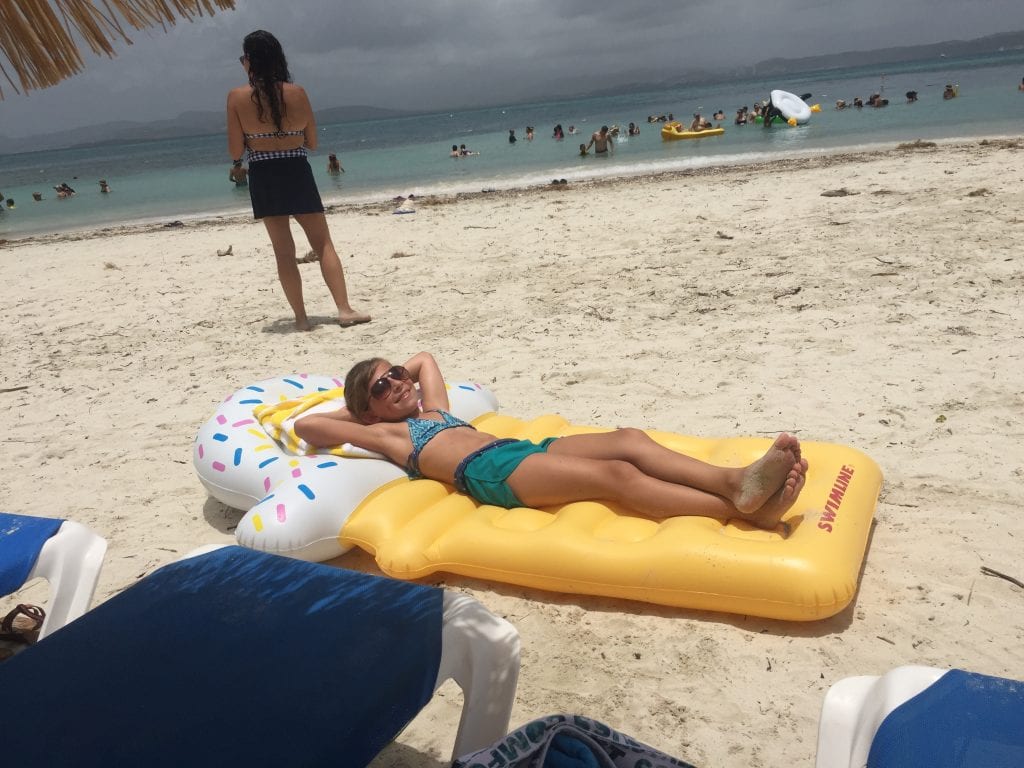 In floatie heaven testing out more awesome floats on Palomino Island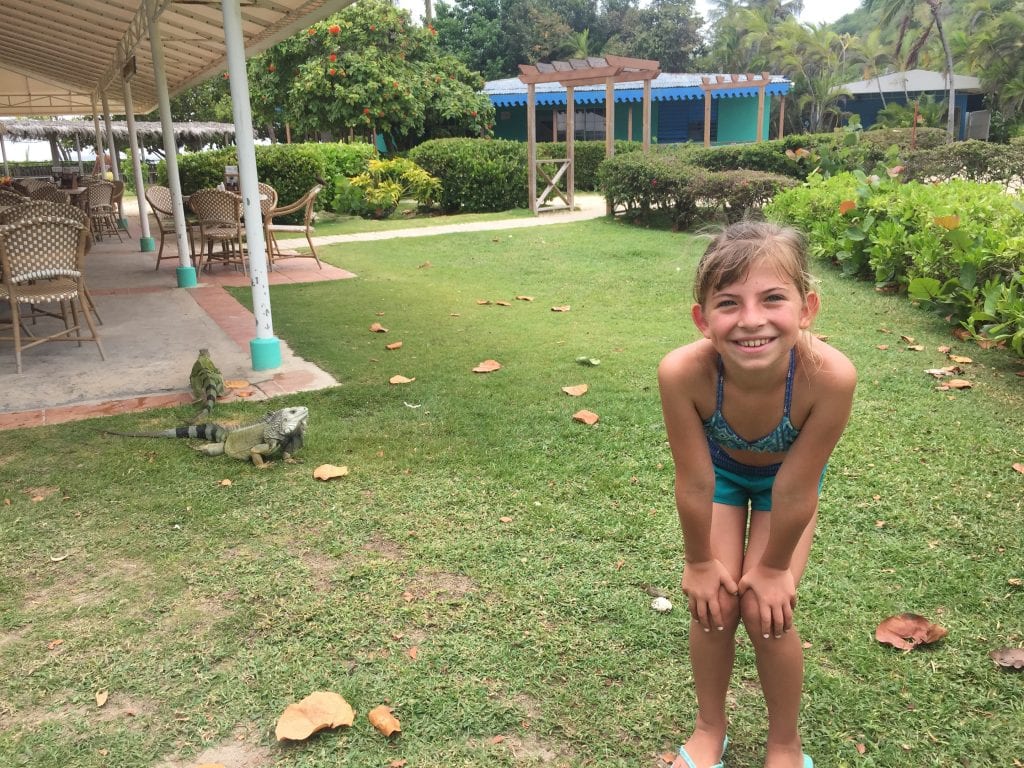 Checking out the actual iguanas hanging out at Iguna's Cafe on Palomino Island. I had a delicious chicken salad there.
We worked off lunch by taking a kayak out to the smaller islands near Palomino. I wish every workout could be as fun as that was.
Palomino is a haven of family activities. Everything from ping pong, to mini golf, to wave runners, kayaks and even crafts like coconut painting. There is so much for families to explore on this island. It is one of the reasons this resort tops my list.
Overall, El Conquistador is a family vacation paradise and definitely a resort you should have on your list!!!
What would be your favorite part of the El Conquistador experience?
Tell me in the comments below…
ps- check out our travelogues from our recent trip to El Con Resort below:
*a special thanks to the El Conquistador Resort for inviting Ella and I on a press trip to discover their resort and for purposes of this review. Our stay was hosted but I did not receive compensation for this post. All thoughts, opinions, photos & videos (unless otherwise noted) are, as always 100% my own.
Latest posts by Mama Munchkin
(see all)