In the past, we have exclusively booked on property when staying in Orlando to visit Disney World and Universal Orlando. However, on our most recent visit, after much encouragement from my friend Robin at LuxeRecess and Sarah of Well Traveled Kids, we decided to check out the Waldorf Astoria Orlando. Find out what we thought of our first off-property stay in Orlando below.
Luxury Found Off Property in Orlando- a review of the Waldorf Astoria Orlando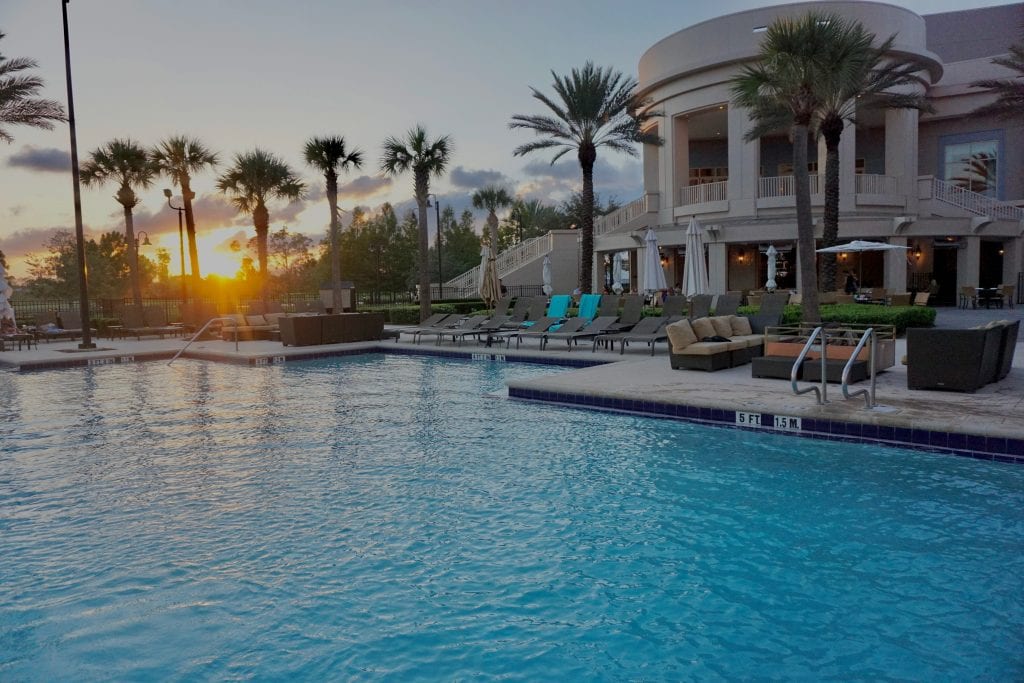 Service
We are no stranger to Waldorf Astoria's amazing service (just see our posts on Grand Wailea in Maui and El Conquistador in Puerto Rico) but the staff at Waldorf Orlando really went above & beyond to make us feel welcomed from the moment we arrived all the way through departure. Our welcome gift of cupcakes and sparkling waters made Ella's day.
Every staff member we came across from the bellmen, to the waiters and front desk were all eager to help us in any way they could. I was impressed by their knowledge of the property and its many offerings such as the evening activity times. It may sound silly but we come across employees who do not know anything about the resort other than their own area of work all the time. It was refreshing to be able to have our questions answered asap vs following someone around the resort trying to track down an answer.
I also loved the turn down service each night. It has become a rare occurrence these days but it is always such a nice touch to come back to, especially after a long day at the parks.
Rooms
We stayed in a King Deluxe Suite with an attached Double Queen guest room and it was absolutely wonderful. Our combined space was so open and inviting. Everyone had a bed to sleep in (no easy task when you travel with a group of 7) and with the added living room and bar area we were actually very comfortable just hanging out in the room. We find that with all the stimulation in the parks the kids need some down time to just relax. The living room was just right for that. We also got tons of use out of the giant balcony overlooking the golf course.
photo courtesy of Waldorf Astoria Orlando
photo courtesy of Waldorf Astoria Orlando
photo courtesy of Waldorf Astoria Orlando
The rooms also provided a ton of closet and drawer space, more than we knew what to do with. And, with two full bathrooms, there was no arguing over whose turn it was to take a shower (yay!!). The Nespresso coffee machine and fridge made our mornings run more smoothly. Mike was able to grab his early morning coffee and we purchased a milk to store so he could easily grab Olivia her morning sippy cup without having to ever leave the room.
Check out Ella's Room Tour Below-
Dining
The buffet breakfast at Oscar's Brasserie totally won me over. Breakfast is by far my favorite meal of the day and Disney resorts have never cut it for me in this area as their food is subpar at best. Oscar's was possibly the BEST buffet breakfast I have ever had including the food & the service. It was impeccable. I actually had to dine there twice because I was curious if our treatment was standard or if we had just been lucky. Let me tell you, no luck is needed the staff and the chefs are amazing.
What you might find at the buffet:
Freshly made crepes
Omelet Bar
Waffles & Pancakes
Quiche
Eggs Benedict
Eggs, Bacon, & Sausage
Fresh Daily Cold Pressed Tropical Juices
Charcuterie Bar
Locally sourced Fruit & Veggies
Daily House Baked Pastries (including Gluten Free options)
Organic & Gluten Free Cereals and Grains
Espressos, Lattes, & Cappuccinos (INCLUDED)
I can't say enough good things about this place. You just have to try it!
Disney Shuttle Service
One reason I have loved staying on-property at Disney in the past is that they offered free transportation to the parks. Little did I know the Waldorf Astoria also offers a complimentary resort shuttle to the Disney Parks. And, because the Waldorf in Orlando is situated within Bonnet Creek it is literally sitting in between the Disney Resorts so your ride to and from the parks is just as quick and easy. The shuttles run on a continual basis but to play it safe ask the concierge for a schedule of pick up/drop off times.
Kid-Friendly Rating
The Waldorf Astoria has a gorgeous pool area with multiple pools, a spa, cabanas, lounge chairs, and fun lawn games. Guests are also able to walk over to their partner resort next door (a Hilton) and use the family-friendly pool area there which includes a lazy river & a slide.
photo courtesy of Waldorf Astoria Orlando
During the summer months, the Waldorf Astoria Orlando also offers a program called Enchanted Evenings and it is filled with amazing kid-friendly activities like Poolside Games, RC Racing, Weird Science Ice Cream Sundae Making, Chocolate Dessert Bar, Fireside S'mores & more! We found these activities helpful in luring the kids back to the resort after we (adults) had enough of the parks for the day. It was nice to be able to sit back and unwind after a long day while the kids were having a blast with whatever activity the Waldorf Orlando had going on. *It should be noted that some activities had a small nominal fee like the chocolate bar.
Overall
After being a die-hard Disney & Universal Orlando Resort Only girl I have to say that I was very impressed with the Waldorf Astoria in Orlando. Anyone looking for a resort that offers a more luxurious feel and adult like amenities while still catering to children will appreciate staying at this lovely resort. The convenience of the resort shuttle to Disney paired with spacious room offerings and an incredible breakfast buffet makes this resort a winner in our books and I would definitely recommend other families to stay here in the future.
Have You Stayed Off-Property in Orlando Before??
Pin for later-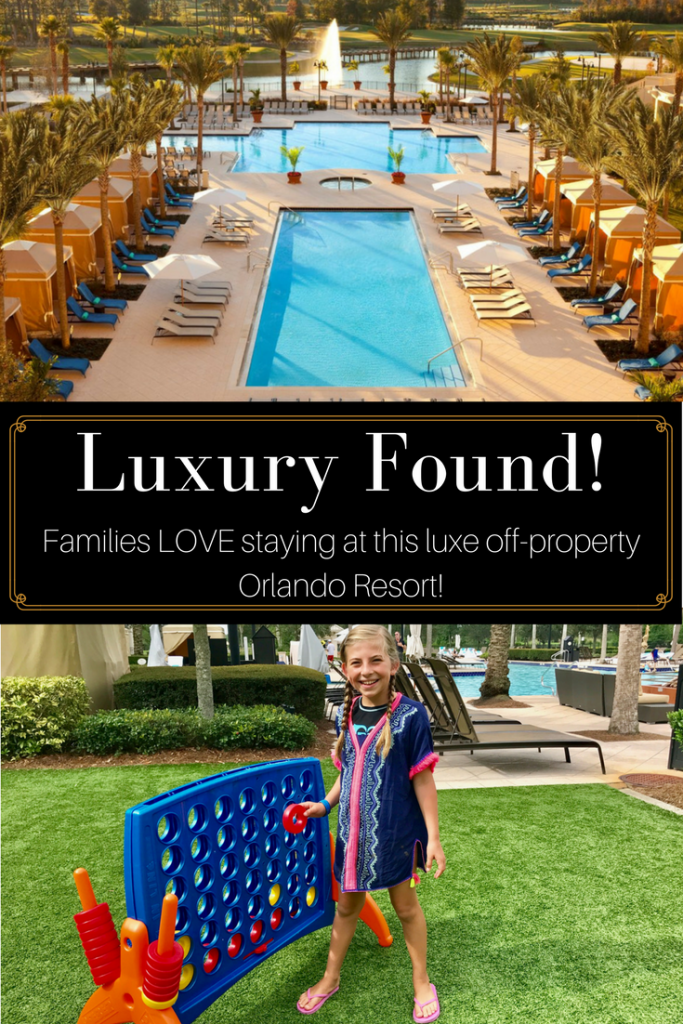 *We were guests of the Waldorf Astoria in Orlando for the purpose of this review. All thoughts and opinions expressed above, as always, are 100% our own.
You may also like these Orlando related posts-