As you arrive at The Ballantyne Hotel in North Carolina you are greeted with the timeless elegance that the resort grounds encompass. A gorgeous fountain, stunning greens, smiling bellhops and a sophisticated lobby are some of the scenes that welcome you. This luxury resort offers its guests unparalleled service, exquisite amenities, well appointed spacious accommodations an award-winning spa, PGA golf course & much more. Our family recently were fortunate to have a quick stay at this incredible Ballantune Resort. And, now that we have had a taste I know we will return again soon.
The Ballantyne Hotel in NC – an Incredible 5 Star Resort
photo courtesy of The Ballantyne Hotel
Service:
As I mentioned previously The Ballantyne Hotel prides itself on offering guests unparalleled service. The bellhops were incredibly friendly and knowledgeable. Check in was quick and easy. I loved how each staff member was eager to point out the amenities their hotel had to offer. We were given a brief tour of the hotel before being taken to our room by our Bellhop. He kindly pointed out all of the features the hotel room had to offer, filled up our ice and answered all of our questions.
The same service was consistent throughout the resort whether we were checking out the spa facilities, dining in one of the hotel restaurants or simply walking around the hotel grounds. There was always a staff member greeting us with a smile and offering to help us. In fact Ella mentioned that she felt "like a princess" by the way the staff treated her around the hotel.
I am sure the incredible display of French pastries waiting in our room from the hotel manager might have had something to do with those feelings as well 😉 The thoughtful gesture and attention to detail (Ella LOVES all things Parisian) proves this hotel strives to give its guests an unprecedented experience in luxury.
Ballantyne Hotel Rooms:
Picture rich furnishings, marble counters, plush bedding, sweeping views and thoughtful amenities. This is exactly what is in store for you at The Ballantyne Hotel. They truly go above and beyond when it comes to making you feel like royalty.
photo courtesy of The Ballantyne Hotel
Their attention to detail is impressive. Everything is perfectly placed from the way the crisp linens are made on the bed to the cozy slippers waiting for you on a lovely little mat next to your bedside. I guess that is why Forbes Travel Guide honored The Ballantyne Hotel with several four star awards in 2015! Check Prices Here!
The bathrooms were pleasing as well with marble countertops, spacious tiled shower and separate soaking tub. The towels were plush & fluffy… one thing I always expect when staying at a luxury hotel. And, there was tons of space to store your things in the lovely closet & cabinets right outside the bathroom.
Here is a quick tour of our room:
Additional Accommodation Offerings:
photo courtesy of The Ballantyne Hotel
The Ballantyne Charlotte also offers a unique stay in their Cottage. The Cottage boasts 3,670 square feet of private seclusion just one block away from the main hotel set off the first tee. The Cottage features: four Kind bedrooms and four bathrooms, a gourmet kitchen that can be stocked in advance, a living room complete with a fireplace and sweeping views from the outdoor stone patio. This would be the perfect spot for a multi-generational stay, family reunion or other event.
photo courtesy of The Ballantyne Hotel
Larger parties such as weddings, conferences and business retreats will delight in the Ballantyne Lodge. The Lodge features 35 guest rooms, 4,000 square feet of event space, break out rooms and plenty of spaces to socialize. Plus, the second floor of the Lodge also has pool tables, a fitness room and a business center.
Ballantyne Resort Dining:
The Ballantyne Hotel's exquisite service extends to their on site restaurants as well. The hotel's signature Gallery Restaurant boasts a four star dining award from Forbes Travel as well as Wine Spectator Award of Excellence. The Gallery serves farm to table inspired cuisine featuring the freshest local ingredients.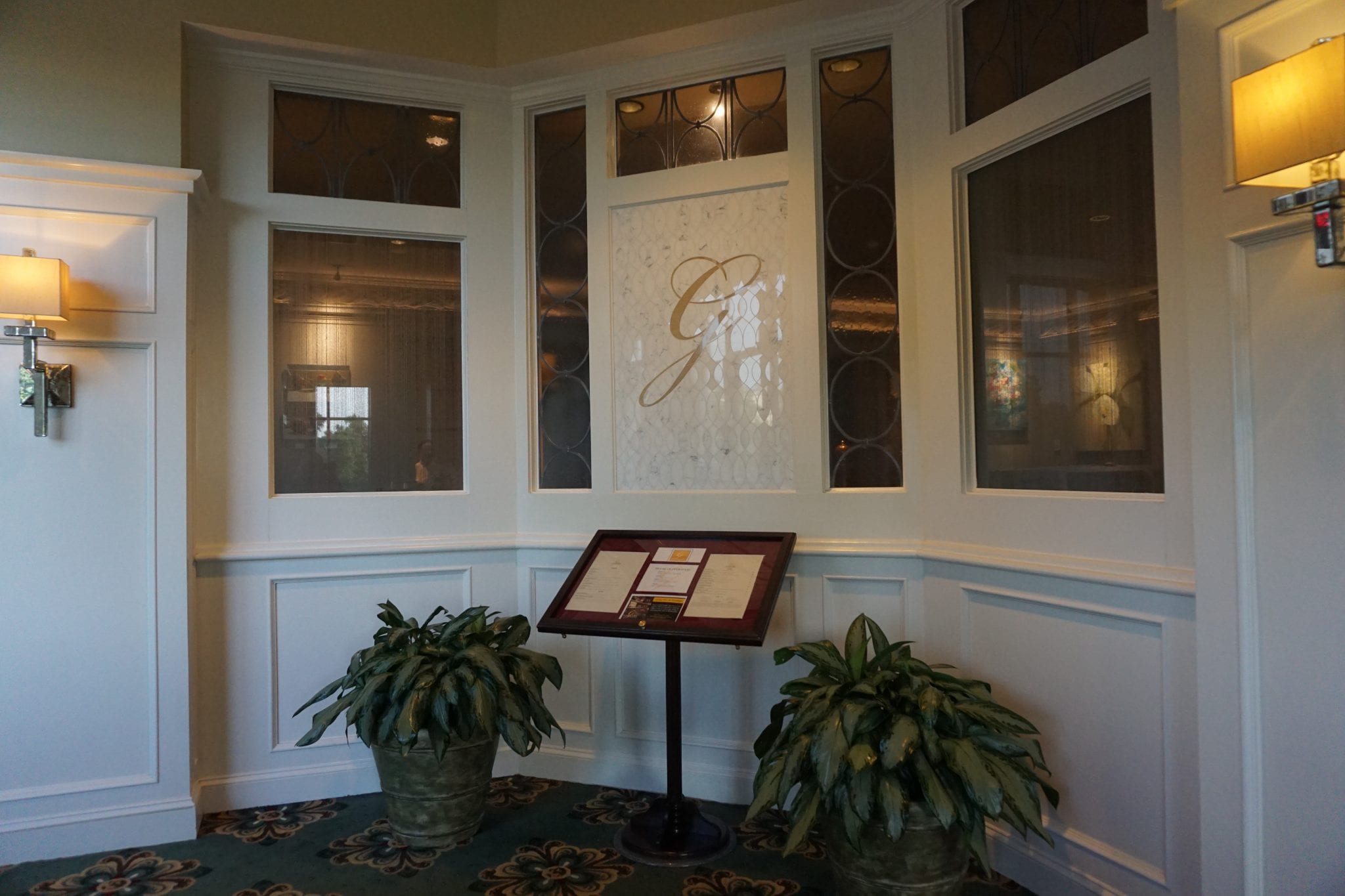 Not only does the Gallery Restaurant serve fresh cuisine but they are culinary artists as well. Take a look at these delicious plates… I'm drooling just writing about them- yum!!!
photo courtesy of The Ballantyne Hotel
photo courtesy of The Ballantyne Hotel
If you are looking to enjoy a bit of fresh air dining is also available at the Veranda offering an Al Fresco vibe. The Veranda is open for coffee and pastries in the morning as well as bar service from the mid afternoon- evening.
photo courtesy of The Ballantyne Hotel
Another dining option offered at The Ballantyne Resort is their Traditional Afternoon Tea Service. Here you will enjoy delicious tea sandwiches, loose leaf tea & pastries Wed.- Sat. from 1-5pm. *Just make sure to make a reservation ahead of time. Children are also welcome so, Ella is counting down the days until she can return to try this unique dining experience out for herself.
photo courtesy of The Ballantyne Hotel
In room dining is also available. Ella and I enjoyed some delicious almond croissants among other tasty treats in our room. Room service is one of our absolute favorite things to do when we are staying at a hotel. There is just something special about staying in and enjoying being served that way. I highly recommend it!

If you are in the mood for some cocktails, the Gallery Bar is another great option. I had a delicious Pomegranate Martini while Ella sipped on a Shirley Temple. We also shared some tasty crab cakes and French Onion Soup. I am pretty sure Ella would order ANYTHING that had the word "French" in front of it- ha!
photo courtesy of The Ballantyne Hotel
Things To Do:
The Ballantyne Hotel is deceptively large with plenty of activities to keep you occupied and relaxed during your stay.
The Spa was also awarded four stars by Forbes Travel, are you seeing a trend here 😉 Here you can be pampered with a wide array of spa treatments steam room, sauna, whirlpool, dining and lounging.
photo courtesy of The Ballantyne Hotel
The spa also offers wellness packages as well as overnight spa packages and more!
photo courtesy of The Ballantyne Hotel
They even have a salon. Honestly, if I lived near Charlotte I would totally treat myself to getting my hair done here. Who wouldn't want an excuse to escape to this heavenly oasis for a few hours every 6-8 weeks 😉
photo courtesy of The Ballantyne Hotel
Of course, the spa also is home to the gorgeous grotto pool. I just love the large windows letting all that incredible light stream in.
photo courtesy of The Ballantyne Hotel
And, you can stay on track with your fitness goals by making a visit to the hotel's fitness facilities.
photo courtesy of The Ballantyne Hotel
Besides the Grotto Pool, the Ballantyne Hotel also has a gorgeous outdoor pool. I loved the plush fabric chairs and the assortment of magazines laid out for guests. Can you see why I can't wait to return? And, you have to check out their breathtaking greens of course!
photo courtesy of The Ballantyne Hotel
Kid Friendly Rating:
Ella gives The Ballantyne Hotel in North Carolina two big thumbs up. As I mentioned previously she told me the staff made her feel "like a princess" and that feeling combined with the extra special treatment she received from the hotel manager as well as both the indoor & outdoor pools, plush bedding and soaking tub won this little girl over big time.
She also liked that the Gallery offered a kids menu, the bar had Shirley Temple's and she's dying to go back and check out their Afternoon Tea service too!
Overall:
photo courtesy of The Ballantyne Hotel
If you ever find yourself in Charlotte North Carolina (and you should because its a gorgeous city) than I would highly recommend that you check into The Ballantyne Hotel. With its close proximity to the city center and the Charlotte Douglas International Airport- The Ballantyne Hotel is the perfect place for families, solo travelers and business folks to stay. With award-winning on-site restaurants, gorgeous grounds, a luxurious spa, pristine pools, stunning PGA golf course and exceptional service you won't ever want to leave.
For more information, reviews & prices on The Ballantyne Hotel click here
You might also enjoy:
The BEST Luxury Resorts For Families [say Travel Experts]
How to Survive a Two-Week Road Trip without Losing Your Mind (well we came close)
The ULTIMATE Guide to Myrtle Beach- including the BEST Myrtle Beach Activities
Pin for later-
Have you visited North Carolina?
Tell me about your favorite things to do there in the comments below.
*A special thanks to The Ballantyne Hotel for hosting us on our recent stay. My thoughts and opinions, as always, are 100% my own.