Colorado Springs attracts visitors from all over the world with its many charms, including food, hiking, and breweries. Not to mention the nature lover's hiking trails and mountain peaks, as well as the wide-open, natural landscape that keeps visitors in awe. Of course, while you're staying in Colorado Springs, you might want to keep your lodging just as unique. That is why we have compiled a list of some of the best options for Airbnb Colorado Springs, so that you can create a more memorable trip!
Great Family Airbnb Colorado Springs Options
Luxe Airbnb in Colorado Springs For Large Family
This massive six-bedroom house is the perfect option for families staying in Colorado Springs! It comes with a pool that is heated to a wonderful 74-degrees, as well as a water slide, and a hot tub. There's also a trampoline, and a large grassy area for the kids to play in.
The house provides guests with views of Pikes Peak and the surrounding mountains. Head indoors and you can enjoy the large poker and foosball tables. Pair that up with six bedrooms and a large living space and you have a solid family getaway!
Incredible Colorado Lodge
The Tranquil Colorado Lodge is located on a small cul de sac and is surrounded by gorgeous foliage. It comes complete with a secluded backyard and a hot tub with a water feature for those who want to enjoy a zen space. The sunroom is perfect for little gatherings with a pool table and foosball table. Plus, every room is themed and you get that Colorado winter vibe right off the bat!
Farmhouse Airbnb in Colorado Springs
This chic farmhouse retreat is a great option for those who want to experience the outdoors in luxury. It has been completely renovated with beamed ceilings, terraced living spaces, and bright white rooms.
The house features a beautiful sunroom, a BBQ deck, and a large backyard with a fire pit and hot tub. Plus, you can fit up to ten guests. That is pretty impressive!
Classic Cabin With Amazing Views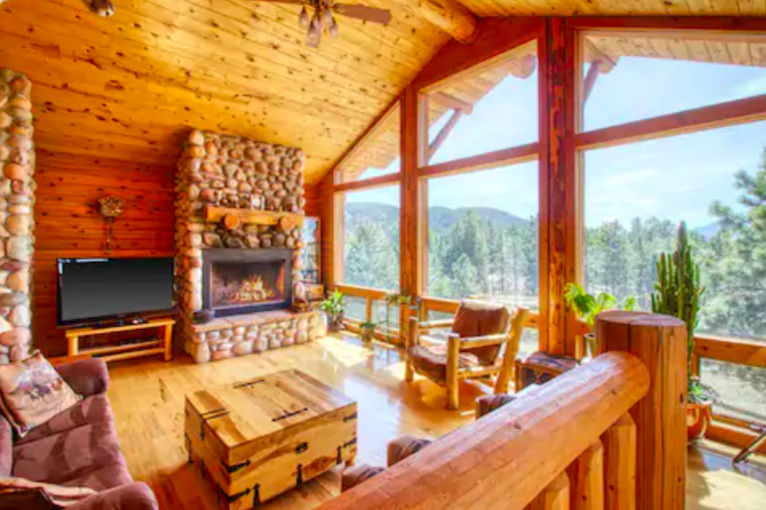 This classic Colorado cabin is an awesome getaway for those who want fantastic views of the natural landscape and all of the recreational amenities that one could want on vacation. It is incredibly spacious and has all of the features that you would expect to see in a standard cabin, though the property comes with some unique features as well, such as a hot tub, a pool table, a gazebo, and a massive deck. Plus, you are surrounded by ten acres of gorgeous mountain land to explore too!
Amazing Pet Friendly Airbnb in Colorado Springs Co.
If you need to bring the little furry one along, this 3,050 square foot mountain home is an excellent choice. The house is 100% dog-friendly and includes a nice, little private hot tub. It sits right atop its own little ridge, providing guests with 360-degree views of the surrounding wildlife, though it has a number of inside amenities to keep you just as entertained at night, including a 60" television with theater seating and a pool table!
Luxurious Colorado Springs Airbnbs
Luxe Retreat
If you're looking for something a bit more luxurious, we highly recommend checking out this little retreat next to Broadmoor and the Nature Reserve. If offers some incredible views of the surrounding natural landscape and is close to downtown restaurants, stores, coffee shops, and more. Here you will find a wide-open living space with a deluxe master suite and enough room for eight guests! The spectacular patio doesn't hurt either.
Incredible View
This 3,850 square foot home spans two floors and provides guests with panoramic views of the city. Here you'll find two decks, a designer kitchen, and a huge living space to enjoy with your guests. The large wood-burning fireplace makes it an excellent, romantic getaway.
However, with a big living area and five beds, it works just as well for entertaining the whole family. Plus, you're only ten minutes away from Old Colorado City and some hiking trails.
Golf Course Estate

Golf lovers look out! This prestigious five-bedroom home is located on a top-notch golf course estate and provides guests with incredible views of Pikes Peak and the nearby Air Force Academy. It is 4,600 square feet and has a large kitchen. Plus, an art studio, an entertainment room complete with a pool table, a bar, a cinema room, and a huge yard with a fire pit.
There is no doubt that you and your family or friends will have all of the entertainment that you need for an exciting Colorado Springs adventure.
Airbnb Getaways in Colorado Springs
Airbnb in Colorado Springs with the Best Bang For Your Buck!
This quaint little cottage sits right across from the Olympic Training Center and features two bedrooms and two baths, just enough for five guests to stay in at an insanely low price! The house is decorated and designed with a modern look thanks to the neutral whites and grays and the open-plan floors.
However, pair that with the cozy electric fireplace to sit back and relax at, along with the large terrace and you have yourself a nice little getaway.
Mountain Paradise Cabin
Cabins are always exciting! There is something about the comfort of a clean cabin with homey, wood accents. This little mountain cabin comes at a fairly low price and provides guests with pristine views of Pikes Peak and the surrounding mountains.
Colorado Springs is an amazing family destination and truly has so much to offer. I hope this list has helped you decide on a place to lay your head while in beautiful Colorado Springs!
You May Also Like:
The Ultimate Northern California Road Trip; 9 Can't-Miss Stops!
Top 20 Super Amazing Things to Do in Palm Springs with Kids!
Planning an Arizona Road Trip? 7 Incredible Places to Check Out!