Sure Palm Springs is better known or their trendy hotels, stunning golf courses, world-class spas, amazing shopping and their fantastic dining scene. But, guess what?? There is a ton of things to do in Palm Springs with kids. With plenty of family-friendly accommodations, kid-approved restaurants, and activities this is one SoCal destination the whole family will enjoy. Check out our top 20 things to do in Palm Springs with kids
The ULTIMATE Guide for Things to do in Palm Springs with Kids
Getting There
Getting to Palm Springs is easy. You can hop in the car and drive from San Diego or LA. Either way it takes about 2 hours. Or if you are flying in you can catch a flight to the Palm Springs International Airport with daily flights throughout the US and Canada. You can even take a train as Amtrak has a station right next to the Palm Springs Airport.
Transportation
Once you are in Palm Springs getting around is simple. The town is incredibly pedestrian friendly. Your resort most likely will have bike rentals and/ or a shuttle service to and from the main attractions in town as well. Or you can always just grab an uber.
There is also a new trolley service called The Buzz Trolley which is complimentary and runs Thursdays-Sundays from 11am-1am. This program has 4 trolleys which stop at 30 locations throughout Palm Springs making it incredibly cheap and easy to get around town
Where to Stay
There are a ton of fantastic places to stay in Palm Springs. Depending on what type of trip you are taking you may prefer a large resort for the family: We love Omni's Rancho Las Palmas (You can check out my full review here)
Other great resorts with amazing pools include: Hyatt Regency Indian Wells Resort & Spa or La Quinta Resort & Club
Or you may be better off checking out a vacation rental property. Palm Springs is known for their stylish hipster and modern homes with fun pools. Many times I prefer traveling this way because it is so convenient to have all the amenities of a home when traveling with kids. Not to mention when the kids go to bed the grown-ups can still chill in the backyard or stay up and watch movies in the living room. That doesn't happen when you are crammed into a hotel 😉
Click here for more Vacation Rentals in Palm Springs.
Things to Do
There is plenty to do in Palm Springs including relaxing at the pool A.L.L. D.A.Y. L.O.N.G. which is fine by me. However, if you are looking to get out and explore here are my Top 20 favorite Palm Springs Activities.
1. Living Desert Zoo
The Living Zoo is a wonderful family fun activity and one of our favorite things to do in Palm Springs with kids. The zoo is small making it incredibly manageable to walk around. Yet it's still big enough to house over 600 animals plus unique interactive experiences that will entertain everyone. My kids especially loved the Africa area and the Village Watutu. It is designed beautifully and brought back SO many memories of our recent trip to Ethiopia (read more about that trip here).
The kids' favorite experience at the zoo hands down was getting to feed the giraffes. They are still talking about it!! The Living Desert Zoo also had an interactive butterfly exhibit and camel rides available.
Don't miss the awesome model train display or the gecko gulch playground. Both provided great entertainment for our crew.
Find more information on the Living Desert by visiting their website here.
2. Jeep Tours
I was hoping to get the chance to check out one of the awesome Jeep tours. Some even take you to the San Andreas fault. How cool is that? You can find different Jeep Tour companies here.
3. Hike Tahquitz Canyon
If you visit outside of summer Tahquitz Canyon is a great 2 mile loop hike that includes a gorgeous 60 foot waterfall. The trail is easy enough for kids just be sure to pack enough sunscreen, water & snacks for everyone. Find out more about the trail here.
4. Aerial Tram
The Palm Springs Aerial Tramway is probably one of the most populat things to do in Palm Springs with kids in the winter time. It is the World's Largest Rotating Tramcar. During the winter you can take the tram up and play in the snow. Bet you wouldn't have thought you would find snow in the desert 😉 You can also snowshoe or go cross-country skiing if the weather permits.
During the summer camping and hiking are available too. And, no matter when you visit the views from the tramcar are absolutely stunning and kids and adults of all ages will love this activity. Find out more here.
5. Palm Springs Air Museum
Do you have a kid that is fascinated with planes? I know my boys were when they were little. This museum was actually named one of the World's 14 BEST Aviation Museums by CNN Travel! Get more info here.
6. Horseback Riding
Our family loves checking out new towns by horseback. So, for us this is an obvious choice. I was told that Smole Tree Stables is the place to go. Smoke Tree Stables is family owned and operated, and has been for over 65 years. Located in the heart of South Palm Springs up against "Smoke Tree Mountain," the stables are located at the base of hundreds of miles of trails. To read more about our horse back adventures click here.
7. Children's Discovery Museum of the Desert
I love interactive museums and the Children's Discovery Museum of the Desert is just that with over 80 hands on activities this is a great place to beat the heat when visiting Palm Springs. Learn more about this great museum here.
8. Stargazing Tour
What better place to search for constellations than under the desert sky? Take the kids out on a guided tour to learn all about our amazing solar system. Find more info here.
9. Farmers Market
We love a good farmers market. My kids love checking out all the varieties of fresh fruits and vegetables. Plus, they love talking to the farmers and learning how all the produce grows. Palm Springs has a fantastic Farmers Market that is open from October- May. You can stop by on Saturdays from 8am-1230pm. It is located in the Palm Springs Mall parking lot at 2300 E. Baristo Rd. Or read more about it here.
10. Joshua Tree
If you are visiting for multiple days a road trip out to Joshua Tree is pretty awesome. It takes about 45 minutes to get there from Palm Springs but this park is pretty amazing. Don't forget to bring your camera because it makes for amazing photo op's too! Get more info about day tripping to Joshua Park here.
11. Check out Indian Canyons
If you are into hiking, landscapes or history than you should also visit Indian Canyons. These canyons are located on Agua Caliente tribal land and have a fascinating history. There are 3 separate canyons and a bunch of trails. You can get all the details on their website here.
12. Wet 'n Wild Water Park
One of the BEST ways to beat the heat in Palm Springs with kids is to head over to Wet 'n Wild Palm Springs. The park is open mid-March through August and then on weekends through most of September and October. The park has a handful of body and tube slides, lazy river and splash parks. Find out more about ticket pricing and hours here. *Bonus Tip – Splurge on a cabana and relax in your own secluded area after some water slide fun. It's worth it.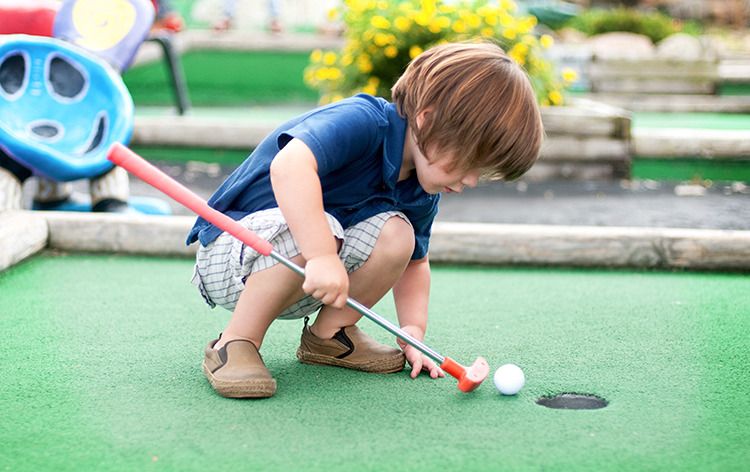 13. Boomers
Your kids will LOVE Boomers but I suggest you hit this one up in the cooler months as it gets TOO hot in the summer. Boomers has mini golf, bumper boats, rock climbing, go karts and a fantastic arcade. On Tuesdays, your kids can play all the games they want for just $12! Find out more about Boomers here.
14. VillageFest
Every Thursday evening Palm Springs comes alive with their awesome street festival- VillageFest. The downtown area features artists, artisans, entertainers and more! Plus, there are tons of vendors with amazing snacks and sweets. Not to mention all the restaurants, bars and shops along Palm Canyon Dr. This is an event worth checking out! Find more info here.
15. Palm Springs Skatepark
Have a little skate lover with you. Don't forget to pack their board so you can head over to the Palm Springs Skatepark. This park is actually known as one of the BEST skateparks in all of CA. Read more about it here.
16. Cabazon Dinosaur Museum
One of the odder things to do in Palm Springs with kids is just 13 miles west of Palm Springs. You can check out the Famous Cabazon Dinosaurs. It's a California roadside classic stop and one your kids will be totally amused by. The prices are pretty cheap and the kids will love the ride and climb Dinny- a 150 foot long Apato dinosaur. Find out more about pricing and directions here.
17. Big League Dreams Sports Park
My boys are HUGE sports fans and they all dream of playing in the big leagues someday so a trip to the Big League dreams Sports Park in Cathedral City is a fun option. They have a replica fields of Fenway Park, Yankee Stadium and Wrigley Field. Besides checking out the replica fields the kids will enjoy the batting cages and the playground too! Find more info here.
18. Grab a Date Shake
Did you know that 90% of the World's dates are grown in SoCal? Try out this delicious sweet treat from nature by slurping down a delicious date shake. The most famous spot to grab one is from Hadley Fruit Orchards but you can also save yourself a drive and stop by the Palm Springs Fudge and Chocolate shop to get yours.
19. Hot Air Ballooning
Take in all the gorgeous views as you float above Coachella Valley overlooking the Santa Rosa and San Jacinto mountains. This is a great option for families traveling with teens. View more info here.
20. Covered Wagon Tour
Looking for a completely unique educational experience? Book a tour on a covered wagon. You get to ride in an actual mule-drawn covered wagon through the desert. Although for your comfort this wagon has padded seats and rubber wheels. But, you get to explore the practically untouched desert floral and fauna as you ride along. The night ends with a chuck wagon dinner and live music. To book a tour click here.
Places to Eat
Palm Springs has a ton of amazing restaurants for all kinds of foodies. I think you can find just about anything you were looking for. However, with kids in tow you will want to try out some of our fives including these ones below.
Pizza is the ONLY food option everyone in our family can agree upon so finding a good one in each new city we explore is a MUST! In Palm Springs we LOVE Bill's Pizza and turns out so do a lot of other people. Bill's Pizza was recently named one of the Top 10 Pizza Restaurants in the U.S. by Tripadvisor (2015). The kids enjoyed the Buffalo Chicken and Cheese Pizzas. But, I recommend you grab their Hammer & Sickle or their Elton John both of which are absolutely amazing!!!
We are sandwich people and with all the outdoor experiences in Palm Springs stopping by the Sandwich Spot to grab some sammies to go is always a great idea. Make sure to get your sandwich served on their yummy Dutch crunch bread.
Kids of all ages love this hometown cafe with big cozy booths and just the right amount of noise to make it feel fun. Try their delicious German pancakes. Their servings are huge and great for sharing too. They serve breakfast, lunch and dinner but I would recommend coming for breakfast.
In California we are blessed with amazing Mexican food so I am picky when it comes to this cuisine. Las Casuelas nails it so you must give it a try. Mexican is another option that everyone loves.
If you LOVE a good burger and some tasty fried stick Woody's Burgers on your list. I highly reccommend their Jalepeno Burger (above) for those of you that like a kick in your burger. Pair it with their sweet potato fries and you've got the perfect burger combo. FYI- this is more of a dive cafe, but it still feels cool in a retro kinda way 😉
If you want to feel uber cool head on over to the classically remodeled Denny's at the Ace Hotel known as King's Highway. Here you can expect fresh locally- sourced ingredients and knock your socks off yumminess. Try their Smoked Black Rice and Bloomsdale Spinach Salad or their Buttermilk Fried Jidori Chicken with habanero honey. They offer a kid's menu as well which keep everyone's mouths happy!
Pin for Later-
Find tons of information about planning a trip to Palm Springs at the Palm Springs Visitors Center.
Have you visited Palm Springs before?
Let me know about your experience in the comments below.
You may also like these hand-picked related posts-
*A special thanks to the Palm Springs Visitors Center for helping the munchkins plan our trip. We received some complimentary items in exchange for our honest reviews. All opinions expressed are, as always, 100% my own.