As lucky as I am to travel around the world, I have realized that it is rare I get absolutely wowed by a result. That being said, the Finest Resorts Playa Mujeres absolutely blew me away. This resort is absolutely one of those resorts that should be on everyone's bucket list (their Punta Cana location is also pretty amazing). There is simply not enough I can say about my experience, in fact, I have added it the top of both my Top Luxury Resorts for Families post and Best Spring Break Destinations for Families post. So, let's get to the wonderful details about this amazing all-inclusive resort.
8 Reasons we Absolutely Loved Finest Resorts in Playa Mujeres
Incredible Rooms
When I walked into our hotel room, I was actually speechless. I knew we booked a "Finest Club Junior Swim Up Suite " that we were in store for a pretty incredible room, but Finest Resorts rooms simply blew us away!
Inside
Inside the room is simply beautiful. The room is incredibly spacious and beautifully decorated. My personal favorite part was the bathroom. You will find a massive walk-in shower with what might be the largest rain shower I have ever seen. In addition, if you feel like taking a bath, there is a beautiful indoor bath that actually has windows to let you see the beautiful sunrise and sunsets at Playa Mujeres.
The kids loved the fully stocked mini-bar that was constantly refilled with M&M's, Snickers, Sodas and more. Since it was included with the all-inclusive fee, I had no problem with the kids raiding the minibar.
Outside
While the inside of the room is beautiful, the outside is unmatched. As you step outside you have your own private outdoor area with two lounge chairs and also two sunbeds. The outdoor area is partially covered from the sun, so if you want to relax in the shade you can, but if you want a little more time in the sunshine there is plenty of space to do so. The crown jewel of the room is a beautifully adorned hammock over the pool where you can sit back and relax, read a book, take a nap or enjoy your favorite cocktail as you soak in all the beauty of this resort.
In addition, while you are at back, servers come by to see if you need any food or drinks as you enjoy your day. It is absolutely perfect!
Incredible Dining
One of my apprehensions about All-Inclusives has always been that the food is subpar, or very much the same food every single day. The Finest Resorts completely breaks that mold. We were there for 5 days and ate at a new place every day and still did not even get close to eating at every restaurant.
Family-Friendly Dining
Breakfast
There are a ton of fantastic family-friendly dining establishments at the resort. In the morning, the kids loved heading to the Market, which is a massive buffet with made to order omelets, fresh juices, smoothies, incredible pastries and some way too delicious Mexican pastries.
Lunch
In the afternoon we loved eating at the beachside dining and the tropical juice bar. Each location had a new theme every day. One day at the beach, they were serving up fresh gyros and the next day you can enjoy a Mongolian Grill. The tropical juice bar was exactly the same, you could get incredible Indian food one day, and the next day it has an amazing taco bar. In addition, you can also enjoy some amazing smoothies or coconut water right out of a coconut.
Dinner
At Dinner, there are so many options to choose from for families. We loved the specialty themed nights, like the Mexican Fiesta, and our kids absolute favorite was the Teppanyaki where the chef put on quite the show.
Adults Only Dining
Finest also is great for couples who traveled alone or parents who are lucky enough to have their kids at the kids club while we get to enjoy a wonderful night out.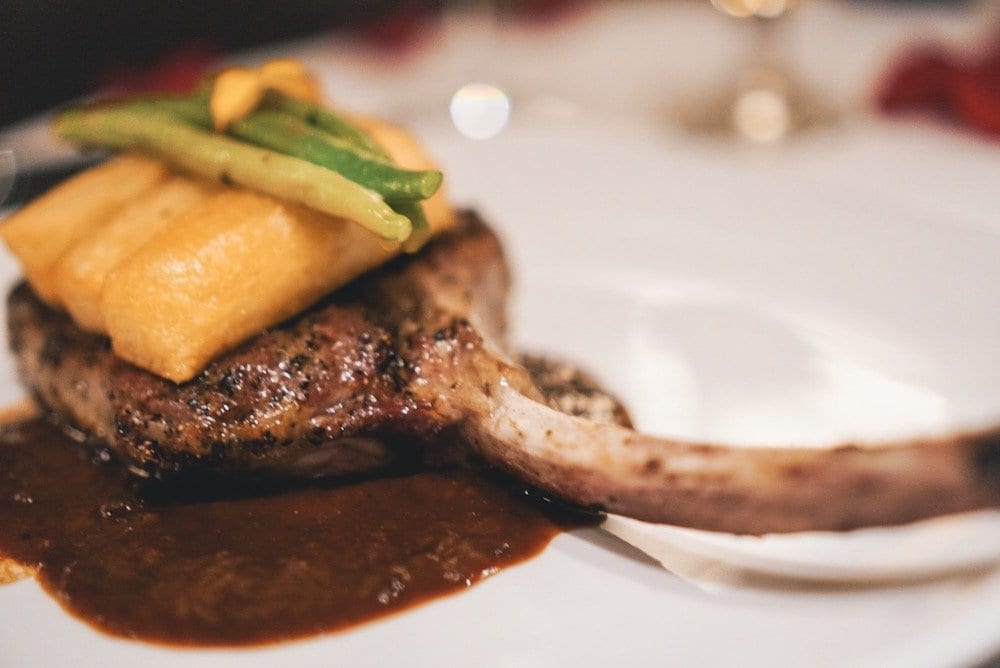 There are restaurants on property that are specifically for adults. Dommo was our favorite, this small restaurant served up some of the best dishes I have ever experienced. We started off the meal with a lightly crisped asparagus that was mouth-watering.
For our main course, Mike had a lamb chop (pictured above), while I had a buttery and delicious sea bass. The chef comes out in this restaurant and visits every table to make sure your meal is perfect. This is a must do if you are staying at the finest resorts. In fact, it was so good, we came back the next day for breakfast while the kids ordered room service.
Kids Club
Having 5 kids, we have experienced quite a few kids' clubs in our time. I'll be perfectly honest my kids are usually not a fan with a few exceptions. Once again, the Finest Resorts exceeded our expectations. Usually, when we drop off Olivia, she enjoys the kids club for an hour or so and then we get the dreaded page that she wants to be picked up. Not here, every single time we went to pick her up she told us she wanted to stay, or in some cases, she would just look at us and give us a big thumbs up when we asked if she wanted to stay. She never wanted to leave.
And I wouldn't blame her, the kids club staff was amazing. They would be dressed up as super heroes one day for super hero night and then the next day in Pirate costumes for treasure hunts. Each night had a special theme, Olivia's was the Teepee pajama party where they sat outside in Teepees and watched a movie.
Private Kid's Water Park
In addition, the Kid's club had an amazing water park with water slides, ziplines, splash area, and a picnic area with ping pong, foosball, air hockey and more. There was a lifeguard on duty to make sure the kids were safe, it was spectacular.
For the Older Kids
The older kids (ages 12+) could sign themselves in and out of the kids club, which is what ours did. There were special activities that were just for their age group as well. Our kids' favorites were the archery, bike ride and beach volleyball.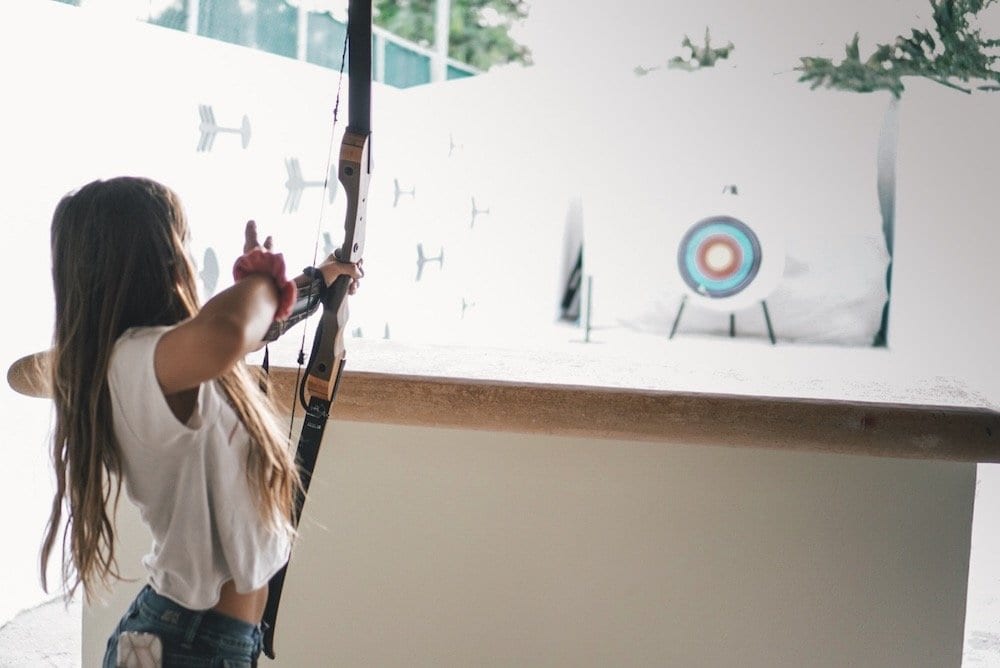 All in all, I have never experienced a kids club where I did not get pages once by my kids to have them picked up early (and that even includes Disney Cruises) but at Finest Resorts Playa Mujeres my kids could have stayed there all day long if we let them.
Beautiful Setting
I have always loved Cancun, but it does get a little busy, Playa Mujeres, on the other hand, is only 10-15 minutes past Cancun but feels like you are in your own private little paradise. When you wake up in the morning, you see those beautiful cotton candy clouds. The beach is impeccable with the beautiful warm Caribbean waters and wonderful beds and loungers to relax in throughout the day.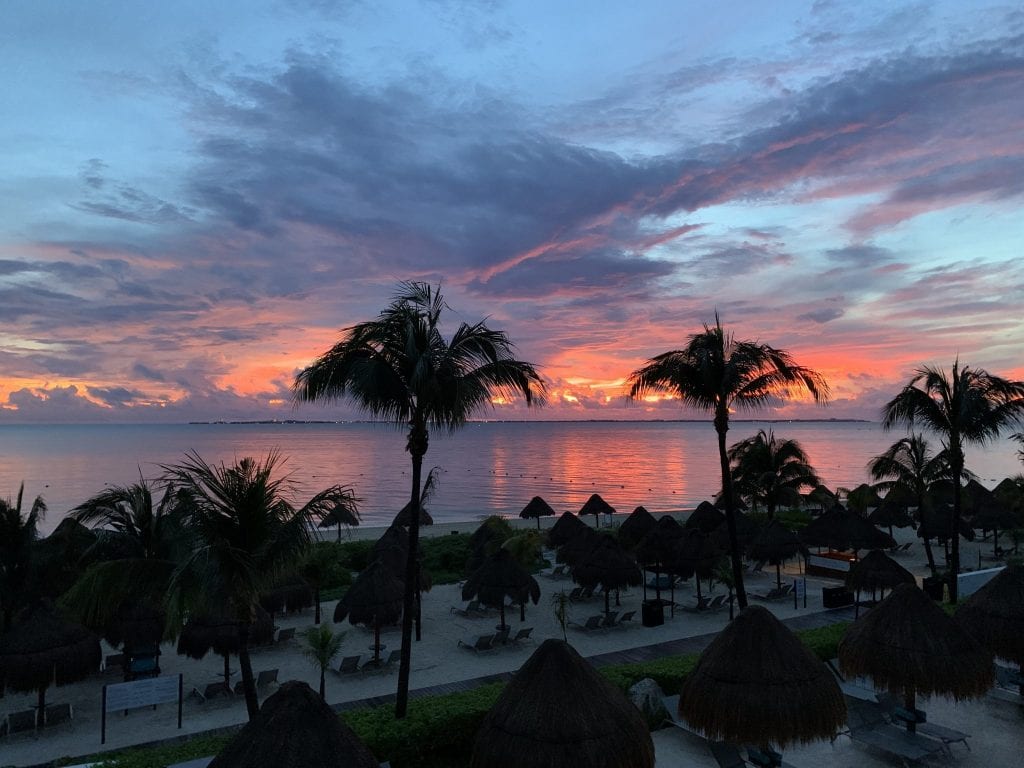 Throughout the resort, there are several pools to cool off in. The main pool has a swim-up bar to enjoy cocktails and the kids can grab their own non -alcoholic versions.
At the end of the day, right before dinner, I loved sitting at the sky bar and enjoying the sunset. It was all too surreal.
Top-Notch Service
From the moment you step on the resort, expect unbeatable service at Finest Resorts. The staff here is beyond incredible. Everything you ask for is greeted with a smile, and the staff is constantly looking for ways to make your vacation even better. I will give you a few examples.
My husband, who I love, but can be forgetful. Well, he only had to pack for himself off the list I give him, somehow he forgot to pack pants which are required for some of the restaurants at the resort. So, he went up to the front desk to ask where he could go to buy pants, they said there is no need for that and brought out several different options of pants for him to borrow while we were on the property.
Another time we were relaxing at their sports bar we asked if the kitchen was oper for food. The waitress apologized and said it does not open till 6pm but we could get sandwiches next door at the coffee shop. Before we could even could get up she was back with a room service menu and said she would take the order and have the food delivered to the sports bar.
Honestly, this is how it was everywhere at the resort, from the kids club to the beachside service, to the restaurants, and even at the adorable ice cream shop. The staff at the Finest Resorts goes above and beyond to satisfy their guests needs and wants. They would see our 6-year-old at the beach and bring her sand toys without her even asking. It was such a treat to not even have to think about what I needed, it was just done for me before I even could think about it.
Pristine Conditions
I think if there was one thing that my husband loves the most is a well taken care of resort. He says that if you see them taking care of the most minute details you know you are going to be in for a good experience. That being said, the first morning he went around to take some photos and while he was excited about the photos taken, he was more excited about what he saw. There were five people in the pool cleaning, scrubbing the tiles, the staff was on the beach raking the sand (yes, raking the sand!) to make it look perfect for the guests and everywhere he went someone was taking care of the resort.
This was not just a one-time event, every single day, you see staff make sure the grounds were perfect for the guests. You can tell by how the plants are all perfectly trimmed, the grass is perfect, the sand is even perfect. That attention to detail are so important because you know when you visit the resort the next time, whether it be 1, 3 5 or even 10 years from now, the resort will still be in impeccable shape.
Activities for All Ages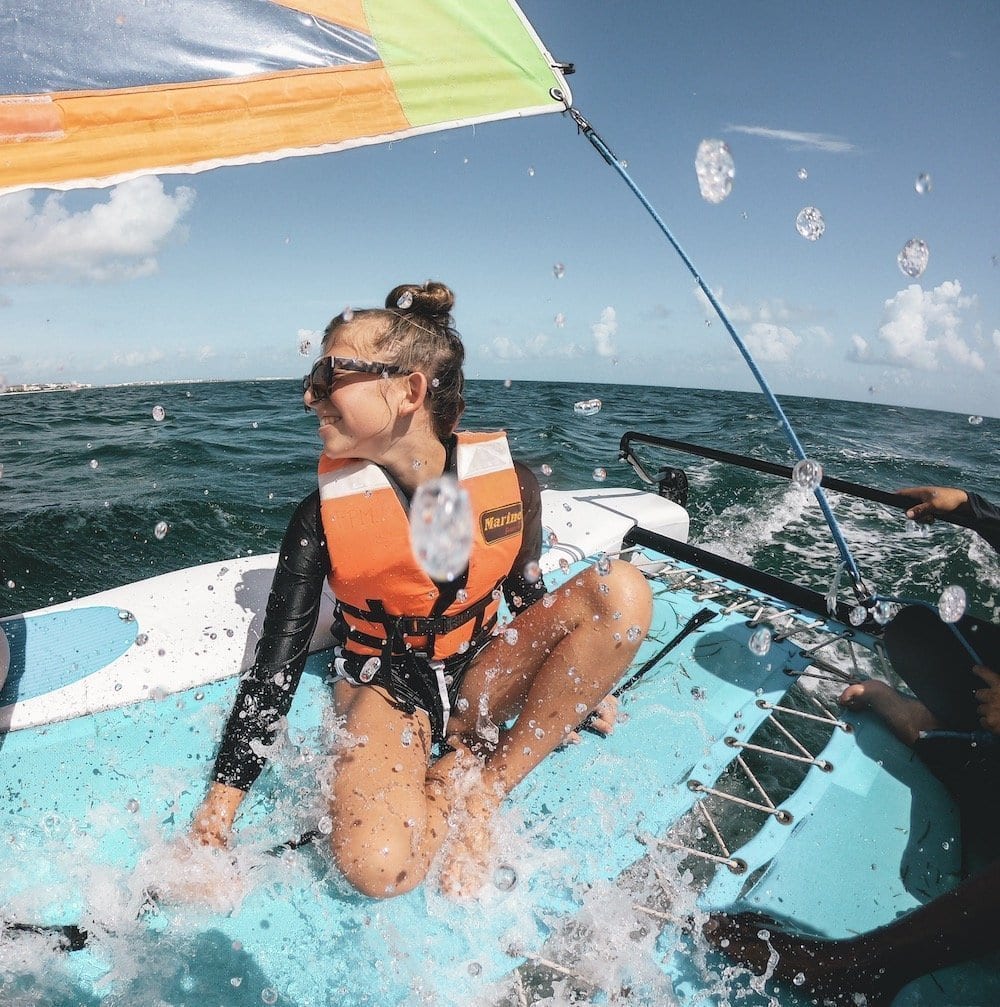 Having kids from ages 5 to 16, I am always looking for a place where there is something for everything. I loved all the activities available at Finest Playa Mujeres and so did the kids. One day, we were out sailing on a Hobie Cat, the next day Mike and Shea were kayaking on the ocean, while Olivia, Ella and I played on the beach.
Relax in a World-Class Spa
I don't often get to enjoy a spa while I'm on vacation because, with 5 kids, it is hard to find time for a little me time. However, Finest Resorts at Playa Mujeres actually has a way for parents and kids to enjoy the spa together. The One Spa at Finest Playa Mujeres has multiple spa packages for families including a Queen and Princess package where mom receives a lavender oil back massage and a Botanical Pedicure while her princess receives an I Love Fruits Pedi and Mani. They have a wide variety of treatments that are for the whole family, just for adults and even treatments just for kids.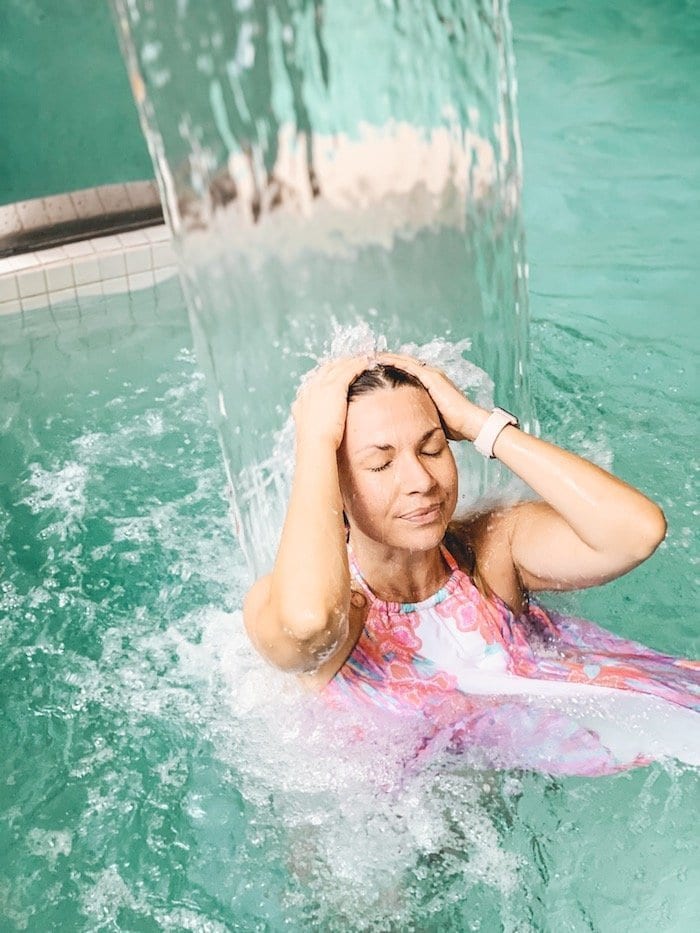 Hydrotherapy Experience
The older kids and Mike and I enjoyed the Hydrotherapy Spa Experience (it is included with the Finest Club Rooms). The Hydrotherapy experience is 50 minutes long and takes you through 9 different stations of Hydrotherapy and culminates in a wonderful neck and shoulder massage.
Couples Massage
After the hydrotherapy, the kids went off to the kids spa experience while Mike and I got to enjoy an 80minute couples massage. Both of us walked out of that amazing massage in the perfect relaxation haze and were smiling ear to ear when we saw our kids relaxing on the spa beds in robes enjoying some chocolate covered strawberries. I am telling you every detail is thought of at this resort. I feel like I can't say that enough.
Overall Finest Resorts Playa Mujeres Review –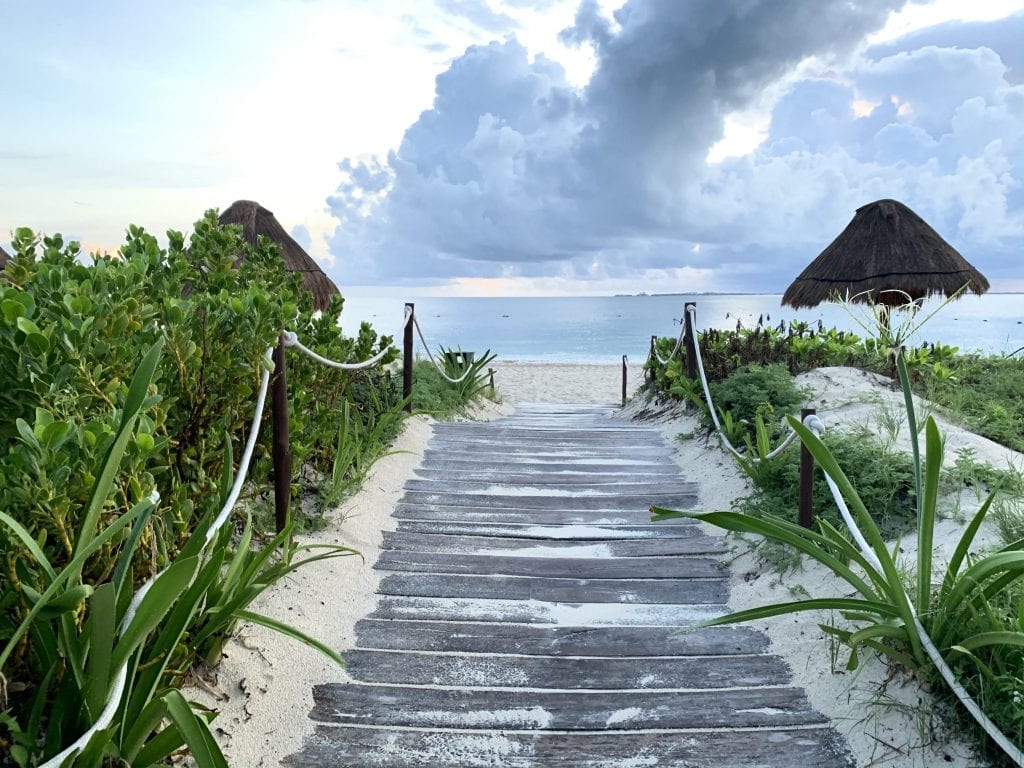 Overall, I could not speak highly enough about the Finest Resorts Playa Mujeres. Pretty much every single aspect of this all-inclusive resort exceeded my expectations, and to be honest, I'm a pretty picky person when it comes to resorts. Whether you are a couple looking for an amazing getaway or family like mine with a bunch of kids to entertain, this resort truly has it all. You can find out more about Finest Resorts and get the best prices from our friends at Expedia
If you have any questions about Finest Resorts Playa Mujeres, feel free to comment below or shoot me a message on Instagram!
Looking for more all-inclusive options in Mexico? Check out this post on the Best All-Inclusive Mexico Resorts For Families from our friends at Kids Are A Trip.
Latest posts by Mama Munchkin
(see all)