If you're like me, everyday stress is easy to come by. Work and laundry pile up. The kids are restless and need a release. You and the spouse are exchanging "those" looks because you haven't had alone time in what feels like forever.
That's when I start to look at getting the family outdoors and back into nature. It allows me an opportunity to have everyone put down their cell phones and tablets and concentrate on one another as a family instead of a to-do list.
And one of the best places in the world to find an AirBNB near is Zion National Park in Utah. Every year, millions of people come to experience the park's stunning scenery and hiking trails. Located in southwestern Utah, Zion National Park is home to sky-piercing mountains, deep colorful canyons, majestic rivers, and iconic hiking trails.
I set out to find some of the most unique AirBNBs in the areas surrounding Zion that are sure to help reset the family and up the adventure in your life.
Airbnbs near Zion National Park
If you want to be just under two miles to the entrance of Zion National Park and, more importantly, want to be a few steps closer to a hot shower and your bed at the end of the day, then you'll want to check out the Bungalows at Zion Sundrop.
You'll spend your days hiking and exploring one of the greatest national treasures the United States has while also exploring the small-town charm of Springdale, Rockville, and nearby Hurricane, Utah.
Amenities at the bungalows include a kitchenette, Keurig coffee machine, a microwave, and a mini-fridge. You'll have plenty of space to spread out to plot your next hike or take your next video call. The master bedroom has a King size bed and large television, plus its own private bathroom. The second floor loft has stunning views of Zion National Park, so good luck fighting over who sleeps where.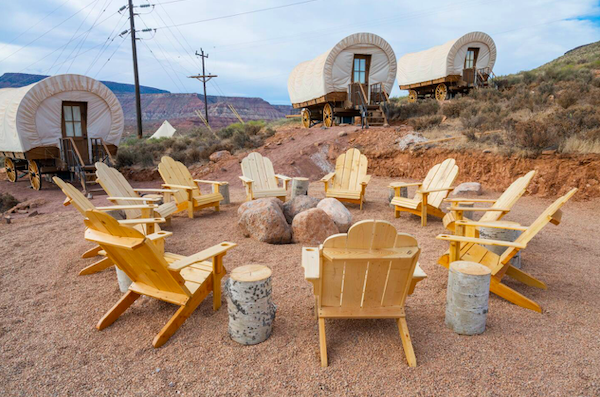 Located directly off of SR9 and Kolob Terrace Road in Virgin, Utah, the Covered Wagon is a glamping experience that is ideal for adventurous families. The wagons sit on the Zion Wildflower Resort, which is a 75-unit resort community with personal bungalows and canvas covered wagons, and billowing tents. What more could you want?
You may be in a glamping situation, but you'll still have most of the comforts and amenities that you usually find at most hotels.
There are no televisions in the community, but there is WiFi for those who absolutely need to check their email, and pets under 25lbs are welcome but will cost an additional $25 per evening.
The dwellings have hot water, washers, dryers, air conditioning, heating, a patio, a barbecue grill, and communal areas to interact with other glampers.
A yurt is basically a better constructed, sturdier tent, and this Zion Backcountry Yurt may be in the best location ever. It's in a great location if you're looking to hike the iconic Narrows trail and need a close base camp. The property is just 45 minutes from the East entrance to Zion, but it overlooks a large part of the park landscape.
The yurt is just under 600 square feet and has an open floor plan, but there are a few catches. There is no plumbing or running water to or from the yurt, but there is a facility close by that you can use. Prepare for life off the grid because there is no electricity, no cell service, no internet, and no satellite phone. It's primitive, and those that enjoy isolation or those that need a real break from being always connected to the world will love this location.
The yurt has a number of beds and sleeps up to 12 guests, has an indoor fireplace, a kitchen, a refrigerator, an outdoor fire pit, and all the Milky Way stargazing you can handle.
Your tiny humans will really enjoy this tiny living experience. You need to check out this reclaimed, refurbished shipping container that has been converted into a tiny home and now rests on the shores of the Virgin River.
It's roughly 15 minutes to the Zion National Park entrance, and while you're there, you can enjoy gorgeous desert and mountain views while sipping on your coffee from the deck and listening as the water floats your stresses down the river.
It's a solar-powered tiny home, but you'll have hot water, a television, central air conditioning, central heat, fast WiFi, a kitchen for preparing meals, and tons of handcrafted fixtures. You're going to love stargazing from either inside or outside the property, thanks to the incredibly low light pollution, but you'll need to bring your own drinking water.
Stunning. That's probably the only word that truly describes the White Cliffs Vista, but it still doesn't do the AirBNB justice.
Up to 10 guests can help you decide if you ever want to leave this place and go home while you take in the unobstructed, panoramic views of the White Cliffs on the East side of Zion National Park. Floor-to-ceiling windows allow the light and the scenes to pour in from every angle, so you'll have a tough time guessing if you're in Heaven or just Orderville, Utah.
Here you're minutes away from Zion, Bryce Canyon, Coral Pink Sand Dunes, the Grand Staircase, and tons of other scenic destinations. That's if you want to leave. You'll also have a 1,000-square-foot deck and over 1,800 square feet of living space. There are modern comforts like WiFi, smart TVs, a Traeger wood pellet grill for barbecuing, a ping pong table, and more.
It's time to get cozy at the Apple Hollow Tiny House AirBNB. It's brand new, rustic, but modern and is located on 14 acres of apple trees and farmland that are surrounded by breathtaking mountain peaks.
This property gives you privacy and seclusion as you leave your worries behind for an adventure on the outskirts of Zion National Park. Your family will love sitting around the fire pit as the sun disappears behind the mountains and the starlight begins to flood the heavens above you.
The Apple Hollow Tiny House is equipped with a washer, dryer, 12-foot ceilings, a propane grill, and a private fire pit. You can walk around the orchard, pick an apple, have a snack, and get right back to doing nothing, just like you planned.
The family is going to absolutely fall in love with this amazing lodge that rests beside a lake on the East side of Zion National Park.
The kids are going to have a blast paddling around the lake, checking out the smaller ponds in the area, and exploring the hideout under the stairs (like Harry Potter!) while the grown-ups relax in the spacious house or trying not to throw their backs out diving off the lake's diving board.
Outside there's a fire pit, picnic tables, plenty of shade trees, or a spacious deck to relax on while the kids have a blast in the outdoors.
Inside you'll find all the comforts of home, including smart TVs, beautiful fixtures, modern features, a fireplace, and all the peace that you need. This is an incredible property, and the pictures simply don't do it justice, so check out the 5-star reviews and decide for yourself. We think the choice is going to be pretty easy.
Grab your gear and pitch a tent at this lovely campground called Zion Ponderosa, located just seven miles from Zion National Park.
If you have adventure-minded kids, then you're going to enjoy being in nature while also having access to a beautiful swimming pool and shower house. There are also hot tubs, volleyball, basketball, tennis courts, and a game room. Plus, you're on the doorstep of Zion National Park, so you won't have to travel far for more excursions.
The campground has gorgeous views of the canyon and surrounding mountains and comes with a picnic table and private fire pit for s'mores. Your group will also have use of a washer and dryer, WiFi, and a ping pong table, and pets are allowed, but there may be a small charge per evening.
Modern meets old world as these Earthen spaces, dubbed kivas (after ancient Puebloan structures), provide an unforgettable experience in the shadow of Zion National Park.
Your group (up to 4 guests) will have dazzling views of Zion, Smith's Mesa, and Gooseberry Mesa and the clear skies mean ample opportunity for stargazing at night. A short drive away are the restaurants and shops of Springdale, plus you'll find shuttles to take you in an out of Zion.
Each space has a King size bed and a full bathroom, plus a kitchenette with a mini-fridge, sink, dishwasher, microwave, and coffee maker. On the roof is an open space with a fire pit feature, a gas barbecue grill, and a hot tub.
In Hurricane, Utah, you won't find many hurricanes, but you will find amazing AirBNBs and an open road that leads to the brilliant natural vistas of Zion National Park, Bryce Canyon, and Southern Utah.
You and five guests will have the run of the property at this cozy and private full size home that has two bedrooms and four beds for sleeping. The home is in Hurricane's historic downtown district, so you'll have a chance to explore, shop, and dine in one of Utah's best small towns.
From here, guests will be in close proximity to not only the national parks and wildlife areas but also popular trails such as Jem, Gooseberry, and Goulds Rim, plus Sand Hollow and Quail Creek Reservoirs for water activities.
The home includes the most modern comforts and amenities, including hot showers, a washer, a dryer, WiFi, televisions, a piano for those late-night sing-a-longs, board games for the kids, air conditioning, heating, and a fully stocked kitchen.
Frequently Asked Questions about Zion National Park
Is there an entrance fee for Zion National Park?
Yes, private vehicles are $35, while motorcycles are $30. If you walk into the park, it's $20, or you can buy an America the Beautiful Pass for $80. The pass is good for a full year and is a great value if you plan on visiting more of our national parks. 
Which are the best trails in Zion National Park?
Angel's Landing 
The Narrows 
Riverside Walk 
Observation Point
What else is there in the area besides Zion National Park?
Brian Head Ski Resort
Duck Creek Village
Page, Arizona 
Horseshoe Bend
Las Vegas
If you enjoyed our list of Airbnbs in Zion National Park, you might also like:
PLANNING AN ARIZONA ROAD TRIP? 7 INCREDIBLE PLACES TO CHECK OUT!
Pin for later!
Latest posts by Ashland Hendrix
(see all)