This summer we decided (well, really me) that I wanted to explore parts of the U.S. that we have never seen before. I have always been intrigued by Hilton Head Island because our Disney Vacation Club membership has a beautiful resort there. But, I was a little nervous about just doing Hilton Head thinking maybe it would be too boring for the kids (I was wrong) and so I decided that we should explore more of the southern coast. So, we chose to start in North Carolina and then head down to Disney World o17-day day road trip, (yes, I am visiting the doctor to have my sanity examined). So, How did we pull it off?
How to survive a two-week road trip without losing your mind (well we came close)
Tip #1- Choose the Right Vehicle (and by that I mean get a Minivan)
Yes, I hear the sighs already, but there is nothing more comfortable (especially with 5 kids) than having a minivan. I used to be a never minivan person, but trust me after you experience the convenience, you will never want to go back. This trip we chose to drive a 2017 Kia Sedona and it turned out to be the perfect choice for our family. Yes, all minivan owners love the automatic slide out doors so kids don't hit other cars and the endless amounts of storage space and cup holders. But, the Kia had a few details that other minivans simply do not.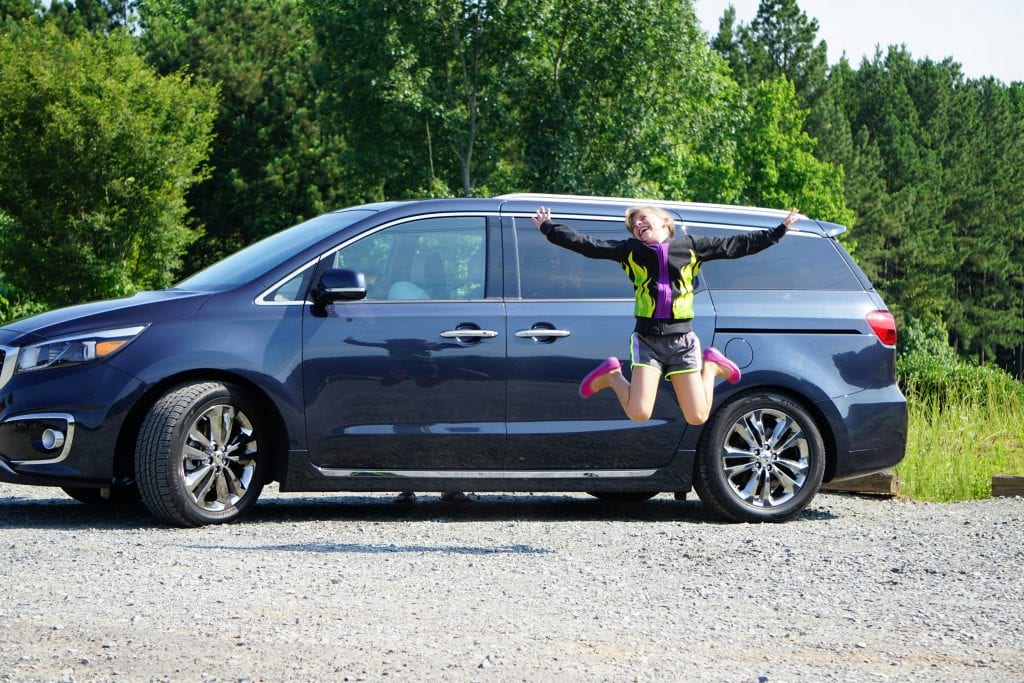 Like the fact that the second-row bucket seats could move together so my 14-year-old could easily help our 3-year-old with her tablet (which seems like every two seconds). He was ok with that role since the second-row seats also reclined with their own little leg rest. The 2nd feature I loved was the massive sun roof, since we can't roll in a convertible, it was nice to at least have the feeling of the wind in your hair as you drive along the coast not to mention that it really brightened up the 3rd row making it feel a lot less like a dungeon back there (which is what my kids call the 3rd row in our Sienna at home). Also, note Liv's awesome (and super compact) mifold Carseat. This carseat is amazing because it is just as safe as a regular booster but 10x smaller. That extra space is a big benefit when you are traveling by car with kids. I highly recommend checking into it if you travel often. It folds up and pops right in our backpack making it easy to take with us on flights too.
My wife loved that the minivan looked like an SUV on the inside, it had nice clean lines, some fancy shmancy Harmon Kardon speakers and the technology was on par with the luxury cars we have owned. The last thing I loved, and yes you might say this is ridiculous, is how the mirrors folded in when you locked the door. Sure, it saves your side mirrors from getting hit, but it also lets you know you locked your doors. I don't know how many times I find myself walking away from my car thinking, did I lock the car? And, then I am stuck searching for my keys (yes, I magically lose them in an instant) so I can press the button to hear the beep. Instead, I just turn around, look and know that the car is locked.
Tip # 2 – No drive longer than 4 hours and especially while the kids aren't completely beat (we made this mistake once and it didn't go so well)
So, we started our journey in Charlotte, NC. an stayed at the incredible Ballantyne Hotel. Our first day we headed to the U.S. National Whitewater Center. After we tired our kids out with some rafting, zip lines and hiking we headed onto our first leg of the journey, Myrtle Beach….and there was our mistake.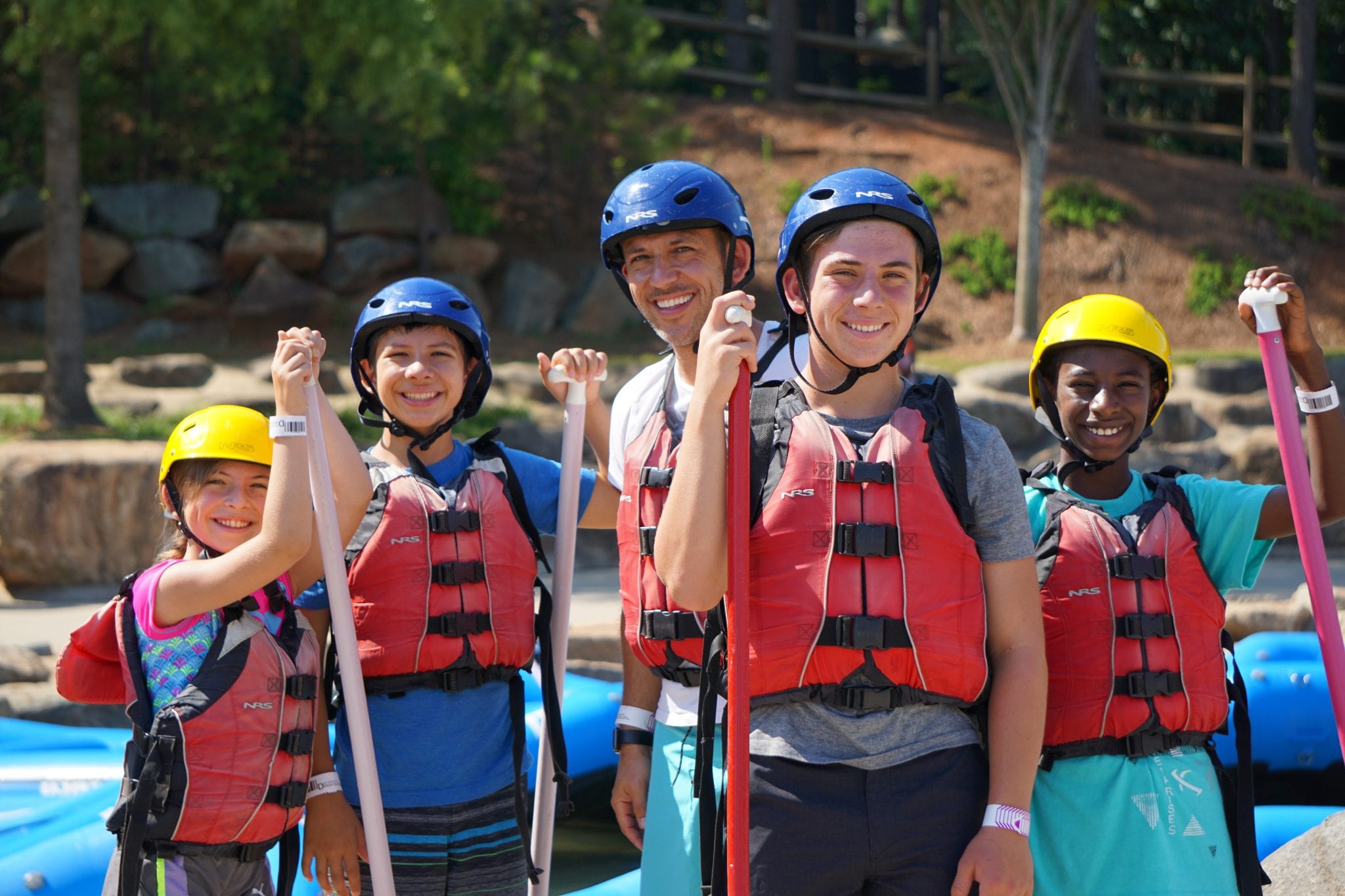 We used to always leave early on road trips, 3-4 am so that our kids would sleep most of the ride which would work out perfectly. It turns out leaving at 3 pm with tuckered out kids and a newly potty trained three-year-old is a terrible, TERRIBLE idea. No comfortable car could save us on this one. What should have been a 4-hour maximum drive took nearly 7 1/2 hours. We had multiple stops because our 3-year-old would get bored and said she had to go potty just to get out of the car (we figured that out halfway through the adventure, I know we are really intelligent). The older kids were cranky and hungry all the time so we stopped for a 2nd lunch (we had lunch at the Whitewater Center) and also stopped for dinner. Which brings me to my next tip.
Tip # 3 – Have snacks and lots of them
I am not as much of a planner as my lovely wife is. I'm kind of the "let's just get there and figure it out on the way." I don't want to say it, but I was wrong. After our first fumbled leg of the road trip, we made sure to hit the grocery store before leaving on any future legs of the trip. Grocery stores are a great place to find snacks. Not only does it save you money as fast food joints and gas stations add up quick. But, it also saves you time bc you can grab a bunch of snacks that will keep at room temperatures like fruit, pretzels, granola bars and trail mix. That way you don't have to stop every time someone says they are hungry (which will be A LOT).
We spent a couple nights of having fun in Myrtle Beach and then it was time to head onto our next destination Hilton Head Island.
Waze estimated that Hilton Head would be a 4-hour drive and we had a scheduled a dolphin tour at noon so we decided to get an early start and left at 6 am (conveniently right when Krispy Kreme opened. #myfavoritedonutintheworld) leaving plenty of time for the many stops we might encounter. Although, because the kids were used to sleeping in they ate their donuts and then fell back asleep. Well, the four oldest did at least. The sugar got to the baby and she was wide awake which brings me to my next tip.
Tip # 4 – Technology Technology Technology ( + some road trip games)
Normally, we are a family which tries to limit screen time, but this is a road trip and we need to make it to the next destination with the least number of meltdowns from the three-year-old (and the 10-year-old too). My screen time road trip rule was this "There Are No Rules". Kids, get on your Kindles and get sucked into some movies, download a new book (thank you Amazon Freetime) and apps and let mom and dad enjoy some nice peace and quiet.
Now, yes there are some problems with said tactic. I did want the kids to actually see the southern coast, so I came up with some games to get them to at least look around while we were on the road. If anybody saw something unique or amazing while we were driving they got a piece of candy. This worked fairly well, but also backfired a bit. My 12-year-old son saw a surf billboard with a girl in a bikini and he thought that was pretty amazing and thus he deserved some candy. (I gave him one the first time for creativity)
Hilton Head turned out to be one of my favorite stops on the trip. You can bike ride everywhere, the beach was beautiful, there were delicious restaurants, and we stopped for ice cream each night…..did I mention I gained 9 lbs on the trip?
Once again after a few nights of fun, it was time to hit the road. Next stop, St. Augustine, Florida. All this packing and unpacking brings me to my next tip.
Tip # 5 – Packing Cubes –
My wonderful wife has raved about packing cubes (just read her post about them here) for probably a year prior to this trip and said we needed them for everyone in our family. I really didn't pay any attention because, well that seemed like an expense we could do without…… that is until we went on a Disney World/ Harmony of the Seas vacation with 22 of our family members (you can read about that craziness here). Since we have 5 kids we had to book two staterooms (I paired up with the boys and Amber had the girls). That is the moment I realized my frugalness, really shot me in the foot. The boy's clothes were constantly mixed up. Dirty clothes would end up with clean clothes and somehow none of the boys ever had socks so they would steal mine. So, the first thing I did when we booked our road trip was bought these packing cubes, and the packing cubes may have been the BEST TRAVEL PURCHASE I have ever made in my life.
Packing and unpacking are maybe 90-second processes now and the kids all have their own dirty clothes bag. No kids saying "This isn't my shirt" or "Where is my bathing suit." My good friend says "Some of life's biggest wins, are fixing your own mistakes" This was one of those moments and it was a great win for us.
We arrived in St. Augustine for a brief stint at the St. Augustine Alligator Farm. I would highly recommend a visit. You can check out Crazy Adventure Family's detailed post about their St. Augustine visit here.
After a nice thunderstorm and some serious heebie-jeebies from being so close to all this crocs and gators, we headed to our final destination, theme park capital of the world, Orlando, Florida. I am a big sucker for these theme parks as we have taken the kids here almost every year (sometimes multiple times in a year) and it brings back so many great memories. One of my not so great memories was waiting in the heat for those blasted Disney buses which always seem to take forever. Which is what led us to rent our first mini van and the reason why we now own one at home (that convenience can't be beaten). Which brings me to my final tip.
Tip #6 – If your family sizes greater than 4 – Rent a mini-van.
Yes, I know I said it before, but I just wanted to remind you that it will save you so many headaches. It's so easy to load up and go (see fun video below) and all, in all it is worth paying a few more dollars than trying to cram in a "full size" rental.
All in all our 17-day road trip adventure with 5 kids was pretty smooth. Were there times where I thought I made a grave mistake? Yes. Were there times where my wife wondered why she agreed to this adventure? Naaaahh, I am sure she thought I made a great decision, just like all my other crazy ideas #letsgetapool.
Do you have any road trip tips?
Pin for Later-
*Disclosure- This is a personal blog all thoughts and opinions expressed are for informational purposes only. At times Global Munchkins receives discounted or complimentary services and/ or products, however, all thoughts and opinions expressed are, as always, 100% my own. **This post contains affiliate links.
Latest posts by Mama Munchkin
(see all)