Temecula Valley is a gorgeous suburb located equidistant from both Los Angeles & San Diego making it a perfect launching pad for traveling families. The city itself boasts many fantastic family activities for travelers and locals alike. Over the next few weeks, in partnership with Visit Temecula Valley, I will be sharing with you all the amazing things this beautiful SoCal city has to offer not only families but couples and friends as well.
Temecula Valley Museum- a review
Why you should visit?
Temecula Valley Museum is a fantastic place to escape the heat and feed the kids some information about the history of Temecula, the wonderful works of former resident and author Erle Stanley Gardner and explore the hands on history touch exhibit. Plus, this fantastic museum also boasts special traveling exhibits as well.
Temecula History Exhibit
Temecula has been called home by many different cultures and people over the course of time. The Temecula Valley Museum portrays what life was like for its former residents such as the Luiseno Natives, the missionaries and the ranchers all who helped influence life in Temecula today.
This exhibit features a host of artifacts including hand crafted cultural items, ranching and farming equipment, documents, photographs and representations of the different modes of transportation over the years.
The munchkins thought it was really neat to check out what Old Town Temecula's Front Street looked like so many years ago in the model displayed below. They then compared what was the same and what had changed as we drove back through that street on our way home from the museum.
Circus Exhibit (now- August 11th, 2016)
It's a fact that circus' shaped American culture back in the early 19th century when traveling circus' made their debut. A young America did not have large enough cities to host a resident circus so a new breed of circus arose. Nowadays, thankfully circus' are much different than they were in the past but the munchkins and I found it fascinating to read all about how the circus came to be and what life in the circus was really like.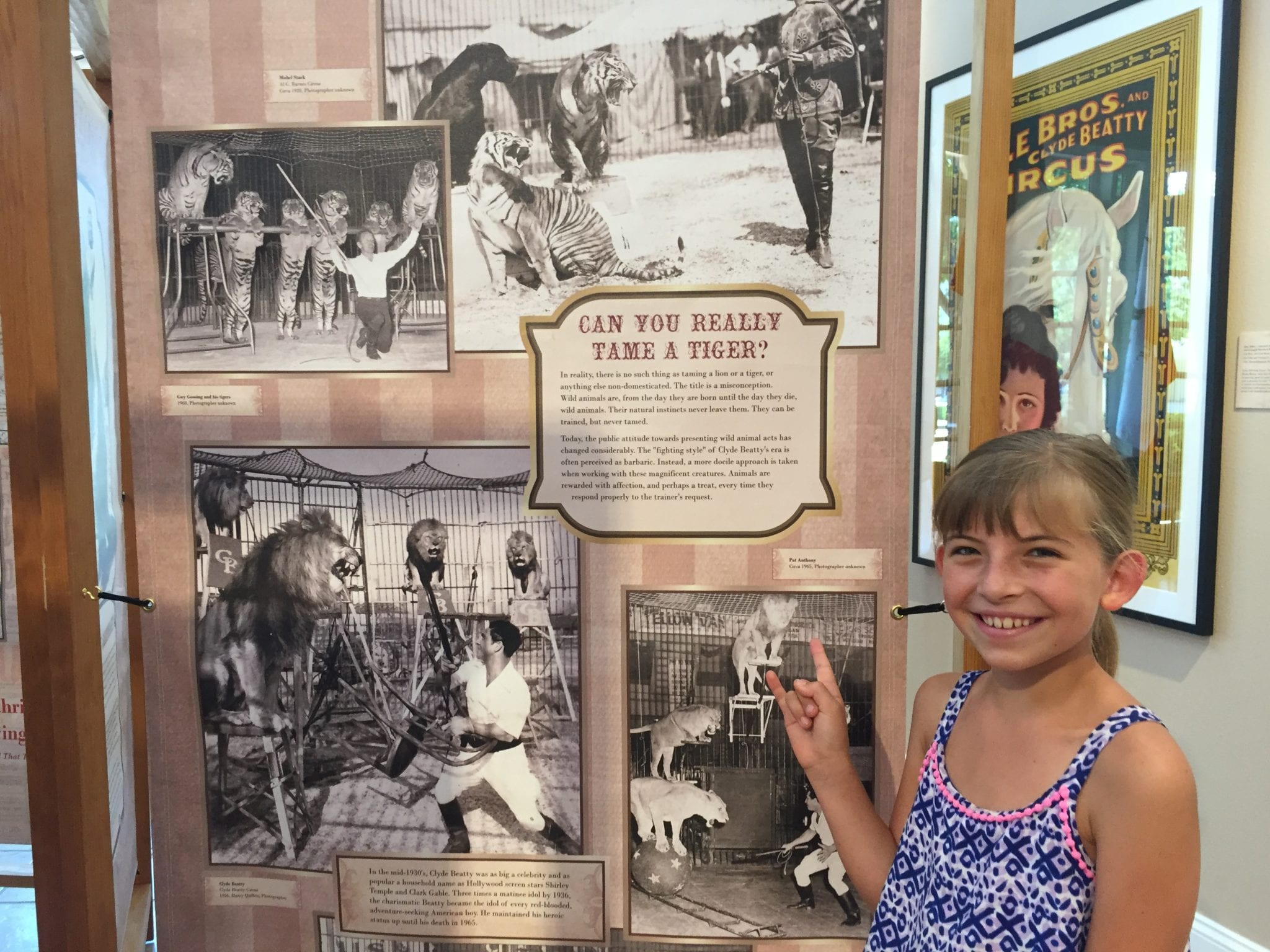 The displays are beautiful. We especially loved checking out the details on the beautiful costumes as well as the vibrant colors of the circus poster art hung around the second story of the Temecula Valley Museum.
Owen and Liv were partial to the giant set of clown shoes that they discovered. Liv kept asking if they were stinky- hahaha! I imagine they might be after all the years they have seen. Thankfully, we will never know since they are locked up on display 😉
Make sure you head to the Temecula Valley Museum asap if you want to check out the circus exhibit as it is only on display until August 11, 2016. It's a perfect weekday stop before school starts!
Children's Touch History Exhibit
Kids love to put their hands on E.V.E.R.Y.T.H.I.N.G. thankfully Temecula Valley Museum feeds their curiosity with its adorable Children's Touch History Exhibit. Located on the second story of the Temecula Valley Museum this exhibit can keep your kids occupied for hours. I literally had to drag my kids out.

How cool is the life-size horse replica that they have? The kids had a blast pretending to be cowboys. They also loved checking out all the equipment that goes along with riding a horse. And, the girls could not get enough of the little play house. Ella said she felt like she was one of the girls on the "Little House on the Prairie" as she popped on a costume and began playing with a doll in the kitchen.
Overall
The Temecula Valley Museum is a wonderful activity for younger kids. You can't beat the cheap admission ($5 suggested donation/ $10 for families) and during the summer its an excellent outing that will not only keep kids cool but teach them a thing or two as well.
For more information about the Temecula Valley Museum visit their website here.
Temecula Valley Museum is located at:
28314 Mercedes Street
Temecula, CA 92590
(951) 694-6450
Hours:
Closed Mondays
Tuesday – Saturday 10:00 AM to 4:00 PM
Sunday 1:00 PM to 4:00 PM
Pin for later-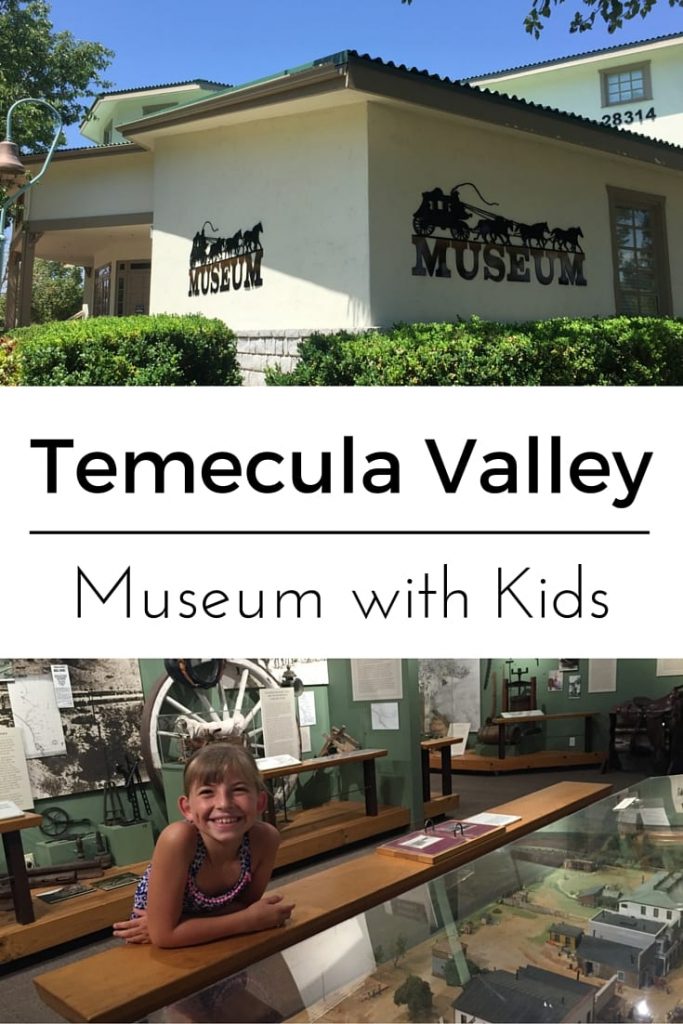 ps- you may also like:
Have you visited Temecula Valley?
*a special thanks to Visit Temecula Valley & the Temecula Valley Museum for organizing our visit. My thoughts and opinions, as always, are 100% my own.