If you're looking to get away this summer and enjoy the beautiful ocean breeze and the sand beneath your feet, then we recommend heading on down to Long Beach, CA.
Come with us as we explore some of the best beaches in Long Beach, so that you can make the most out of your next vacation.
The Best Beaches in Long Beach
Long Beach has a much different feel than Orange County beaches, which are more known for their surfing. Long Beach beaches has much more flat water which is great for a lot of reasons. It is also culturally diverse and has an incredibly dynamic beach scene.
With so many beaches to pick from, coming up with an itinerary can be quite overwhelming.
---
Alamitos Beach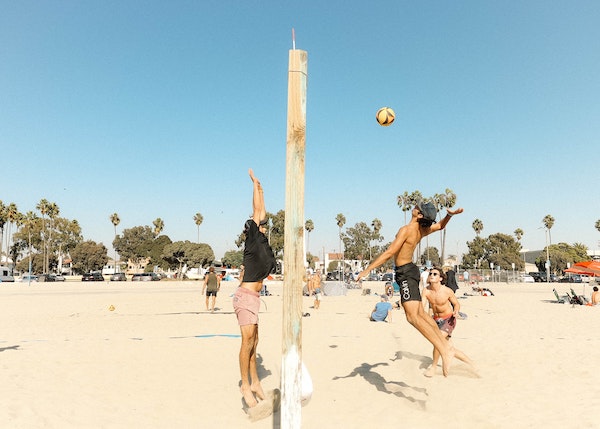 Alamitos is a great beach that has plenty to do. From beach volleyball to sunbathing to sandcastle building competitions, there are always activities for both solo trippers and tourist groups.
Plus, there are tons of great shops and hotels right next to the waterfront when you're feeling a little crispy from being in the sun all day.
---
Alamitos Bay Beach
If you're looking for spectacular views of the sun and sea, then we highly recommend heading out to Alamitos Bay Beach.
Start out by cruising around Bay Shorer Avenue to see if any of the volleyball courts are open. The beauty of the water here is that it is extremely calm, perfect for little ones to swim in.
---
Alamitos Park Beach
Alamitos Park Beach is great for those looking for calm waters and bright sun. The beach here is protected from breakwaters, so it is a perfect spot for swimmers who aren't so strong. Plus, you can enjoy a little picnic under the pine trees during the afternoon with your family.
---
Colorado Lagoon Park
Colorado Lagoon Park is great for those who want a more casual getaway close to land. This lagoon is one of the few remaining wetlands in Southern California is beloved by Long Beach locals. The waters here are super refreshing too, perfect for a wide variety of activities.
---
Rosie's Dog Beach
If you're traveling with your furry friend, then Rosie's Dog Beach is the spot to go. You'll find tons of off-leash dogs at Rosie's, running about the coastline and playing with one another. There is also a path that is dedicated to bicyclists extending towards Granada Ave for you to ride on without running into any dogs.
---
Peninsula Beach
Peninsula Beach provides the true Long Beach experience and is one of the two beaches present at the Peninsula. Here you'll find tons of room for recreational fun, especially when there are events going on. Of course, you can look for off-days when there aren't any events to enjoy the mellow waters and white sands.
---
Belmont Shore Beach (Our Favorite Beach in Long Beach)
Belmont Shore Beach might be the prettiest beach in the city with jaw-dropping views of the coast. You can choose to go swimming or hit the path for a nice bike ride. If the ocean isn't your thing, you can head to the Belmont Shore public swimming pool to get a good swim in. Plus, you're right next to Rosie's Dog Beach, where you can hang with a variety of fluffy friends.
After the beach stop by our favorite restaurant "Open Sesame" it has incredible Lebanese food, the best we ever had.
---
Mother's Beach
As you may have guessed by the name, Mother's Beach is the perfect spot to hang with little ones. There aren't any waves here and the shores are well-protected, making it an excellent spot to swim and play. Plus, you can rent kayaks or stand-up paddleboards right next door to Mother's Beach, perfect for getting out on the water.
---
Marine Stadium Beach
From boat lovers to wakeboarders, Marine Stadium Beach is a surefire choice for one of the top beaches in Long Beach. Not only is it a beautiful beach, but it also provides an exciting experience for both locals and tourists, especially if you are into water skiing.
This beach is the place where the 1932 Olympic Rowing competition was held, so you'll find some neat history here too.
---
Shoreline Aquatic Park
Shoreline Aquatic Park is a great choice if you're looking for a beach with tons of amenities. From biking paths to picnic tables to a large grass park, this place has it all.
Plus, Shoreline Aquatic Park is home to the five-acre Aquarium of the Pacific, which houses 5,000 aquatic species, perfect for the whole family to explore.
We definitely recommend adding Shoreline Aquatic Park to your list of best beaches in Long Beach!
---
Junipero Beach is an excellent choice for families due to its convenient location near downtown Long Beach. Its close proximity allows for easy access to other attractions and amenities.
The beach offers a spacious grassy park area, perfect for families to have picnics or play games. Additionally, the beach features gentle waves, making it safe for children to swim and enjoy water activities under the watchful eye of lifeguards.
---
Map of Best Beaches in Long Beach
---
Frequently Asked Questions about the best Beaches Long Beach
Can you swim at the beaches in Long Beach?
Yes. The vast majority of ocean and bay waters along the coast of Long Beach meet State ocean water quality standards. The only exceptions are areas adjacent or in front of discharging storm drains and after major rainstorms.
Does Long Beach have a boardwalk?
Yes, and it's almost a mile long along the coast. It is a short walk from downtown Long Beach. It has plenty of shops and restaurants for you to enjoy!
What is there to do in Long Beach for free?
Signal Hill
Earl Burns Miller Japanese Garden
Rancho Los Alamitos
El Dorado Regional Park and Nature Center
Shoreline Park
Rosie's Dog Beach
The Grand Sand Sculpture Contest
Heartwell Park
What is the nicest part of Long Beach?
Long Beach is a coastal city in Southern California that offers a diverse range of neighborhoods with unique features and attractions. Some of the nicest areas in Long Beach include:
Belmont Shore: Known for its charming and walkable streets, this neighborhood features a long stretch of sandy beach, a variety of restaurants and cafes, and boutique shops.
Naples: This is a unique neighborhood with a series of canals and picturesque bridges that create a Venetian-style atmosphere. Naples offers scenic views of the water, upscale homes, and a selection of shops and restaurants.
Bixby Knolls: Located in the northern part of Long Beach, Bixby Knolls is a well-established residential area with tree-lined streets, historic homes, and local businesses. The neighborhood offers a variety of dining and shopping options and hosts regular community events.
Downtown Long Beach: This is the city's commercial and cultural hub, featuring a mix of high-rise buildings, trendy restaurants, bars, and nightclubs, museums, and entertainment venues.
---
Pin-It for later: Best Beaches in Long Beach
---
If you enjoyed the best beaches in Long Beach, you might also enjoy:
15 OF THE BEST BEACHES IN ORANGE COUNTY, CALIFORNIA
BEACHSIDE FUN! THE BEST THINGS TO DO IN OCEANSIDE CALIFORNIA!
17 AWESOME THINGS TO DO IN HUNTINGTON BEACH YOU'LL LOVE!
Latest posts by Michael Mamian
(see all)