Home to beautiful lakes, historic structures and world class universities, Raleigh offers a variety of activities. Raleigh, the North Carolina state capitol, is a booming metropolis and a home to a diverse population who value outdoors activities, arts and entertainment, and education.
So, if you're planning on visiting the area with your kids, you'll be pleased to find a plethora of activities you and your kids will surely enjoy.
While there are so many things to do around the Triangle area (Raleigh, Durham and Chapel Hill) here are our top 18 things to do in Raleigh with Kids! (Also, check out all the amazing things to do in Charlotte, Asheville & Ocracoke Island)
---
Our List of Things to do in Raleigh with Kids!
Raleigh, the capital city of North Carolina, is a fantastic place to explore with kids. With its blend of history, culture, and entertainment, there are plenty of things to do in Raleigh that will keep your kids engaged and happy. Below we have listed our top favorite things to do in Raleigh with kids.
---
Coined as the "Smithsonian of the South", Raleigh offers several amazing museums which inspire kids' imagination and curiosity. Also, most of these wonderful museums are free!
Visiting the Museum of Natural Sciences, which is right at downtown Raleigh, is the top activity in this list for many reasons. This free-admission museum is the largest natural history museum in the Southeastern US. It displays a huge collection of live animals, preserved animals, and our favorite, a massive blue whale skeleton hanging from the ceiling.
The highlight of the guided tour would be the dinosaur displays where you would find the huge collection of dinosaur skeletons, especially the one named as the "world's only known 100% complete T. rex skeleton."
Also, remember that they're closed on Mondays and on holidays. Just across the Museum of Natural Sciences is our next stop: North Carolina Museum of History! It also doesn't hurt that admission is free!
---
On the same day you visit the science museum, you should definitely drop by the North Carolina Museum of History. The museum, also free of charge, houses an amazing collection of artifacts from different periods in history.
For adventure-loving people, you will marvel at the recovered items from Blackbeard's flagship, Queen Anne's Revenge.
The full-size replica of the Wright Flyer (1903), coined as the "first successful heavier-than-air powered aircraft" is pretty exciting to look at too. The Sports Hall of Fame exhibit was also really cool with more than 200 items representing different sports heroes in the state.
We especially love Richard Petty's stock car! Finally, make sure to enjoy our favorite spot- the interactive exhibit of toys from the 1950s to 60s.
---
The Marbles Kids Museum, just across Moore Square, will definitely capture any child's heart with its exciting and educational exhibits. The museum sparks kids curiosity as it lets them apply basic science principles in real-life, hands-on activities.
Right next to the entrance is a great display of vehicles where toddlers can play pretend and work on interactive knobs and buttons. There are also areas that let kids play with water.
The upper floor is even more fun for older kids as they can actually work on real carpentry tools and create their own tiny furniture. There are so many activities that kids would be willing to spend the whole day there.
So, make sure you bring plenty of snacks and water. There is also a cafe just outside, between the museum and the iMax theater, where you can buy healthy sandwiches and drinks.
Just a note before your visit, the museum collects a $12 admission fee. But, if you bought tickets in advance, you will only have to pay $9 per person. Also, they're closed Mondays and Tuesdays.
---
One of the top things to do in Raleigh with kids are experiencing the art museums. The North Carolina Museum of Art has a beautiful artwork collection displayed in two buildings, and extends to a 164-acre park, called the Ann and Jim Goodnight Museum Park.
Inside, you'll find collections from different continents, from antiquity to contemporary times.
While the Renaissance paintings and Greek sculptures might sound great for older kids, you might want to spend more time outside with your younger ones.
The park outside features scenic trails and colorful gardens, perfect for younger kids who enjoy exploring outdoors.
What's exciting about the museum park is that it displays beautiful and often towering art sculpture- plus, it's free. The park is not just great for art appreciation, but also for picnics, bicycling, jogging and even flying kites!
---
Just a few steps from the Marbles Museum is the Imax theater. They show a variety of documentaries on weekends and full-length feature films, usually on Thursdays through Saturdays.
We love watching the documentaries here because they always have amazing cinematography that takes the audience to a breath-taking adventure. Ticket price is between $5 to $12 per person.
---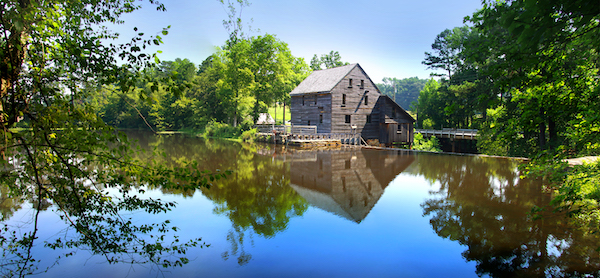 There are many incredibly beautiful days in Raleigh, NC and on those days it's time to head outside and explore. The Yates Mill is the last working water-powered gristmill restored from the 18th century.
The mill is mesmerizing, with old stone and wood structure, and people maintaining the place still grind cornmeal there just to keep the mill working. The structure is well-maintained and it looks charming beside the 24-acre mill pond.
The park surrounding the mill, with 174-acre land area, is so quiet and captivating. While some days might be busier than usual, the park is virtually undisturbed, allowing turtles and other small animals to thrive in the area.
The NC State dairy farm is also accessible so little kids can have some ice cream after an hour of exploring.
---
After a day of exploring museums, head to the Morgan Street Food Hall for a delicious meal.
This food hall features more than 20 vendors offering a variety of cuisines, including pizza, tacos, and ice cream. With plenty of seating options, it's a great place to relax and refuel.
---
Adventure Landing is tons of fun activities that kids of any age will enjoy. Conveniently located just along Capitol Boulevard, Adventure Landing is an accessible entertainment venue for the whole family. Outside, you will find an 8-hole golf course, laid out in an attractive landscape that is an adventure in itself.
There are animal figures, bridges, caves, and a charming waterfall for your little ones to explore. On the opposite side is the Go Kart track where you would usually find older kids lining up for a ride.
Inside the building, you find the entertainment center, the cafe, and the bathrooms. There are tons of arcade games to play, a laser tag arena and batting cages.
---
If you are in town you will definitely want to add the Warehouse District to your list of places to visit!
Located in downtown Raleigh the Warehouse District is filled with galleries, studios, restaurants, nightlife and many businesses to explore, check out and enjoy!
---
Similar to Galaxy Fun Park, Frankie's Fun Park offers tons of entertainment for every member of the family, with some fun variations. They have bumper boats, go-karts, flight simulators, laser tag, mini golf courses, and a great variety of arcade games.
This place is especially great for older kids and teens because of the virtual reality games, apocalypse-themed laser tag, a thrilling sky trail, a drop tower, and the 3D movies!
Younger kids will also have a blast playing the arcade games, featuring Paw Patrol, Willy Wonka, Wizard of Oz, and other familiar themes.
---
With Sassafras' playground equipment and structure, any child would be so excited when they see the park. The ground is covered in red and purple mat and there is also an area for sand play. Sassafras allows children to climb and run on its bridges and big slides.
The slides are truly wonderful and they come in different slopes and sizes. My son also really loves the roller slides and the challenging climb back up.
One awesome feature of Sassafras is that there are so many spots for parents and guardians to sit and relax while maintaining a good view of their kids. There are also fun, swing-type seats for teens and for parents wanting to have a little fun too. We like the place for the tall trees around it, making it ideal for afternoon picnics.
---
Galaxy Fun Park is a favorite among the locals because of its huge selection of activities and games. The highlight of this entertainment center is the trampoline. I
t has one wide area for everyone to jump around and smaller rooms for toddlers. There is also a separate area for older kids to do more challenging tasks.
The park also has laser tag games, rope courses, bumper cars and a ton of arcade games. If you're going with young children, the unlimited use of the playground is really a bang for your 5 bucks.
Another cool thing about this place is that they do have really great prizes. Just be aware that you will need to wear closed shoes to get it.
---
Pullen Park is one of the best spots in Raleigh for its 66-acre of public space, fresh air, train rides, and beautiful scenery. It is the 5th oldest operating amusement park in the entire USA and a source of pride and entertainment for the locals.
The park operates several rides between 10:00 AM and 7:00 PM, including kiddie boats, pedal boats, a carousel, and the famous train ride. The train will take you around the perimeter of the park, starting from the train station beside the playgrounds. Tickets cost around $1.50 per ride.
Pullen Park is really fun for children because of its playgrounds. Depending on your kid's age, you can choose from the four specific play areas, including the Preschool Playground, School Age Climb and Slide, the Swing Area and the Sand Play area. This is great because kids get to enjoy the playground appropriate for their age groups.
---
William B. Umstead State Park offers breathtaking views for nature-loving hikers. Spanning 5,599 acres, the park offers a quiet venue for family retreats and forest-bathing.
You can ride bikes, have an adventurous hike, or go fishing in the lake. In warmer seasons, you can take your family camping and watch stars in the clear night sky.
If you're lucky, you might see some beavers building their dam in the lake. There are also raccoons, blue herons and deer to surprise you in one of your walks. The park also has playgrounds to keep the kids busy all day long.
---
Just seven miles away from the bustling city of Raleigh, Shelley Lake Park welcomes visiting families in its scenic trails and tranquil lake. The park has 53 acres of beautiful forests, accessible by paved trails. You can go hiking or biking on the trails or just have a restful picnic beside the lake.
The park is a home for wild flowers and animals. Depending on the season, you may fish in the lake while watching the geese, ducks and turtles peacefully swimming in the water. Younger kids will enjoy the playground.
---
Embark on Scenic Hiking Trails
Raleigh and its surrounding areas boast stunning hiking trails that cater to families with varying levels of hiking experience.
The Company Mill Trail is a popular choice, leading to a picturesque waterfall. Encourage your kids to connect with nature as you hike, identifying different plants and wildlife along the way.
---
Try Local Delicacies in Downtown Raleigh's Best Restaurants
Now that Covid restrictions have been lifted, the restaurants in Raleigh are, once again, welcoming hungry guests with appetizing delicacies. The rows and rows of restaurants in Downtown Raleigh are patronized by Tar Heel folks for a good reason.
So, if you're in the city, you should have an authentic City of Oaks palate experience, starting with a bite of Beasley's Chicken and Honey.
This restaurant is family-friendly and offers one of the best chicken dishes around with some mac and cheese on the side. You might also just want to grab a delectable burger at Chuck's.
If you're craving some hefty dinner, just walk a few more steps and you'll find yourself at Death and Taxes steak and seafood restaurant.Aside from these restaurants, you should also take your kids to some local ice cream and pastry shops in the area.
---
Finally, if you get a chance to be in Raleigh in mid-October, the NC state fair is definitely a must-see. Going to the fair is one of the best things kids enjoy in Raleigh.
It's usually participated by different organizations. There are so many fun rides and so much to see. The games are also fun and competitive, with a lot of other people wanting to try their skills.
It's also a venue for concerts, as well as for individual talents that never cease to amaze audiences every year. The City of Oaks has so much to offer- from nature and art to food and entertainment. But best of all, the people are friendly and helpful. You will see a smile anywhere you go.
---
A renowned garden with one of the largest and most varied collections of plants adapted for landscapes is the JC Raulston Arboretum. Located near North Carolina State fairgrounds you will find over 6,000 different species of plants. It's an incredible place to visit and worth a stop on your journey through Raleigh.
---
Map of Things to Do in Raleigh with Kids
---
Frequently Asked Questions about Things to Do in Raleigh with Kids
What can you do in Raleigh with kids?
Pullen Park
NC State Fair
Galaxy Fun Park
NC Museum of Art
Food Halls
North Carolina Museum of Natural Sciences
Mordecai Park & Trolley Tour
Videri Chocolate Factory
Boxcar Bar + Arcade
Hiking Trails
When is the best time to visit Raleigh?
From mid-April to June is the best time to visit weather wise or from September to November if you want to avoid the chillier months.
What food is Raleigh known for?
Chocolate Chess Pie at the Angus Barn
Macaroni and Cheese from Poole's Diner
Fried Chicken and Waffles at Beasley's Chicken + Honey
The Dirty South at Chuck's
Crack Fries at Market Restaurant
Steamed Oysters at Shucker's Oyster Bar and Grill
African American History and Heritage
---
If you enjoyed our list of things to do in Raleigh with kids, you might also like:
15 FUN THINGS TO DO IN OCRACOKE ISLAND, NC THAT YOU'LL LOVE!
21 AMAZING THINGS TO DO IN HILTON HEAD ON YOUR NEXT VACAY
---
Pin for Later – 18 Exciting Things to Do in Raleigh with Kids!
Latest posts by Michael Mamian
(see all)