Carmel is one of the most beautiful coastal towns in California, and even with the onset of heavy tourism, remains true to its charm. And trust me while the scenery is equally beautiful to the new hit show Big Little Lies, this little town will provide you with a drama free vacation. From pleasant strolls and shopping sprees in downtown to gorgeous beach adventures, there are several wonderful ways for you to spend a weekend in Carmel. So, let's take a look at the 10 best things to do in Carmel California.
Top Things to Do in Carmel
Point Lobos State Reserve (FREE!)
Point Lobos is one of the most outstanding stretches of coastline in the world. Obviously making this one of the best things to do in Carmel, California. Once you see it, it's hard to beat and that is why I have found myself going back again and again. Painters and photographers have been gathering inspiration here for generations because that is how stunning it is! Follow along some of their quick trails for a hike that will provide you with a jaw-dropping moment of the great ocean waves crashing up against the colorful rocks. Even if you aren't feeling outdoorsy, just take a cruise along the coastline in your car.
For all our nature and animal lovers, you should plan a hike on the nearby trails. Many of these trails run along the horizon, yet are deep enough in the pine forest for catching glimpses of local wildlife, including foxes, birds, and mountain lions. Oh my!
The Best Shopping in Carmel, California (Free…if you don't buy anything – Good Luck!)
Okay, so this activity might not be quite free unless you have great self-restraint. However, Carmel is a great place to go window shopping. They have the perfect balance of a metropolitan shopping experience but in a more unique environment thanks to their unique architecture. You could spend an entire day walking around the multitude of stone-patterned streets and fairytale-style shops. From the outdoor mall obsessed to the lovers of local exchange, Carmel has it all. You may even venture off the path by accident and end up in a magical garden courtyard or one of the many hidden passageways. You'll need to save a fair amount of time if you want to get through them all.
Munch on Some Local Favorites
One of the must-visit businesses in Carmel is the Carmel Bakery & Coffee House. It's actually one of the oldest businesses in Carmel, dating back to the days when the city was merely a Bohemian artist community. Something I have come to love about Carmel is how much is still family owned and how deeply the locals love their town's history. While they do have your common goods such as coffee, pastries, and cafe snacks, we highly recommend trying one of Chef Pepe's famous, giant Bavarian pretzels. Remember, you're on vacation and vacation is a time to indulge in all that fantastic food you've been holding off on. Live a little!
Another must-have while in Carmel is some clam chowder. There are many different stands along the boardwalk that offer up this coastal classic. If you are anything like me, you already know the best part is the sourdough bowl. Just make sure to keep it safe from the local thieves; seagulls! Crabby Jim's is my favorite spot to grab a bowl that way I can walk around the wharf while chowing down.
Get Your History Fix at the Local Mission
Mission San Carlos Borromeo de Carmelo was established initially in Monterey in 1770. When the soil dried up and Spanish soldiers moved into town, the need to move the mission further down the coast to Carmel was apparent. It is no doubt one the most stunning missions in all of California and perfect for those who want to explore the rich origins of the city and the surrounding areas.
From the beauty of flower gardens to the craftsmanship of the arched basilica, there is quite a bit to see. Don't forget to check out the gravesite of the Native American known as 'Old Gabriel,' who was said to have lived 151 years.
Take In the Best Scenery of Carmel, California (FREE)
There is so much to see along the coast that you shouldn't limit yourself to the town. We recommend taking a short drive up the coast. From the awe-inspiring coastline to the variety of unique and astounding properties sprinkled along the edge of the road, there is a lot to see. Start by hopping on Ocean Avenue and driving towards the beach. You'll see a street labeled "Scenic Road." Follow this road along the water, and you'll eventually hit Carmel River State Beach. You can take this road all the way back around and into downtown. If you are traveling with kiddos, be sure to pull off the road and try some sour grass, which is plentiful on this part of the coastline. It literally tastes like candy! Just make sure you really know what you are looking for before plant tasting.
Hang Out At The Beach (FREE)
Once you take that short drive down Ocean Avenue, you should definitely make it a priority to spend some time at the beach before you head back into town. Carmel Beach is quite famous in California for its bright white sands and quiet cove. Surfers, volleyball players, and sunbathers alike enjoy everything that this beautiful beach has to offer. Don't fret my dog lovers, as Carmel Beach is 100% dog-friendly, allowing your four-legged friends to run wild and free.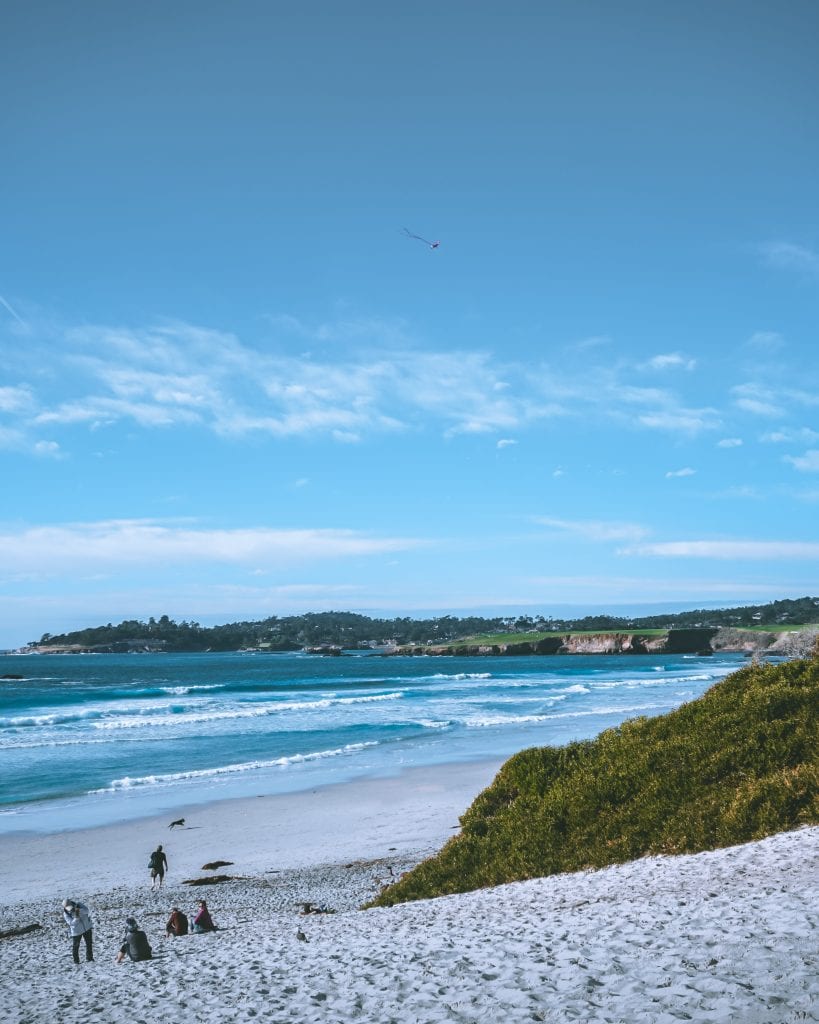 Do be aware that there are no lifeguards present at Carmel Beach, so swimmers should be careful of rip tides and large swells. On top of that, this part of the coast is typically quite cold so bring a blanket or sweatshirt along!
Explore the Famous Tor House
For all of the literature nerds out there, visiting the Tor House is a must. The legendary California Coast poet, Robinson Jeffers, built this incredible stone house with his own hands. Right next door is Hawk Tower, some of which was built with pieces of a shipwreck that had sailed with Napoleon and Elba. He made such a significant impact that the city made it a historical site for remembrance.
You can't just walk up and go inside however, you must book a tour. If you are planning on bringing your children, note that the tour is best for those ages 10 and up. You can learn more about the tour here!
Get Your Brunch On (My favorite thing to do in Carmel, California!!)
Mission Ranch has one of the best Sunday brunches this side of the United States. You can indulge in a traditional buffet while overlooking the colorful pasture with grazing sheep and an ocean just over the horizon. There is genuinely nothing more wholesome than a warm, sunny day spent at Mission Ranch. Jazz lovers will enjoy the top-tier ensemble.
If you're the type who wants to sleep in on vacation, they remain open into the evening, meaning you can go there at sunset and enjoy a nice drink.
For a more casual beach brunch, check out First Awakenings. It is a local favorite and their hot chocolate is something special. Not to mention, their portions are huge and yummy keeping you fueled for a day full of adventures.
Be Entertained
If you're looking for some class-act entertainment one night on your vacation, we recommend visiting the Golden Bough Playhouse. This iconic theatre has been around since the early 1950s and provides year-round shows for the entirety of Monterey County. There are two theatres within the playhouse: the Golden Bough Theatre, which is used for larger musical and classical performance, and the Circle Theatre, a smaller, more intimate setting that is used for more avant-garde performances. Make sure to check out their calendar ahead of time before you visit so that you can snag some tickets!
Best Wine Tasting in Carmel, California
There is a wide variety of tasting rooms in Carmel, from fully-stocked wine bars to quiet bottle shops. Many of them are sprinkled across the European-style downtown area so that you can walk from one to the next and try as many exceptional wines as you can handle. The tasting rooms here are very welcoming and energetic, so you don't have to worry about getting negative vibes from a posh, wine snob. If you're a wino yourself, these tasting spots provide you with many opportunities to learn about wine, taste delicious pours that the central coast has to offer, and even talk to one of the local winemakers to find out their secrets!
Take a Drive Over Rainbow Bridge! (FREE!)
Formally known as Bixby Bridge, if you will have a car while visiting Carmel this is an absolute must do. Hop in and head towards Big Sur using Hwy 1. Although the drive is all winding roads, it is stunning the whole way and well worth it. As you approach the Rainbow Bridge, you will see a parking lot above the highway to the left. You can also park right along the road, as long as it isn't too crowded. My favorite time to stop by Bixby Bridge is sunset, but it is a sight to see all day long so really any spare time you have will do. Drive a little further down the highway to Big Sur Bakery. It's a hidden gem, and their granola will have you dying to go back year round.
To sum it all up, whether you're from California or the other side of the world, Carmel is a unique and picturesque place that you should aim to visit at least once in your life. With less than a few thousand residents and a number of activities for any personality, not to mention an ideal year-round climate, it is truly a hidden gem on the California Coast.
Map of Best Things to Do in Carmel California
Why You Should Go
If you have never experienced the views driving through the central coast of California, you are missing out on some of the most spectacular views. There are endless beaches, quaint towns to walk through, delicious food to choose from and plenty of fun activities. You will not regret visiting this charming, hidden coastal gem of a town.
When is the best time to visit Carmel?
There is no specific best time to visit, luckily California weather is pretty consistent and any time of year is great to visit this beautiful town. September and October may be prime months to visit depending on what it is you are looking to do.
What is there to do in downtown Carmel?
Carmel Beach and Ocean Avenue
Carmel Mission
Point Lobos State Natural Reserve
17-Mile Drive
Shopping on and around Ocean Avenue
Explore Fairy-Tale Cottages and Hidden Passageways
Tor House and Hawk Towe
Day Trip to Monterey Aquarium and Cannery Row
Wine tasting
Brunch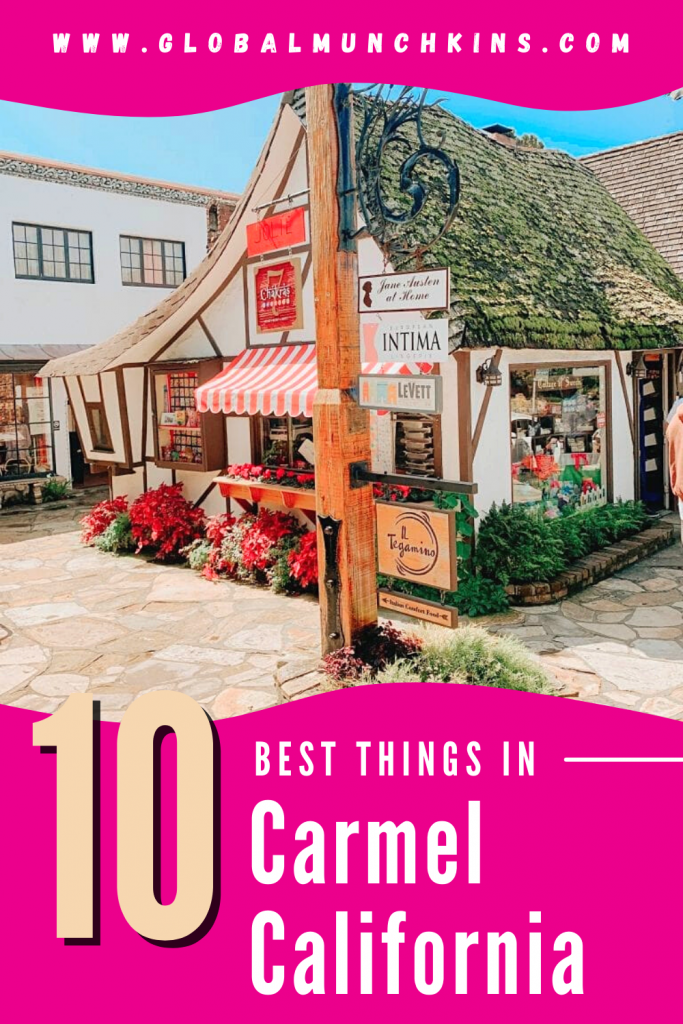 If reading this has you dying to book a vacation in Carmel, here are some of the best places to stay!
A luxurious stay- Hyatt Residence Club Carmel
A charming budget stay- Briarwood Inn
Prime location stay- Horizon Inn & Ocean View Lodge
Check out some of our other favorite coastal spots in California!
The Best Things to Do in California- 15 Amazing Stops!
Top Things to Do in Carlsbad- One of My Favorite Cities in the World