Across the way from Downtown San Diego, you will find one of my favorite places- Coronado. This gem of a town has a magical island feel with the friendliest residents, great food, beautiful beaches, and gorgeous views.
Check out my favorite things to do in Coronado and see while you are there. It is one of those places you always want to be and never want to leave. We visit Coronado every year, take a visit and you'll see why.
---
Getting There
Coronado is incredibly easy to reach via car as it is located right off the 5 freeway. You simply take the Coronado Bridge (75) right over and you are there in a hop skip & a jump.
Easy peasy! Another way to get to Coronado is a 20-minute ferry ride from downtown San Diego.  You can check out their schedule here.
---
Where to Stay in Coronado – Coronado Beach Hotels
Wondering where to stay in Coronado with family? We have stayed at numerous places on Coronado from cozy Airbnb's (a great option if you're wondering where to stay in Coronado on a budget!) to some of their iconic hotels.
After all of our stays, two hotels stand far above any other place to stay on Coronado Island. These amazing Coronado Beach Hotels are great for a romantic getaway or for a family vacation.
---
Before you decide what to do in Coronado, you have to decide where to stay and you can't go wrong with the iconic Hotel Del Coronado. It was built in 1888 and has been the toast of the city ever since.
But don't let it's age fool you, this resort is constantly being updated including a brand new pool and spa opening this year.
The rooms are amazing, and we had an incredible of the beautiful grounds and ocean. I loved waking up in the morning, grabbing a coffee from the in-room Keurig and sitting out on the balcony and just listening to the waves.
The Hotel Del Coronado has quite possibly one of the best beach fronts of any California resort. I love renting some beach chairs and an umbrella and just sitting back taking in the view and cool Coronado breeze as the kids play.
There is truly a ton to do at the hotel. Besides enjoying the incredible beach, you can also enjoy S'mores on the beach (see below), rent boogie boards, enjoy the spa, have a cocktail by the pool, and dine at one of their many restaurants or adorable beach Food Trucks.
At night we love grabbing an ice cream from Sundae's, their adorable ice cream shop. Then we head to the grass lawn and enjoy our ice cream at the end of a wonderful beach day.
You can book a room at the hoteldel.com, also if you are looking for a little more space check out their amazing Beach Villages at the Del. The villages offer some of the amenities of home at this amazing resort.
---
Another great hotel is the Loews Coronado Bay Resort. It is a great choice for families or people traveling with their pets as Loews perfectly caters to both.
They have a gorgeous location on the bay with a view of the Coronado Bridge, the friendliest staff, awesome pools, and delicious food! You can read more about Loews in my detailed review here.
---
Glorietta Bay Inn
A more affordable option is the Glorietta Bay Inn. Built in 1908 this boutique hotels is just steps from the beach and you can find rooms from $200 and up. We have ever stayed here personally but the reviews look excellent.
---
The Best Things to Do in Coronado
You will find there is quite a variety of things to do in Coronado Island. Everything from beaches, to surf lessons, great shopping, a happening food scene and more!

---
Enjoy Silver Strand Beach
Silver Strand State Beach is one of the most beautiful beaches in Southern California. With it's shimmering sand and calm ocean tide. It is the perfect beach to relax and enjoy the day. There is plenty of space to find a spot, even on the busiest of days.
Parking can be tough, and you might find yourself parking in the local neighborhood. Make sure to stay for sunset and enjoy some beautiful views.
---
Enjoy a S'mores Roast at Coronado Beach
Coronado Beach is one of the best beaches in San Diego. Recently during our stay at the Hotel Del Coronado, we reserved a S'mores Roast right on the Coronado Beach. This was an incredible event, you do not need to be a hotel guest to enjoy this but reservations are required.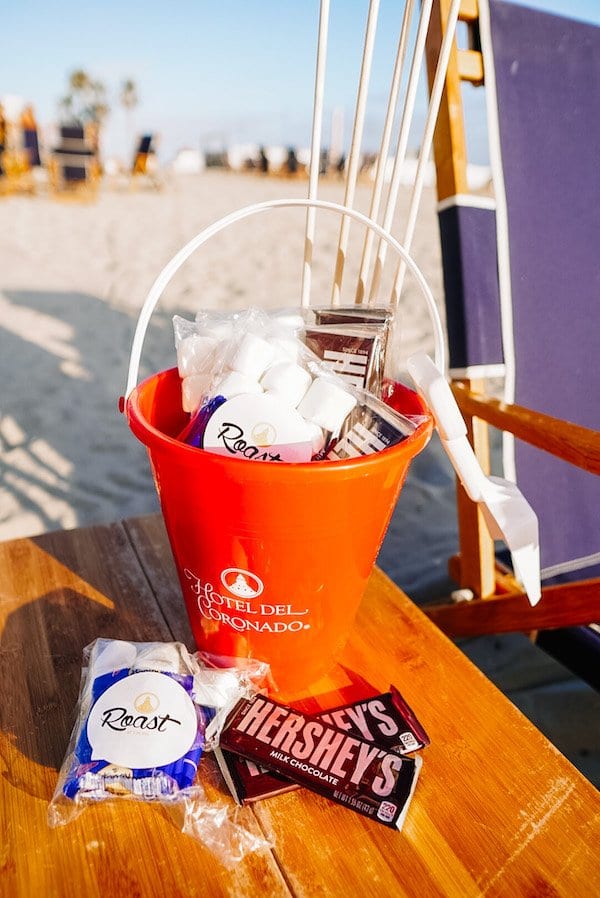 At the Roast, you will have comfy chairs setup around a bonfire. There you will enjoy all the S'mores you care to eat. There are two times per day for the roast (each lasting 1 hour), I recommend choosing the one closes to sunset.
---
Visit Fuzziwig's Candy Shop
My daughter would tell you that a visit to Fuzziwig's Candy Factory is her absolute favorite of the things to do in Coronado. This fun candy shop is sure to appeal to the kid in all of us.
The store is filled with nostalgic candy sure to bring back happy childhood memories. Just make sure to save room for their homemade chocolates and fudge too! Check out more info here.
---
Go Boutique Shopping on Orange Avenue
Coronado frowns upon chains so you will find quaint mom and pop shops full of adorable and unique finds as you stroll down Orange Ave. The buildings are older and filled with so much character.
I especially love walking around at night when the white lights strung upon the buildings are lit. It's a beautiful sight. Find out more about Orange Ave. here.
---
Learn to Surf
Just a few steps from the Hotel Del Coronado is the Coronado Surf Academy. You can't miss their adorable Surf School Bus located right by the beach. At the Coronado Surf Academy, you can learn to surf with one of their amazing professional instructors or just rent a board and wetsuit and catch some waves.
This is definitely my boy's favorite things to do in Coronado beach! Check out more about the Coronado Surf Academy here.
---
Take the Ferry to Downtown San Diego
Another fun adventure is to head to Coronado Ferry Landing and take the ferry boat across to Downtown San Diego. Its less than $5 each way and kids 3 and under ride FREE! The ferry departs every hour on the half-hour starting at 9:30am. The last departure is at 9:30pm (10:30pm on Fridays and Saturdays) for details check their website here.
Since the ferry leaves from Downtown, you can divide up your time and check out some fun things to do in San Diego with kids as well!
---
Rent a Surrey Bike – Coronado Bike Rentals
A must on my kids' things to do in Coronado is hit up a Coronado bike rental and ride surrey bikes both of which are available in Coronado. You can pop up to 8 people on one of these bikes and ride it around most of the island. As you can tell from the pics my kids have been doing this for years now.
We typically rent through Wheel Fun Rentals. They have surrey bikes, regular bikes and something called the deuce coupe which my teens loved.
My teenagers turn on some music on their iPhones and we start cruising along the bike path. It's a blast. You can view their pricing and info here and there are also several bike tours you can enjoy on the island
---
Check out the Tide Pools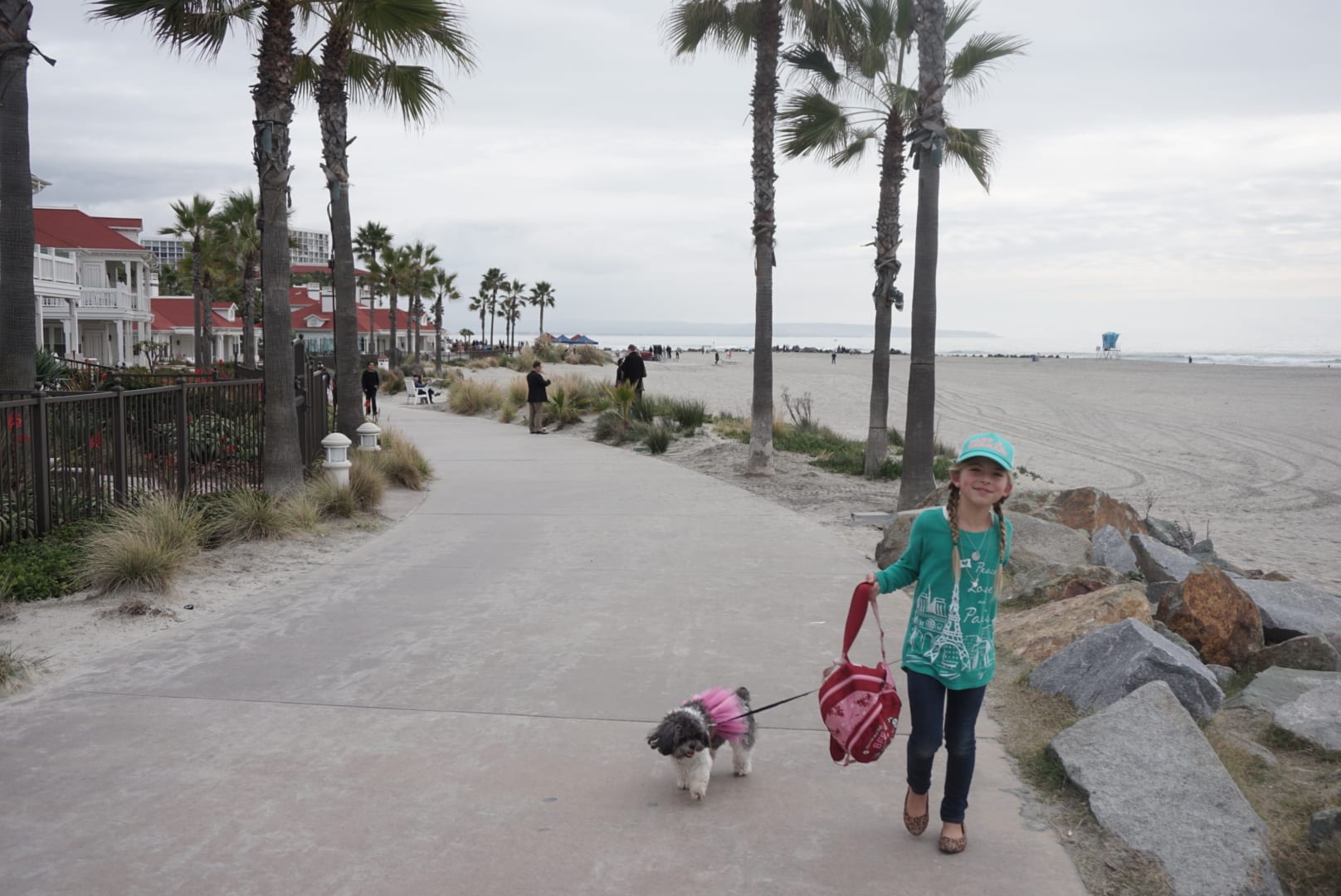 One of the things I love about Coronado is that there are so many free things to do in Coronado. Head over to the Hotel Del and check out their public beach . If you walk to the far left of the hotel you will find the tide-pools. Kids are entertained for hours mesmerized by the small crabs and fish they find in there.
*You may also see the sunken ship that has unearthed with the recent weather. The casino ship crashed onto the Coronado shore about 80 years ago. Just keep walking past the tide-pools to find it.
---
Go Jet Skiing
Want to get an amazing view of the San Diego Skyline while going 40 mph. Hop on a Jet Ski and zip in between Coronado Island and San Diego. You will have a blast on the Jet Skis and also see some incredible Navy Shipsalong the way.
We rented our Jet Skis from Sea Forth Rentals.
---
Go Ghost-Hunting
Have you heard that the Hotel Del Coronado is haunted? Yup… people believe that Kate Morgan checked into room #3327 but never checked out! They say her ghost still haunts the Victorian halls and rooms in this historic hotel playing pranks on unsuspecting guests.
I've been told there is a crazy long wait to stay in that specific room. Read more about the history behind the ghost story here.
---
Have Brunch in the Crown Room
One of the best things to do on Coronado Island is to treat yourself! If you are like me a lavish Sunday brunch at the Crown Room may be the most enjoyable way to experience the historic Hotel Del Coronado.
Their Crown Room Sunday Brunch has become quite famous continually being named the BEST BRUNCH in San Diego. Make sure to get a reservation. More info here.
---
Explore Downtown Coronado
One of the most interesting things to do in Coronado is to take an afternoon exploring downtown Coronado. There are many historical buildings to explore, boutique shops and award winning restaurants to check out.
---
Take your pup to the Dog Beach
One of our favorite spots is Coronado's dog beach. Stay at the pet-friendly Loews Coronado Bay Resort and you can chill with your pup on this stunning strip of beach just down from the Hotel Del Coronado. Find out more here.
My husband calls this place the happiest place on earth as you see dogs having a blast and everyone with a smile on their face. Often times you will find a bunch of tennis balls at the entrance of the beach to use to play with your pup.
---
Visit Spreckels Park
My kids LOVE hanging out and playing at all the different parks and playgrounds they find while we travel. Spreckels Park was one we came across that really stuck out. It is a very large park with a ton of open grass area, playground, swings, and restrooms. It's a great place to let the kids burn some energy.
---
Take a Gondola Ride
Looking for some romantic things to do in Coronado, CA? The Gondola Company offers romantic gondola rides right in the marina. The route takes you through the canals of the Coronado Cays and along the bay which happens to be dotted with million-dollar homes.
The ride lasts 50 minutes and can accommodate up to 6 guests. More info here.
---
See a Play
There are several options you can check out if you enjoy seeing a play while you are in Coronado. The is Lamb's Players Theatre has big theatrical productions and the Coronado Playhouse boasts more of a community atmosphere. You can find more info on both of these options on Tripadvisor by clicking here.
---
Check out the Vietnam Unit Memorial Monument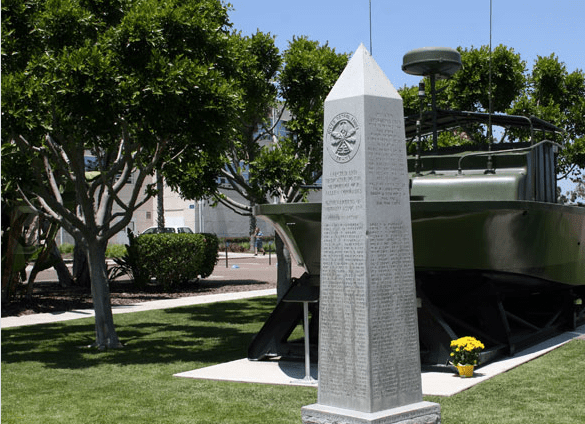 From their website, "[The] Memorial Monument was funded by private contributions and was built by veterans to honor those Navy and Coast Guard sailors who died in Vietnam, in the air, at sea, on inland waters, ashore and in POW camps." What a fantastic place to pay homage to our wonderful Navy men and women. You can find more info here.
---
Take a Food Tour
Are you a foodie? There are so many incredible Coronado restaurants, which is why we recommend a food and walking tour of Coronado! Stroll along the beach with your personal tour guide as you are introduced to some amazing Coronado cuisine.
You will even learn a bit of history in the process. There are several companies that offer tours. We enjoyed a delicious food tour that had 5 stops (my favorite was the olive oil company) Check out our food tour review here!
---
Visit a Spa
You deserve some pampering while you are relaxing in a town where movie stars once vacationed right? Well thank goodness there are several amazing spas in the area. Find them all on Tripadvisor here.
---
Try SUP (Stand up Paddleboard)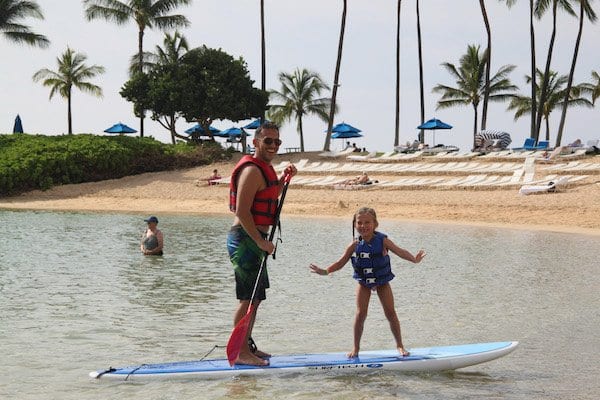 Have you tried stand up paddle-board yet? If you haven't you are totally missing out. There is a reason Jen Aniston seems to be the perfect picture of health.
Paddle-boarding is a fantastic workout plus very zen-like at the same time. You can take lessons and become a pro in no time (its not very difficult). Check out more info at SUP Coronado here.
---
Go Fishing
Over at Seaforth Boat Rentals (where we rented our jet skis) you can rent some luxurious boars or fun little fishing boats. So grab a reel and cast away in the San Diego Bay.
---
Enjoy a ride on The Town Trolley Tours
The Town Trolley Tours in Coronado, California are a great way to explore the island's beautiful sights and learn about its rich history. The trolley takes visitors on a narrated tour of the island, stopping at all of the major landmarks and points of interest along the way.
One of the best things about the town trolley tours is that they are great for kids. The trolleys are open-air and have a fun, vintage feel that kids will love.
The tour guides are knowledgeable and engaging, providing interesting facts and stories about the island's history and culture. Kids will learn about the island's military history, its famous residents, and its role as a resort town.
---
Best Coronado Restaurant & Treats
The Henry Coronado
The Henry in Coronado became my favorite place to dine on this last trip we took. We went there twice for breakfast and once for dinner. The restaurant has an amazing atmosphere with an indoor-outdoor feel. In the morning we enjoyed an amazing avocado toast with egg on it and some incredible breakfast burritos.
For dinner, the food was sooooo good. There is something to eat at the Henry Coronado for everyone in your family. I am Vegan so I enjoyed the bountiful bowl. My kids loved the hand made pretzels in the cheese fondue dip and the club sandwich. My husband loved one of their signature cocktails, the grapefruit smash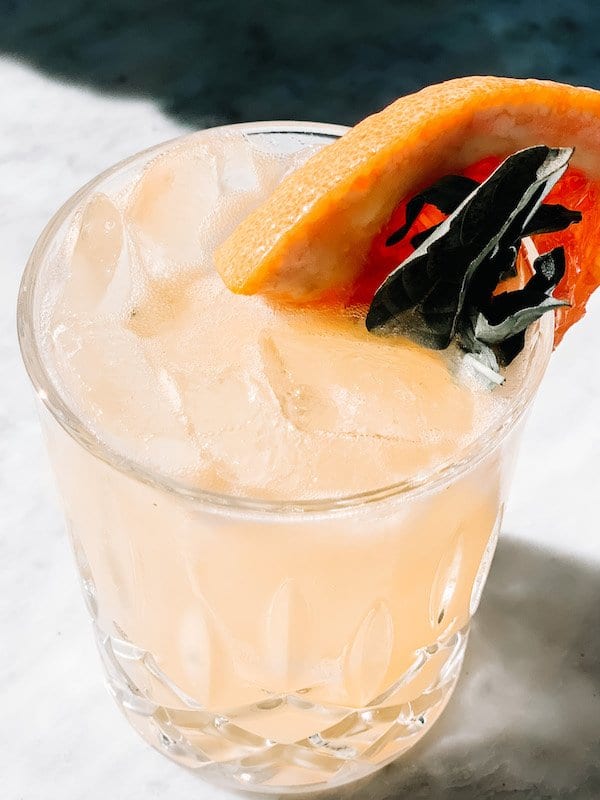 ---
Claytons Bakery & Bistro
There are two Clayton's in town, the coffee shop and this bakery and bistro. I don't know if they are related, but I do know that the Clayton's Bakery & Bistro. It is one of the best places to grab a delicious Coronado Breakfast. They offer the most delicious oatmeal, some ridiculously good breakfast burritos and more.
Tartine
I love a good bakery and Tartine is an excellent one. The wait staff is super friendly and everything comes out fresh and delicious. It's not the cheapest but it won't break the bank either. I love their quiche with a side salad anytime of day and their desserts will make you drool just by looking at them. Check out their website here.
---
Clayton's Coffee Shop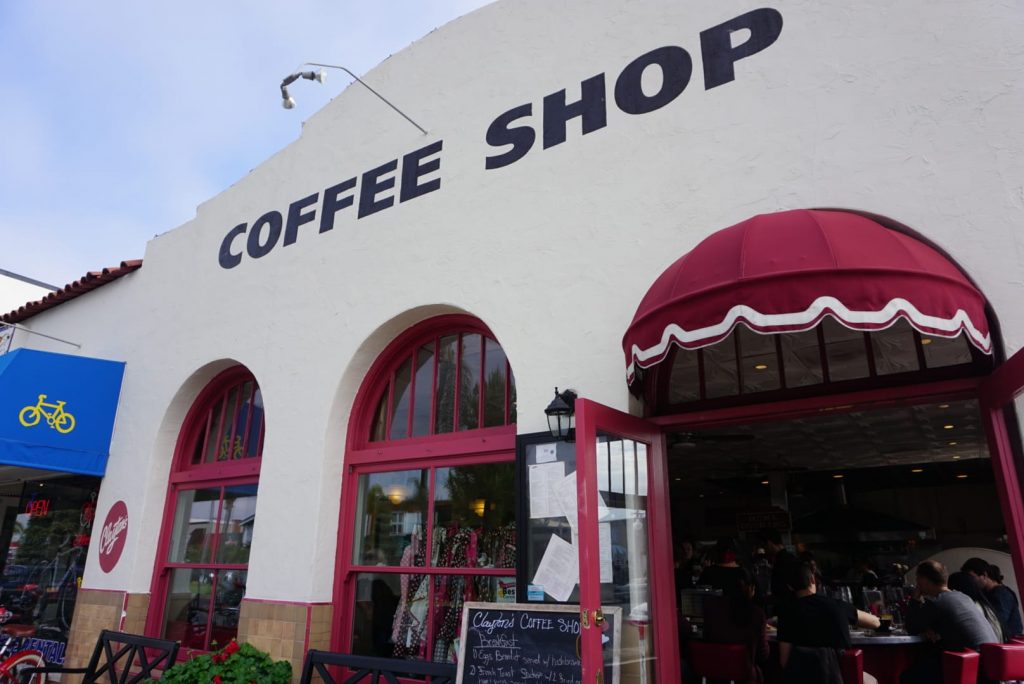 If you love that vintage diner feel than you will love Clayton's. This one is a hit and miss for people. They always have the doors open so it can get drafty and there is usually a long wait. But, people claim that their food is scrumptious and their coffee is smooth.
If you feel more like a grab and go coffee/ meal then you can hit up their walk-up counter on the side of the building. Check them out on Yelp here.
---
The Marketplace
Another restaurant I love is The Marketplace at the Loews Coronado Bay Resort. This resort cafe has indoor and outdoor seating, serves breakfast, lunch and dinner and is both kid and dog friendly (on the patio). And, the BEST part is that their food is SOOOO good!
Check out the gorgeous trio of fresh pressed juices to kick off your morning! The wait staff is uber friendly and the food always comes out hot, fresh & delicious. Check out more info here.
---
Village Pizzeria
A family favorite in Coronado is always the Village Pizzeria (bayside location near Centennial Park). Its a classic pizza joint with a gorgeous view of the bay. It is nestled in a cute shopping center and the pizza dough is made with imported New York water- yes for reals!!
You can enjoy beautiful views of the water and views of the San Diego skyline from the restaurant. Check out their website here.
---
Leroy's
Leroy's is another favorite… its a hipster kitchen + lounge serving up unique and eclectic dishes. Everything is fresh, local & sustainable and their menu is always changing. They offer a kids menu and dogs are welcome to join you on their patio as well.
Their hand crafted drinks are super tasty and they offer a great happy hour which they call social hour (because they're cool like that). Check out all of the details on their website here.
---
MooTime Creamery
Mootime is a must-do in Coronado… especially when you are visiting with kids. They are always making fresh waffle cones and you can smell them from down the street. It's pretty hard to resist that amazing scent. You can fill those delicious cones with their tasty homemade ice cream. They have plenty of flavors to choose from. Plus, every kid loves the big cow they have out front. MooTime Creamery is also owned by Blue Bridge Hospitality (the restaurant group also owns Leroy's and Village Pizzeria). Check out more on Yelp here.
---
Transportation
If you are wondering what to do on Coronado Island about transportation, don't worry! There are plenty of options. The city is incredibly easy to walk due to its over-sized sidewalks and walking trails. It is also very accessible to bike as there are plenty of paths throughout the town.
Don't feel like walking or biking? Buses are also available in Coronado, the MTS Bus 901 travels off the Island and the MTS Bus 904 travels along Orange Ave, to the Community Center, City Hall, and the Bayfront and Ferry Landing. More info on their routes and rates here.
If you visit during the height of the summer season there is a free summer shuttle that runs mid-June- September too! Check out more about that here.
---
That's a wrap on my Ultimate Guide to Things to do in Coronado!
I hope this list has helped you find Coronado things to do, places to eat, and a hotel that you will be excited to kick back and relax at. Coronado truly is one of California's gems and we never run out of family-friendly activities when visiting.
---
Map of the Best Things to do in Coronado California
---
Frequently Asked Questions about Things To Do In Coronado
What is there to do in Coronado?
Visit a Coronado Beach
Tour the Hotel del Coronado
Have a bonfire on the beach
Try out some delicious food (check out our list above).
Go Tide Pooling
Stand up paddle boarding
Go for a gondola ride
Look Out for or Take a Lesson from The Sandcastle Man
Visit a Sunken Ship
Take a Walking Tour of Coronado Island
Visit MooTime Creamery
Go Boating on the Bay
Museum of history and art
Museum of the San Diego Skyline
What else is there to do near Coronado?
Coronado is in a prime location and only a short drive away from Downtown San Diego. You can visit the USS Midway museum, visit Little Italy, Balboa Park, San Diego Zoo and so much more!
Can you walk across the Coronado Bridge?
Yes, it is a 4-mile walk or run and has beautiful panoramic views and you can end on the Tidelands Park or grab a bite to eat before heading back!
---
Pin-It Things to do in Coronado: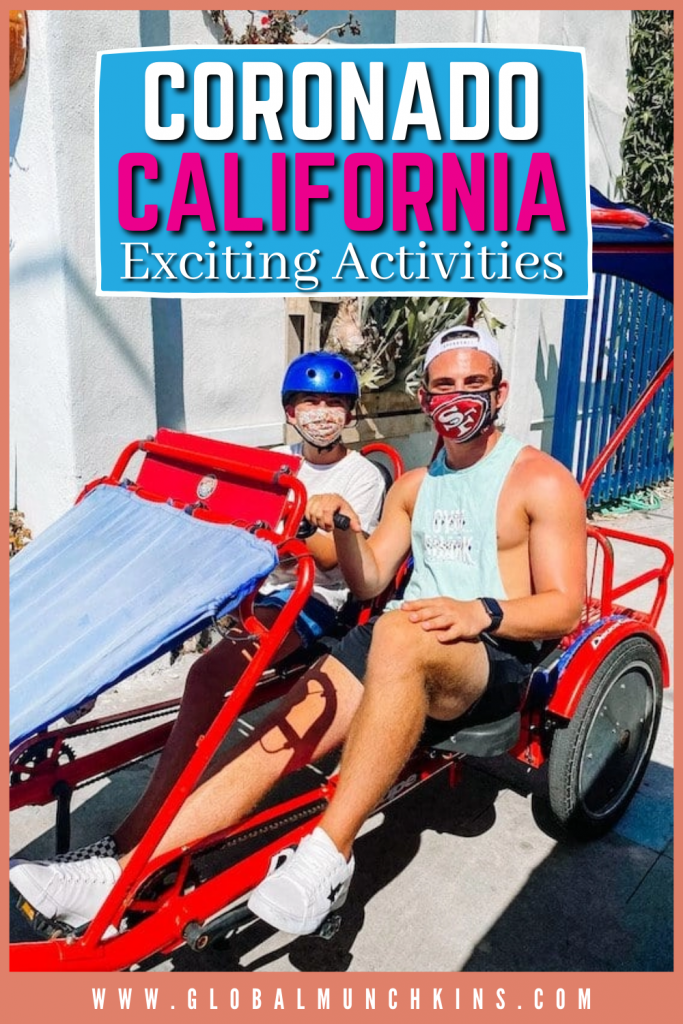 Have you visited Coronado?
Tell me about your favorite spots in the comments below.
Check out these hand-picked posts just for you-