Living in California, I often take its beauty for granted. With a delightful blend of shore-lined communities, mountain ranges, luxurious deserts, and astounding monuments and activities as far as the eye can see, there's really something for everyone in the golden state. A couple of years ago, we decided to take a road trip through California and visit all the places we have missed through the years. After, 37 years of living in California, I've wrangled up the best things to do in California on your next vacay!
Obviously, California is a huge state so attempting to do all of these in one trip is nearly impossible, so we will break it down by region to help you navigate the best options on your journey.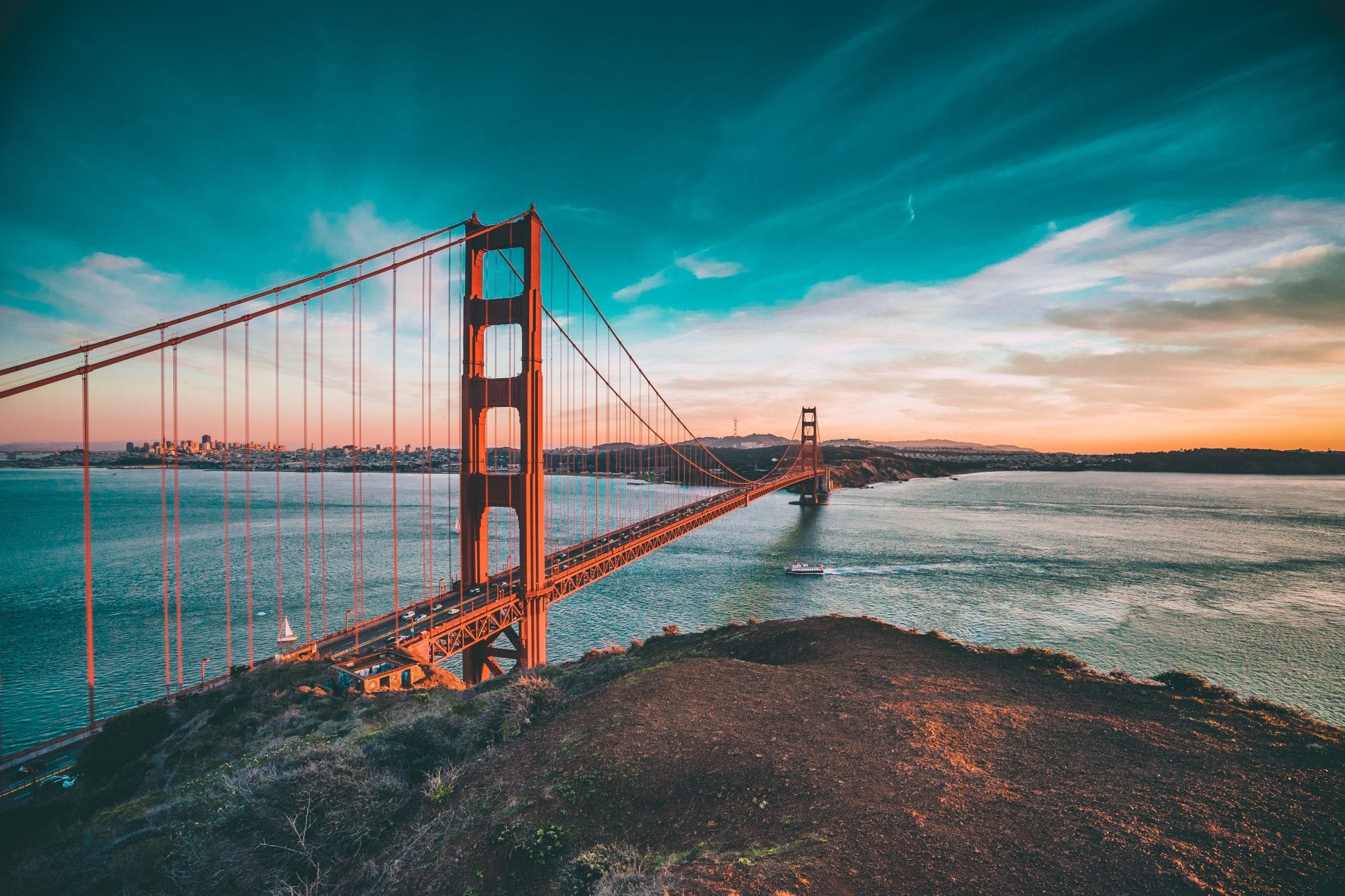 Northern California
San Francisco's Golden Gate Bridge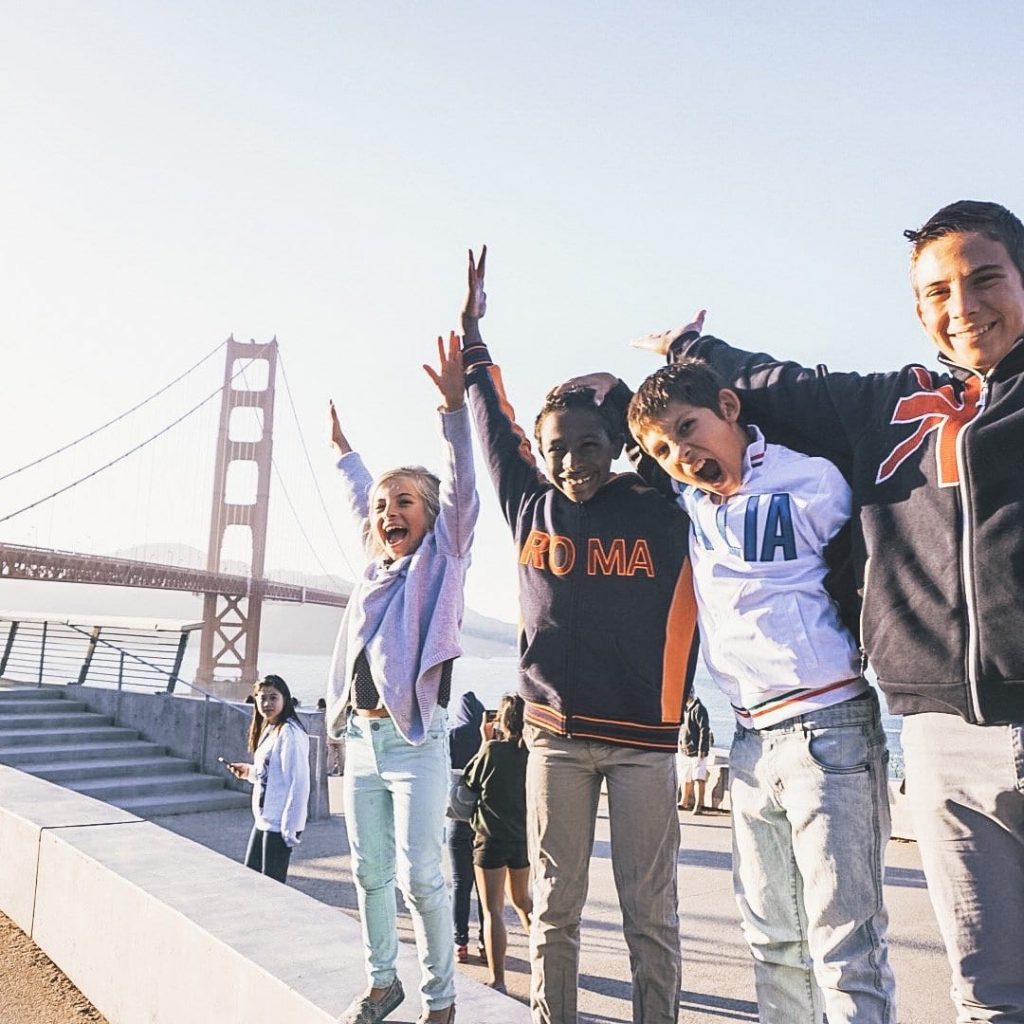 San Francisco is one of our favorite places to visit. My husband is a die-hard 49ers fan so we find ourselves in the bay area quite often. Although we have seen the Golden Gate Bridge numerous times, it is still stunning It's a Northern California trademark that boasts pure golden beauty as you glide across a one mile span of crisp ocean views from the San Francisco Bay over to the Pacific Ocean.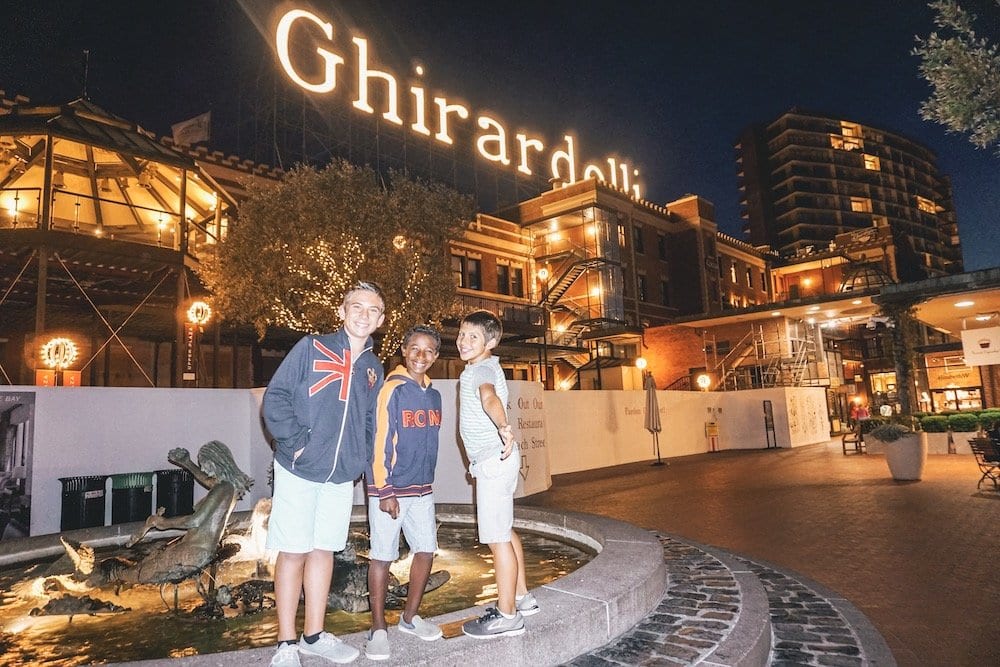 If you're going on a trip to Northern California, make sure you make time to take a ride over this majestic bridge; it's even better in person. While in San Francisco, also check out Ghiradelli's Square, Fisherman's Wharf, and Lombard St.
Do some wine Tasting and Hot Air Ballooning in Napa
Napa Valley is widely known for its beautiful collection of hillside vineyards, making it a hot spot for couples and older men and women who enjoy the taste of refreshing, high-end wines. Wine tasting is obviously one of the most popular recreational activities, and you'll find enjoyment in the selection of beautifully crafted wines paired with a gourmet selection of treats and foods.
When you're done in the winery, take off on a hot air balloon across the city where you can indulge in some of the most breathtaking green views you have ever seen.
See the Beauty of Lake Tahoe
There are far few lakes that can hold a candle to the downright beautiful Lake Tahoe. My husband grew up here so it is somewhere we visit quite often. During the summer, it is so much fun to be on the lake enjoying weather that's simply superb and water that's just waiting to be dove into. Stay during the summer for a trip you will never forget. There are so many beautiful hikes and the beach is delightful.
The winter is my favorite though as the mountains become snow-capped wonders of the world. The lake look magnificent set alongside the snow. Plus, you can ski on some of the best snow in California as Tahoe has a ton of wonderful ski resorts.
Be in awe in Big Sur
I don't know how to describe Big Sur other than just unbelievable I wouldn't say I'm the biggest nature buff, but Big Sur made me want to spend more time in nature because of it's beauty. You can take hikes through a tree-lined green forest that will leave you breathless? Nature lovers everywhere will appreciate all of the different views and nature activities that Big Sur has to offer. It's truly an area where anyone will get lost in the encompassing beauty of nature that is Northern California.
Hotels are quite pricey in Big Sur, so book a stay in beautiful Monterey which is just 20 miles away and take a day trip or two.
Visit the seaside hamlet of Monterey Bay and the Countries Best Aquarium
Speaking of Monterey, it is another top spot on our list. If you are looking for an area that will give you more looks into the ocean world? Then you will fall in love with Monterey Bay. This charming city is an area where you can find scenic coastal views unlike any others in the state. Taking a stroll through Monterey you'll find some of the most intoxicating views of the ocean adorable shops and delicious bites to eat.
Finish your stay in Monterey Bay by visiting the best aquarium in the country. You will find a wide assortment of different sea animals on display, from flashy fish to turtles, sharks, octopus, and more. It's truly a fascinating experience that takes you up close and personal to some really cool and unique creatures you probably haven't seen before.
Spend a few days in Yosemite
Two years ago, I really got to enjoy a one of a kind trip in Yosemite. My dad, my 2nd oldest son and I drove up for a winter vacation at the Tenaya Lodge. I have to say, you'd really miss out on a gem of California if you didn't check out Yosemite. Yosemite National Park is a prized location that offers an abundance of famed ancient sequoia trees and an arrangement of mountain views that are truly unbelievable.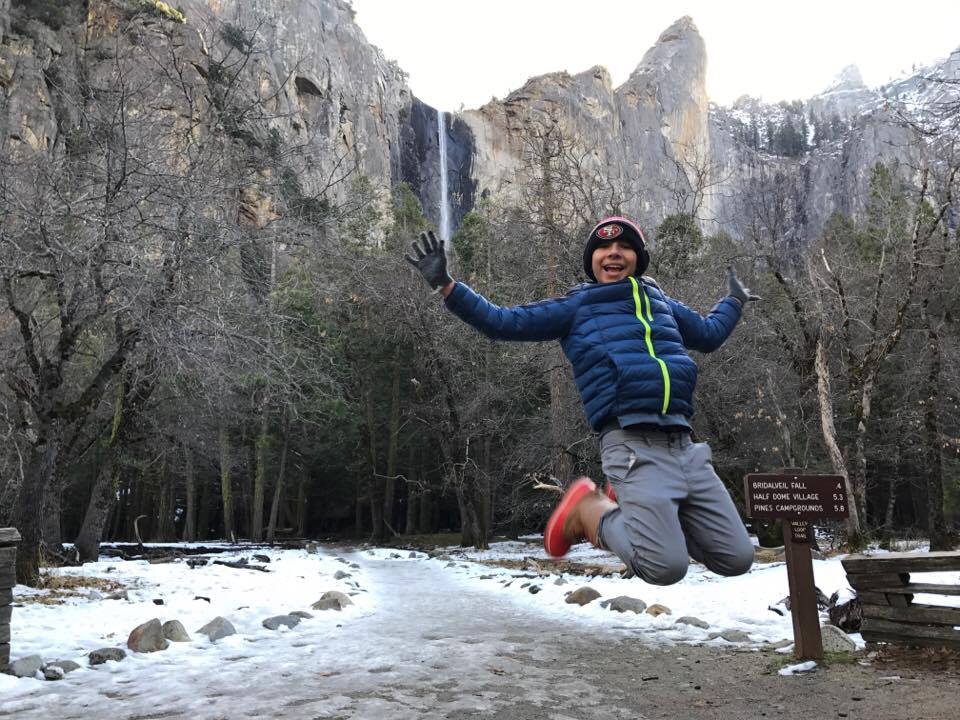 The summer months can be very busy, but the park does do a pretty good job of handling the extra traffic of visitors. There are numerous hikes for small adventurers to the most extreme hikers. If you love the outdoors, Yosemite is the best thing to do in California.
Visit the Iconic Santa Cruz Boardwalk
One of the surprising parts of our road trip through California was Santa Cruz. I was not really looking forward to this part of the trip but my husband and kids really wanted to visit. I have to say, I loved it and it is definitely one of the Best things to do in California. The boardwalk is absolutely adorable and beautiful at the same time.
It has such a nostalgic feel to it that you can't help but be enamored by the boardwalk. The kids loved the rides, ridiculous food creations and going through some haunted houses. Santa Cruz boardwalk is definitely something to add to your California Bucketlist.
Southern California
Enjoy the Beaches & Shopping in Santa Barbara
My husband went to college in Santa Barbara, so visiting this sunny locale is always on the top of his list. Stunning Santa Ynez Mountain backdrop, downtown area filled with Spanish inspiration, and a huge assortment of unique and trendy boutiques aligning every street. What isn't there to love about Santa Barbara?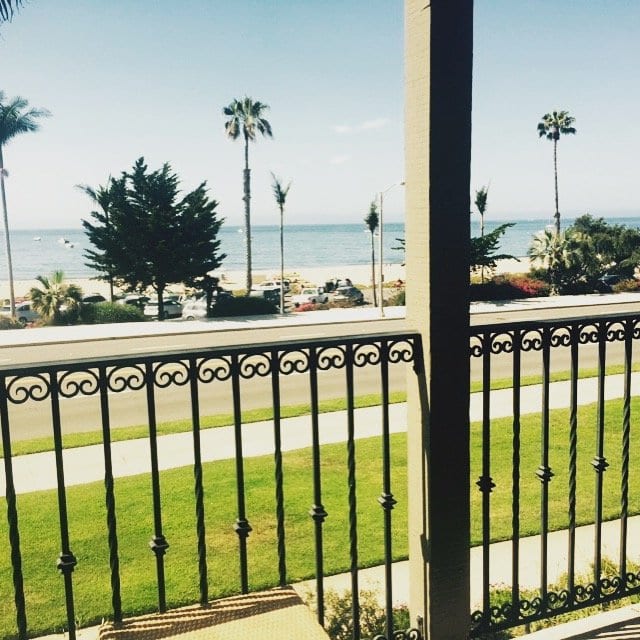 This delightful little beach down is the home of a variety of upscale and modern shops that is sure to soothe anyone's shopping fix, while the restaurants and bars offer some of the classiest and tastiest wines around. Aside from the famed shops, Santa Barbara has a stunning view of the ocean with a dramatic mountain backdrop that's highly enjoyable. Take a dip in the ocean, look at a few shops, and if you have time, check out the super fun zoo!
Spend a day in LA but not necessarily Hollywood
Many visitors want to head to Hollywood to check out movie stars, but if you really want to see movies stars you have a better chance in Santa Monica. Don't get me wrong, Hollywood is great for checking out shows and people watch but it is not the most beautiful part of L.A.
Arts, amusements, attractions, museums; there's a little bit for everyone found in Los Angeles. The hustle and bustle of this city ensures that you can find something that you will love, whether you're looking for something to intrigue your mind like the science museum or want to catch a basketball game at the Staples Center. Or head down a glass slide 1,000 feet over downtown LA. Also, check out the Getty Museum or Griffith Observatory where you will see an incredible view of the city.
There's such a wide variety of opportunities awaiting in Los Angeles. From beaches to the Santa Monica Pier, shopping Rodeo Drive to checking out the Six Flags Magic Mountain, there's truly something for everyone. Check out my friend at y travel blogs best things to do in LA.
Enjoy a sunny day at one of Southern California's Beaches
It's no secret: California is known for its wide selection of top-notch beaches! With weather that's truly enchanting to views that will make your heart sink, California beaches are a must when it comes to visiting. There's a huge number of options, whether you're wanting to relax with the family at Corona Del Mar or check out a dog beach in San Diego. Plenty of options for all of your needs, and you're bound to love every single one of them.
My personal favorites are Zuma Beach in Malibu, Santa Monica Beach, Crystal Cove in Newport, & Corona Del Mar.
Take in a concert at the Hollywood Bowl
Known as one of the most notable amphitheaters in America, the Hollywood Bowl is undoubtedly a place you need to visit; especially if you're considering heading out to a concert. It is an architectural masterpiece adorning a variety of different contemporary designs that help the music fly to the back of the amphitheater with ease. You sit back in a relazed outdor amphitheater and enjoy some of your favorite music. Visit Hollywood Bowl for their Schedule
Visit Disneyland & Disney California Adventure
Disneyland is one of those places you simply have to visit at least once in your lifetime. We have probably been a little too many times, but we love it every time. It truly is the 'Happiest Place on Earth', with all of the Disney characters awaiting a greeting from you and your family, and rides that capture the happiness and pure essence of Disney.
Kids and parents will love walking through Disneyland, taking a trip through the castle on It's a Small World and getting their thrills on Space Mountain.
I have a ton of guides to Disneyland, but the most important one is how to get discounted tickets.
Spend the day in Coronado and visit the Hotel Del Coronado
Coronado is probably my favorite place on earth. It is one of the more fancier and sought after areas of San Diego, being a delightful resort city on the peninsula of San Diego Bay, but it has a very laid back feeling.
It's quite a sight, with ocean views that are as crisp as ever and weather that's overwhelmingly pleasant. When you're done at the lovely Coronado Beach. Take a gander at the iconic Hotel Del Coronado, which is a true slice of history being built back in 1888 and hosts to thousands of movie stars.
You can check out my Ultimate Guide to Coronado Here!
Kayak with the Sea Lions in La Jolla
Want to get up close and personal to a sea lion? Well, that can become a reality when you choose to go kayaking in the wonderful city of La Jolla! In fact, you can actually just walk down the beach to the La Jolla Cove and hang out with tons of Sea Lions.
Not only is La Jolla one of the trendiest little seaside towns in San Diego, but there long list of activities is certainly something to be checked into; especially the kayaking, where it's true, sea lions can become apart of your sightseeing adventures while paddling.
Take in a baseball game at Petco Park in San Diego
For the baseball fans out there, Petco Park is a must-see. Located in the heart of San Diego, it is the only baseball stadium where you can see both the city and the ocean. If you love the San Diego Padres (or your favorite team just so happens to be playing them) then you'll want to snag yourself some tickets for this renowned ball park.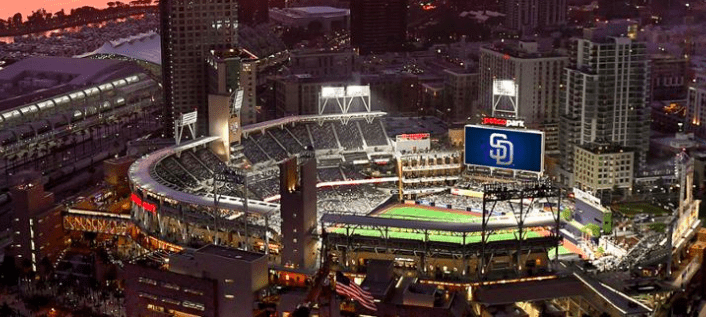 There are incredible food options and an amazing area for kids to play baseball themselves. They even have special nights where you can bring your pet to the game. This stadium makes the game so much more than baseball, it truly is a unique experience.
Conclusion
There's something for everyone when it comes to visiting California, whether you're heading there solely for the beaches and sightseeing, want to do some shopping and hang out in the cities, or simply want to be with nature, California really does have it all.
Have any Questions about visiting California – Leave a comment below or Direct Message me on Instagram
Pin for Later: The Best Things to Do in California – 15 Amazing Stops!
Latest posts by Mama Munchkin
(see all)