As a mom to 6 kids ages 1-20 years old, I am always looking for new things to do in Temecula. After becoming frequent travelers, we learned how to research family friendly things to do in cities all over the world. So, we decided to take that newfound knowledge and do a little research at home.
And, voila! We have been uncovering some amazing hidden gems for families in Temecula. You will be surprised to know that Temecula is just about its wine country.
---
Best Things To Do in Temecula with Kids
Check out our list of things to do in and around Temecula Valley and then let us know if we missed your favorite by leaving us a comment below. Please note these appear in no particular order.
---
For the Big Kids
Are you a family that has more big kids? Check out our list below for the best things to do in Temecula for big kids!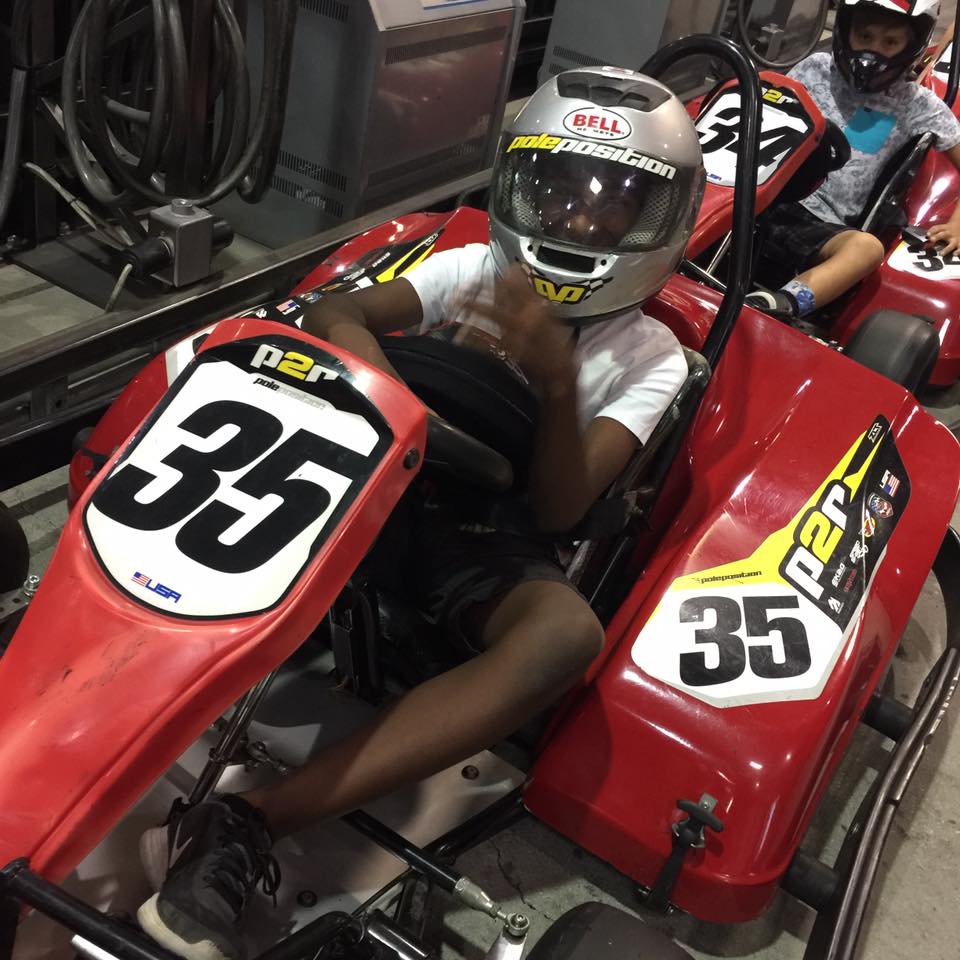 ---
1. Get Air
Kids and adults alike love this trampoline park located in Temecula. It's a great way to burn some of that crazy energy your kids have (or burn a few calories yourself).
---
2. Temecula Clay
They offer both adult and child classes. You can sign up for one or a series of classes. They also offer camps for kids during certain times of the year like summer as well. Learn more about their offerings here.
---
3. STORM Baseball Stadium
Catch a minor league baseball game at the STORM Stadium in nearby Lake Elsinore. They always have fun events going on too!
---
4. Green Acres Ranch
Kids 7 & up will enjoy a Ranch Ride through the vineyards on top of a beautiful horse. This is perfect for all the horse loving kiddos and adults!
---
5. Bowlero
Bowling can be a blast, join them for Monday Mayhem, $2.88 Tuesdays, Sunday Funday, Unlimited Wednesdays and half-priced arcade games too! See more info and regular pricing here.
---
6. Harveston Boat Rentals
Harveston is a fun spot for kids to hang out. Older kids will enjoy riding their bikes or scooters around the lake, fishing, and renting boats and kicking it on the lake. Visit Yelp to check out the reviews or get directions here.
---
7. Mulligan Family Fun Center
This place is a kids dream with arcade games, rock climbing, go karts, laser tag, rides, mini golf, water slides and more. Heading here is a true adventure! See their website for specials including their Tuesday Madness Special where an Ultimate Fun Pass costs $20 and pizza is 50% OFF!
---
8. Epic Rollertainment
Kids love skating at this exciting indoor skating rink. Check their schedule for open skate times and head over for some air conditioned fun on their website!
---
9. Beach Bus
Did you know that Temecula & Murrieta have a beach bus? Students in grades 1-12 can ride for just 25 cents through Labor Day. Parents are $6. You save on gas and parking is free plus there are nice cushioned seats, wifi and ports to plug your phone in. Learn more here.
---
Little Kids
We cannot leave out the little kids! We broke down our list for you on the best things to do in Temecula for the little kids.
---
1. The Alpaca Hacienda
Did you know you can visit the Alpaca Hacienda in Temecula? Appointments can be arranged Monday- Saturday. There is a meet & greet which allows the kids to get up close and personal with the alpacas. They can even hand feed them and take a photo. Or you can take the Alpaca 101 tour which includes education on the process of how they work with the alpaca fiber.
For an added fee you can extend the tour and the kids can do a craft that features the alpaca fibers. The tours do cost but the fees are nominal starting at $5 and kids 3 & under are free. Learn more here.
---
2. Eagle Soar Playground & Splash Pad
This fun park is located at the Margarita Community Park (find directions here) has a playground made for children with all ability types in mind. It's a great place to have fun and cool off. Just be sure to check the website as the splash park does close from time to time.
---
3. Temecula Valley Museum
One of the best things to do in Temecula is to visit the Temecula Valley Museum. This cute museum located in Old Town is the perfect spot to escape the heat with little ones. My kids love the hand on exhibit upstairs where they could dress up. Check out our full review here.
---
4. Temecula Creek Trail Park
This is a great place to take the kids on a hike or a jog. There is also a small play area here for them to climb on.
---
5. Imagine Me Grow
A fun interactive indoor playground featuring dress up exhibits and more. My daughter loves putting on the Fireman suit and playing in the firetruck. See their open play times here.
---
6. Temecula Berry Company
Such a fun way to hang with the kids and pick fresh berries and take them home to use in a recipe together! It is usually only opened seasonally, so check out their website for seasonal hours.
---
7. Pennypickle's Workshop (Temecula Children's Museum)
Little ones will enjoy learning about science in this wacky and fun interactive museum located in Old Town Temecula. They offer some really fun family events so it's smart to check back often. You can view their upcoming events, hours and pricing here.
---
8. Peltzer Farms
They always have fun kid-friendly events going on and during the months of September and October they have the Pumpkin Patch that has pony rides, train rides, a petting zoo, face painting and more.
---
8. Harveston Duck Pond
Families will love hanging out at the children's play structure located at the lake park in Harveston. The lake is open to the public and is filled with friendly ducks and turtles.
There are clean restrooms, a walking path, boat rentals, and picnic tables making it the perfect place to enjoy a family outing. For more info click here.
---
9. Temecula Public Library
My kids always love heading to the "big library" as they call it. And, I can see why the Temecula Public Library is massive with its own Kids Library inside and they always have tons of great kids events going on through the city. Check their website for details.
---
10. Kenny's Strawberry Farm
Take the kids out to the farm to do some berry picking at Farmer Kenny's Strawberry Farm. Little ones will love getting dirty, learning about how strawberries grow, and of course eating them is the best part!
---
11. The Temecula Duck Pond
Temecula is home to another amazing duck pond to take the family to. The Temecula duck pond is a fun spot for the whole family. Olivia and Jack loved feeding the ducks and playing in the playground.
It's free to visit and can be found at 28250 Ynez Rd, Temecula, CA 92591. Check out their website for more information: https://www.cityoftemecula.org/temeculaduckpond
---
12. Painted Earth Pottery
This is the perfect activity for a creative family like ours. The kids loved painting their own pottery and taking it home as a souvenir.
Prices range from $6 to $60, depending on what you choose to paint. You can find Painted Earth Pottery at 951 Suite, 29377 Rancho California Rd, Temecula, CA 92591. Check out their website for more information: https://paintedearthpottery.com/
---
Why You Should Go
Temecula is a great place to visit and has plenty of kid-friendly options as listed above, but it also has many options for adults between the 50+ wineries, Old Town Temecula filled with plenty of food options and shops, Pechanga Resort and Casino for the day and plenty of golf courses to choose from.
There is plenty of fun for the whole family on your next visit to Temecula and you are sure to enjoy the summer sun and family time together.
---
Map of Things to Do in Temecula with Kids
---
Frequently Asked Questions About Things to do in Temecula With Kids
Is Temecula kid-friendly?
The answer is yes! There is plenty to do with the kiddos, but there are also plenty of fun activities for adults as well. The perfect mix for a full family getaway! Some of the wineries are kid friendly as well and have a nice outdoor seating area that is enjoyable for the whole family.
What is there to do in Temecula besides wine tasting?
Old Town Restaurants and Shops
Gem mining at Oceanview Mine
Sugarplum Farm
Alpaca Hacienda
Axe throwing at SoCal Axe
Pechanga Resort & Casino
Horseback riding
MindTrap Escape Room
Hot air balloon rides
When is the best time to visit Temecula?
Temecula is the perfect destination to visit year round, whether it is for a day or weekend getaway. There is always something to do and events to enjoy with the whole family. Just make note if you are visiting during the summer time, the temperatures sometimes reach triple digits, so make sure you pack accordingly!
---
Pin-it for later: 22 Things to do in Temecula with kids!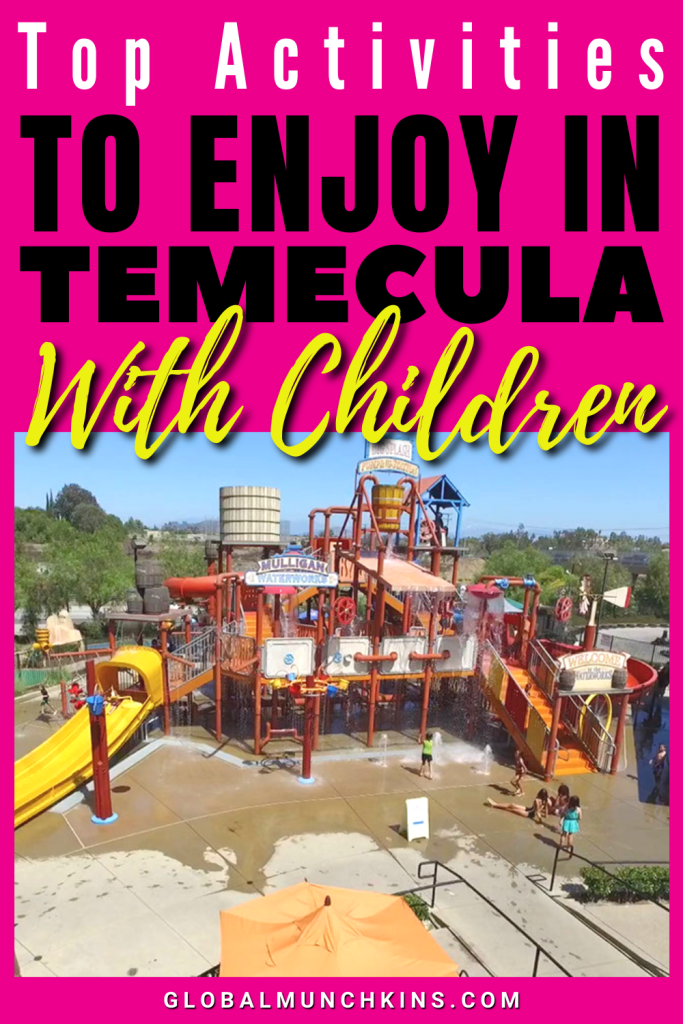 ---
Did I miss your favorite thing to do in Temecula with kids? Tell us in the comments below.
---
Latest posts by Mama Munchkin
(see all)