When most people think of Houston, they don't think of the majestic beaches that sit on the edge of the city. Unlike Austin, San Antonio or Fort Worth, Houston has several beautiful beaches to choose from just a short drive away from the city.
Come dive in with us as we explore the best Houston beaches that this major Texas city has to offer!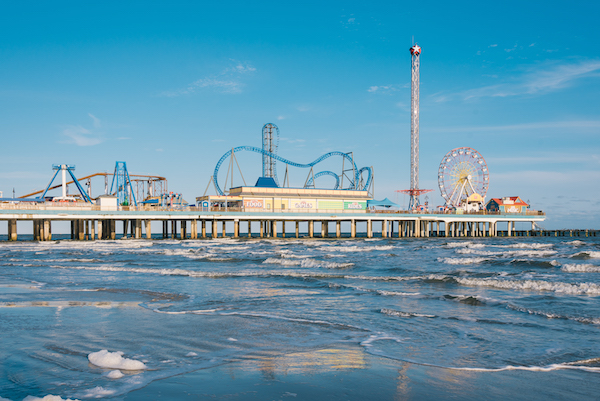 ---
Stewart Beach
Stewart Beach is a prime spot on Galveston Island that is perfect for a family-friendly day trip. Located along the beautiful Gulf of Mexico, this is an ideal spot to bring the family. With calm waters and lifeguards on duty, it is one of the safest beaches in the region for families.
Plus, the beach is regularly combed to keep it free from seaweed, and it is packed with amenities, including showers, umbrellas, chairs, and concessions. It's also a great place to enjoy some fishing along their fishing pier.
Why Should You Go?
Stewart Beach was named one of the "10 Best Beaches for Families" in 2013 by Family Vacation Critic, as it is a perfect and premier family beach park! Some of the many amenities that is offered at this beach are showers, restrooms chair and umbrella rentals, beach wheelchairs and of course for safety lifeguards.
Located at almost the tip of Galveston Island, you and your family are going to want to add Stewart Beach to your list of Best Houston Beaches to visit!
---
Surfside Beach
Why You Should Go
Surfside Beach is a 2.5-square-mile piece of pristine coastline that is the perfect place to relax with a towel and an umbrella. The waves here are pretty consistently low, making it the perfect stop for beginner surfers.
Make sure to pack up all of your gear before heading out here, as there are no amenities at Surfside. Located about 30 minutes west of Galveston on Blue Water Highway, you will definitely want to check this Houston Beach out on your visit!
---
East Beach
Why You Should Go
East Beach is often referred to as "Party Beach," and it is a true paradise for young travelers and party animals. There are plenty of festivals, concerts, and events that have graced this beach since its inception, one of the biggest being the AIA Sandcastle Competition.
As the only beach in Galveston that allows booze, it is a great choice for those seeking out a good time. Located on the Eastern tip of Galveston, this beach hosts many fun annual events that you can check out here.
---
Sylvan Beach Park
Why You Should Go
If you're looking for a quick getaway from the city, we highly recommend checking out Sylvan Beach Park. Just a short drive away from the city, this beach features glowing white sand and tons of great amenities, including tennis courts, a skate park, and an air-conditioned pavilion.
Make sure to pick up an all-day pass from Sylvan's Bait to catch some fish while you're there!
We think Sylvan Beach Park is one of the best Houston beaches because of all the amazing amenities they offer! This beach has not only a playground, but also picnic tables, a fishing pier, board ramps and more!
---
El Jardin Beach
Why You Should Go
El Jardin is a serene little spot located in Seabrook, perfect for those looking to escape the crowds. Build sandcastles and listen to the waves without having to deal with the noise of crowds that you'll find at other local spots.
There are no concession stands in the area and about 18 parking spots, so make sure to get there early to get a spot and bring all of your necessary snacks and gear.
---
Galveston Island State Park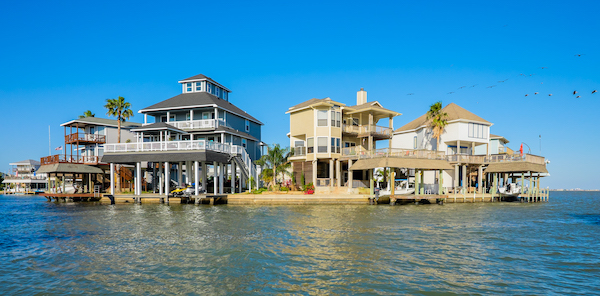 Why You Should Go
With over 2,000 acres of land to enjoy, there is plenty to do in Galveston Island State Park. Beyond the beach, the park provides plenty of unique opportunities for camping, fishing, and hiking.
If you're an avid fan of bird watching, make sure to keep an eye out for snowy egrets, blue herons, pelicans, and Mexican eagles.
Galveston Island State Park is like a national wildlife refuge as it protects 2,000 acres of upper Gulf Coast barrier island ecosystem. Learn more here.
---
Lake Tejas
Why You Should Go
While it isn't exactly the ocean, this spring-fed lake in Colmesneil is a great place to go swimming during the warmer months. Plus, there is even a sandy beach that you can spend the day sunbathing on.
While you're there, make sure to hit the 100-foot waterslide and get a volleyball game going at one of the many courts.
Lake Texas is a great location to host those special family gatherings like birthday, family reunions, retreats or even family campouts!
---
Sea Rim State Park
Why You Should Go
For nature lovers, Sea Rim State Park offers an incredible nature trip. From kayaking to paddling to hiking, you can explore the many acres spread across the wild marshes or take the Gambusia Nature Trail Boardwalk for a nice little stroll.
You may even choose to explore the beauty of the Gulf with a bit of horseback riding.
---
Garner State Park
Why You Should Go
Garner State Park has been around since 1941 and is visited throughout the year by people who want to explore the 1,400+ acres of gorgeous land it offers. With limestone cliffs and lush, mesquite trees, this beach is quite a refreshing experience for those who want something different.
We highly recommend spending the whole weekend in this park if you can, as there are plenty of cool activities to take advantage of. Plus, its 285 miles away from Houston, meaning it is not the best choice for a day trip.
---
La Porte
One of the best places to launch a boat near Houston is in the town of La Porte, which has several great boat ramps that provide easy access to the bay. Once you're out on the water, you can explore the many natural beaches that line the coast.
Why You Should Go
La Porte is a great place for families to visit because of its small-town charm and friendly community. The town is known for its welcoming atmosphere, and visitors can enjoy a variety of local restaurants, shops, and events. The annual La Porte Winterfest and Fourth of July celebration are popular events that draw crowds from all over the region.
Additionally, La Porte is a gateway to the Texas Gulf Coast and offers easy access to nearby attractions such as Galveston Island, Kemah Boardwalk, and the Johnson Space Center. Families can take a short drive to Galveston Island and spend the day at the beach, exploring the historic Strand District, or visiting Moody Gardens, a popular family attraction featuring a variety of animal and plant exhibits.
---
Rockport Beach
Why You Should Go
Rockport Beach is situated on Aransas Bay and was the very first beach in the State of Texas to receive a Blue Wave designation. Without strong undertows and big waves, it is a great destination for families with younger children.
Right next to Rockport Beach lies the historic Downtown region, which is filled with shops and small-town charm. We highly recommend making a weekend out of a trip to Rockport, as it is over three hours from Houston.
---
Map of Best Houston Beaches
---
Pin-It for Later: Best Houston Beaches
---
If you enjoyed this article about the best Houston beaches, you might also like:
15 FUN THINGS TO DO IN AUSTIN WITH KIDS
15 INCREDIBLY FUN THINGS TO DO IN HOUSTON WITH KIDS
27 AMAZING THINGS TO DO IN SAN ANTONIO WITH KIDS
OUR TOP 5 REASONS YOU SHOULD BOOK A DISNEY CRUISE FROM GALVESTON AND WHAT MAKES IT SO GREAT!
21 AMAZING THINGS TO DO IN AUSTIN WITH KIDS!
---
Frequently Asked Questions about the Best Houston Beaches
What is the nicest beach near Houston?
East Beach
Stewart Beach
Galveston Island State Park
Crystal Beach
Surfside Beach
What beach do people from Houston go to?
Galveston Beach is Houston's most popular beach destination. It's located on Galveston Island. Enjoy 32mi of beautiful sand and tons of entertainment for everyone
What is the closest ocean beach to Houston Texas?
The closest ocean beach to Houston, Texas is Galveston Island, which is located about 50 miles southeast of Houston.
Galveston Island is a popular destination for beachgoers and offers miles of sandy beaches, a variety of water activities, and a lively boardwalk area with shops, restaurants, and amusement park rides.
Other nearby beaches include Surfside Beach, which is about 75 miles southwest of Houston, and Matagorda Bay, which is about 120 miles southwest of Houston.
What is the closest beach to Houston with white sand?
The closest beach to Houston with white sand is probably the beaches on the Bolivar Peninsula, which is located about 60 miles southeast of Houston.
Bolivar Peninsula is a narrow strip of land that extends into the Gulf of Mexico, and its beaches are known for their soft, white sand and clear, blue waters. Some of the popular beaches on Bolivar Peninsula include Crystal Beach and the beaches in the town of Port Bolivar.
Other beaches in the area, such as Galveston Island and Surfside Beach, have a more brownish-colored sand due to their proximity to the shipping channel and the sediment that is stirred up by the ship traffic.
Latest posts by Michael Mamian
(see all)