Temecula has been booming lately with new restaurants popping up all over town. Or maybe they are just new to me?? Whatever the case I am pretty excited about it because I LOVE to eat!!! You may remember that from this article I wrote a few months back- 'The Best New Places to Eat in Temecula'.
Well, the time has come to once again check out the new restaurants in Temecula. Take a look at who made the cut this time around and then add your favorite new restaurants in Temecula in the comments below. 
The 10 BEST NEW Restaurants in Temecula (updated)
1 Espadin (The HOTTEST Mexican Restaurant in Temecula)
The owners of Crush & Brew have decided to shake things up and open a Mexican restaurant in Old Town as well. It is a celebration of mezcal and tequila and meant to be a place with bold flavors, great company, and festive cocktails. Espadin offers tons of yummy regional classics like empanadas, chicken tortilla soup, and tons of street tacos. Their happy hour, with $2 off drinks and $1 off appetizers, is 4-6 PM Monday-Thursday. Do not miss out on their great Taco Tuesday deals either. They will also offer a Brunch menu soon, so let us know if you're one of the first to try it out so we know just what to order!
2 1909 Temecula
Whether you are looking for a hand-crafted cocktail, amazing shrimp ceviche, or a delicious burger 1909 is your place. And, you really can't beat the awesome service and fantastic atmosphere either. I love sitting outside on the patio facing Front Street. Watching cars and people go by is always entertaining to me.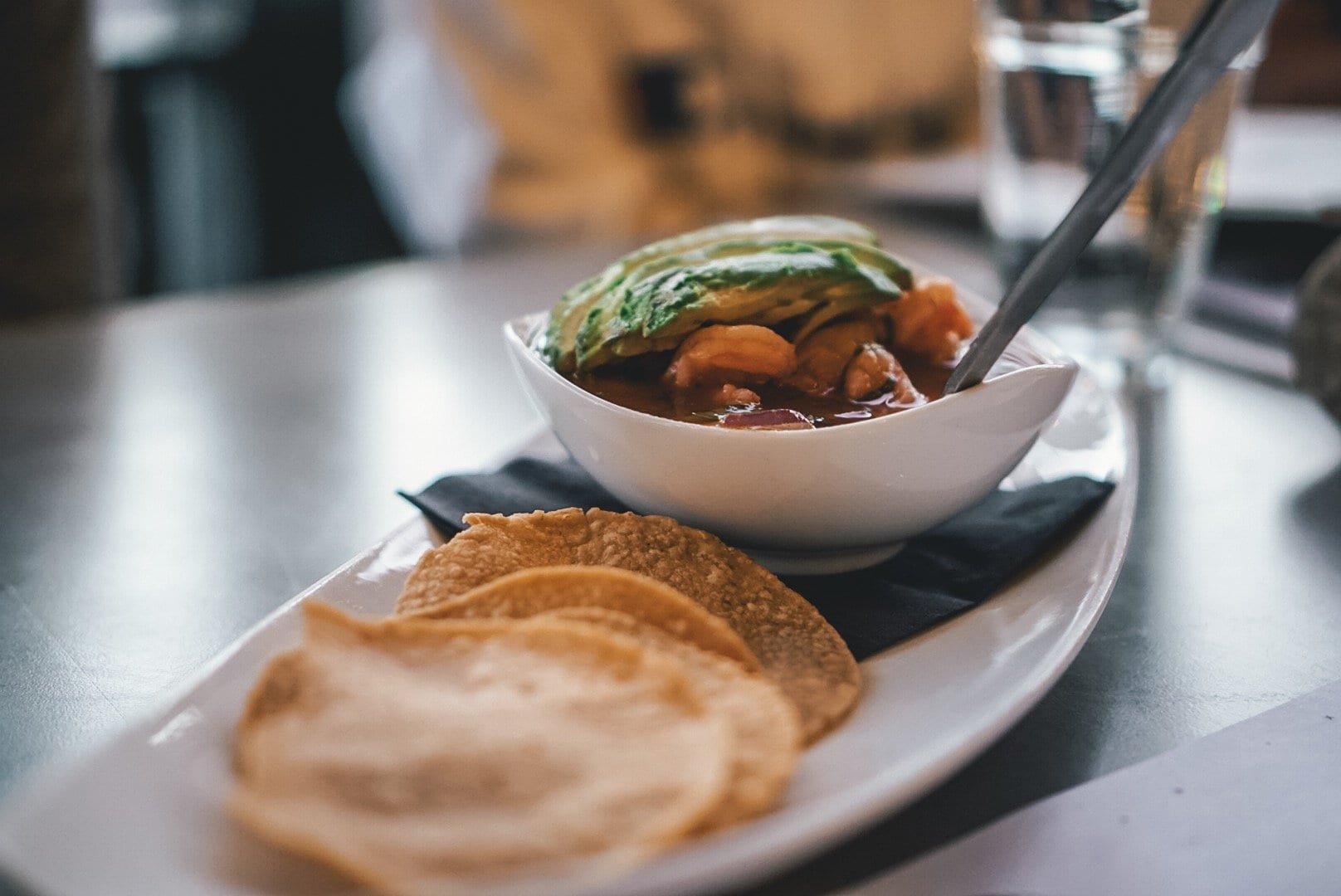 My boys are huge fans of their burger there and I can understand why with that gorgeous brioche bun, smeared with savory bacon onion jam and garlic aioli, plus gooey sharp white cheddar on top of that beautiful 8 oz. patty. It's welcome to flavor country kind of eating!!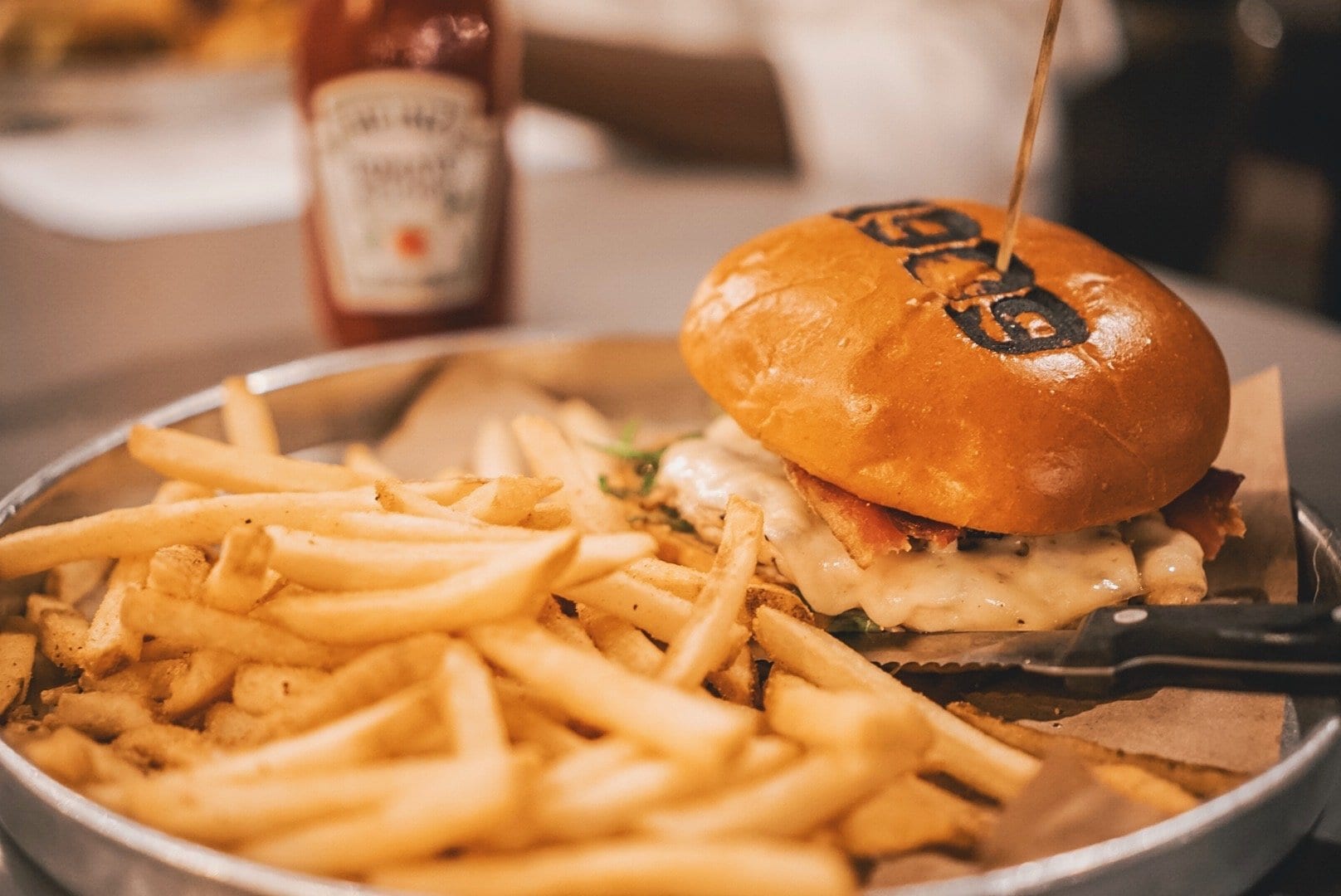 They also have amazing salads if you are looking for something on the lighter side. My favorite is the Watermelon & Roasted Beet Salad. It features watermelon chunks, roasted beets, seasonal greens, pumpkin seeds, and gorgonzola all topped with a tart balsamic reduction. Oh, and definitely save some room for dessert. I'm still dreaming about that amazing bread pudding I had.
Don't miss their Happy Hour every Monday-Thursday from 4-6:30 pm!! Pair a Tequila Mockingbird with that Munich Pretzel and you'll be wearing a smile all night!
1909 Temecula is located at  28656 Old Town Front St. Temecula, CA 92590. You can also reach them at 951-252-1909. Or follow them on Instagram here.
3 Lemon Shark Poke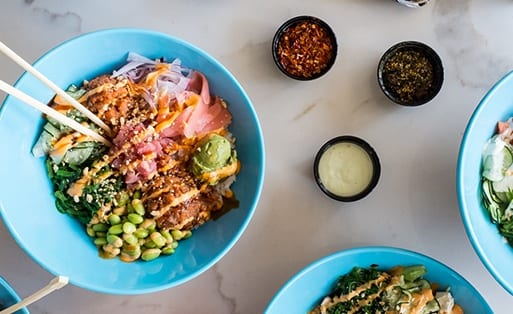 There have been a lot of poke places popping up in Temecula….a lot! I can confidently tell you that I have found the best! LemonShark Poke offers the freshest of fish, freshly made wontons, soba noodles and black rice (you have to try it)! They offer tons of other unique toppings like pineapple, mango, watermelon radish, a special LemonShark citrus sauce, crispy onions, crispy garlic, and macadamia nuts….yummmmy!! All their fish are triple-inspected and sushi-grade! And there is a finally a poke spot that you can share with non-fish lovers too! LemonShark Poke offers veggie patties, katsu chicken, Spam musubi, eggrolls and more as options for their bowls or a la carte. Make sure to give their Pokerrito a try when you just can't decide between a poke or a burrito. I haven't tried that one yet (I am sure I will soon) but I've heard it's delicious.
LemonShark Poke is located at 29073 Overland Drive Ste I, Temecula, CA 92591 or order online at www.lemonsharkpoke.com for pickup or delivery.
4 The Baked Bear (Definitely the Restaurant Temecula Needed!)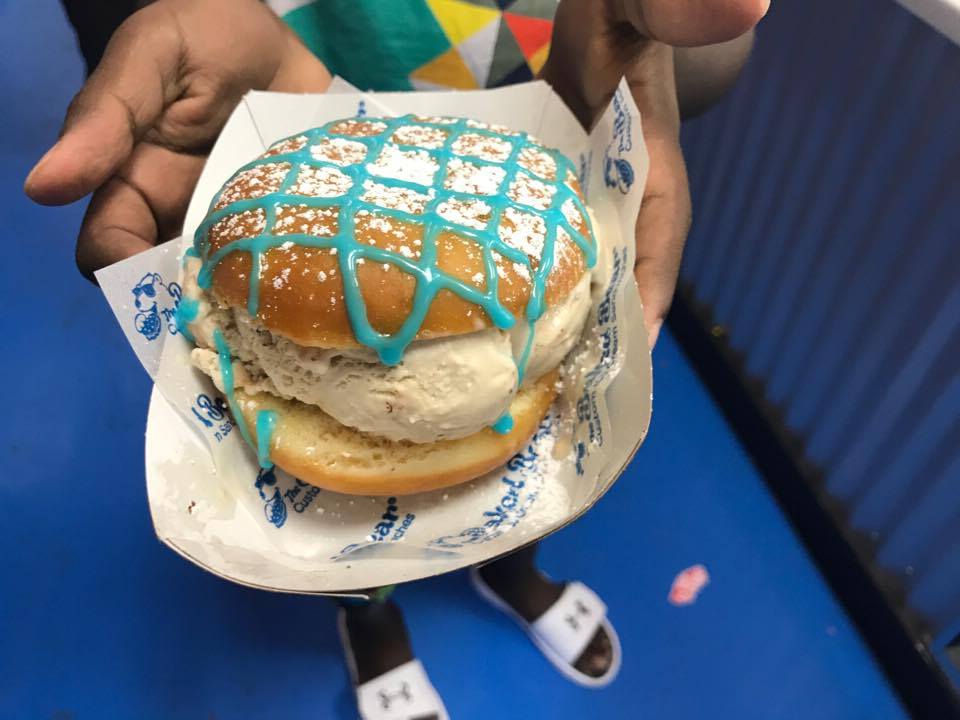 If you know anything about my munchkins, you know we can't resist a good dessert. And we definitely can't resist the gooey chocolate chip ice cream sandwiches at Baked Bear. We may not have been the first town to get one of these delicious ice cream shops, but we're sure glad it's one of the new restaurants in Temecula. I recommend trying their salted caramel ice cream in between two delicious fudge brownies. But, my son Shea would try convincing you the donut ice cream sandwich is the real winner (pictured above). Try it out and then let us know which is your favorite combination.
(951) 506-7500 · 39628 Winchester Rd Ste G Temecula, CA 92591
5 Ideku Sushi & Grill
The owners of this new Murrieta spot already have a 5 star rated yelp restaurant in Hemet, so there's no doubt this place will be delicious too. Ideku Sushi & Grill serves sushi, ramen, and bento and they are known for their big portion sizes in everything. Some popular favorites are their Thai tea which is super creamy and their tokatsu ramen. Make sure to swing by and let us know what you try!
6 Mama Rosa's Trattoria at Robert Renzoni Winery
Ever feel like escaping to Tuscany?? Well if you head to Robert Renzoni Winery to check out their gorgeous new restaurant, Mama Rose's, you will feel like you are in Italy. The winery is located on DePortola off the main drag of wineries on Rancho California and the alfresco dining has a gorgeous view of the rolling hills surrounding the property. You feel as if you are in a whole new world.
 (951) 302-8466 37350 De Portola Rd., Temecula, CA 92592
Follow Me on Instagram as I Tour All the New Restaurants in Temecula
7 Delish – Temecula
Opening Soon! This new Vietnamese and Vegetarian restaurant is located on Margarita Road on the outer ring of the Promenade Mall. Delish will feature a mixture of delish fish dishes, pho, and a special menu specifically for vegetarians. They have a wide variety of dishes including a salmon with frilled rice which is the owner's favorite dish. Delish will also have the Ulitmate Pho Noodle Soup Challenge for anyone who wants to try to take on 4 giant bowls of pho. This place looks ridiculously good, can't wait to check it out.
Delish is located at 40573 Margarita Road, Suite D 
Temecula, California (951) 719-3949
8 Cork Fire Kitchen
Temecula Creek Inn is a keystone establishment in Temecula known for their gorgeous golf course and resort. But, their recently renovated restaurant, Cork Fire Kitchen just finished a renovation including a stunning new patio with bright yellow couches which are totally #instaworthy and we think the restaurant itself deserves some attention.
Cork Fire Kitchen prides itself on their partnerships with local farmers, which can be found listed on their website, and they follow the Seafood Watch from the Monterey Bay Aquarium's guide to sustainable seafood. Not to mention the fact that they are working on a new garden just for the chef!
If you love fresh, innovative dining that is artistically prepared you will love dining at Cork Fire Kitchen. Head there this summer and try out some of the amazing cocktails and entrees on their Summer Menu!
(866) 320-4152 · 44501 Rainbow Canyon Rd Temecula, CA 92592
9 Avensole Winery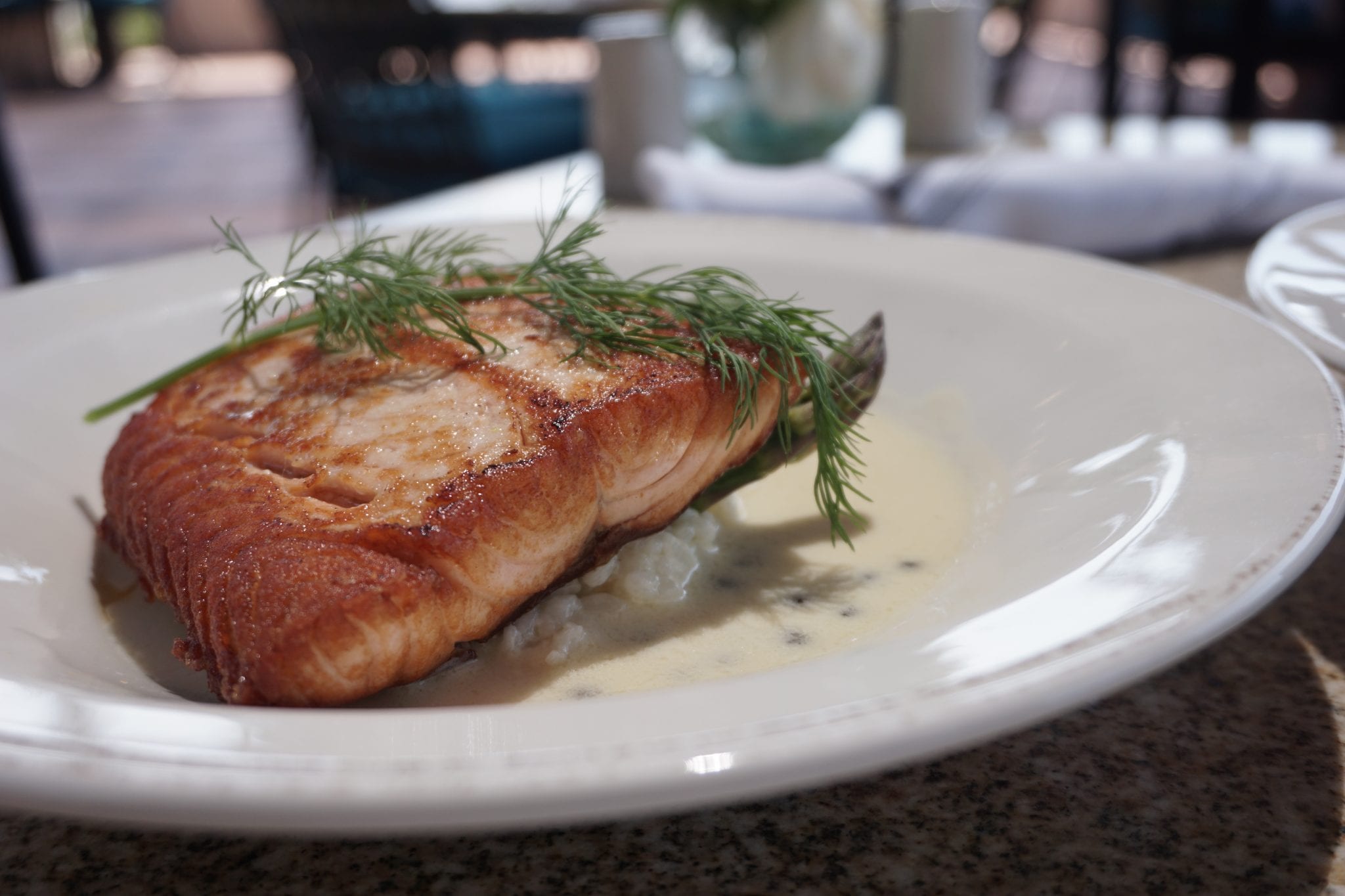 Flatbreads, cheese boards, and a beautiful open-air winery setting… what more needs to be said? Learn more about Avensole Winery + the Marketplace Restaurant in my review here. Avensole Winery also has a very unique cheese pairing that they offer in their tasting room that is worth a try and if you are lucky you may even be able to convince them to let you try and feed their incredible koi. Did you know their pond was actually blessed by a monk? Pretty cool, right?
(951) 252-2003 · 34567 Rancho California Rd Temecula, CA 92592
10 Flower Hill Bistro at Miramonte Winery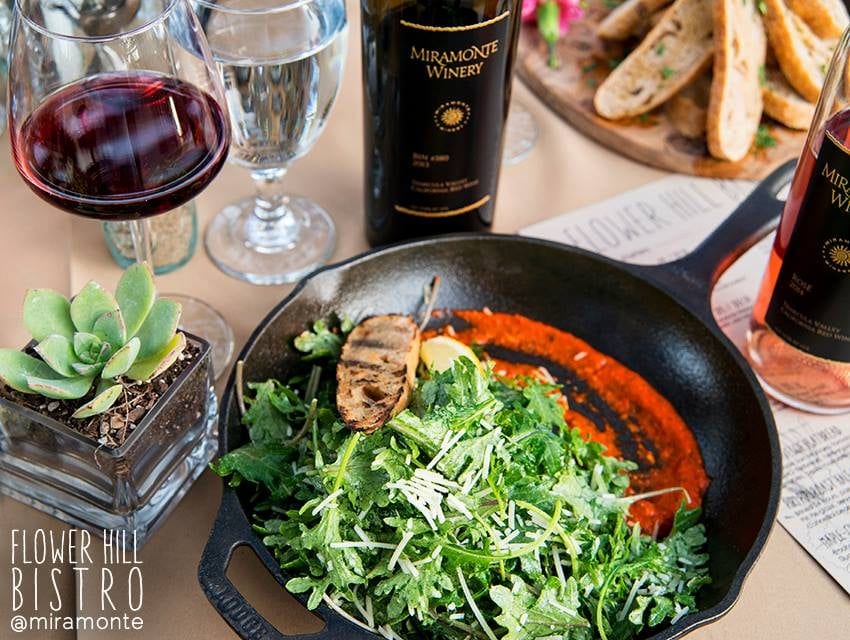 This gem of a cafe made it in the top 5 of USA Today's 10Best Wine Country Restaurants! You'll find shareable appetizers like my favorite- Spread & Bread, incredible flatbreads, and delicious entrees like Maple Glazed Salmon all set in a gorgeous setting.
BONUS- Lil Miss Short Cakes
You might know Lil Miss Short Cakes for their delicious pink food truck that has been traveling around Southern California for the past 6 years. Now they have set up a permanent location right here in Temecula to serve their cupcakes, cheesecake, and crepes. Don't worry though, they are still available to bring their truck out for special events. The super cool thing about this new spot is that they have decided to release a create your own cheesecake and crepe bar! (coming soon!) Definitely, give their puff pops a try too; they are marshmallows dipped in chocolate and rolled in sprinkles or PB cups. The owners have loved baking since they were children and are truly passionate about bringing smiles to everyone who eats one of their treats.
Lil Miss Short Cakes is located at 28975 Old Town Front St. Temecula, Ca 92590
DID WE MISS YOUR FAVORITE?
Leave the names of your favorite new restaurants in Temecula in the comments below. I read every one 🙂
Pin for later-
You may also like these articles about Restaurants in Temecula-
TOP 7 TEMECULA RESTAURANTS TO CATER YOUR NEXT PARTY
Liven Up Your Next Date Night in Temecula- 3 Exciting Things to Do!
1909 TEMECULA- HANDCRAFTED FLUID AND FLARE
Latest posts by Mama Munchkin
(see all)