After seeking adventures internationally for the past few years I realized that many locals I bumped into had NO CLUE how incredible their own hometown was. The difference I discovered was that I was in their town on a mission to uncover all that it had to offer. Whereas the occupants in the town were simply doing their day to day living often not realizing the wonderful new restaurant or coffee shop that just opened a few blocks from their own door. So, this year I made a vow that I would try to travel hyper-locally. Which means traveling as a tourist in your own town. I started by checking out the NEWEST restaurants in town (you can read more about that here) and this week I visited two incredible up and coming Temecula Wineries. And, so far my experience has been incredible!!!! Why not feel like you are living on vacation year round right?
The Hottest NEW Temecula Wineries You Won't Want to Miss!
Peltzer Winery & Farm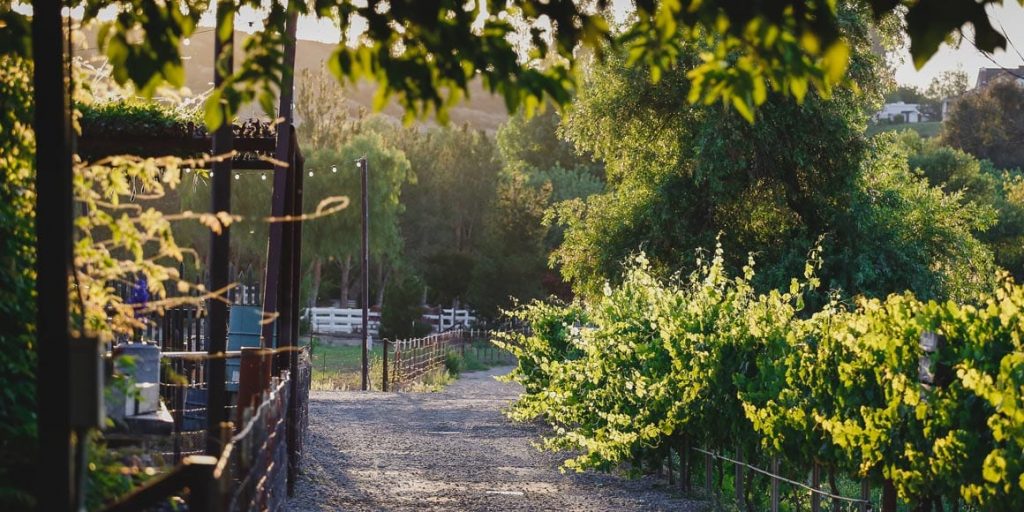 If you live in Temecula and have kids there is a good chance that you know the name Peltzer in relation to their adorable Pumpkin Patch. But, this 4th generation farming family has something in store for us adults too! They are in the process of opening up the most gorgeous and unique winery in Temecula. Their wines are simplistic and delicious making them easy to pair with your favorite meals. Or sip straight out of the bottle. Don't worry… they won't judge!
I was lucky enough to sample a few of their wines. My favorites included the Syrah Rose and the Pinot Grigio.
The Syrah Rose was a delicate wine that was both refreshing and unique to Temecula. It had light fruity notes and would be perfect with some melon and prosciutto.
The Pinot Grigio was so darn good you better just order a whole case. Yup… Honestly! Unlike many that leave me with a dry mouth Peltzer's Pinot Grigio is refreshing and has a light zing to it. I would love to serve it aside my favorite fish or with some chicken. Perfect for a dinner party because its so easy to love.
Enough talk about wines though what truly sets Peltzer apart was the ambiance they have created in their new Crush House. This gorgeous building resembles a massive wooden barn. It is outfitted with trendy metal finishings and nods to farm life including the tractor that sits smack dab in the middle of everything. The tractor is actually a Peltzer Family tractor tying the family history together with this new venture.
Everything about this place screams fun. Like the eclectic wall covered in license plates that greets you on your way to the restrooms. It's clear that snobbiness is not the goal here but instead an atmosphere of great times with good friends and bottles of wine!!

Now don't get me wrong. While the environment screams fun behind the scenes is a very serious wine making process. I received an in depth tour regarding the Peltzer process for producing small batches of fine wine. I was fascinated by the elaborate measures the Peltzer Family has taken to ensure the quality of both their grape harvest and wines. Like for example the gorgeous stainless steel tanks shipped straight from Italy below.
Everyone knows all about Napa, but Temecula Wine Country is all the rage right now! New wineries are popping up all the time to make great use of the breathtaking scenery and ideal climate for growing grapes here in Southern California. As more and more wineries open here in Temecula, there is a need to differentiate themselves from one another. So, I am stoked about the fact that they will be pairing their wines with scrumptious breads from Great Harvest. I may just be in there on a weekly basis. I mean you can't beat great wine + delicious fresh baked bread!!
Of course you cannot mention the Peltzer Family Cellars without also talking about their gorgeous property. The farm itself is a stunning wedding venue and a great place to hold corporate or family events as well. They even allow family photographers on site for a small fee.
And, then there is their annual Pumpkin Patch. A family favorite in our home. They do such an amazing job with tons of extra activities for the kids besides just pumpkins including: a petting zoo, train, pony rides, pig races, mining for gems and cute wooden cut outs for photos.
We also enjoy checking out the century old tractor collection that is spread around the property. It's pretty amazing to look at and leads to some great conversations with our kids about where food comes from.
Peltzer Winery & Farm
40275 Calle Contento, Temecula, CA 92591
Once open you can visit the Crush House daily from 10am-5pm.
Their wine tasting experience is $20.
You can also learn more by visiting their website, Instagram and Facebook pages.
Avensole Winery & Restaurant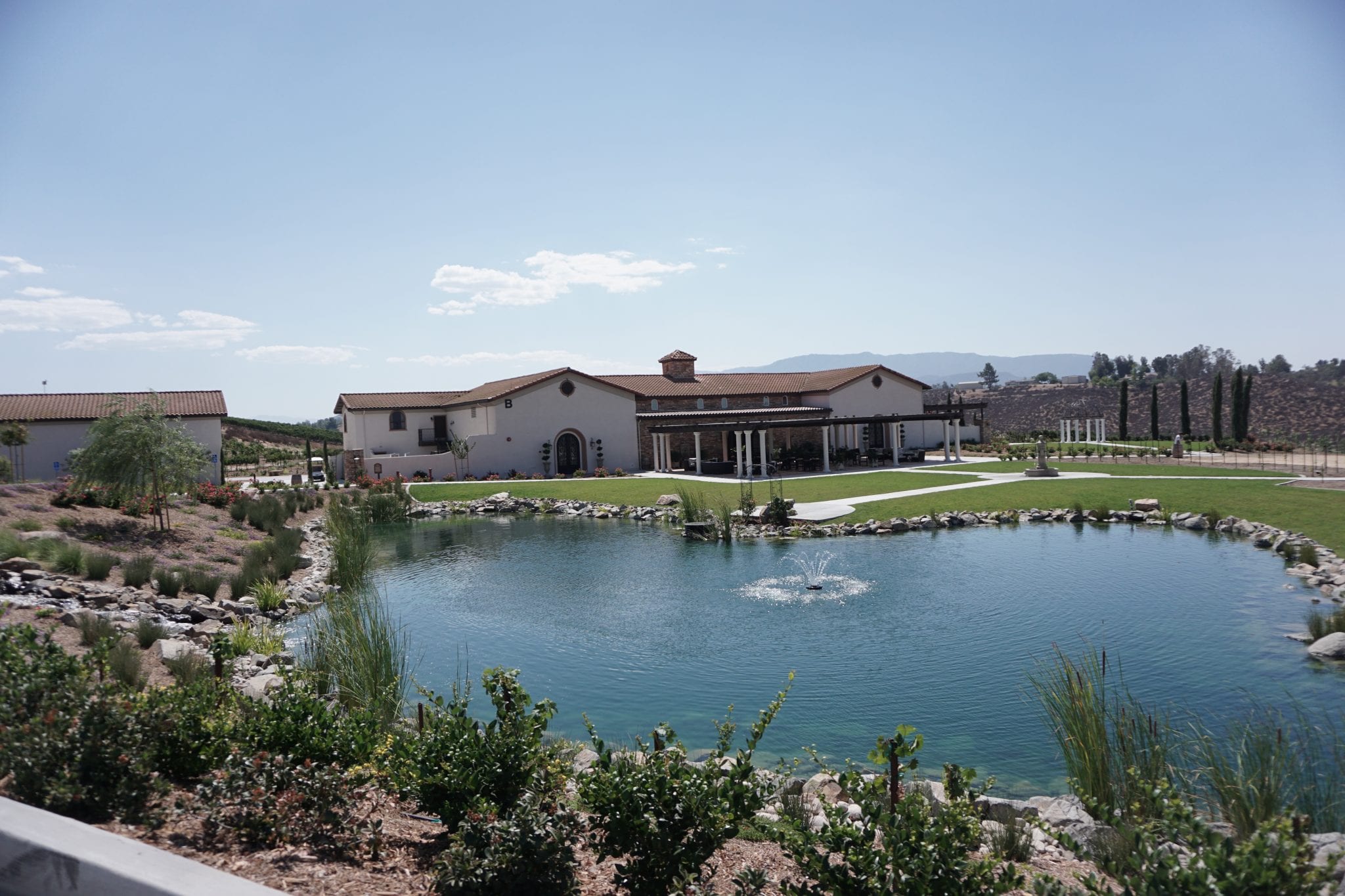 Next up is the gorgeous Avensole Winery. This property is absolutely beautiful both inside and out offering what they like to call an elevated yet casual form of hospitality. And, while it may be one of the newest wineries in Temecula it is also home to some of the oldest vines. The property houses a luxurious tasting room and patio. Plus, a restaurant, koi pond, members lounge, bridal cottage and grooms suite too!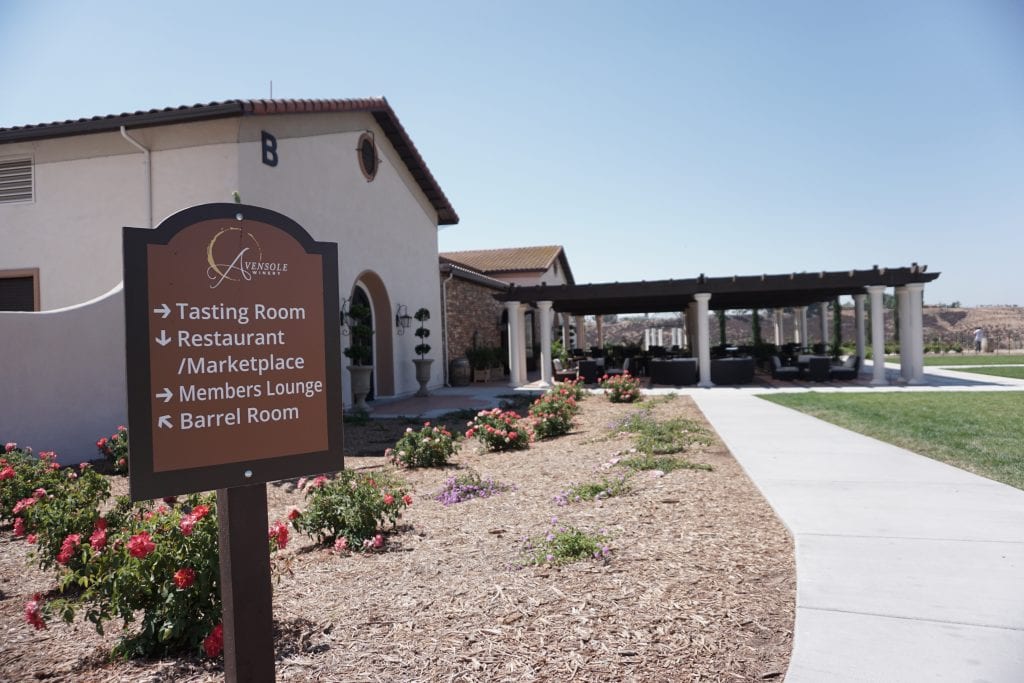 Avensole offers tastings 7 days a week and often has live music playing midday. Check out their gorgeous shaded patio area. I mean you really can't beat sitting out there with a glass of their delicious Zinfandel in hand overlooking the sprawling hills and vineyards while listening to a live band playing in the background. It's the perfect escape!
If you're in the mood for something a little bolder, the Cabernet Sauvignon can't be beat. Avensole features two types of Cabernet– the standard robust red you'd find just about anywhere, and an Old Vine Cabernet Sauvignon that uses the finest grapes from some of the oldest, most storied vines on the picturesque property.
The property also has beautiful water features throughout including gorgeous fountains and the beautiful koi pond that welcomes you at their entrance.
*Tip- if you ask inside the tasting room your kids might be able to feed the gorgeous koi fish who live in the pond. It's a really cool experience as there are literally like a hundred+ koi in there including tons of babies. I was told that they actually had a Buddhist Monk come and bless the pond upon opening and immediately after they started noticing all the adorable babies!!!
Back to the wine. As I mentioned before, I am a big fan of wineries offering something unique with their tastings and Avensole scored big in this area for me. They offer a tasting that pairs their incredible wines with these amazing hand made gourmet cheeses. They are wickedly delicious and I am a cheese snob so trust me when I say they are GOOD!!!
If the cheese doesn't fill you up Avensole is one of the few wineries that has an on-site restaurant. Here you can dine al fresco on their lovely restaurant terrace and soak up the views.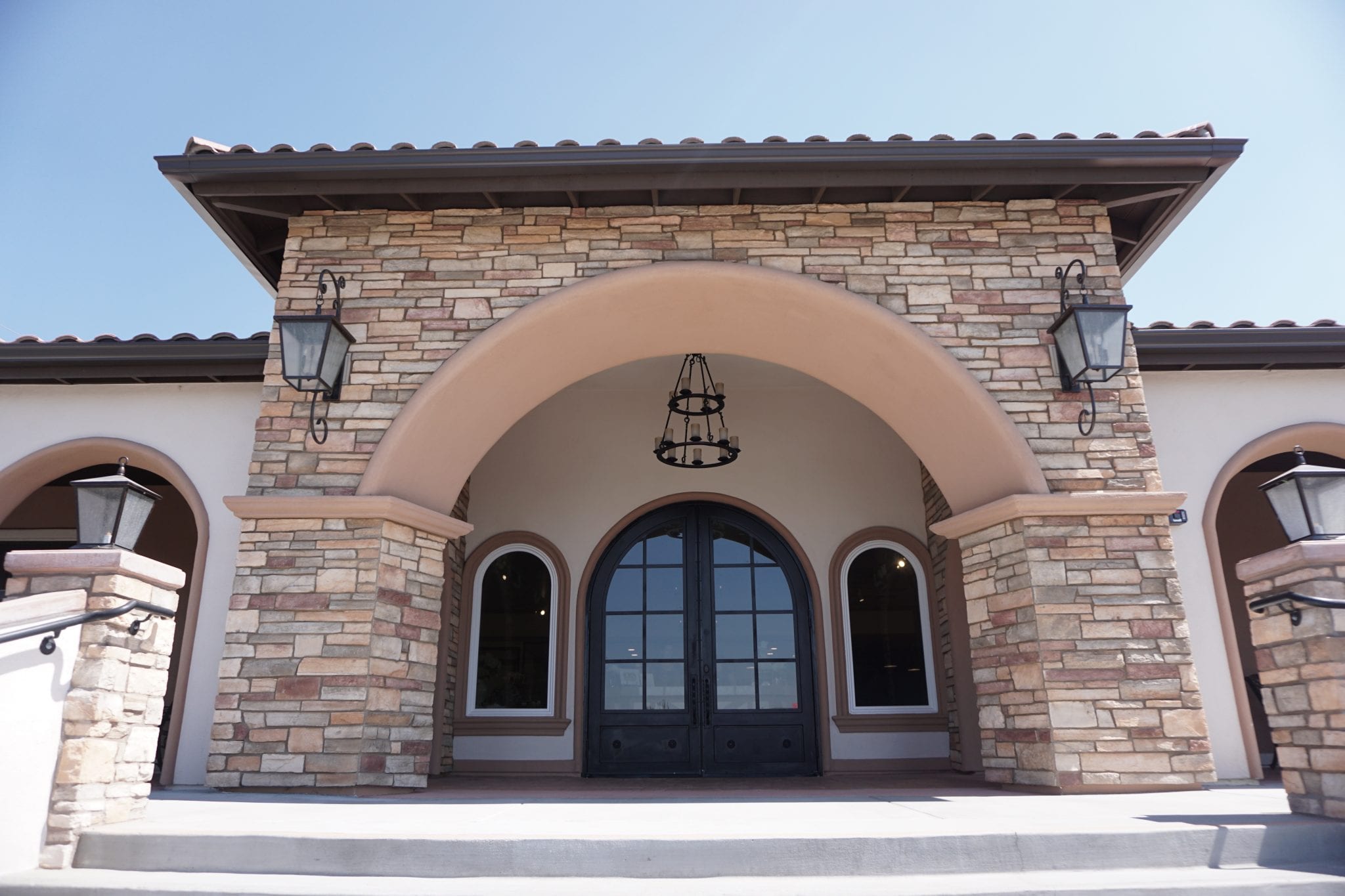 The Chef de Cuisine, Teddy Johnson and Executive Chef is Daragh Matheson have created an appetizing menu of eclectic offerings that pair perfectly with one of their wines, craft beers or delicious custom cocktails.
Take a look at this open aired terrace. Now picture the view they have sitting on top of those iconic rolling hills overlooking all the vineyards of the breathtaking, up-and-coming Temecula Wine Country. There really is no place like it in Temecula. I think it makes the perfect date night spot, a wonderful place to meet the girls for lunch and it has the perfect atmosphere to enjoy happy hour with some friends as well.
Speaking of happy hour let's talk cocktails. I mean sure you could obviously grab a glass of wine as you know they have some great picks. But, should you be in the mood for a cocktail they have some incredible creations made from fresh squeezed juices, house made syrups and liqueurs. Making for some unique and adventurous drinks. The Head Bartender Bryan will help you find the perfect drink to sip on.
Once you have your cocktail in hand you will be in the tough position of trying to choose an item of their menu. With offerings like Oysters Oscar, Beef Wellington Croissant, Pork Belly Flatbread and Croque Monsieur its not going to be easy. I wrestled between the Citrus Salad and the Pan Seared Salmon and I don't think I would have gone wrong with either. But, my salmon was absolutely mouth watering. I mean it was perfectly seared and crisp on the outside while remaining incredibly succulent on the inside. In fact I am salivating as I type just thinking about it.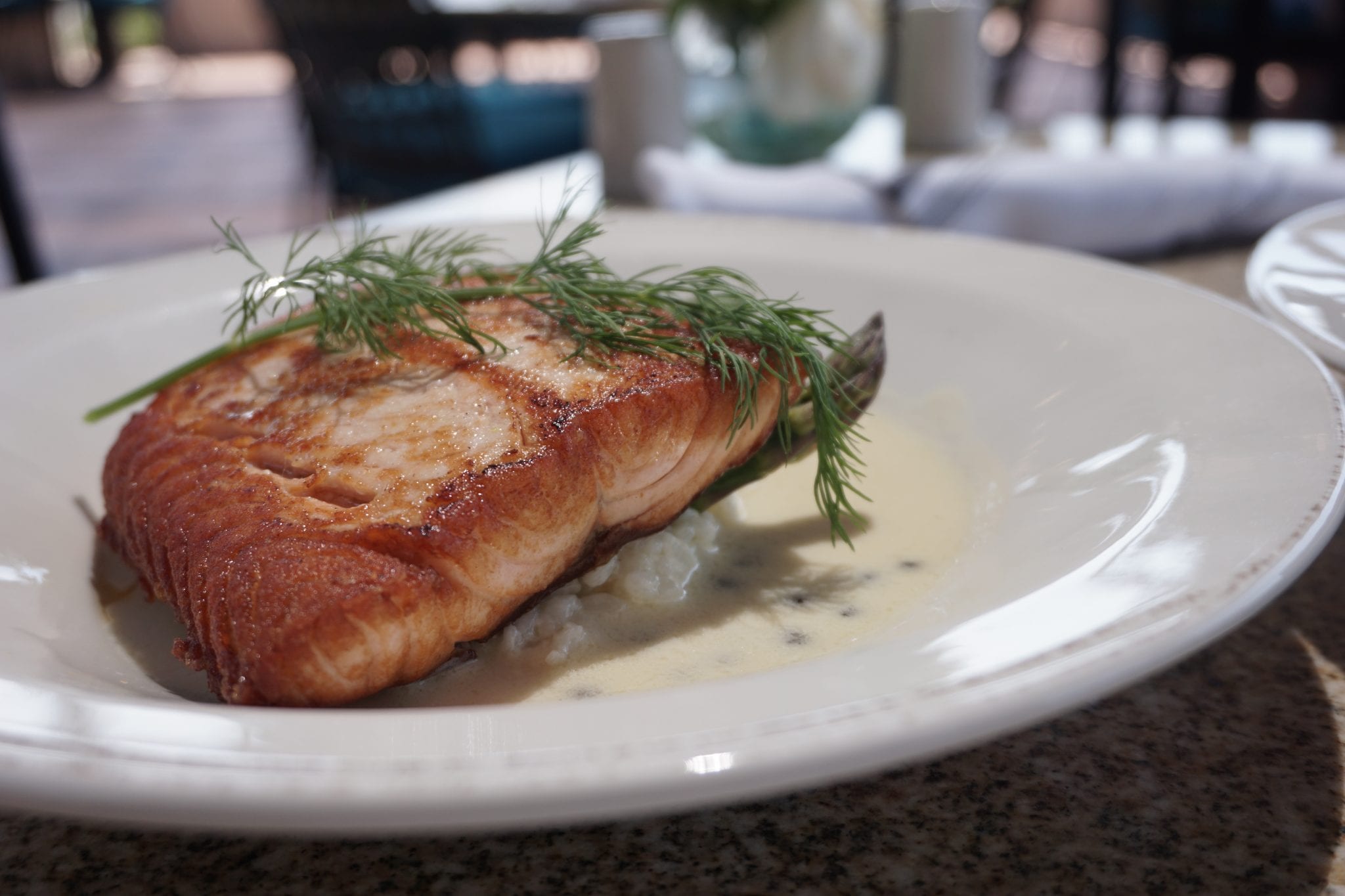 The person dining with me ordered the short rib and while I am not typically a big meat eater this cut of meat was exceptional. The meat literally fell apart the second you touched it- YUM!!! I have to bring my husband back because I know he will flip over it!!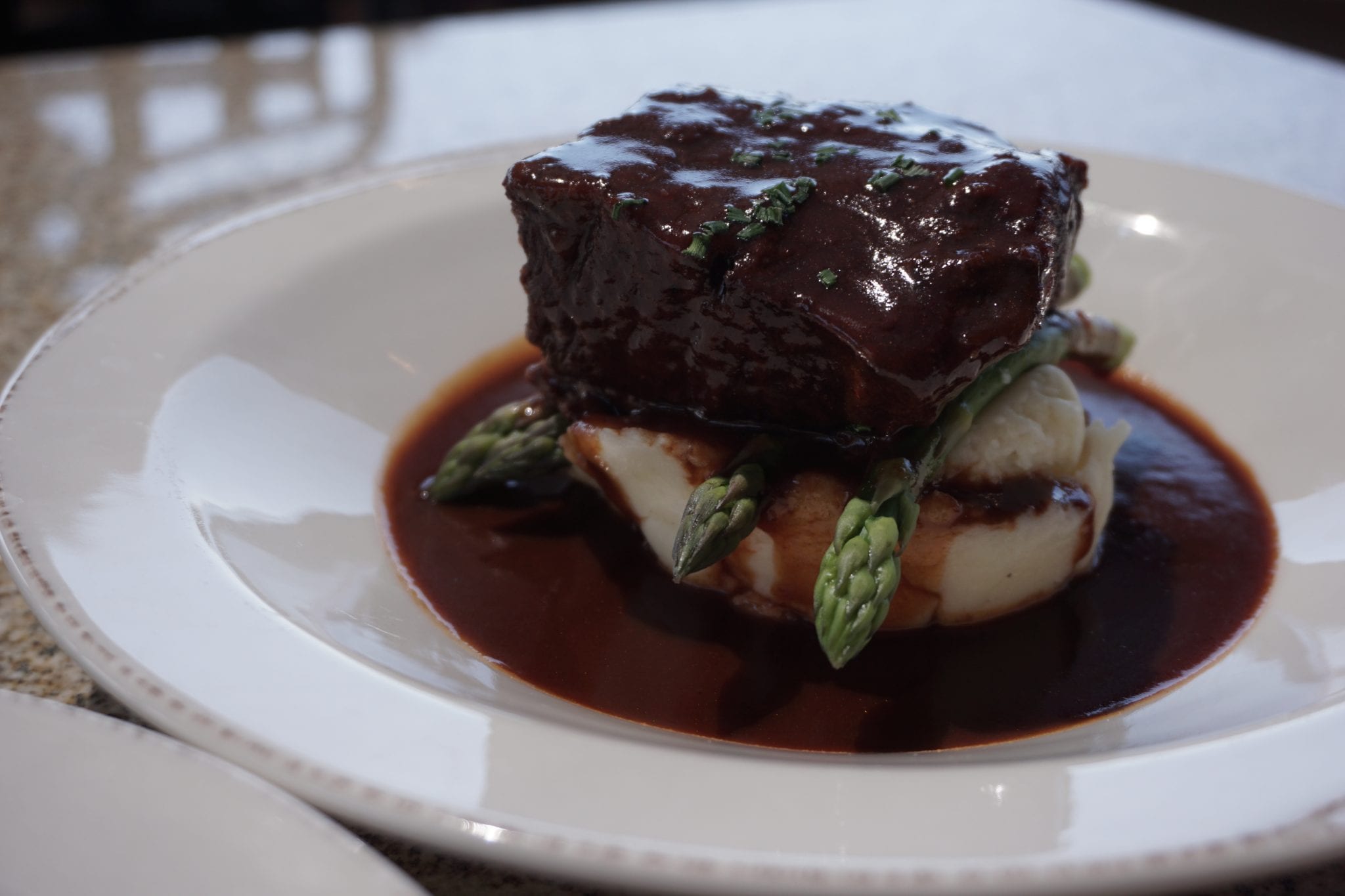 Avensole Winery
34567 Rancho California Rd, Temecula, CA 92591
Visit the Tasting Room and Restaurant are open 7 days a week. Check online for hours.
Their wine tasting experience is $15 (weekdays) and $18 (weekends). They also offer wine tours as well.
You can also learn more by visiting their website, Instagram and Facebook pages.
EUROPA VILLAGE WINERIES & RESORT
Listen, I'm never one to talk someone out of jetting across the pond and taking in all the rich culture and history of Europe, but sometimes it's just not possible or realistic. When it comes to wine, you can get the next best thing just by stopping by the Europa Village Wineries & Resort in, you guessed it, Temecula Wine Country.
As it goes, the owners were visiting Europe decades ago when they fell in love with the rustic charm of the European countryside and endeavored to bring that kind of flavor and flair to California. They purchased 300 acres of land and got to work developing what we now know as the Europa Village Wineries & Resort.
So how'd they do? Did they hit the nail on the head? We thought so! The property is simply stunning, giving you great photo ops of the unparalleled views. It's a great break from the city or suburban vibes you may be more accustomed to back home. At Europa, you have just seemingly endless stretches of grapes and farmland, all adorned with wineries and buildings that were built to reflect the architectural style of Europe.
I mean, they really, really sought to encapsulate that European flair and boy did they nail it, because it's called Europa "Village" for a reason. There are multiple wineries, European-style venues, boutiques, restaurants, tasting rooms, and, of course, the spa! 
What other winery could you literally leave your tasting and take in a relaxing soak in the hot tub or get a Swedish massage under the warm California sun?
You could stop by Bolero for Spanish themes and wines, C'est La Vie if you're more parlez vous francais, or Vienza per la dolce vita. Of course, each pit stop along the journey gives you samplings of Europa's take on traditional European flavors using the same grape varieties as used overseas.
Some areas of the property are still in development, but it's overall a great place to visit even today. We're super excited to return soon and see what new developments and attractions have been added to this perfect European-styled retreat.
Europa Village Wineries & Resort
41150 Via Europa, Temecula, CA 92591
The Tasting Room is open daily. Check online for hours.
Their wine tasting is $25 per person.
HART FAMILY WINERY
If you're from Los Angeles, you might have thought I was kidding about how many great wineries are available in Temecula. The Hart Family Winery is yet another underrated gem nestled in the beautiful background of Southern California. Run by the Hart family since 1973, you get the rustic experience and family charm from this spot, as well as some mighty tasty wines.
Let's not mince words here and get right to the main attraction– the wines! The Hart Family Winery has an impressive selection from the tried-and-true Sauvignon Blanc that pairs well with a light bite to the intense Volcanic Ridge Syrah or Cabernet Sauvignon.
That's right– volcanic ridge. As in from a legit volcano erupting ages ago leaving behind a unique soil that grows intensely flavored grapes that add a level of complexity to the final product. You can literally taste the history in each sip of these selections, and it tastes great! 
Hart Family Winery is a great day trip or pit stop on any of many wine tours in Temecula. Beyond the wines and beautiful scenery, they offer memberships to their wine club, which gives you discounts, first access, complimentary tastings, and more!
Hart Family Winery
41300 Ave Biona, Temecula, CA 92591
The Tasting Room is open Thursday to Monday. Check online for hours.
Their wine tasting is $25 per flight.
Pin for later-
Have you visited any great wineries in Temecula?
Tell me about it in the comments below.
*a special thanks to Visit Temecula and both Peltzer Winery and Avensole Winery for hosting me. My thoughts and opinions, as always, are 100% my own.
You Might Also Enjoy:
Leoness Cellars- One of the BEST Wineries in Temecula
The BEST Temecula Wine Tasting Tours – 5 Amazing Tours
The Ultimate Guide to Halloween in Temecula Valley
The Ultimate Guide to the Holidays & Christmas in Temecula & Murrieta