We've compiled a list of the spots that serve the BEST breakfast in Temecula. Why? There's no doubt brunch has become one of the trendiest meals of this generation.
It's no longer just for Sunday's or Mother's Day, but basically, for any day, you want to gather up some friends and venture out to find the perfect spot with bottomless mimosas and priceless patio views.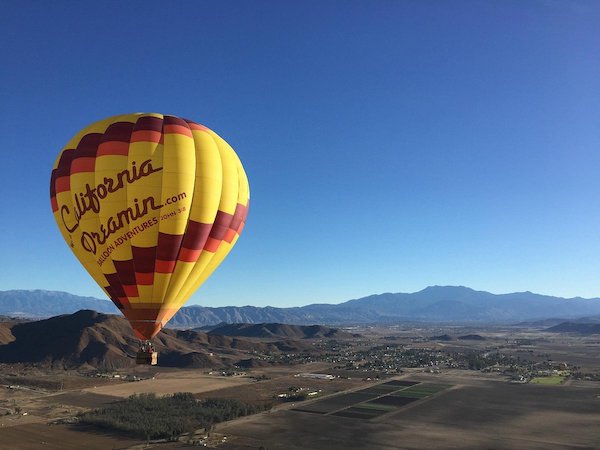 ---
The Complete Guide to the Best Brunch & Breakfast Restaurants Temecula has to Offer!
Temecula, California is known for its beautiful wine country and scenic views, but it's also a fantastic place to enjoy a delicious brunch.
Whether you're looking for a casual, laid-back spot or a more upscale dining experience, Temecula has something to offer for every brunch lover. Below is our list of our favorite breakfast in Temecula locations!
---
Bolero Restaurante at Europa Village Winery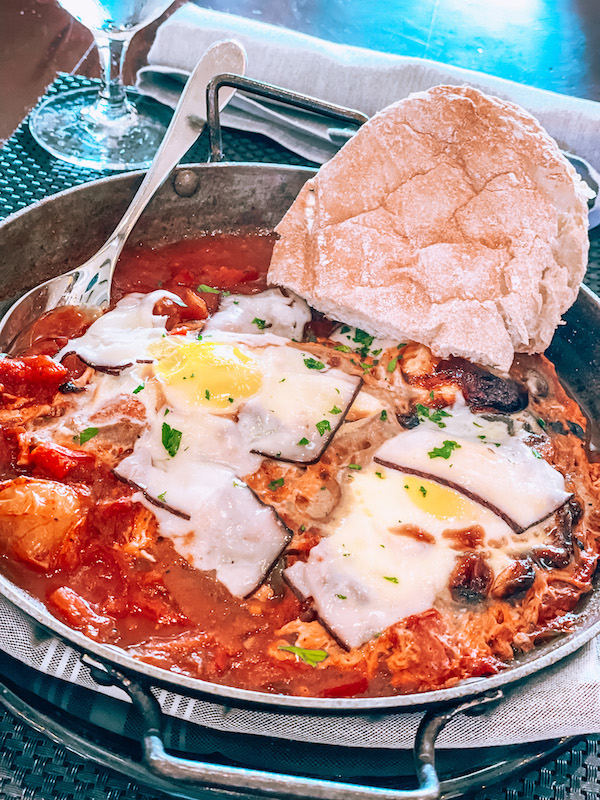 Bolero recently opened up at the Europa Villa Winery and it is a definite must visit if you want a delicious breakfast in Temecula. They have a wonderful relaxed vibe and the food hits the right spot.
I loved the Spanish Breakfast Casuela which is a one of a kind dish you have to try. The egg omelettes are made with fresh local vegetables. If you have a sweet tooth they have a ton of options including a banana nutella crepe.
You can check out the full menu here.
---
1909
Bottomless Mimosas, Bloody Mary's made fresh at your table, the BEST French Toasts ever (yes plural bc there is more than one), Carnitas Chilaquiles & more.
This is my absolute favorite place to head for brunch on the weekend. Bonus this Temecula restaurant is located in Old Town so you can window shop through town to help burn off all those tasty calories you just ate.
---
Devilicious Eatery
New to the brunch restaurants Temecula has to offer is the delicious Devilicious Eatery. We love the unique flavor pairings from this fantastic foodie restaurant.
Try their Wine Country Benedict with prosciutto, poached eggs, house-made hollandaise, olives, caramelized tomatoes, and basil served on a baguette. Feeling like something sweet? The Nutella & Bacon French Toast does not disappoint! Check out their menu here.
---
Be Good Restaurant is a fantastic spot to enjoy a delicious brunch or breakfast in Temecula. This popular eatery is located in the heart of Old Town Temecula and is known for its welcoming atmosphere, friendly staff, and fresh, locally-sourced ingredients.
One of the standout features of Be Good Restaurant is its diverse and creative menu. Whether you're in the mood for a classic breakfast dish like eggs benedict or something a little more unique like their savory waffles with bacon and fried chicken, you'll find something to satisfy your cravings.
Their menu also includes a variety of vegetarian and gluten-free options, ensuring that everyone can find something delicious to enjoy. Check it out here.
---
The Broken Yolk Café
The Broken Yolk Café offers those beachy brunch vibes without having to drive down to the actual beach. Their wellness wrap with eggs white, spinach, and feta is my perfect idea of breakfast, but you can get just about anything to eat here, and their South of the Border menu has some of the best Mexican breakfast in the Valley.
The restaurant is right by the Promenade Mall, so it's a great place to stop in before a day of shopping. Their staff is super friendly making for a great start to the day. Check out their menu here.
---
EAT Marketplace
Farm to table is good any time of day, but there's definitely something special about fresh eggs, meat, and locally grown veggies that make farm to table brunch especially good. There's no better place in Temecula for this than EAT, also located right off Old Town Front Street. They even list every farm they pull their ingredients from.
EAT has amazing savory options, but don't miss out on their decadent sweets. Who says there's no dessert at breakfast? It's got the perfect chic farm vibe and long wooden tables for big group brunches with friends and their vegan/vegetarian/gluten free options accommodate everyone.
They have tons of different options when it comes to coffee and tea, but also sangria or sparkling wine. Breakfast is served every day, but there's a special brunch menu on weekends as well.
---
Lazy Dog Cafe
The kids are big fans of Lazy Dog Cafe's weekend brunch. It may be the fun Buttermilk Bone-Cakes, or the fact that they can bring their pups with us and dine on the patio.
But, I certainly don't mind because there is plenty of delicious and unique dining options that I love like the Hawaiian Fried Rice, Sunny Side Up Pizza, and the Baked Berry Pancake. This one is one of the few dog-friendly restaurants Temecula has. Check out their weekend brunch menu here.
---
Journey's End
You may not imagine a casino to be a prime brunch spot, but Journey's End at Pechanga is actually pretty perfect. It's definitely another place where you want to score a spot on the patio on a sunny morning because the view is gorgeous looking out over the golf course.
It's like being on a little resort day-cation. Their Crunchy Peanut Butter and Jelly Stuffed French Toast is just one of those must try brunch items, but I really love how their menu offers other items like sandwiches and tacos for those later morning brunches.
---
Downtown PUBlic House (Murrieta)
Downtown Public House easily has one of my favorite restaurant ambiances ever. It's located in downtown Murrieta on the cutest little street, but with their big trees and rustic atmosphere, it feels like somewhere totally different.
It's an awesome place for brunch because they put a twist on breakfast classics and I think they're even better than the originals. The Prosciutto Benni is so yummy and so is their Vegetable Hash.
---
The Bluewater Grill
From 10:30-2pm Saturdays and Sundays The Bluewater Grill hosts a delicious brunch with items such as Crabcake Benedict, Brioche French Toast with a Fresh Berry Compote, and a Kids Brunch (ages 10 & under) for just $7.
---
La Cocina Bar & Grill
Sunday Champagne Brunch is served from 9am-2pm at this tasty Temecula restaurant. You'll find all of your favorite Mexican breakfast dishes served buffet style. Kids pricing is available. See their website for information here.
---
The Mill Restaurant (Murrieta)
With Fall being right around the corner The Mill just has to be on the list because they've got delicious pumpkin pancakes, but don't get me wrong they're a great brunch spot any time of year. Their one of the only places in Temecula/Murrieta with breakfast pizzas as an option and they're pretty yummy.
The owners are longtime locals having opened the restaurant back in 1996, so you'll feel right at home. Brunch here runs Friday-Sunday.
---
Rodrigo's Mexican Restaurant
A wonderful, and super affordable, Sunday Brunch option is Rodrigo's in Temecula. For just $12.99 you can enjoy breakfast margaritas, pina coladas, and daiquiris.
Plus, tasty entrees like Monterrey Banana Nut Cakes, Huevos Con Chorizo, Huevos Rancheros and more. Kids meals are also available for $5.95.
---
Rosa's Cantina
Did you know Rosa's serves brunch on Sundays? It's true from 8am-1pm and it is all you can eat for just $11.95 for adults and $7.25 for children. Choose from entrees like Machaca and eggs, waffles, chilaquiles, and more.
---
Don Jose Mexican Restaurant (Lake Elsinore)
If a Sunday Champagne Brunch is your style you can check out nearby Done Jose Mexican Restaurant in Lake Elsinore. Brunch is served from 10am-3pm for $13.95 which includes your choice of entrees, fresh fruit, tortillas, and champagne.
---
Temecula Winery Brunches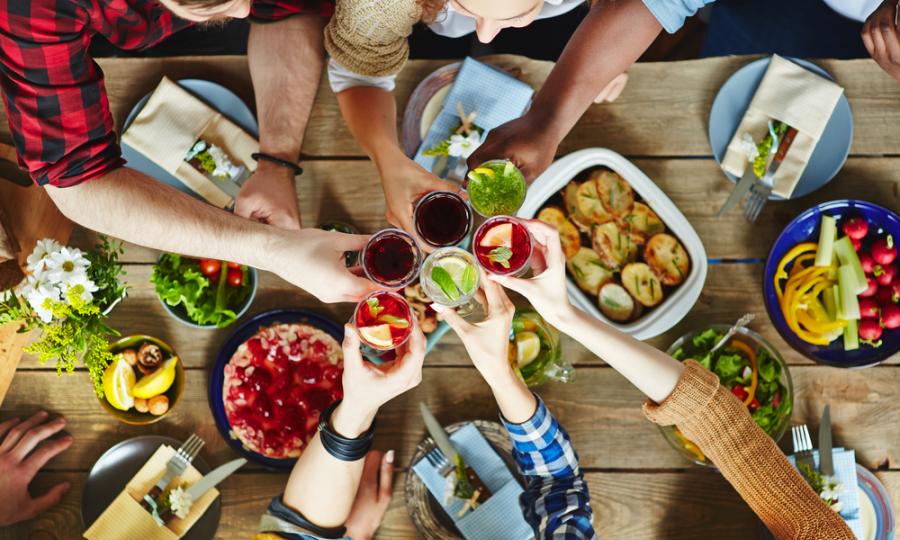 ---
Meritage at Callaway
Looking for a Sunday brunch in Temecula Wine Country? Meritage serves farm-to-table cuisine with many ingredients from their onsite greenhouse and garden. For $30 you receive a mimosa with fresh squeezed orange juice, an entree, and a dessert.
---
The Vineyard Rose Restaurant at South Coast Winery
The Vineyard Rose serves both brunch and breakfast in their indoor Tuscan-inspired dining room and al fresco on their lovely outdoor patio with views of the vineyard.
We love heading there on the weekends. If you are lucky you might get an awesome view of the hot air balloons. I suggest you try the Bananas Fosters Pancake served with a delicious Vanilla Bean.
---
Bouquet Restaurant at Ponte
Yeah, another winery because I just can't deny the fact that they offer the perfect ambiance for every kind of brunch day. Bouquet Restaurant at Ponte offers brunch on the weekends with the chicest menu items. How are they chic, you may ask?
Just try limoncello maple syrup, caper pesto cream cheese, or the whole Godfather Sandwich. Their Burrata for the table with tomato jam and their estate olive oil is a favorite to share with friends. They also offer a breakfast bar with fruit, yogurt, pastries, and an omelet bar if you're looking for buffet style.
---
Wilson Creek Bubble Brunch
Okay, so I might just have to make Bubble Brunch a Sunday tradition just because I love the name of it so much. This is Wilson Creek's Sunday only brunch buffet from 10 am-3 pm. Nothing pairs better with orange juice for a mimosa than Wilson Creek bubbly. For about $50 an adult, you can get the buffet and unlimited sparkling wine.
Kiddos are only $13 and they'll definitely enjoy the omelet and waffle station. The price is worth the view alone off the patio, which looks out over the vineyard. Their buffet holds everything you could possibly imagine that falls into the brunch category, so wear your stretchy pants.
---
Cafe Champagne at Thornton Winery
With impressive accolades like the Gold Award for Contemporary Cuisine for eleven consecutive years from the Southern California Restaurant Writers Association. "Four Stars for Cuisine" and "Four Stars for the Wine List" were awarded by the California Restaurant Writers Association this Sunday winery brunch in Temecula is sure to please.
Try their Creme Brulee French Toast with marinated cherry coulis and applewood smoked bacon or the Coddled Eggs with Muenster Cheese.
---
Breakfast Restaurants in Temecula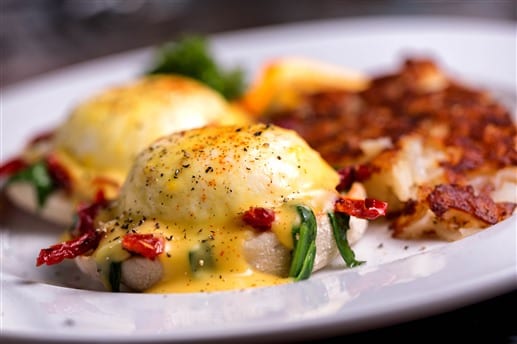 ---
Laurent's Le Coffee Shop
Laurent's is a great spot to pretend like you're on a European dream vacation sitting in a French café with a croissant. They're little bistro tables with mason jar potted flowers are just so quaint.
You can tell the French chef who owns this place just pours love into his food, especially his cheesy scalloped potatoes which are a local favorite.
If coffee is your thing, this is one of the best places to get it and your latte will likely be served with a decorated foam leaf. It's great for a lighter and more casual brunch any day of the week. Check out them out here.
---
Cork Fire Kitchen at Temecula Creek Inn
With an esteemed chef, newly renovated patio with gorgeous views of the golf course, a delicious menu featuring sustainable entrees, and a 2017 Tripadvisor Certificate of Excellence this is one Temecula restaurant you don't want to miss.
If you are in the mood for something decadent I recommend the Pecan Malted Black Iron Waffle with Honey Butter and Maple Syrup or the Chipotle Chorizo Benedict. Looking for something on the lighter side try the Ginger-Citrus Chia Seed Pudding with Toasted Pistachios and Blueberries.hom
---
Mo's Egg House
If you are in the mood for a classic homestyle breakfast you can't go wrong with Mo's Egg House. Here you will find classic egg breakfasts, omelets, waffles, pancakes, crepes, benedicts & more. We love the freshly baked coffee cake that comes complimentary as soon as you are seated. YUM!!
---
Havana Kitchen Café
Straying away from the classic brunch experience, Havana Kitchen Café is the perfect place to experience something new with friends and the rich culture of Cuban food. They have also got some pretty amazing coffee.
The restaurant is owned by a first generation Cuban, who still remembers the smells of his grandmother's kitchen and tries to bring that to his own food. I think this could quickly become one of the most popular breakfast spots around town.
---
Texas Lil's Mesquite Grill
If you're looking for some down-home breakfast classics from pancakes to chilaquiles, this is the place to be in Temecula. It's located right off Old Town Front Street tucked behind Mad Madeline's and well known by those riding their motorcycles through Southern California because it's the perfect place to fuel up for the day.
Plus, they have a Bacon Bloody Mary that can be made spicy or mild that pairs great with any dish you choose. My biggest tip is to grab one of their patio tables on a nice morning, you can even bring your pup.
---
Swing Inn Cafe
Whether you feel like breakfast early in the am or you prefer a weekend breakfast in the late afternoon you are in luck at this Old Town Temecula restaurant because at Swing Inn Cafe breakfast is served all day, every day. Here you will find classic egg breakfasts, omelets, hot cakes, waffles, french toast and combo plates.
---
The Gambling Cowboy
A mainstay in Old Town for years the Gambling Cowboy serves a homestyle breakfast with classics like biscuits & gravy, country fried steak & eggs, and Plus, tempting entrees like their Montecristo, Belgian Waffle, and Salmon Florentine Benedict.
---
The Original Pancake House
If you live in Temecula you most likely know about the Original Pancake House located near the Promenade Mall. They are known for their specialties like the Dutch Baby and Apple Pancake but really you can't go wrong with anything on their massive breakfast menu.
---
Great Harvest Bread Company
A great grab & go option for breakfast in Temecula is Great Harvest Bread Company. They open at 6 am with the sweet aroma of all of their amazing freshly baked bread and pastries. Make sure to check their website to see which pastries and bread will be there when you go as they change daily.
---
Annie's Cafe
Looking for something with a little British flair? We have that in Temecula at Annie's Cafe try their Winston Churchill Special with eggs, bangers, English bacon, grilled tomato, baked beans, grilled mushrooms, and toast or fried bread.
They also serve classic breakfast items like tasty omelets, cinnamon rolls, skillet breakfasts, French toast, pancakes, waffles, breakfast sandwiches & more.
---
Patsy's Country Kitchen
Looking for a classic homestyle meal? Patsy's has just about every breakfast dish imaginable. From egg specials to breakfast burritos, omelettes to Belgian waffles and so much more! I love that they have Menudo on the menu as well- yum!!
---
Richie's Real American Diner
With locations in both Temecula and Murrieta Richie's has become a local tradition. Here they serve all the breakfast classics plus some unique menu items like Banana Macadamia Nut Pancakes, Linda's Sweet Potato Pancakes & Eggs, and the Ozark Glazed Ham and Eggs.
---
Old Market Grill
With items like Baklava French Toast, Greek Omelettes, Spinach & Feta Breakfast Burritos, and a Protein Plate Old Market Grill is the perfect morning treat for all flavor profiles.
---
Pechanga Cafe
If a breakfast buffet is what you have in mind Pechanga Resort & Casino has you covered. For just $13.50 you can enjoy the all you can eat breakfast buffet all week long. They also have plated entrees should you prefer that route.
---
Of course, Temecula also has the popular breakfast chain restaurants like Corner Bakery, Panera, IHOP, Denny's, Marie Callender's & more too!
---
Fallbrook
Just up and over the hill, you can find several delicious spots for brunch and breakfast near Temecula. Some of our favorites include:
---
Myrtle Creek Botanical Garden
One of our favorite places to go on the weekends is Myrtle Creek Botanical Gardens. The kids love walking through the Wild Bird Sanctuary, the Butterfly Garden, and just roaming the nursery. They also have Cafe Bloom onsite which serves delicious sandwiches and fresh myrtleberry pie.
But, if you are lucky the crepe people are there whipping up the most amazing and delicious savory crepes you've ever had. Trust me! We've been to Paris, France and these ones tasted even better than the ones we had in France. Call ahead to make sure they will be there.
You can read more about Myrtle Creek and their Make Your Own Fairy Garden Pots here. Learn more about Cafe Bloom's offerings here.
---
Main Street Cafe
Whether you are in the mood for Banana Pancakes, delicious French Toast, amazing Egg Dishes, Omelettes you are sure to find what you are looking for in this classic breakfast cafe located in Fallbrook (just a quick drive from Temecula).
---
Fallbrook Cafe
Another excellent cafe to check out is Fallbrook Cafe. Here you will find egg dishes, omelets, pancakes, waffles and more.
---
Rainbow Oaks Restaurant
Established back in 1946 the Rainbow Oaks Restaurant is a hometown favorite. Try their Super Decker Monte Cristo Sandwich with Ham, Turkey, & Cheese, or try their Farmhouse Skillet. There is sure to be something that tickles your fancy on their extensive breakfast menu.
---
Map of Best Spots for Breakfast in Temecula & Murrieta
---
Pin-it for later: Best Breakfast in Temecula

---
Did you see your favorite Brunch & Breakfast Restaurants in Temecula on our list? If not be sure to let us know in the comments below so we can add it to our list.
---
If you enjoyed reading about the best breakfast in Temecula, you will also enjoy:
The Best NEW Restaurants in Temecula
Livin Up Your Temecula Date Night Routine
The Hottest NEW Temecula Wineries
The Best Sandwich Shops in Temecula
The ULTIMATE Guide to Halloween in Temecula
Latest posts by Mama Munchkin
(see all)