So, where can you grab a delicious lunch in Temecula? Obviously, there are tons of different options, but sticking to the classic sandwich is always a good decision and thankfully there are some amazing Temecula sandwich shops. They've got everything from piping hot pastramis to BLTs to veggie-filled goodness. Check out a few of our favorites below. And, you will probably want to check out our list of the BEST New Restaurants in Temecula, The Best Catering in Temecula or the Best New Wineries in Temecula.
The BEST Temecula Sandwich Shops
Rock-N-Jenny's

This Temecula sandwich shop is located near the Promenade Mall and is fairly new to the area, but has already grown to be a local favorite. Jenny, the owner, is frequently seen in the shop making sure everyone is loving their food. My boys love to order their famous turkey sub and add avocado. We often grab these subs before the boys' football games. It's an easy dinner for our long nights on the football fields. Rock-N-Jenny also offers pasta and salads if you are feeling something besides a sub.
Devilicious Eatery
One of my personal favorite spots to grab a sandwich is Devilicious Eatery, it seems many others would agree given that they have been awarded the 2013 and 2014 Best Food Truck by UT San Diego Reader's Poll, 2014 Best Food Truck by San Diego City Beat and selected by The Daily Meal as one of the Top 101 Best Food Trucks in America. Devilicious Eatery & Tap Room also received Press Enterprise's 2015 Best of the Inland Empire for Best New Restaurant and Inland Empire Magazine 2016 The Best of the Inland Empire for the "The Best Place to Pick Up a Sandwich". That's a mouth full! Plus, you may have seen them on the "Great Food Truck Race" Season 2 and were seen on the Cooking Channel's "Eat Street" and Time Warner Cable's "Let's Eat."
Plus, you may have seen them on the "Great Food Truck Race" Season 2, the Cooking Channel's "Eat Street" and Time Warner Cable's "Let's Eat." I bet, you didn't realize we had such a noteworthy sandwich shop in Temecula.
Head in to see what delicious creations they've whipped up. Everything is made from scratch in house and its seems like they've always got something new. Try their Butter Poached Lobster Grilled Cheese or their Short Rib Melt pictured above (can't get enough of that house made onion jam or the roasted garlic aioli-yum!).
Which Wich
source
This is the perfect stop for a quick lunch sandwich made exactly the way you like it. Although, it's set up a lot like a Subway or Quiznos, I find the quality to be way better. They've got tons of options from subs, to wraps, and even gyro. I highly recommend their super food wrap, especially in the middle of a long work day. Their meats, cheeses, and veggies are all fresh and delicious. Plus, they're a great place for special diets like vegetarian, vegan, or gluten free.
Naughty Pig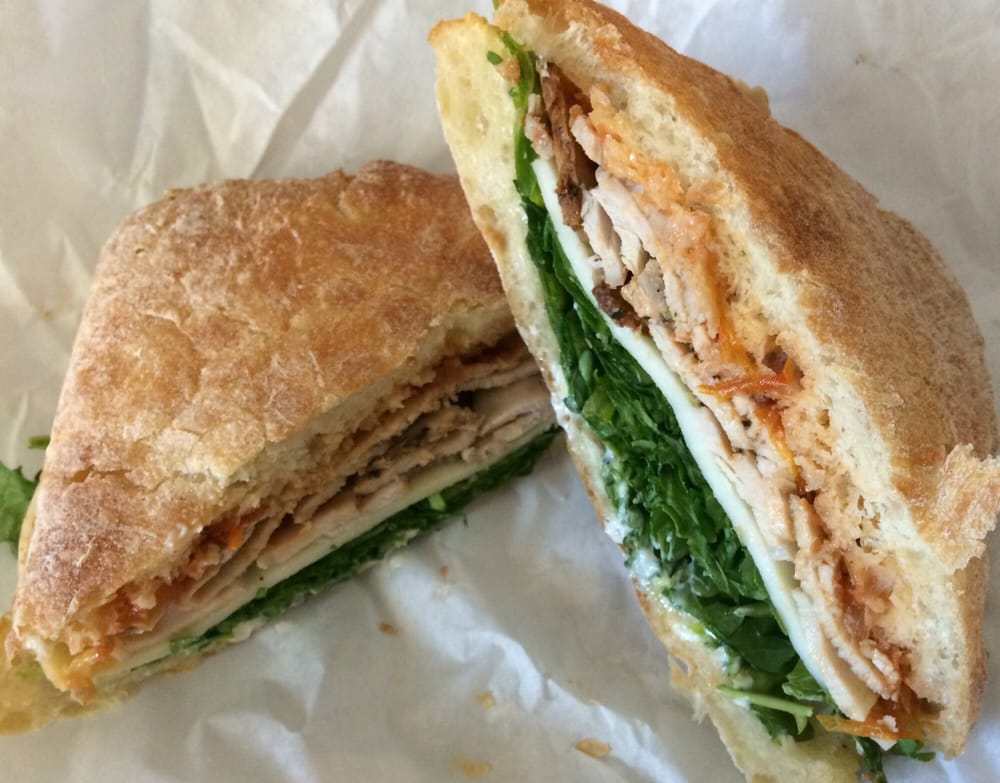 source
When you hear a name like Naughty Pig, you can't help but wonder what the heck they serve. Truth is a lot! Naughty Pig is a Butcher Shop which serves up delicious sandwiches and they also have special event nights where they feature 5-course dinners.
In terms of being a great Temecula sandwich shop I don't think you can get any fresher than straight from the butcher. Their meat is all natural with no hormones, chemicals, or additives and their beef is grass fed making it absolutely delicious and healthy. While you can stop in to pick up cuts of meat to cook yourself, I recommend stopping by to grab a sandwich too because they're just so yummy. They are probably most well known for their Naughty Pig Ruben, give it a try on your next lunch break (BONUS: you can grab meat or fish to cook for dinner while you are there).
Firehouse
All I have to say about Firehouse subs is… meatball sandwiches. This is definitely the best place to grab a meatball sandwich on warm fluffy bread around town, and it's quick too. The ambiance in here is pretty cool too with their red chairs and brick walls. You guessed it, it's just like a firehouse!
Great Harvest Bread Co.
source
There's a hundred different reasons to like sandwiches, but my favorite part is the bread. This is especially true if it's fresh baked from somewhere as good as the Great Harvest Bread Co. They bake different types of bread every day, so check online to see when your favorite will be fresh. Their turkey cranberry sandwich is almost as good as Thanksgiving dinner, I would recommend giving it a try on their honey whole wheat bread.
Did you see your favorite Temecula sandwich shop on the list?
If not, tell us about it in the comments below.
Pin it for later-