We love finding the most luxurious resorts for families! That said, we traveled to Greenough, Montana to visit what is known to be one of the most luxurious Dude Ranch in Montana, the Resort at Paws up.
The Paws Up Resort, located in Montana, is a luxury guest ranch that offers personalized service, incomparable luxury, and unspoiled wilderness. It is often referred to as the "crossroads of incomparable luxury" because of its unmatched combination of natural beauty and upscale amenities.
We have visited our fair share of dude ranches and the Resort at Paws Up is far more than that. It is a one of a kind all inclusive experience that I hope everyone gets to experience with their family and loved ones. Here is why we think the Paws Up Resort is the BEST Dude Ranch in Montana!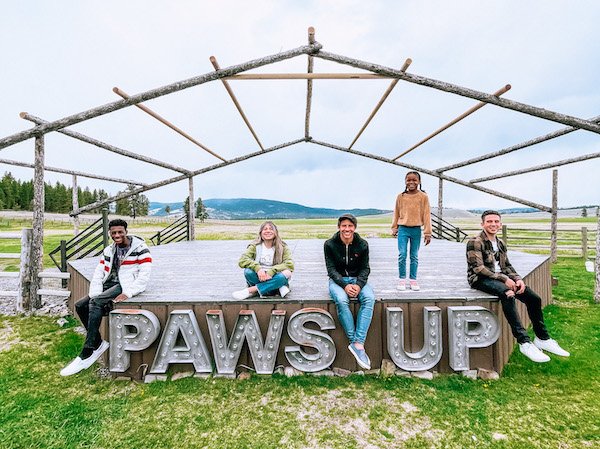 ---
Why is Paws Up the Best Dude Ranch in Montana?
Despite its location in the rugged Montana wilderness, the Paws Up Resort does not compromise on luxury. Guests can relax in their accommodations with air conditioning and soak in the hot tub while enjoying breathtaking views of the surrounding landscape.
The resort's luxury ranch resort features a variety of lodging options, ranging from private vacation homes to luxurious glamping tents, ensuring that each guest's stay is tailored to their individual preferences.
Paws Up Resort is more than just a place to stay; it is an experience that allows guests to disconnect from the stress of everyday life and reconnect with nature.
The resort's incomparable luxury and unspoiled wilderness is perfect for outdoor activities such as horseback riding, fly-fishing, and hiking. Guests can also take advantage of the resort's spa treatments, which provide a much-needed break from the rigors of outdoor adventure.
---
Getting to the Resort at Paws Up
When you book your Dude Ranch in Montana vacation at the Paws up resort, included in the price is transportation to and from the resort from the Missoula Airport.
We booked a direct flight on Alaskan Airlines from San Diego to Missoula and immediately upon arrival a guide from the resort was there to receive us and take us to our home away from home. The drive from the airport takes about 40 minutes and is quite beautiful.
---
Luxurious Dude Ranch Accommodations
If you have been to a few dude ranches before you know the accommodations can vary between so-so to quite nice. The resort at Paws Up had some of the nicest accommodations we have ever had at a Dude Ranch. There are 28 Luxury homes and in the summer 36 Luxury Tents.
The resort capacity is only 275 people on a 37000 acre dude ranch in Montana, so even when the resort is completely sold out, you will never feel like it is busy.
Wilderness Estates
We stayed in their Wilderness Estates for the 7 of us. The estate was over 3,000 square feet with a towering fire place that the family could gather around after a fun day of activities.
A massive porch to relax and enjoy the Montana Sunsets and a beautiful deck with jacuzzi.
You will find a full kitchen, a fridge stocked with your favorite waters and sodas and enough firewood to enjoy sitting by the fire the whole vacation.
In addition to the wilderness estates the Resort at Paws Up also has some amazing Glamping tents for the summer months and a brand new Adults only resort opening this June called Green-O. The Glamping tents is one of the many reasons why we think the Resort at Paws Up is the best Dude Ranch in Montana.
---
Fun Montana Dude Ranch Activities & More
If I listed out all the activities available at this Montana Dude Ranch it would be a 50,000 word article. Simply put, there is a ton to do at the resort at Paws Up.
We arrived in late spring which is one of their times of year where they have less activities, and there still was a ton to do. Some of the activities like Mountain Biking are included but most are at an additional charge. Here are some of our favorites.
---
ATV Rides
We hopped on an ATV tour that was simply a blast. You head throughout the property and pass along the blackfoot river.
Our guide took us to a viewpoint from where once Lewis & Clark passed through and some incredible lookout points.
The tour takes two hours and the time flies by. You have to be 16 years old to drive and 10+ to be a passenger.
---
Skyline Aerial Adventure
When I heard about the Skyline aerial adventure I actually thought it would not be that fun, but after several recommendations we decided to go book the excursion.
Let me say, this was quite the challenge. The ropes course had some of the. most challenging aerial climbs I have been on, but nothing you can't do.
Our guides, Dylan and Cam made the adventure a ton of fun.
They even helped my 7 year old traverse several of the obstacles. (Note, 7 was probably a bit young for this, unless they are quite adventurous, I would recommend 10+)
Included in the course are two free falls where you can jump off heights of 45 and 65 feet.
The initial drop is fast but then the rope slows you down to a nice decent before your land on the landing pad, but trust me, it takes a second to get yourself to step off the platform.
---
Cattle Run or Trail Rides
If you have never done a trail ride, I recommend doing so, but if you have done many already it is time to do the cattle run.
The cattle run is where you get to literally guide cattle to and from blackfoot river.
Yes, you get to chase cattle that runs off course and guide them back to the herd. If you want a pretty authentic experience this is it.
---
Greenough Kart Racing
Another not so typical dude ranch activity is the Go Kart racing. This is simply just fun, especially if you are competitive. Our family was racing around the Greenough track trying to pass one another.
These cars are two seaters so if you have a little one they can sit in the passenger seat or you can let them sit behind the wheel and just let them take you around the track (now, that's an adventure)
---
S'moreology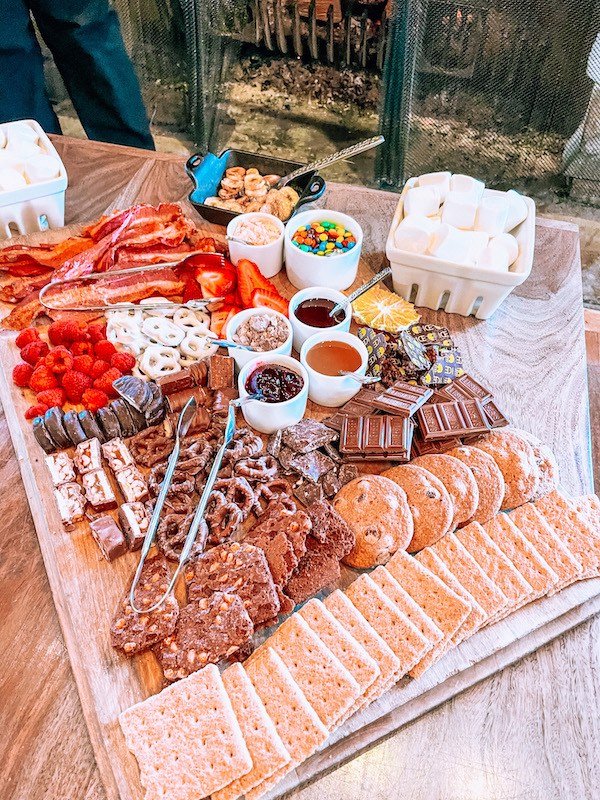 This is taking S'mores to an extreme level. You will get to enjoy an incredible array of delicious choices to create your own perfect S'more.
The platter is so large, that all 7 of us did not even come close to trying all the items on the tray.
Some of our favorite toppings were candied bacon, toffee, caramel, bananas foster, dark chocolate and twix bars.
---
Here is a list of the More Popular Resort at Paws Up Summer & Spring Activities
ATV Tours (All Year Round)
Skyline Aerial Adventure (Spring & Summer)
Cattle Drive (All Year Round)
Fly Fishing (Summer)
River Float (Summer)
Cookout (Summer)
Clay Shooting & .22 Ghost Town Shooting (All Year Round)
Fat Tire Bike Tours (All Year Round)
White Water Rafting (Summer)
Paintball (Summer)
Float Trips (Summer)
Island Lodge
---
Kids Camp & Junior Ranger Program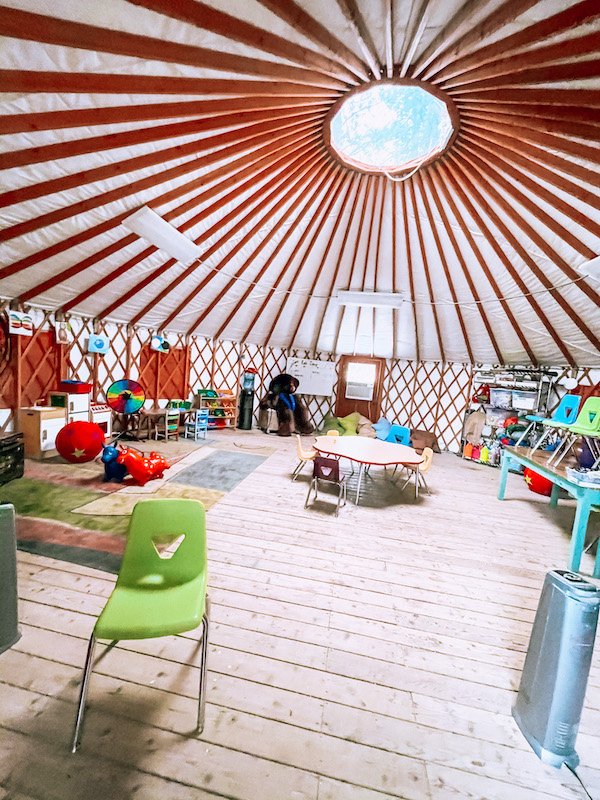 The kids camp at the resort at Paws Up is pretty phenomenal. We dropped our 7 year old off and upon picking her up all she could talk about was wanting to return.
There is a log cabin they go visit, a yurt filled with crafts, a playground, plus the camp counselors take them on an adventure during the day.
Junior Horseback Lessons
Another fun adventure for Olivia was the Junior Horseback lessons she went to. For 3 hours she learned how to care for a horse, brush it, ride it and even shovel up its poo (which she talked about forever)
---
Paws Up Service
I think one thing we can all agree upon is when you go on vacation service is so important. The service at Paws up is one of a kind. You will find this service measures up to some of the finest resorts around the world.
An example of the amazing service is we were playing pool in the reception area and my wife mentioned she was hungry and was going to walk to get some food. Immediately, a staff member popped up and said "there is no need for you to leave, we will have it delivered here."
The Paws Up App
At this amazing Dude Ranch in Montana, once you arrive you download the app for the resort at Paws Up. On the app you will find your itinerary for the trip. This is also where you can contact concierge for anything you need from booking an activity, to ordering room service or requesting a ride to somewhere on the resort property.
Make sure if you are messaging the concierge to keep the app open so you can see when they message you back. I found myself missing a few messages.
Enjoy a complimentary Lexus
In fact, getting around this Dude Ranch in Montana is quite easy because each party is given a Lexus to drive around property. Once you check in, a Lexus is delivered to your room and is available for use for your stay. Of course the use of the car is only for on property activities.
---
Dining
Now let's get down to an important part of a Dude Ranch in Montana vacation, food. Here is where the resort at Paws up actually gets a somewhat mixed review.
Breakfast at Paws up
The breakfast is outstanding, there are some delicious menu items that we absolutely loved. The huckleberry pancakes are simply incredible.
I personally loved the Montana scramble and the biscuits and gravy. When you arrive the staff starts off your breakfast by delivering a plate of fruit to your table. Smoothies are also available along with a wide variety of coffees, lattes, teas etc..
Lunch at Paws Up (All day dining)
This is the meal that, personally, we did not love so much. There are a couple good items on the menu, the turkey sandwich is a delight and the sweet potato fries are incredible.
(Also, make sure to get a Huckleberry Lemonade) However, for how luxury the dude ranch is, I thought the menu was fairly small and it never changes.
Dinner at Pomp
The dinner at Pomp is exceptional. Paws Up does have other dinner options during the summer but during the winter and spring head to
Pomp for some exquisite fine dining. The menu changes every night and we enjoyed dome incredible dishes, from halibut to short rib to sea scallops. Reservations are recommended so book early.
---
Spa & Fitness
The Spa & Fitness center were a big hit with our family. Amber and Ella hit the spa, Amber for a one hour pregnancy massage and Ella for a teen facial.
Both described the experience as simply incredible. During the summer, the spa is located in tents at spa town, which is right next to the Huff & Puff Fitness center. During the winter and spring spa services are held at the Morris House.
The Huff & Puff fitness center was hit up by our teen boys quite a few times. Huff & Puff is a glass enclosed house which gives you picturesque views of the outdoors while getting your fitness on.
They have free weights, treadmill and even a peloton machine. During the summer the Grizzly Run is open for a more outdoor fitness adventure.
---
Overall
Overall, we had an absolutely incredible time, how could you not? The stellar service, the amazing activities, and unbelievable accommodations.
It is definitely the most relaxing way to get out and enjoy the wilderness. This resort books up fast, especially in the summer so make sure to search for accommodations early. You can check for the best available rates here.
---
If you enjoyed reading about the best dude ranch in Montana, you might also enjoy:
5 REASONS A DUDE RANCH VACATION AT THE CM IS AMAZING!
THE BEST DUDE RANCH IN WYOMING, MONTANA, AND COLORADO
5 REASONS TANQUE VERDE DUDE RANCH MAKES A GREAT FAMILY VACATION
---
Map of Resort at Paws Up
---
Pin for Later: The Most Incredible Dude Ranch in Montana Paws Up Resort