Orlando is really a place like no other. It is the theme park mecca of the world, and if you are bringing a little one along this means you will definitely want to have a stroller. Below get all of our advice about Orlando stroller rentals!
A Planning Essential; All About Orlando Stroller Rental
Bringing Your Own vs. Renting
Vacations are meant to be stress-free and full of fun. Do you know what is not stress-free? Dragging a stroller through airport security to your destination. It is also no fun to carry a tired toddler around throughout your vacation. Orlando makes it very easy to skip all of that and just rent a stroller, so we highly recommend looking into it. You can buy insurance from most of these companies, so you don't have to worry about a breakdown or your stroller getting stolen while in the theme parks. These companies also drop off and pick up your stroller right from the resort. You can learn more about these stroller rental companies below!
In the Parks – Not Recommended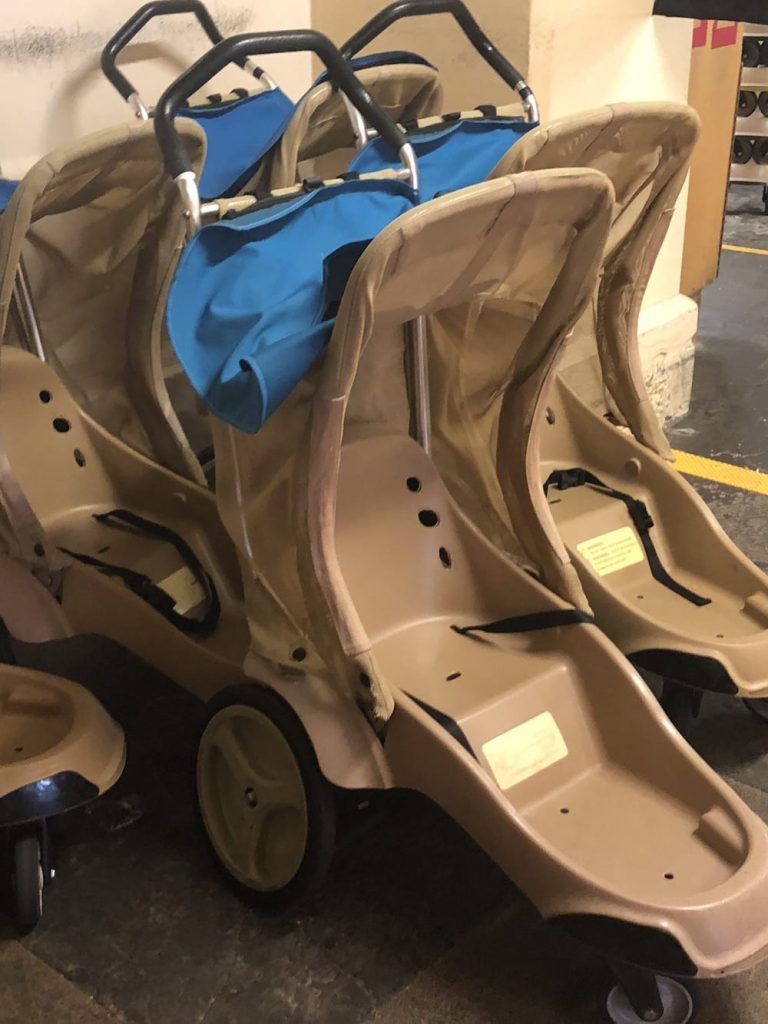 One option I don't particularly recommend is renting from the different theme parks while in Orlando. There are several reasons I don't recommend it. First, it is much more expensive, you usually can save 40-70% off stroller rental if you rent from an offsite vendor. Second, it is actually less convenient. The reason being is you can only enjoy the stroller while in the parks, so once you exit, you are often carrying your little one to the parking lot, hotel or whatever transportation you took that day. Lastly, they are usually hard plastic. Not the most comfortable stroller for your little one.
Best Orlando Stroller Rental Company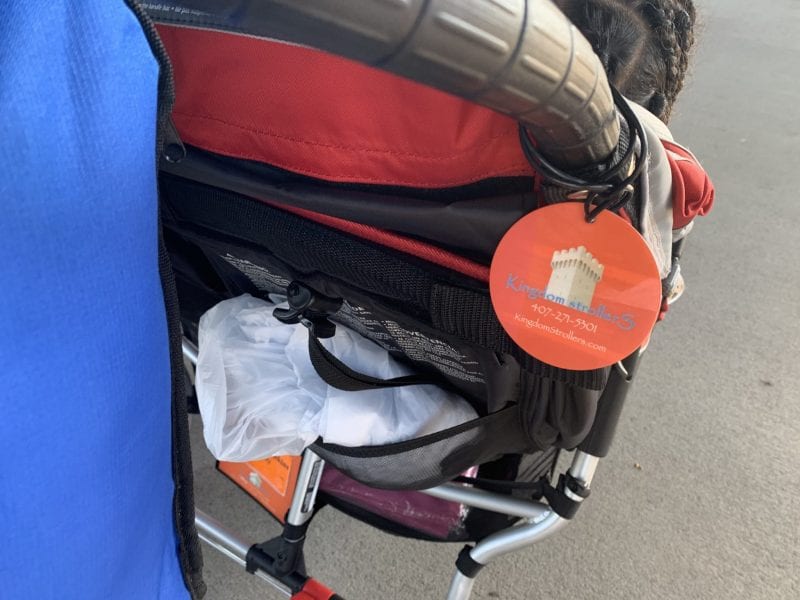 Kingdom Strollers is our favorite stroller company to use. The reason is their strollers get delivered directly to your bell desk of your hotel (they can also deliver to AirBnb's). So, when you check in just head to the bell desk and your stroller is waiting for you. Then leave it at the bell desk for when you check out. All of their strollers are cleaned thoroughly, it feels like we have a new stroller every time we rent one.
You can find single, double, and special needs strollers to rent from Kingdom Strollers. Their rule of thumb is that they deliver for free within an 8-10 mile radius of Disney, but if you are staying farther out you can have your stroller delivered for a small fee. They have rain covers and parent consoles for free, and you can rent a child tray for just $1o.
Cost:
The cost fo 1-3 nights is around $45 for a single stroller. I also love that they offer up to a 21-night rental price for families taking an extended vacation. Check Current Prices Here!
Main Street Strollers is another great option to rent a stroller. They have a wide variety of stroller options and will meet you at your hotel or airbnb to deliver the stroller. They also have the popular Keenz strollers which are great for Universal and Sea World. Check out Main St. Strollers Here!
Renting from Orlando Stroller Rental is a breeze. They have plenty of options to choose from for both single and double strollers. All of their strollers meet Disney's new stroller size requirements, so no worries there! Whether you are staying at a Disney World, Universal, or SeaWorld Resort they will deliver your stroller to you for free. They also deliver to many other resorts and vacation homes in the Orlando area. In most cases, you do not need to be present for drop off or pick up as your stroller will just be placed in the luggage room.
Bonus; you get a cooler to keep, a rain cover, and a parent console with every rental.
Cost:
The strollers start at $45 for 1-3 nights with 11-14 nights being around $11o.
Magic Strollers
Magic Strollers also offers a wide selection of high quality single and double jogger strollers. They deliver to over 200 resorts in the Orlando area and are one of Disney's Featured Stroller Providers. All of their strollers recline for naps on busy days and are super easy to fold up. A rain cover is provided as well.
Cost:
The price is dependent on the dates of your rental but is comparable to Orlando Stroller Rental from above and around $70 for a week.
Apple Stroller
Apple is a scooter rental provider for Disney World, but they also offer stroller rentals in the Orlando area. They have the City Mini Double and Singler stroller available to rent. They offer free delivery to Walt Disney World Resorts, Universal Loews Resorts, and many other Orlando resorts. You can also pick up your stroller from them if that is more convenient.
Cost:
The single starts at $30 for 2 days and the double starts at $60.
Baby Wheels Orlando
While Baby Wheels Orlando offers plenty of single and double strollers, what I love most about them is their Sit-n-Stand and their travel system rental. The Britax Travel System comes with the infant car seat which is perfect if you will be renting a car. They also offer same-day delivery if you end up in a pinch!
Cost:
It is around $70 a week for a single stroller or the Sit-n-Stand.
Simple Stroller Rental
Last but not least, we bring you the Simple Stroller Rental. Like Baby Wheels Orlando, they offer many different baby jogger options including a travel system and a Sit-n-Stand tandem. All their strollers fit into Disney's size requirements. You can also rent an ErgoBaby Carrier! Even if you don't practice babywearing at home, a carrier can be very useful in theme parks.
Cost:
Their strollers range from $25-$45 for the initial charge and are all an extra $5 per day.
You can always reach out to us with any Orlando and Disney World related questions! Feel free to leave them in the comments or head on over to Instagram to send a DM our way.
These May Also Help:
The Ultimate Disney World Packing List [Over 75 Must-Pack Items]
Disney World Character Guide [Where to Find Them in Every Park!]