We just came back from our Road to Hana adventure, and the highlight of the trip was the Black Sand Beach in Maui. Hawaii is known for having some of the most beautiful shorelines! While there are many things we love to do in Maui, seeing the black sand beaches definitely should not be missed! The black sand beaches in Maui are truly an unbelievable sight to see. The stark black sands contrast so vividly with the lush greenery and crystal blue waters surrounding the beach.
Interestingly, the Hawaiian Islands were formed by undersea volcanoes. Black sand beaches came from lava flowing into the ocean during volcanic activity. When the smoldering hot lava from a volcanic eruption meets freezing cold seawater, the lava shatters and breaks into little pieces of basalt fragments.
When you know the grains of black sand that you are stepping on came from a supernatural occurrence, it becomes even more special. Black sand beaches also have a short lifespan! When the volcanic activity stops, there is no longer a source for the black colored sand. Appreciate them now because in a few hundred years the same beaches might not exist!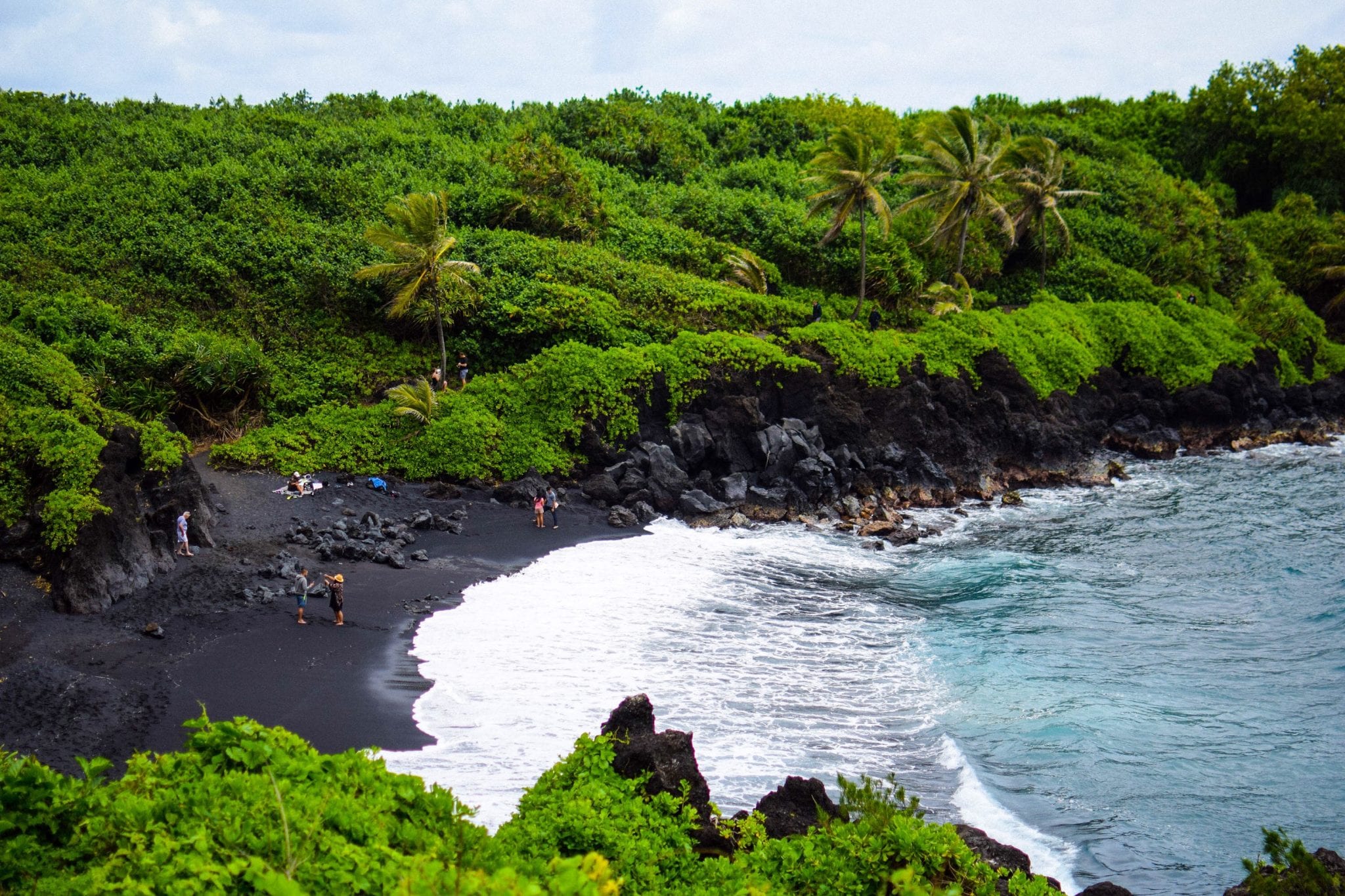 Some of Maui's famous black sand beaches are located inside the 122-acre Wai'anapanapa State Park. This is right off Hana Highway about 3 miles north of the town of Hana. If you do the "Road to Hana" the black sand beach is along this route. The Road to Hana is a must-do scenic day trip when visiting Maui!
It's one small road that will take you meandering through the northern part of the island. You will make many stops along the way at waterfalls, beaches, parks, rest stops, and the famous black sand beach.
Maui's Black Sand Beach Location
Some of Maui's best black sand beaches can found in Wai'anapanapa State Park along the Road to Hana. The name Wai'anapanapa means "glistening water" and it becomes apparent why when you arrive! You won't be able to help but marvel at the views of the sparkling ocean and surrounding natural beauty of Maui.
Access to the state park is free for visitors and there is conveniently plenty of parking. To get to the black sand beach, you will descend down some steps, all while taking in the natural gorgeousness that is Hawaii.
The black sand beach down below is surrounded by palm trees, black lava cliffs, tropical floral and bright green foliage. There are massive blow holes with waves crashing up and picturesque mountains off in the distance. You might just need to pinch yourself to believe it's all real! The black sand beach is in a private cove with colorful, tropical plants all around.
This black sand beach can be a quick stop or somewhere you spend all day. The fact that it's one of the "must stops" along the Road to Hana makes it convenient to check out if you are already taking the drive. You can learn more about the Road to Hana here! But even if you are not doing the Road to Hana trip, getting to Wai'anapanapa State Park is between 1-2-hour drive from anywhere in Maui. It's still very easily accessible and totally worth the drive.
How to Get to Black Sand Beach Maui
Following the Hana Highway is the easiest way to get to the black sand beaches. Located near Mile Marker 32 along the Road to Hana and easily accessible by car, motorbike and even van or bus. There are clearly marked signs that will help guide you to Wai'anapanapa State Park and then once you enter, you will see signs for the black sand beach. However, I highly recommend downloading the gypsy guide app, as it is the only app that works for Hana with no cell service, which a lot of the drive has none.
Plan to start your day bright and early as traffic can build on the narrow, winding Hana Highway. You don't want to find yourself in bumper-to-bumper traffic on this route. Another perk to starting your adventure early is that once you arrive, you'll most likely have it to yourself. Organized tours arrive by the busload throughout the afternoon so it's best to visit earlier in the day to have a more private experience. We left our hotel in Wailea at 5:30 am and there was only a few people when we arrive at the beach.
What to Pack
You are going to one of the most beautiful beaches in the world, bring a camera (or have your phone camera handy) and something fun to wear if you feel like being photogenic. Since the sand is so black and dark, you should wear fun, bright colors. Whether you plan to be in the photos or not, capturing some memories with your camera here is a must since it's so unique.
You'll definitely work up an appetite by the time you arrive at the beach so bring some snacks, too! This is especially true if you have kiddos with you. You will also want to pack and apply extra sunscreen, bring bug repellant (I forgot and had to buy some at the halfway to hana stop) and lots of drinking water. Plan to wear your swimsuit but keep in mind that swimming here is dangerous. There are fierce rip currents that can sweep through the bay and carry you out to sea, even if you're an experienced swimmer.
There's also a steep drop off so if you do get in, stay very shallow. Bring a towel or mat to sit on and a good book to enjoy while you take in the views. Pack water shoes because the sand can get very hot. It absorbs more heat than traditional tan sand, but in the early afternoon, bare feet should be fine.
Don't forget to bring sneakers and a change of dry clothes! There are some great hiking trails near the beach to explore after you relax.
More than just a beach.
The Wai'anapanapa State Park offers much more than just the black sand beach. While here, check out the massive, hidden blowholes, seabird colonies, freshwater caves, and jaw-dropping panoramic vistas.
The lava tube caves were definitely a highlight of the beach. While you are at black sands beach, head to the right side of the beach (if you are facing the ocean). There you can duck into what seems like a small cave, but turns into a pretty massive cave formed by lava. When Haleakala erupted hundreds of years ago, lava flowed down to his beach and the outer rim was cooled while lava flowed through. This produced this incredible lava tube.
Map of Black Sand Beach Maui
Frequently Asked Questions about Black Sand Beach Maui
Can you swim at Black Sand Beach in Maui?
You are allowed to swim here, but the conditions change frequently and there is a strong rip tide. So there may be some times when swimming is not permitted, so plan accordingly.
What is there to do near Black Sand Beach?
The Black Sand Beach is located in Waiʻānapanapa State Park where there are spots to camp (permit needed), tons of hiking and the popular Road to Hana is also close by.
How do you get to Black Sand Beach?
Following the Hana Highway is the easiest way to get to the black sand beaches. Located near Mile Marker 32 along the Road to Hana and easily accessible by car, motorbike and even van or bus. There are clearly marked signs that will help guide you to Wai'anapanapa State Park and then once you enter, you will see signs for the black sand beach!
Do you have other questions about Hawaii? Feel free to reach out in the comments or message us on Instagram!
Other Articles You May Like:
Aloha! 5 Amazing Spots to Enjoy Snorkeling in Maui
Maui Luaus- Your Guide to the 7 Best Luaus on Maui
Top 7 Road Trip Essentials- What to Know Before You Go
Pin for Later: Black Sand Beach Maui: How to Visit The Beautiful Black Sand Beach of Maui! [Maui Must Do!]
Pin for Later: Black Sand Beach Maui: How to Visit The Beautiful Black Sand Beach of Maui! [Maui Must Do!]