Corpus Christi is a great place for a weekend stay, offering more than 70 miles of gorgeous Gulf Coast shoreline and plenty of kid-friendly attractions. Often you will find the more inland neighbors of Dallas, Houston, and Fort Worth heading on over to Corpus Christi for a beautiful Texas beach weekend.
Come dive in with us as we explore our top 18 things to do in Corpus Christi with kids!
---
Our Favorite Things to Do in Corpus Christi with Kids
Trying to keep them all entertained in Corpus Christi doesn't have to be a challenge. There are plenty of activities to do in Corpus Christi that cater to everyone's interests. Whether you have little ones or teens, there's something for everyone.
---
Texas State Aquarium
The Texas State Aquarium has been part of USA Today's Top 10 Aquariums numerous times, and is a must-visit if you find yourself vacationing in Corpus Christi. The aquarium is home to over 300 species of marine animals and has interactive exhibits that the kids will love.
Older kids, will love the shark and stingray exhibit and the dolphin show, and the younger kids will LOVE the sea turtles.
Address
2710 N Shoreline Blvd, Corpus Christi, TX 78402.
---
USS Lexington
The USS Lexington served in World War II and had more than 3,000 men stationed on it near Pearl Harbor. The great thing about this ship is that now sits in the Corpus Christi harbor, allowing for public tours.
Your little ones will love sitting in the aircraft seats and messing around with the controls while your older ones will enjoy checking out the self-guided tours where they can climb ladders and explore the sleeping quarters.
Address
2914 N Shoreline Blvd, Corpus Christi, TX 78402
---
North Beach Boardwalk
Right next to the USS Lexington lies the North Beach Boardwalk, which provides more than two miles of walkway next to the calm Gulf Coast waters.
This boardwalk is great for biking, walking, and running, and plenty of parents push their strollers along the path to get their toddlers out for some fresh air.
Address
3200 E Surfside Blvd, Corpus Christi, TX
---
South Texas Botanical Gardens
With more than 180 acres of land to explore, your kids will love running around the South Texas Botanical Gardens.
The butterfly house is a must-see, and there are plenty of unique animals that you wouldn't expect, including parrots and reptiles. Whether you climb up the Observatory Tower, visit Gator Lake, or walk around the nature trail, is up to you!
Address
8545 S Staples St, Corpus Christi, TX 78413
---
San Jose Island
One of the best ways to get to San Jose Island is by ferry. The ferry takes about 10 minutes to get to the island, where you'll have more than 21 miles of peaceful shoreline to enjoy. You won't find many facilities on the island, though it's a wonderful spot to go seashell hunting and picnic.
---
Mustang Island
If you didn't get enough of an island experience from San Jose Island, then you can try and catch some waves on Mustang Island.
This island is a bit more developed, offering trash cans and port-a-pottiese. Plus, with clear blue waves, you can go bodysurfing, jump around in the waves, or enjoy the surrounding bird life.
---
McGee Beach
McGee Beach is a small yet well-maintained Corpus Christi beach with plenty of amenities, including rentals, bathrooms, and more.
The water is shallow here, perfect for young children who want to swim. Just a short walk from this beach is the downtown area, where you can find several charming restaurants and shops!
---
Padre Island National Seashore
You'll find more than 70 miles of shoreline to explore on Padre Island National Seashore, which is the biggest barrier island in the world. One of the unique things about this beach is that you can even take your car on it!
There aren't any facilities on the beach, though you will find restrooms and a shop in the visitor center if you need something! We recommend camping there if you want to get a real stargazing experience!
Go fishing at Padre Island National Seashore
This is a great place to take the whole family for a day of fishing. The park is open year-round, and you can fish from the shore or from a boat.
Address
20301 Park Rd 22, Corpus Christi, TX 78418
---
Play mini-golf at Treasure Island Golf & Games
This mini-golf course is pirate-themed and has several other attractions, including go-karts and an arcade. The little ones will love the mini-golf, and the older kids will love the go-karts.
Address
304 E Cotter Ave, Port Aransas, TX 78373
---
Dolphin Watching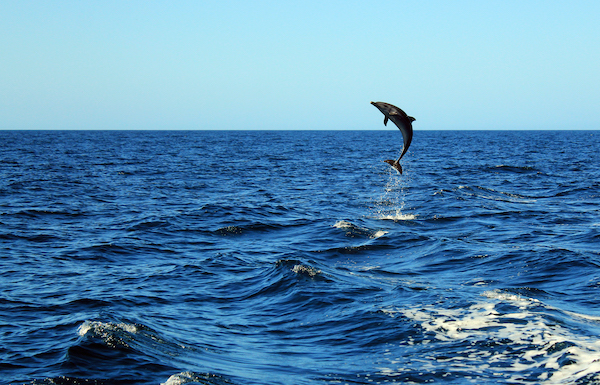 Getting out on the water in Corpus Christi is easy, though one of the best activities you'll find at sea is dolphin watching. In the Gulf of Mexico alone, scientists estimate that there are well over 10,000 bottlenose dolphins.
There are plenty of unique spots to go dolphin watching, which you can check out here.
Take a boat tour with Dolphin Connection
This tour takes you out to see the dolphins in their natural habitat. The guides are knowledgeable, and the experience is unforgettable.
Address
5425 Leopard St, Corpus Christi, TX 78408
---
Whitecap Beach
Whitecap Beach is a local favorite and a wonderful place to escape the crowds of tourists during the summer. The beach is far more quiet and peaceful than the others, and requires that you bring your own games and entertainment if you plan on spending the day there!
---
This restaurant is located on the waterfront and offers delicious seafood dishes like shrimp, oysters, and fish. The atmosphere is casual and family-friendly, and the restaurant has a great view of the harbor.
Water Street Oyster Bar is a great place to visit for several reasons. For one, the food is fantastic – the seafood is always fresh and the flavors are bold and delicious. Additionally, the restaurant has a relaxed atmosphere that's perfect for families with kids of all ages.
Finally, the waterfront location is unbeatable – the restaurant offers stunning views of the harbor that are sure to impress everyone in the family.
Address
309 N Water St, Corpus Christi, TX 78401
---
The Original Whataburger
Whataburger got its start in Corpus Christi, and the original restaurant is still there to this day! Stopping at this Whataburger to grab a bite is a must if you're in Corpus Christi.
Of course, if you want to enjoy your burger with an oceanside view (and who wouldn't?), then we recommend going to the bayfront location to grab a seat on the outdoor balcony.
Address
4126 S Staples St, Corpus Christi, TX 78411
---
Whataburger Field
When you're finally beached out, head to Whataburger field to catch a local baseball game. This stadium hosts the Corpus Christi Hooks, a minor league Double-A affiliate team for the Astros. You'll even find a playground where your little kids can explore, and a climbing wall for the older ones!
Address
 734 E Port Ave, Corpus Christi, TX 78401
---
Go to the Corpus Christi Downtown Farmers' Market
The Corpus Christi Downtown Farmers' Market is a must-visit destination for anyone who loves fresh, locally-sourced food and handmade crafts.
At the farmers' market, you'll find dozens of vendors selling everything from fruits and vegetables to honey, jams, and baked goods.
In addition to the food, the farmers' market also features several craft vendors selling handmade jewelry, soap, candles, and other items. It's a great place to find unique gifts or souvenirs to take home with you.
The market also offers several activities for kids, including face painting, balloon animals, and other crafts. The younger ones will enjoy the opportunity to engage with the vendors and learn more about where their food comes from.
Address
100 N Shoreline Blvd, Corpus Christi, TX 78401
---
Hurrican Alley Waterpark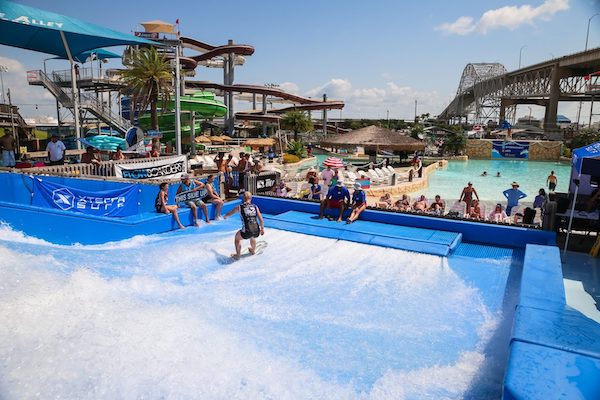 Hurricane Alley Waterpark is one of the most kid-friendly places in Corpus Christi! The kids will enjoy splashing around in the wave pool and hitting the slides while you cool off in the lazy river for some low-key fun.
While you're there, make sure to check out The Diamond, which is the park's baseball-themed water deck.
Address
702 E Port Ave, Corpus Christi, TX 78401
---
Corpus Christi Museum of Science and History
The Corpus Christi Museum of Science and History was established in 1957, offering a unique way to introduce young children to the history of Corpus Christi and Texas. You'll find plenty of unique exhibits, some of which rotate throughout the year. Whether you're looking to learn about Texas history, native explorers, or paleontology, this museum has it all!
Address
1900 N Chaparral St, Corpus Christi, TX 78401.
---
Red Dragon Pirate Cruise
The Red Dragon Pirate Cruise is an exciting experience for everyone! This is the chance to be a pirate that you've been waiting all your life! There are plenty of awesome onboard activities, including treasure hunts, sword fighting, and dolphin watching!
Address
440 W Cotter Ave, Port Aransas, TX 78373
---
Map of Things to Do in Corpus Christi with Kids
Frequently Asked Questions about Corpus Christi
What is Corpus Christi best known for?
Corpus Christi has plenty to do for the whole family, but they are one of the best places in the US for kiteboarding, wind surfing, kite flying and sailing.
What is there to do in Corpus Christi?
South Texas Botanical Gardens and Nature Center
Texas State Aquarium
Art Museum of South Texas
Corpus Christi Harbor Bridge
USS Lexington
Surf Museum
Corpus Christi Museum of Science and History
Whataburger Field
What can I do in Corpus Christi for free?
Spend Some Time at the Beach
Visit the Selena Memorial
Explore the Texas Surf Museum
Wander Around the Farmer's Market
Go Bird Watching at the Great Texas Coastal Birding Trail
Check Out the Loteria Corpus Christi Mural
Relax in the Watergarden
---
If you enjoyed reading our top 18 things to do in Corpus Christi with kids, you might also enjoy:
15 AMAZING THINGS TO DO IN DALLAS WITH KIDS
10 OF THE BEST HOUSTON BEACHES YOU'LL LOVE TO VISIT!
10 AMAZING THINGS TO DO IN PORT ARANSAS WITH KIDS
50 THINGS TO DO WITH KIDS IN SAN DIEGO (20 ARE FREE!)
15 AMAZING THINGS TO DO WITH KIDS IN CHARLOTTE NC
---
Pin-it for later: Things to do in Corpus Christi With Kids
Latest posts by Michael Mamian
(see all)