If you are ever looking for a fun destination to take the family in October, San Diego should be one of the top ones on your list. The city is absolutely amazing, the weather is still quite warm and the kids are Free in San Diego the whole month of October. Kids Free in San Diego was started a few years ago and has grown each year with new offers. There are so many amazing places and so many amazing memories we have had with our family in San Diego and to be able to take the kids for free makes it even better. San Diego offers various kid-centric attractions which makes it one of the best spots for a family vacay.
Kids Free in San Diego! 75+ Places Kids Can Visit For Free This October
Long Story Short – October comes with a bumper price for parents! You will see more than 50+ attractions, hotels, bars, and restaurants that offer great deals as part of Kids Free San Diego.
So, if you are planning to visit San Diego and surprise your kids with the greatest gift ever, it's such an entertaining place and a big money saver.
Top Places to Visit during Kids Free in San Diego
Legoland
Legoland is one of those unique theme parks that is so unlike any other theme park you have visited. With incredible LEGO sculptures, fun rides for the kids and of course a LEGO Hotel, there is so much to do. One of my favorite things about the park is that it is incredibly clean and beautifully landscaped which makes strolling through the park that much more enjoyable. Plus, make sure to check out Brick or Treat. It's super fun!
Kids 12 and under visit FREE! One free child admission with one adult admission for:
• 1-Day LEGOLAND + SEA LIFE® Hopper
• 1-Day LEGOLAND + Water Park® Hopper
San Diego Zoo
Talk about a crazy deal but up to 10 children can go to San Diego zoo for free on one ticketed adult. However, the offer is only valid for children of age 10 and under. And, a coupon is not needed for free kids entry. So, just purchase an adult ticket, and you are all set to go. You can buy your adult tickets at any travel website a discount rate for huge savings.
Sea World
Sea World is another amazing place to take the family in October. Located right on Mission Bay, Sea World is definitely one of the more beautiful parks you will visit. Of course, they have incredible animal shows, plus some pretty intense rides. Plus, during the weekends in October kids can dress up and trick or treat throughout the park.
Kids 9 and under visit FREE! One free child admission with one adult single day admission.
Other great deals now at SeaWorld San Diego:
• Save $34 on a 1-Day General Admission weekday ticket
• 7 Days for the Price of 1! Save $50 on SeaWorld/Aquatica Combo Pass
• 7 Days for the Price of 1! Save $24 on SeaWorld San Diego Pass
Let Your Kids Play & Ride Free At Belmont Park
Belmont Park is one of those classic places you have to visit. An amusement park right along the ocean. Belmont Park in San Diego has numerous Kids Go Free offers that include a free ride wristband. It offers a $10 powercard with a combo wristband purchase, plus your kids can eat for free at Draft with a paying adult.
San Diego Safari Park
Yes, the San Diego Zoo is probably the most iconic zoo in California, but personally I am fan of the Safari Park. I love the feel of walking through the safari park and taking the safari tour. Please note that the Safari Park is a bit out of the way, it is about 35 minutes from San Diego.
The USS Midway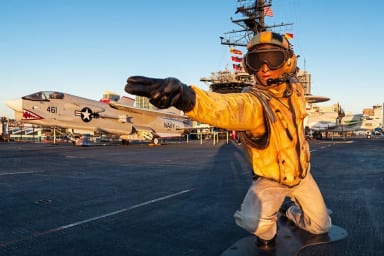 For only $8 you can visit the longest-serving American aircraft carrier of the 20th century The USS Midway served from 1945 (the end of World War II) until 1992. Two kids up to ages 12 and under can go free with a paid adult to USS Midway. This aircraft carrier is absolutely amazing and worth a visit.
Take Your Kids To The Aquarium At Scripps
Only two kids of age 12 or under can go for free with an adult who is paying to Birch Aquarium. You can easily download the coupon from the San Diego Museum Council or avail one at Mission Federal Credit Union that started on 27 September.
More Great Family Attractions –
Old Town Trolley Tours of San Diego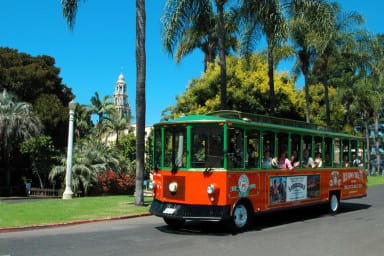 Old Town Trolley Tours seem to go hand in hand with a beach town. I have been on so many Old Town Trolley Tours from Key West to San Diego. The kids and I always enjoy them. The drivers are always fun for the kids but also provide great fun facts about the city throughout the tour. It is also a great way to get around San Diego as the tour stops at many of San Diego's most popular spots.
San Diego Art Institute
This institute is one of its kind art museums showcasing contemporary art and connects artists with the audience. They host multiple plays and poetry shows. It's free for children under 12, and for general admission, the price is just $5 per person.
San Diego Speedboat Adventures
One of my older boys favorite things to do during Kids Free in San Diego is the Speedboat adventures. They have a 5-star rating on Tripadvisor with over 800 reviews. You receive a guided and narrated San Diego Harbor Tour with some serious speed. Plus, you are able to navigate and captain your own speedboat for the entirety of the tour while following their trained and knowledgeable guides to experience the best of both worlds – the THRILL of driving your own speedboat, and the safety of having a skilled guide introduce you to the beauty of San Diego Harbor.
San Diego Museums
San Diego is filled with amazing museums. Here is a list of some of the top-rated San Diego Museums where two children age 12 and under can visit for free with one ticketed adult;
Serra Museum
The San Diego Museum of Art
The Water Conservation Garden
Timken Museum of Art
Visions Art Museum
Oceanside Museum of Art
Museum of Making Music
Japanese Friendship Garden
New Americans Museum
Heritage of the Americas Museum
San Diego Natural History Museum
San Diego Model Railroad Museum
The New Children's Museum
Veterans Museum at Balboa Park
Warner-Carrillo Ranch House
Fleet Science Center
San Diego History Center
San Diego Restaurants
There many restaurants and hotels in San Diego that offers your kids the chance to eat for free. There are tons of great places to dine with kids eat free options. Not on the kids eat free list but one of my personal favorite places to dine is the Liberty Station area. Liberty Station is a modern public square with trendy restaurants and artisan shops. Their food hall also hosts over 30 artisan food vendors. Check their event schedule and eatery listings here http://libertystation.com/
Here are the places where Kids Eat FREE!
Places to Stay During Kids Free in San Diego
The Dana on Mission Bay
The Dana on Mission Bay is the place for an unforgettable stay in San Diego. With a picture-perfect waterfront setting on Mission Bay less than a mile from the beach, The Dana offers everything you want! They offer complimentary SeaWorld shuttle service is available, and the schedule varies based upon park hours. Shuttle service is limited, based upon availability, and is subject to change.
Paradise Point Resort and Spa
Paradise Point is another great resort located on Mission Bay. With fire pits, bike rentals and beautiful location the family is sure to love this spot.
Kona Kai
One of my favorite resorts in San Diego is Kona Kai Resort. This adorable resort offers free bike rentals, some incredible dining and is located on the adorable Shelter Island.
Overall
Honestly, there is an endless amount you can do during Kids Free in San Diego, you will never find yourself bored. Make sure to take it easy as you can get on adventure overload. I highly recommend heading to Coronado and taking in the beach, it's simply gorgeous.
Did we miss something? Let us know in the comments
You Might Also Enjoy:
The ULTIMATE Guide Things to do in Coronado [25+ Tips]
Enjoy One of San Diego's Most Unique Hikes – Potato Chip Rock Hike!
40 Things to do with Kids in San Diego (20 are FREE!)
Pantai Inn- One of the BEST Hotels in La Jolla CA
Looking for things to do in Los Angeles with Kids? Crazy Family Adventure has some great tips over here!!
Latest posts by Mama Munchkin
(see all)