The rocky shores of sunny San Diego are home to some really amazing beaches and some fascinating sea life! Our family has been trying to explore this coastline we call home lately and have come to realize just how awesome it is.
If you visit the coast between November and March, consider yourself lucky because that is the San Diego Tide Pools season!
Whether you are an adventurous tourist or a longtime local, tidepooling San Diego is sure to amaze you. There are many critters and plants tucked away where land meets the ocean during low tide.
You can find tide pools all along this beautiful coastline, but we gathered just our own favorites here.
---
Tide Pools in San Diego for Little Ones
If you have little ones then you might be wanting to find some San Diego Tide Pools that are safe and have easy access. We have listed some of our favorites below.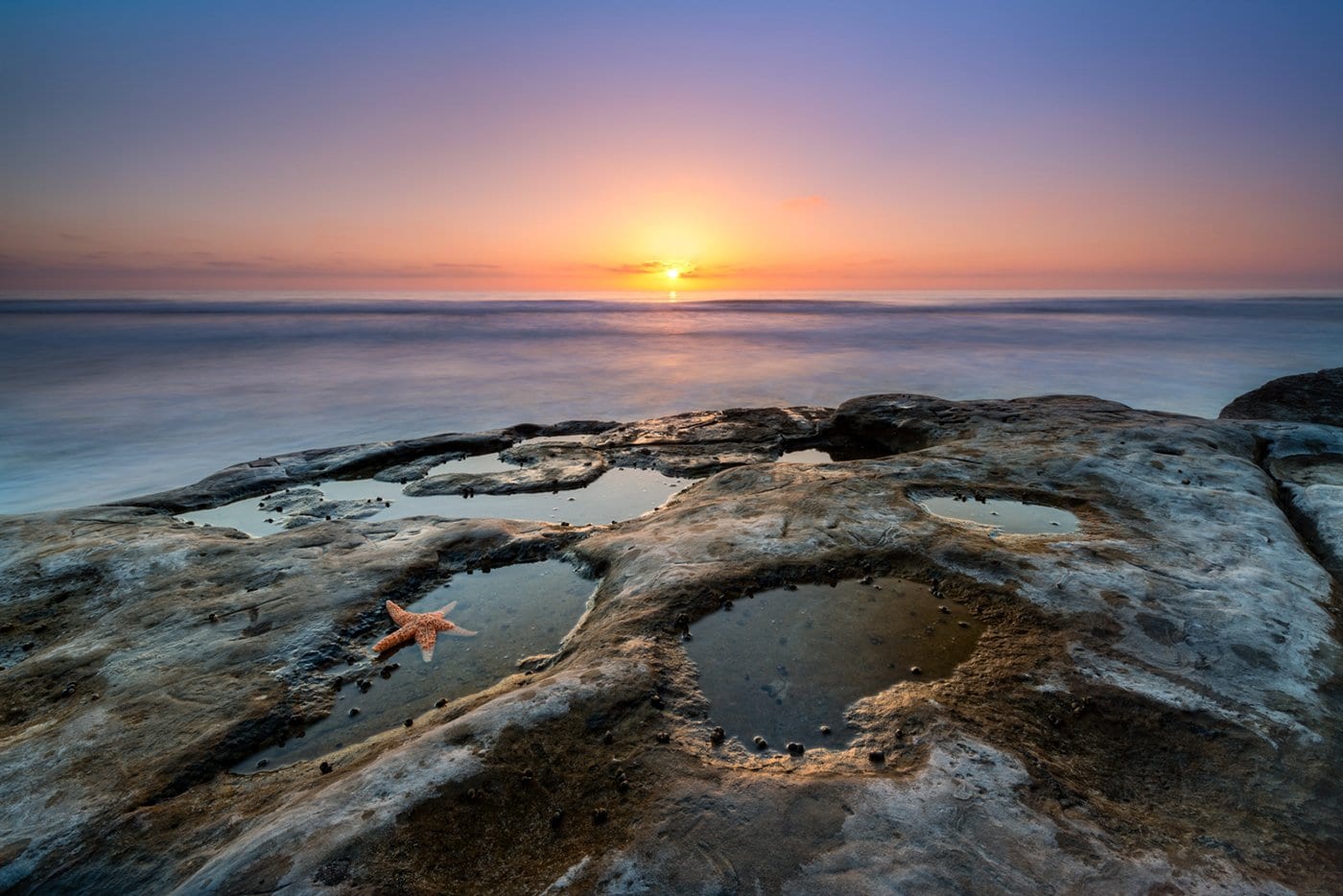 Birch Aquarium is definitely one of the best tide pools in San Diego for little ones. Here you can get up close and personal with San Diego's local sea life at its outdoor touch tide pool. How easy is that? It is the perfect spot to bring your kiddos without having to worry about any of the dangers of the ocean.
Sea anemones, lobsters, hermit crabs, starfish, abalone, and sea cucumbers are just a few different creatures they have here. It's a popular attraction since the kids get to interact, so the best time to visit is right when they open on the weekend or after 3PM on a weekday.
You can also take guided tide pool explorations on the beaches at Scripps. Just in case you want to dive deep into discovering more about the creatures that live there. Tidepool locations for the guided tours include False Point at North Pacific Beach and Dike Rock.
While you're at the aquarium, don't forget to check out the mesmerizing sea creatures inside, like the sea stars below. You will find leopard sharks, seahorses, and a rescued sea turtle. You can buy Aquarium tickets here!

---
The tide pools at Cardiff State Beach are easy to get to, making them perfect to go to with kiddos! They are located south of Lifeguard Tower #10 between the Cardiff and Solana beaches.
These tide pools belong to Table Top reef, which is a 45 million-year-old flat. Talk about walking back in time! These sedimentary rocks even have clam fossils baked into them.
Make sure to bring cash, as the parking lot here requires payment. Restrooms and showers are also available for beach visitors to use. This is definitely another big perk when bringing your kids along!
The tide pools at Cardiff State Beach are excellent, but another benefit of venturing out to Cardiff-by-the-Sea is the quaint, small town charm to be found in the seaside community around the beach. There are beaches all along the coast, surfing schools, parks, and restaurants that serve some of the freshest seafood you can find anywhere.
What better way to end a day out on the beach and checking out the tide pools than to enjoy a nice seafood dinner before taking in a classic sunset over the Pacific Ocean?
---
We recommend viewing the Shell Beach Tide Pool during the lowest tide of the day. This is when an array of sea life can be discovered among the rocky coastline. Of course, seashells of various kinds can also be found scattered along the shore of Shell Beach,
even when it's high tide, so there's never really a bad time to take a walk with the family.
Shell lovers and collectors will be beside themselves when they see the sheer magnitude and variety present along the beach during low tide. When the tide is at its lowest, it reveals hundreds of thousands of shells of various sizes, shapes, colors, and textures. Take a stroll and pick out some souvenirs with your family to commemorate the trip.
When you finish exploring the tide pools at the beach, check out Seal Rock Reserve. It is an offshore rock area reserved to protect local sea lions and seals. It's a great place to spend the whole day as a family!
---
Best Teeming with Life Tide Pools San Deigo
Cabrillo National Monument is widely known as the absolute best place to view tide pools. It's a unique intertidal zone that provides a great habitat to all sorts of marine life for you and your family to discover while taking in the beauty of the Pacific.
It costs $15 to enter this national park, named after the first Spanish adventurer to discover San Diego Bay, Juan Rodriguez Cabrillo, but the fee is absolutely worth it.
The protected tide pools at this location are teeming with various types of life, including crabs, snails, barnacles, mussels, sea anemones, fish, lobsters, and at times even octopuses.
Park rangers are on the scene to happily provide information and answer any questions that you may have about the creatures and plants that live there. Aside from the tide pools, this spot also offers hiking and is home to a historic lighthouse.
---
You will find Dike Rock north of Scripps Pier at La Jolla Shores Beach. It is made up of volcanic rock that houses starfish, crabs, sea anemones, mussels, and occasionally, octopuses. Local biology students from the nearby universities frequent the tide pools here because there is so much to see. The rock belongs to La Jolla Underwater Park marine reserve and doubles as a great spot for watching the sunset.
The nearby Birch Aquarium offers an in-depth look at the colorful wildlife and sea creatures that call this intertidal zone their home during the guided Tidepooling Adventure Tour. Their highly knowledgeable and trained staff is excellent at bringing you and your family to the best places where you'll get the best firsthand experience.
It's a cool activity for adults, but the kids go absolutely nuts! We highly recommend this during your trip to the La Jolla Shores Beach and area.
---
Located in Encinitas, Swami's State Beach is a local favorite. The tide pools here are located at the north end of the stairs. You will find hermit crabs, sea hares, and brittle stars hiding in the nooks and crannies of these rocks.
During low tide, the shore's reef is usually exposed revealing hundreds of barnacles and mussels. It's almost shocking to see such a staggering number of mussels, mollusks, and other shelled bivalves collected around one singular tide pool during low tide. Pictures or great, but it's one of those things that must be seen to be believed.
When you're finished exploring for the day, take the opportunity to picnic with friends or family at the small, grassy Swami's Seaside Park, where picnic tables and restrooms are available for visitors to use.
---
The Coronado Tide Pools
The Coronado tide pools in San Diego are a popular destination for those interested in marine life and tidal pools. The tide pools are located on the coast of Coronado Island and are a protected area for the various species of sea creatures that inhabit the area.
Visitors can see starfish, crabs, sea anemones, and other tidal creatures up close. The best time to visit the tide pools is during low tide when the water recedes and exposes the rocks and pools.
It is important to remember to respect the marine life and not touch or disturb the animals, as well as to follow posted guidelines to protect the delicate ecosystem.
---
San Diego Tide Pools for the Adventurous
Sunset Cliffs definitely has some jaw-dropping sunsets, but this natural park is also home to fantastic tide pools. Accessing the tide pools here is easy; a staircase leading down to the beach is available for its visitors to use. This spot is usually much less crowded than more famous tide pool spots, like Cabrillo National Monument. For that reason, it is my favorite tidepool San Diego has.

Watch the local surfers ride the waves at this popular surfing spot from the bottom of the cliffs where you can gently interact with the small crabs, fish, snails, and sea anemones that inhabit the tide pools here. However, keep in mind, this park closes at 5 pm, so arrive early to ensure you have plenty of time during the daylight hours to explore!
---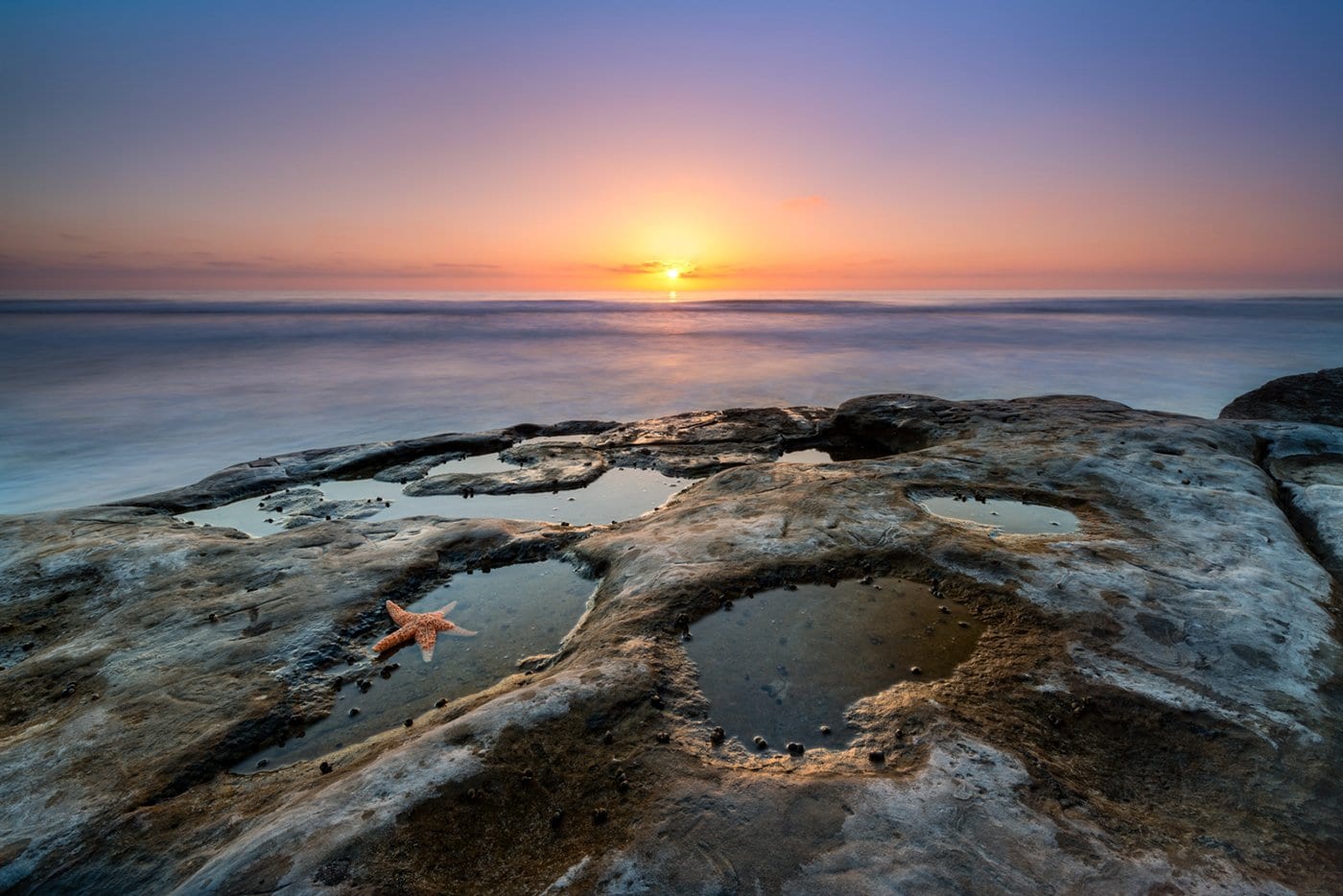 The South La Jolla Shores tide pools are some of the largest in all of San Diego. You can find them south of La Jolla Shores Beach Hotel. You will find hundreds of sea anemones, fishes, and crabs in the puddles of water between the rocks on this beach.
However, keep in mind that you must be careful when navigating the tide pools here, as they can be quite slippery and difficult to maneuver through the slick, rocky area.
The La Jolla Shores also offer a chance to see seals and sea lions lounging around. They flock to the beach in droves between late April and early June for some relaxation. You may even witness a live birth and see a newborn baby seal. They're absolutely adorable, but do not approach or try to touch them. They are still wild animals, after all.
---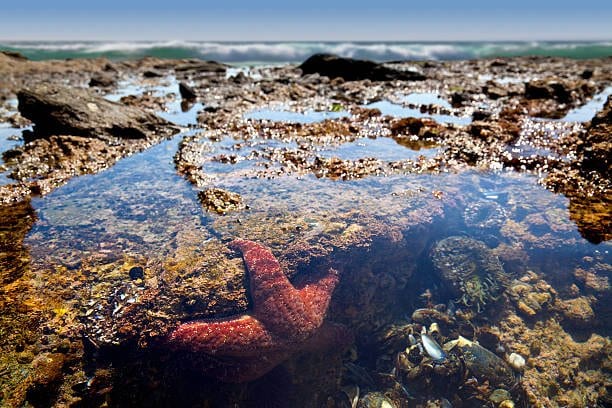 If you're looking for a quiet spot to view tide pools, look no further than Bird Rock. You can only access this remote beach during extremely low tide. As long as you get the timing right, the tide pools here are some of the best in all of San Diego.
Be prepared to walk when visiting Bird Rock; parking is sparse at this location as it belongs to a residential neighborhood. The neighborhood itself, however, is a diamond in the rough, lined with independent boutiques, surf shops, dining, and other great pit stops that will make your visit here well worth it.
---
Tourmaline Surfing Park is a prime San Diego surf spot. However, the tide pools here are also difficult to beat. You will find the tide pools north of the surfing spot and they will be covered in sea algae.
It is slippery so make sure to wear appropriate shoes! Sea anemones, snails, hermit crabs, and barnacles can be discovered tucked among the sandstone here.
In the spring and summer, the tide pools are best during the morning, so be sure to go bright and early to get the best views of the sea life. If you're venturing out in the fall and winter, however, it's still a great time to go but the tide pools will be most visible in the afternoon instead.
---
I hope you get the chance to explore these amazing tide pools soon! If you have any questions about San Diego Tide Pools, feel free to leave them in the comments or hop on over to my Instagram to send a direct message!
---
If you enjoyed learning about San Diego Tide Pools, you might also enjoy:
25 Incredible Things to do in Coronado California [An Ultimate Guide]
Sea World Discount Tickets – 7 Easy Ways to Save Money!
40 Things to do with Kids in San Diego (20 are FREE!)
---
Pin for Later – San Diego Tide Pools: Guide to the 10 Most Amazing Tide Pools
---
Frequently Asked Questions about San Diego Tide Pools
What are the best tide pools in San Diego?
Some of the best tide pools in San Diego include:
La Jolla Cove
Birch Aquarium at Scripps
Cardiff State Beach
Coronado Tide Pools
Dike Rock Tide Pools
Each of these locations offer unique experiences and offer a chance to view various species of marine life in their natural habitats.
What is the best time to visit tide pools?
The best time to visit tide pools is during low tide when the water recedes and exposes the rocks and pools, allowing for better viewing of the marine life.
The exact time of low tide varies depending on location, but can generally be found on local tide charts or websites. It is also important to consider the time of year, as some areas may be more crowded during peak tourist season.
To get the most out of a visit to the tide pools, it is recommended to go during a weekday, early in the morning, or in the late afternoon when the crowds are smaller.
What is the best time of day to visit La Jolla tide pools?
The best time of day to visit the La Jolla tide pools is during low tide and early morning or late afternoon when the sun is not at its peak. Low tide typically exposes the tide pools, making it easier to see the marine life.
Going early or late in the day can also help avoid the crowds and provide a more peaceful experience. It is recommended to check local tide charts for the specific low tide times for the day of your visit.