San Diego Beaches are some of my favorite in the world and one of the best things to do in San Diego. However, with 31 beaches in San Diego, it can be hard to figure out which one to choose. Well, with a summer, when one of the only things open along the West Coast was the beach, we decided to visit as many as we possibly could. Some are set up for kayaking and surfing while other beaches are set up for scuba diving and snorkeling. Some are simply there to have a good time. It truly depends on what experience you are out to find! Here are the 7 best beaches in San Diego for you and your family to explore!
Coronado Beach – Best Beach for young families
Coronado Beach is easily one of the best San Diego beaches for young families. There are four different areas within Coronado Beach, including Tidelands Park, Coronado City Beach, Glorietta Bay Park, and Centennial Park.
Why You'll Love Coronado Beach:
Thanks to the flat profile of the beach, you'll often see people out flying kites. Our personal favorite Coronado beach is the one in front of the Hotel Del Coronado. This hotel dates way back to the nineteenth century and was once famous for housing celebrities and royals! The beach has soft sand shimmering with gold speckles. This definitely isn't your only option though, check out all of our favorite Coronado things to do + hotels here!
Some of the things I love about Coronado Beach is the waves are usually quite calm. There is a long walk into the water before it gets deep. In addition, there are tons of seashells and sand dollars for kids to find in the ocean. Lastly (and one of the reasons it makes our list of the best San Diego beaches), the massive shoreline makes it easy to find a nice spacious spot for your family.
Once you are done with the beach check out all the amazing things to do in Coronado. It is one of my favorite beach towns.
Coronado Beach Pet Policy:
For those that want to bring their dogs, it is worth noting that the northern end of the beach is pet-friendly. The Coronado Dog Beach might be the happiest place on earth as you will see tons of pups playing in the sand and water.
How to get there and parking:
There are plenty of ways to get to Coronado island, including car, ferry, taxi, or private shuttle. There is plenty of street parking as the main beach has a long street in front of the beach. It does fill up, but it definitely is one of the easier beaches to park at.
Del Mar Beach – Best San Diego Family Beach fun for surfers and boogie boarders
Del Mar is one of the best beaches for families with both smaller children and teens. You will find a well-organized beach that makes your beach stay amazing.
Why You'll Love Del Mar Beach
Del Mar Beach has incredibly soft sand and a nice long walk into the water, with no sudden drop-offs. In addition, you will love there are zero rocks along the shoreline so as the waves crash you won't be stepping on painful rocks.
If you go down to the southern side of the beach you can find great spots for surfing and boogie boarding. There are markers on the beach with designated areas for surfers or swimmers and boogie boarders. The lifeguards do a great job of keeping the surfers and swimmers separate. For serious surfers, check out the nearby Torrey Pines State Beach as well.
If you want to play volleyball, bring a net and play some volleyball with their many volleyball areas.
Go even further down and you'll find a more rustic beach vibe, filled with tidal pools and hiking cliffs. There are plenty of little trails that allow you to hike down to the beach, perfect for the adventurous families!
Another factor that qualifies Del Mar for the Best San Diego Beaches List is the spotless bathrooms and the shower stations at every entrance/exit to the beach.
Check out some of the amazing beach house rentals in San Diego, to have the ultimate vacation.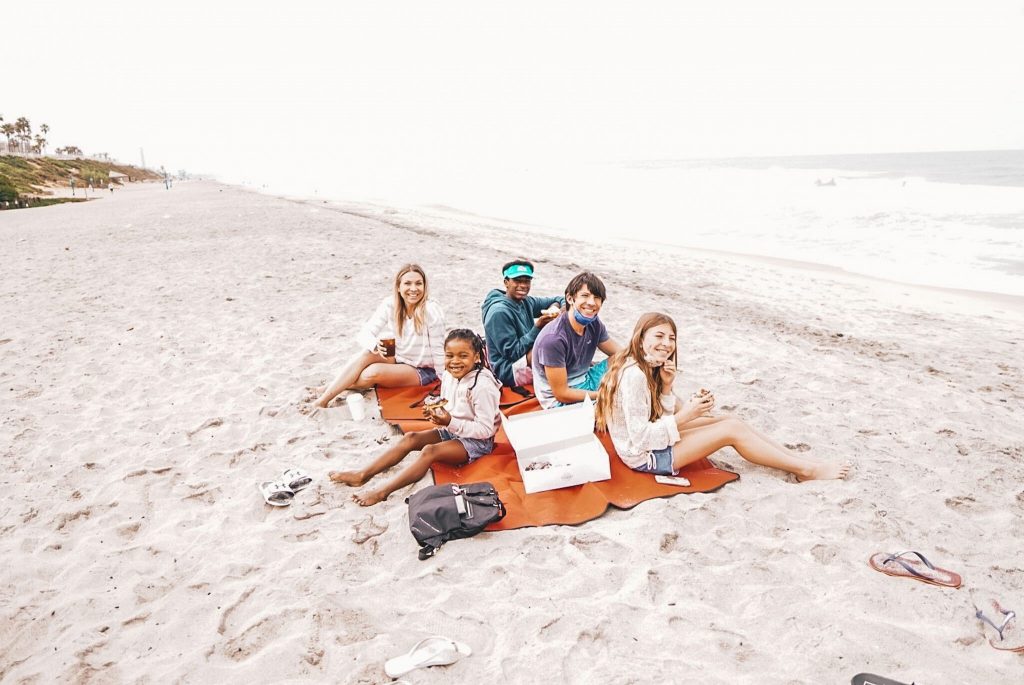 Del Mar Beach Pet Policy:
Even the northern part of the beach is dog-friendly, which stretches from Rivermouth to 15th Street. You can enjoy one of the two parks as well, including Seagrove Park and Powerhouse Park, which are perfect for picnics and large family gatherings.
Parking:
You can find street parking between 15th and 22nd st with several entrances to the beach at each block. If you can't find parking there is paid-parking by 15th st. but it's quite expensive. $35 for 3 hours.
Tamarack Beach- Best San Diego Beach for Active Families
Tamarack Beach sits in the Carlsbad region of San Diego and is one of the most perfect beaches for surfers, sunbathers, and all kinds of beachgoers.
Why You'll Love Tamarack Beach:
Just steps from the beach you will find Carlsbad Village, perfect for shopping at trendy stores, eating at nice restaurants, or enjoying a drink or two at the local bar. It is one of the most quaint beach towns, which we adore. We also love hitting up the Goods for some amazing Donuts before hitting the beach.
Once you are at the beach you're likely to see some amazing surfers and skimboarders. They are often doing some pretty fun tricks as the waves crash and it is quite fun to watch. You'll likely find beachside yoga classes at Tamarack Beach.
There are also trails for biking, hiking, running, or walking dogs. For the picture-perfect spot, make sure to head up to the parks that sit above Tamarack Beach, (the bathrooms are also there)
Parking
Tamarack is a nice small San Diego beach where you won't have to pay a small fortune to park, right net to the beach. You can do $10 for the full day or look for street parking. Make sure to visit downtown Carlsbad after your beach day, it has delicious food and is one of the best things to do in Carlsbad.
La Jolla Shores- Best Beach for a Picnic
La Jolla Shores is one of San Diego's most family-friendly beaches that attracts massive crowds of both locals and tourists!
Why You'll Love Tamarack Beach:
Whether you are looking to surf, paddleboard, or scuba dive, La Jolla Shores is the place to do it! There are a ton of activities to do in La Jolla Shores, we took a kayak tour of the La Jolla Caves and had an absolutely amazing time. You can also see the many La Jolla Seals while at La Jolla Shores, they are quite entertaining.
Once you're done at the beach, you can stroll along Kellogg Park, which sits just adjacent to the shoreline. You can even visit Steven Birch Aquarium, which sits nearby! People often enjoy setting up picnics on the large grass area that rests above the and. You might even be able to catch a yoga lesson if you go at the right time!
Parking:
There is plenty of street parking as well as parking structures near La Jolla Shores.
Moonlight Beach- Best San Diego Beach to Find Calm Waters
Moonlight Beach is another family-friendly beach that has a designated area for snacks.
Why You'll Love Moonlight Beach:
Here you'll find a few easy-access restrooms, making it great for families, as well as areas for volleyball and football, perfect for those who like to stay active. If you have little kids there is a park right before you arrive at moonlight beach for your little ones to play at.
The water is fairly calm here, which makes it a solid beach for parents who want to relax while their kids play out in the water. You won't have to worry about serious waves or riptides.
Make sure to head out to one of the cozy restaurants that sit within the city after your long day out in the water!
Parking:
There is plenty of street parking available, unlike some San Diego beaches, though there are also a few paid parking areas as well.
Pacific Beach- A San Diego Beach with More of a Party Atmosphere
Pacific Beach, referred to by locals as "The Strand", is a shoreline that runs for two miles and sits between La Jolla and Mission Beach.
Why You'll Love Pacific Beach:
It is a great beach for families thanks to the shallow waters and is easily one of the most popular beaches in all of San Diego. If you're cool with hanging where the crowds are, Pacific Beach is an excellent destination.
You can rent scuba diving equipment at numerous shops sprinkled along the beach and surf in the many designated surfing areas.
Go just a bit inland and you can enjoy the thriving Pacific Beach bar scene. Some of the most popular bars in the area include JRDN Lounge and Raw Bar.
Parking:
You will probably have the best luck paying for a spot at one of the paid parking lots off the main beach.
Mission Beach- For Beautiful Ocean Views
Mission Beach is easily one of the most crowded beaches in all of San Diego due to its prime location, though it also offers one of the best views of the ocean. Ocean Front Walk is only a few minutes away and Belmont Park sits just around the corner.
Mission Beach has tons of facilities, including restrooms and showers. You'll find fire pits for after-dark bonfires and lifeguards are always on duty to keep everyone safe!
Parking:
You'll find plenty of free public parking next to Belmont Park, which is perfect if you want to grab a bite after your day at the beach. There are plenty of great restaurants situated on the Ocean Front Walk as well.
During our exploring, we have come to find that we really just love San Diego overall! Each beach has its own amazing features. We can't even seem to come to a conclusion on which one is our very favorite, but one thing is for certain… you will be seeing us around San Diego a whole lot more often now that we know about these incredible beaches!
Check out our beach adventures over on my Instagram and feel free to send me a message there with any questions!
Latest posts by Michael Mamian
(see all)