Dollywood is a charming southern-themed amusement park located in Pigeon Forge, Tennessee. What sets Dollywood apart from other theme parks, is the amazing live shows, historically-themed activities, and wonderful southern hospitality.
Amazing acrobatic feats performed with horses, axes and just plain good old fashion humor are the types of entertainment you can find inside the park. No matter what age, Dolly Parton has created an impressive park for EVERYONE. And because we think you all deserve to experience it, check out our tips for finding discount Dollywood tickets! 
Finding Discounts Tickets to Dollywood
Finding the means to get here cheaply you may be tempted to be fooled by counterfeit coupons and discounts. Discounts at Dollywood are hard to come by. Although not impossible to discover a great deal, one merely needs to know where to look.
Compared to other similar parks, the admission rates are reasonable without discounts. Dollywood offers adults age 10-61, daily park admission for the price of $79. Children ages 4-9 and seniors 61+ tickets cost $69. However, that doesn't mean you can't save a little bit of money.
If you visit Dollywood one of the first things yo'll see is a line to buy tickets at the window. If you visit their website, Dollywood recommends buying tickets online directly from their site. Tickets are emailed to you for immediate admittance.
If you visit their special offers page, you will find some great deals and offers to score the best dollywood discount.
Buying online also offers a money-back guaranteed back up to 48 hours before the date of your admission, handy for when last-minute changes are needed.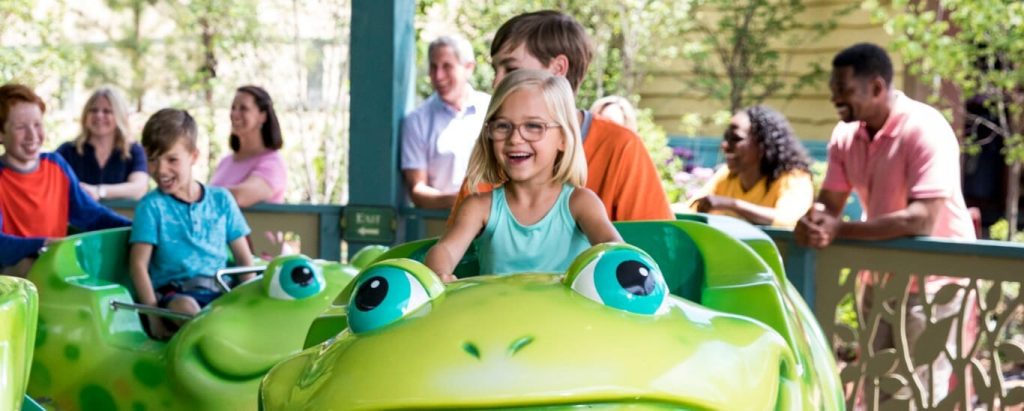 As a tribute to every human being that has served in the American Armed Forces, Dollywood humbly extends generous discount tickets. Veterans and military reservists and those active serving in the military gets you, your spouse and all your dependents a savings of 30% on ALL ticket and special event ticket prices.
All Dollywood requires to qualify for this discount is a military and dependent ID's. You can even purchase online tickets for the military rate, including the money-back guarantee for cancellations 2 days before the admission date!
Get further details on the discount here!
3.) Combo Tickets
Finding a great discount in Pigeon Forge is only a corner away. One of the most common ticket discount practices throughout Pigeon Forge is combining admissions. By choosing to pay the upfront cost of two actives, you can maximize your time.
Take the extra time between actives to explore the Great Smokie Mountains. Spending your time and money smartly you can truly enjoy one amazing theme park and Pigeon Forge.
Dollywood is currently offering 2 free tickets with the purchase of your season pass before the park opens in the spring. Check out this awesome offer here! The gold season pass is by far the best bang for the buck
Getting a season pass comes with some other great park perks, as well! Not only does your pass cover daily admission, but all pass holders receive a complimentary cup of coffee. Another Dollywood Season
Ticket Holder perk is a discount on guest tickets. Plus, you save $15 on the parking cost. Discounts on food, souvenirs, activities, and retreats are all included in a Dollywood season pass. Here is a full list of benefits
Up to 15% Off Dollywood lodging
Up to 15% Off Dining & Merchandise
Free Parking (with Gold Pass)
Discounts at Area Attractions
Exploring Dollywood is an adventure that takes time. There are many hideaways to explore, so getting through this 125-acre park cannot be accomplished in just one trip. Plus, trying to pace yourself to explore the park in one day can be overwhelming.
For just a bit more money you can come back the following day for the price of one. With this offer, you will be getting great bang for your buck! From exploring the historical crafts, riding the coaster and exploring the splash park, finding time to get it all done in one day is next to impossible.
Getting your employer onboard is another possible way you can get a great discount for Dollywood. Not only can your private company save you money, but exclusives corporate incentives appeal to executives.
Click here to gather more info on this!
This method is an easy way to get some of the best discounted Dollywood tickets! Packages are a great way to put all the activities that you want to do in one payment! All for one price include lodgings, dining, and transportation.
Time saver passes and early entry hours are exclusive to these Play, Stay and Dine Packages as well. When you purchase in advance, you can save up to 20%.
8.) Pigeon Forge Guides
If vacationing in Gatlinburg and Dollywood happens to be a last-minute adventure, finding any discount is a blessing. On every corner of these towns, you will find boxes with coupons books. Inside the books, you will discover coupons and discounts for so many activities in Pigeon Forge.
Savings at Dollywood's Dreammore Resort
If you want to find savings at Dollywood's Dreammore Resort once again visit Dollywood's special offers page. Often times they have great package deals.
All About Dollywood's Southern Charm
Dolly Parton purchased this park in 1986, opening for the first time as Dollywood. In 2010 keeping true to her humble beginnings, she took an active role in the park's daily operations. Dollywood has received numerous awards. From 2017-2020, they have won the Golden Ticket from Amusement Today.
This park rivals the top best American amusement park. The Lightning Rod, the ONLY wooden LAUNCH roller coaster, won the 2019 Coaster of the Decade award from Coaster101.com. That's right, Dollywood is the only place in the whole world that has this type of coaster.
a perfect time for an impromptu getaway. This festival will feature artistic flower displays, strange and unusual plants, and inspiring FOOD.
Plan Ahead & Getting Discount Dollywood Tickets
If you're planning a trip to Tennessee, Dollywood is a must on your itinerary (we also love Knoxville and Chattanooga). Dollywood has everything you need for an amazing one-day adventure! However, timing is everything. First, the park is only opened from spring until December.
Good Ole Smokie Mountain Fun
Dollywood is truly a one of a kind inspired adventure park with rides and entertainment. Surrounded by majestic mountains, entertainment and plenty of shopping spaces, Pigeon forge provides you with an amazing experience every visit.
Planning your adventure doesn't have to break the bank. Finding discounts Dollywood tickets is really pretty simple once you know where to look!
You May Also Like:
Incredible Family Fun Things to Do in Pigeon Forge [11 of Our Faves!]
Kid-Friendly Tennessee! 8 Awesome Things to Do in Knoxville for Families