Knoxville, Tennessee is smack dab in the middle of the Great Smoky Mountains and the long, winding Tennessee River. After our incredible adventure in Chattanooga, we headed to Knoxville to see what it had to offer. It was just a quick 90-minute drive from Chattanooga to Knoxville through an endless amount of beautiful green trees.
Beyond the incredible surroundings, there are many equally exciting entertainment and cultural gems in the city. You will find everything from museums to fairs. If you're looking to visit Tennessee with your family, Knoxville is a must-see. Here are some of the most fun things to do in Knoxville!
---
Fun Outdoor Things to Do in Knoxville
Are you looking for fun outdoor things to do in Knoxville? We went ahead and listed below our favorites to choose from!
---
Zoo Knoxville
The Zoo Knoxville is the best place for you and your family to experience wildlife up close and personal. There are over 900 different animals throughout the zoo.
Pretty much every animal your child wants to see will be there, from elephants to lions, to giant tortoises, this zoo had it all.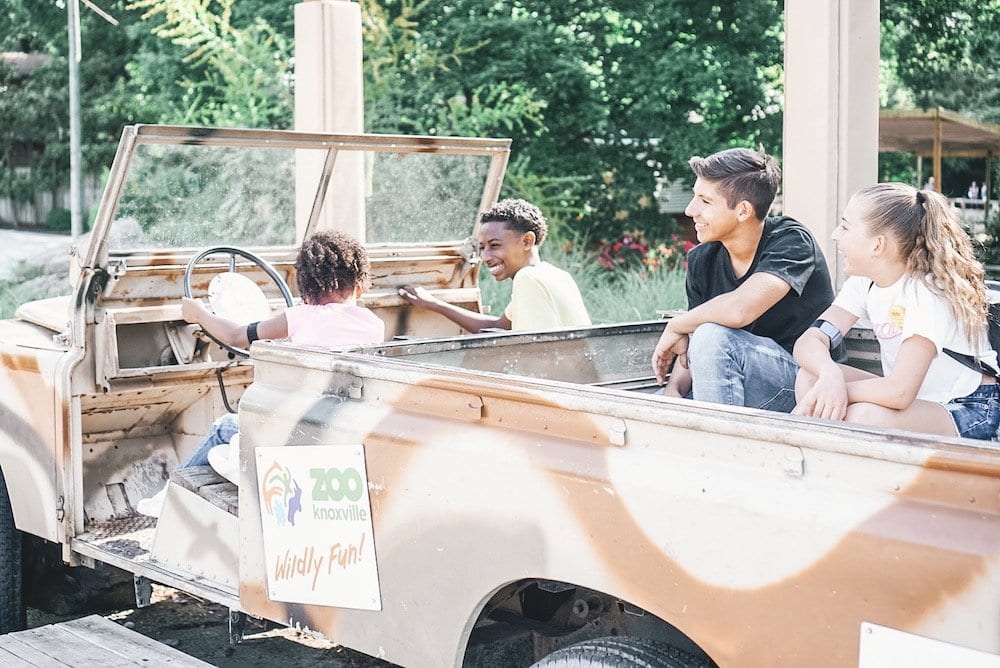 The thing I really loved about the zoo is how there was a great mixture of animals to see but also interactive experiences.
You can feed the giraffes, take a ride on a camel (which our daughter Olivia was smiling ear to ear the entire ride), and parents can even enjoy a breather while your little ones run around on the large splash pad.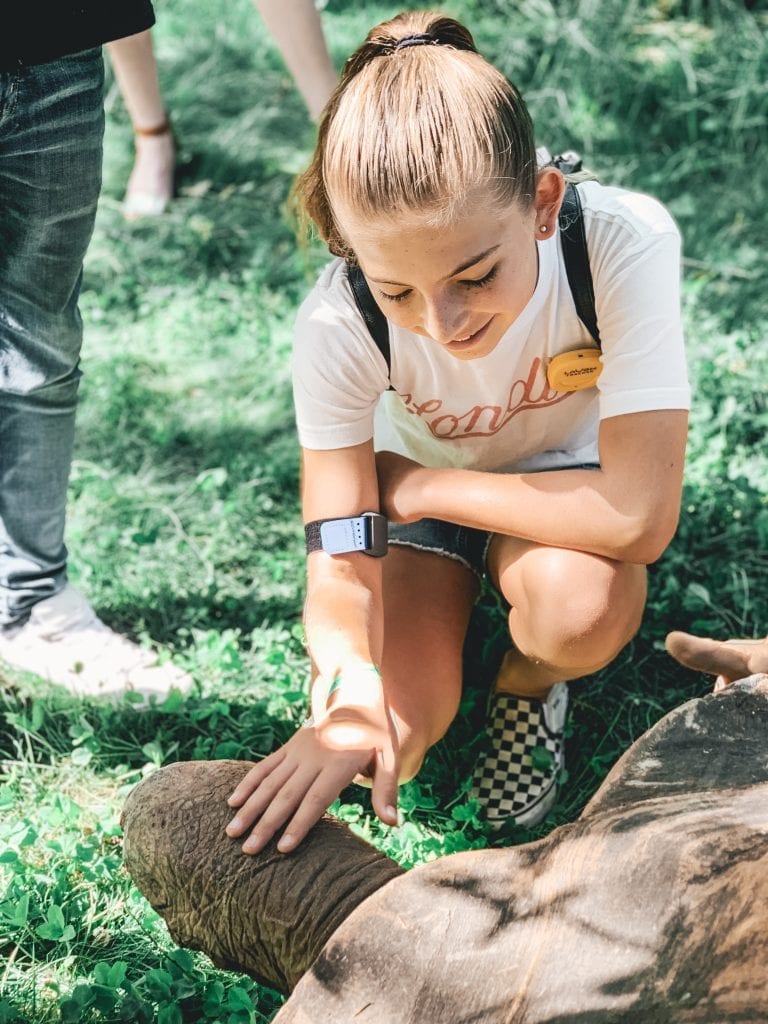 Their monkey exhibit is incredible as it is pretty much 360 degrees. The monkeys have a full-on jungle gym that they can play around in. It does go up and over the walkway, so be careful that there are no monkeys above you as you pass by. 😉
The Zoo also cares for and displays a vast array of endangered animals as well. This helps to teach us about the dangers of extinction and how we can help!
---
Navitat at Ijams Nature Center
If you have older kids, Navitat at Ijams Nature Center is an absolute must. Ijams Nature Center has been around for over 100 years.
No surprise, this 300-acre bird sanctuary is one of the top environmental sanctuaries in the United States. Just a few miles from Knoxville's downtown area, you can adventure through trails, creeks, and climbing areas.
Then, if you want to take it the next level you have to experience the Navitat zip line and ropes course. You will find yourself high amongst the trees, sailing on zip lines and navigating a pretty challenging ropes course.
I was in absolute awe of the beauty while we were up there, I honestly did not expect Tennessee to be so beautiful.
One of the other features I loved about the ziplines is you could also enjoy the adventure at night as some of the areas are lit including the nest which is basically a giant nest for humans high amongst the trees. This is truly a remarkable experience that is so fun and brings the family together.
---
Take a Walk in the World's Fair Park & Head up the Sunsphere
Right across from our hotel we saw a giant golden orb (turns out it's called a Sunsphere). We asked the concierge, what that was, and they let us know that it was the last relic of the 1982 World's Fair. We headed over to check out the World's Fair Park.
You can actually go up in the Sunsphere where you will get a full 360-degree view of Knoxville.
In World's Fair Park, you will find plenty of beautiful walking paths, a large fountain to toss coins into for some luck, and an amphitheater where you might be lucky enough to catch some entertainment. In the spring and summer, be sure to check out the splash pad and playgrounds with your littles.
There are plenty of picnic areas and restrooms, so this is somewhere you can hang out for quite a while on a sunny day. It's a very beautiful park, you should check it out.
---
Fun Things to Do in Knoxville- City Specific Experiences
There are so many city things to do in Knoxville that we decided to scale it all down to our list below.
---
Eat and Hang Out at Market Square
Everything in Knoxville is built around its glorious, central hub: Market Square. There you can find endless entertainment.
There is a wide variety of restaurants, cafes, and music venues. If your kids love music, they'll love hanging out in this area.
When nighttime rolls around, this family-friendly area lights up! It's a great mixture of locals and tourists kicking back, eating dinner, having drinks, and listening to music.
Our five-year-old loved dancing to the music in the big open spaces, and there is no need to worry about cars as this area is blocked off just for pedestrians.
---
---
Check Out the Beautiful Campus & Gardens of the University of Tennessee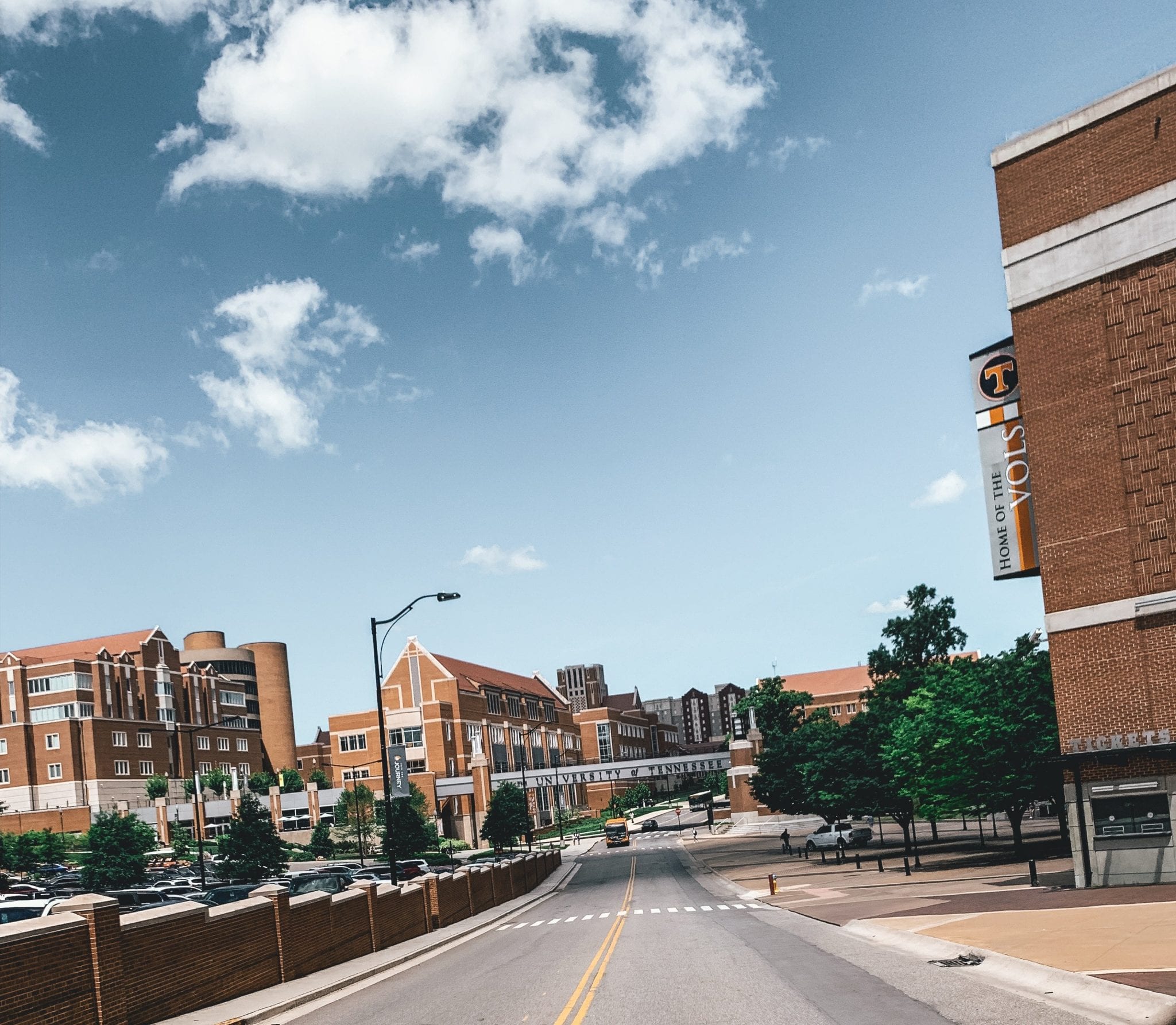 Since my boys are sadly approaching the age of college, we decided to head to the University of Tennessee for a quick tour. Even if you are not looking into colleges the campus is something to see. It is home to the fifth largest football stadium in the United States, which is an incredibly iconic field in terms of college football.
The campus here is astounding as well. You have to check out the UT Gardens. You can walk their one-mile loop and see all kinds of plants and trees. Of course, admission is free which is always a bonus.
---
Stop by McClung Museum of Natural History and Culture
You can find this museum right on UT's campus. Their exhibits are really cool and will keep your kids engaged.
You will learn about everything from Egypt to Nashville's archeological history to Civil War history. This is a nice spot to escape the heat for a bit, especially because parking and admission are free.
---
Enjoy a Classic Ice Cream Sundae Shop at the Phoenix Pharmacy
Right around the corner from the market square is an absolutely adorable and delicious place to grab a treat, the Phoenix Pharmacy!
This old-school soda fountain/sundae shop is located in the iconic Phoenix building on Gay Street. Each member of the family can get their own ice cream.
Although if you want to indulge truly, we recommend ordering their massive Street Car Sundae. Even just getting ice cream is turned into a really fun thing to do when in Knoxville! (Also, check out the amazing places to grab brunch in Knoxville.)
---
Must See Museums & Stadiums in Knoxville
Do you have art, museum or stadium lovers in your family? We listed some of our favorites below.
---
The Muse
Children of all ages and personalities will love The Muse! This 4,000 square-foot museum is packed to the brim with art and science exhibits.
It offers endless opportunities for children, as well as adults, to learn and play. It is one of the most fun things for families to do in Knoxville, for sure!
Here you can immerse yourself in a variety of interactive exhibits that range from physical science to construction and beyond!
Make sure to check out one of the awesome planetarium shows while you're there! I would say this is definitely more focused towards smaller children (9 & under), but even my older kids found themselves having fun at the giant hamster track inside the Muse.
---
Visit Neyland Stadium and See a Game If Possible!
As we said, Neyland Stadium is somewhat of a Knoxville Trademark. If you go at the right time of year, you can catch a game there. The stadium holds about 102,000 fans and the energy that is there on game day is unparalleled.
Since the stadium is located right on the Tennessee River, many people in Knoxville do a twist on tailgating and do a "sailgate." Where people pull their boats right up to the stadium. Even if you don't visit during football season, there are tours that can be booked by appointment ahead of time.
---
"Cycle of Life" Mural
Another great place to visit in Knoxville is the City of Knoxville's "Cycle of Life" mural.
This beautiful artwork, located in the downtown area, depicts the cycle of natural history and culture, showcasing the evolution of life on earth and the diverse cultural history of the region.
---
Governor of Natural History and Culture
If you're looking for a fun and educational activity for your family, consider visiting the Governor of Natural History and Culture, a museum that offers exhibits and educational programs that explore the natural history and cultural heritage of the region.
The museum features interactive exhibits and hands-on activities that allow visitors to learn about the unique flora, fauna, and cultural traditions of the area.
---
One of the top places to visit in the city of Knoxville is the Blount Mansion, located in the heart of downtown. This historic site was once the home of William Blount, one of the signers of the US Constitution, and now serves as a museum that offers guided tours and interactive exhibits that provide a glimpse into the early days of the city of Knoxville and the Southwest Territory.
---
The Knoxville Museum of Art
For art lovers, this city is also the home to the Knoxville Museum of Art and it is a must-visit destination. The museum is home to a diverse collection of works by both local and national artists, with a particular focus on contemporary art.
The museum also features an observation deck that offers a 360-degree view of the original Southwest Territory, providing visitors with a unique perspective on the region's history and geography.
---
Where to Stay
While you are planning your trip you might want be wondering where are the best places to stay. We listed our #1 pick below!
---
THE TENNESSEAN
THE TENNESSEAN is Knoxville's luxury hotel. It features 82 incredible guest rooms and an around-the-clock staff to cater to your every need.
The Tennessean is right in the center of downtown, making it a breeze to get wherever you need to be. We could walk to Market Square right from the hotel.
The hotel is great for families as they have some perfect rooms with two showers so that a large family like ours can get ready in a reasonable amount of time.
We absolutely loved our stay here and would definitely book again! Check it out here. If you are looking to not stay in a hotel and need a little more space check out some of Knoxville's best Airbnb's
---
Things to do in Knoxville: Why You Should Go
Overall, Knoxville completely exceeded our expectations. This truly is just a taste of all the fun things to do in Knoxville with kids. When planning your trip check out kidreviewedTN.com for a complete guide of all the great things to do in Tennessee with kids.
When you're all done enjoying the attractions and entertainment Knoxville has to offer, see if you have time to take a trip up to the Smoky Mountains! We did not have a chance, and I really wish we did because I hear it is amazing.
---
Map of Things to Do in Knoxville
---
Frequently Asked Questions about Things to do in Knoxville
What is there to do in Knoxville with kids?
Market Square
Ijams Nature Center
Tennessee Theatre
Knoxville Museum of Art
Neyland Stadium
The Muse
Phoenix Pharmacy
Zoo Knoxville
World's Fair Park
What is the best time to visit Knoxville?
Knoxville has short winters and summers are pretty hot. If you want the best weather, March through June and September through November are the best times to visit! Our favorite is during the fall season!
What is the best food in Knoxville?
Connors Steak & Seafood
Dancing Bear Appalachian Bistro
Emilia
Nama Sushi Bar
Ruth's Chris Steak House
The Walnut Kitchen
Chesapeake's West Knoxville
Fleming's Steakhouse
---
If you enjoyed reading about things to do in Knoxville, you might also enjoy:
15 of the Best Summer Vacation Spots in the US for Families (Knoxville made the list!)
31 Essential Things To Do in Gatlinburg TN from our friends at 365 Atlanta Traveler
The 3 Best Reasons to Visit Southern Belle Farm
The Best Myrtle Beach Activities- Ultimate Guide to Myrtle Beach
---
Pin-it for later: Best Things to do in Knoxville