Finding family-friendly things to do can seem difficult, especially in a city like Nashville, which is so popular for its nightlife. If you are headed to Nashville and looking for some family fun and entertainment, we've got just the list for you. You will be surprised to find that there are actually tons of things to do in Nashville with kids!
Fun Things To Do in Nashville with Kids
Escape Game Downtown
Do you want to see how well your family would work together in an emergency situation?
This is where the Escape Game comes into play. This one-of-a-kind, immersive experience brings epic stories to life. You enter a completely different world to help recover a piece of art, break out of a prison cell, or find lost treasure. Each game lasts an hour and you are victorious when you complete your mission.
Pick your adventure and build your teamwork skills!
(https://www.tnvacation.com/local/nashville-escape-game-nashville-downtown)
Old Town Trolley
The Old Town Trolley offers one of the best ways to see the entirety of Nashville while enjoying a real-time, historical tour. You pay once and you get unlimited hop-on and hop-offs throughout the day. There are electronic maps that come with the tour so you can personally map out the places that you want to visit in town.
The guides are awesome as well! Many of them were born and raised in Nashville and are incredibly knowledgeable when it comes to every nook and cranny of the city.
Bike The Greenway
Explore the city and save the environment with the Bike the Greenway Bike Rentals. This mobile bike service is owned and operated from customized trailers that are just off of the Two Rivers Park trailhead, only a few minutes from downtown.
You and the kids can hop on bikes and experience the many outdoor trails that surround the city or cruise on down a good cafe. It's a unique and interesting way to truly immerse yourself in the city while you hop from attraction to attraction.
Learn more about biking and rentals here!
Nashville Zoo
If your kids love animals, visiting the Nashville Zoo at Grassmere is a must! The zoo has everything from bears to birds to exotic animals and beyond. Not only can you wander aimlessly checking out all of the cool animals, but you can also be apart of one of the many educational and informational talks that are run by the zookeepers there.
Your kids will be able to learn the importance of animals and how we can protect them and their habitats. Besides that, you can take a nice ride on the Wilderness Express train or take part in one of the tortoise feedings. There is even a zip line for the fearless!
Adventure Science Center
Who says that a vacation can't be educational?
The Adventure Science Center in Nashville offers a large variety of ways for your kids to immerse themselves in modern science. There is a range of exhibits that are constantly updated, from the innovation incubator to the virtual reality room, to the interactive media spaces, and beyond.
Musical Things To Do in Nashville with Kids
Soundwaves At Gaylord Opryland
Soundwaves isn't your typical waterpark experience. This unparalleled, aquatic attraction is located smack dab in the middle of the Gaylord Opryland Resort and it allows hotel guests access to many different water features, including relaxation pools, heart-pounding rides, and immersive music experiences.
It's one of the best indoor/outdoor, hybrid water oasis spots that we've ever seen! It can be especially nice on those hot Nashville summer days. Check it out here!
Grand Ole Opry
The Grand Ole Opry has some of the coolest music shows in Nashville. We would definitely recommend that you visit and take place on their backstage tour! The tour takes you backstage and into the dressing rooms all while teaching you and your young ones about the history of this magnificent venue. You even get to step foot on the stage where many famous performers have stepped foot before.
Beyond that, the concerts are absolutely unforgettable. The country music is lively and entertaining and it's a magical experience that you just can't replicate anywhere else.
Buy your tickets for a backstage tour here!
Country Music Hall of Fame
There is no doubt that the city of Nashville has deep roots with country music. If you or your family has any interest in country music whatsoever, you need to get educated at this one-of-a-kind country music museum.
See unique memorabilia from country music legends like Johnny Cash, Elvis Presley, and Hank Williams. Learn about songwriting and recording or go to one of the many temporary exhibits that change monthly.
You can purchase tickets here!
Unique Things To Do in Nashville with Kids
AdventureWorks Zipline (Our #1 Pick for Things To Do in Nashville with Kids)
To get a bird's eye view of Nashville, you have to try the Adventureworks Zipline. This tour, which is about 1.5 hours from Nashville, has multiple zip lines along the course that vary from 85-700 feet long. While you are zipping through the forest, your guides can teach you and the little ones all about the history of the region, as well as the wildlife who inhabit it.
There are multiple schedule times as well, so it's easy to squeeze in if you're playing it down to the wire.
Purchase tickets here! Book in advance, they tend to sell out fast.
Rocketown
Rocketown, Nashville's premiere faith-based outreach facility, has been around since the early 90s. It's great for teenagers who are seeking to have fun while exploring their faith in both body and spirit.
Here your kids can enjoy the poppin' sixth avenue skatepark, rockin' live music, and a delicious coffee and snack bar. It's a great place for your kids to meet other like-minded kids while on vacation as well!
See a Hockey Game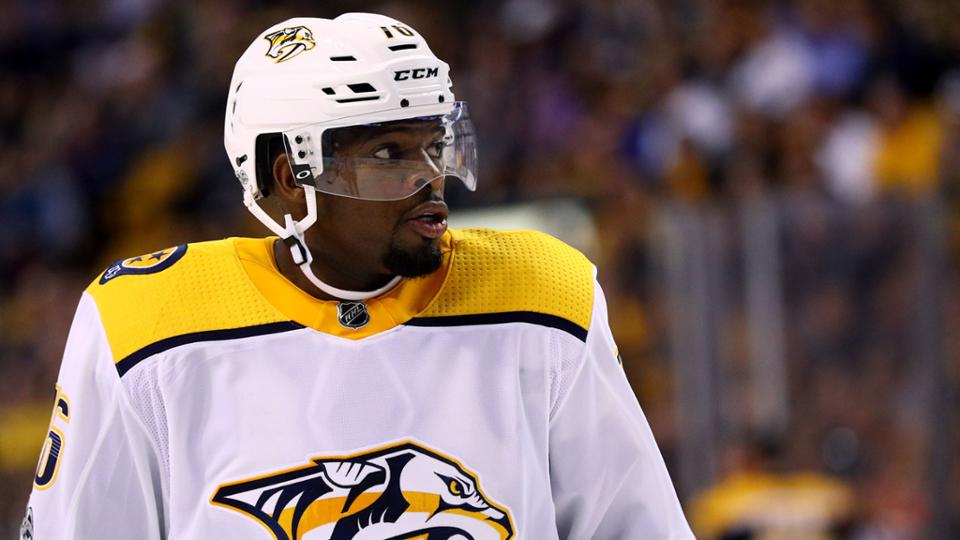 Nashville is home to a wide variety of sports teams, though one of the most popular is their hockey team: The NHL Predators. If you're visiting Nashville any time between October and April, you definitely have to make it a priority!
Even if you can't make a game, we would recommend checking out their practice schedule to see if you can attend one of the many free, open-to-the-public practices!
Madame Tussauds
Madame Tussauds is undoubtedly one of the most famous wax museums in the world. The Nashville branch has figures from the city's rich, musical history. Take pictures with Elvis Presley, Kid Rock, Beyonce, and more. Learn about the history of these massive celebrities and get intimate with one of the wildest artforms that there is.
Summing Up Things To Do in Nashville with Kids
There are about a million things that you can do with your kids in Nashville. We've only just touched the surface. Indulge in the incredible music scene, find serenity in the outdoors, and enjoy one of the many newer, modern forms of entertainment.
We hope that this list has inspired you to get out and experience all Nashville has to offer!
You May Also Like:
Family Fun in Chattanooga! Amazing Things To Do in Chattanooga with Kids!
Family Fun in Tennessee! 8 Awesome Things To Do in Knoxville for Families
Incredible Family Fun Things To Do in Pigeon Forge [11 of our Faves!]