Looking for the perfect waterfront retreat in the Northeast? Mystic, Connecticut offers the perfectly picturesque backdrop for your next getaway.
Similar to Jacksonville, Mystic offers rich history and it's New England charm will pull you in, while the attractions, entertainment, food, and shopping will keep you coming back.
Need some directions while navigating this idyllic slice of waterside paradise?
Check out our Top Things to do in Mystic Connecticut below!
---
Our List of the Best Things to do in Mystic Connecticut
There are actually a lot of things to do in Mystic Connecticut, so we decided to break it all down for you with our below list!
---
The Mystic Seaport Museum is the largest maritime museum in America. The museum houses a collection of boats, ships, crafts, and tools from the 19th century.
For an even more immersive experience, the museum features a recreated 19th century seafaring village. While the village is a recreation, the buildings there are not.
They are actual shops and businesses from the 1800s that were transported from various parts of New England to the Mystic Seaport Museum.
Even if you and the little ones aren't the seafaring type, the museum offers other activities including a planetarium, scheduled shows, and 19 acres of lush gardens to explore and learn about the various flora featured there.
For the museum's youngest visitors, there is the Susan Stucke Funk Children's Museum, where children can participate in hands-on activities, play dress up, and listen to stories.
During the warm months, there is a nautical-themed playground for children to run, play, and pretend to captain their own ships.
When you're done checking out the museum on foot, set sail on one of various historic boats. The Mystic Seaport Museum lets you choose your favorite vessel and spend the day out on the water while providing a guided tour.
Ahoy!
---
While there is no shortage of daytime activities to do in Mystic, you and your family may want to have some fun after the sun sets. The Mystic Dark Room is a show lounge that offers its guests unique entertainment experiences in an unusual setting.
Sit down on a cozy leather couch, at your own private table, or in concert style seating while you are treated to a show unlike anything else. The shows at Mystic Dark Room combine music, dance, cabaret, and drama for a one-of-a-kind viewing experience.
After the show, you can grab a souvenir photo with the performers or get out on the dance floor and show off your moves. It's a great time and a great way to spend an evening out in Mystic!
---
3. Denison Pequotsepos Nature Center
For almost seventy years, the Denison Pequotsepos Nature Center has provided Mystic residents and visitors the opportunity to get up close with nature.
You and your family can explore more than ten miles of walking trails, check out the natural history museum, or snap some pictures in the wildflower garden. Plus, they're open seven days a week.
What would a trip to a nature center be without seeing the wildlife?
Located in the outdoor flight enclosures are several birds such as a peregrine falcon, red-tailed hawks, and numerous types of owls. Inside the natural history museum, there are frogs, turtles, fish, and snakes.
You can also plan your visit around attending one of the special events offered at the Denison Pequotsepos Nature Center, each with a different theme, that will be both hands-on and educational.
If you're a true animal lover, you can participate in their Adopt-an-Animal program. Your donation to animals like Pumpkin the Black Rat Snake or Albert the Barred Owl will help fund the center's animal rehabilitation efforts.
---
4. Argia Mystic Cruises
A trip to Mystic, Connecticut would be incomplete without participating in what Mystic is known for–sailing!
Get ready to set sail with Argia Mystic Cruises. The Argia is an 81-foot traditional sailing ship and the last commercial sailing ship in Mystic. You and your guests can book a public or private trip on the Argia and be treated to a tour of the surrounding islands, lighthouses, and beautiful coastlines.
Bring your own picnic basket and enjoy a meal with a view or get hands on sailing experience and help the crew hoist and trim the sails.
Whether you set sail in the morning or at sunset, you and your family are sure to have a memorable time out on the water onboard this extraordinary ship.
---
5. Historic Downtown Mystic
Looking for a one-stop shop for all your fun, food, and entertainment needs? Look no further than Historic Downtown Mystic.
At Downtown Mystic, you can find historical attractions such as Olde Mystic Village and The Denison Homestead Museum.
If you need a break from history, you can try out the ropes course at TreeTrails Adventure Park or test your puzzle skills in an escape room at Mystified: Escape Rooms.
Make sure to save some energy for shopping in Downtown Mystic as there are stores for every style and need. Mystic Knotwork sells hand-tied nautical knot bracelets, wreaths, doormats, and more that make for one-of-a-kind souvenirs. Tidal River Clothing Co. offers a huge selection of clothing and accessories for everyone in the family.
When you're done exploring and shopping in the Downtown area, there are plenty of places to eat and refuel. In the mood for Italian food? Grab a slice or a whole pie 184 Pizzeria. Maybe you want to sit by the water and enjoy some local seafood.
Check out Sea View Snack Bar and try their fried clams and fries. Prefer to go straight to dessert? Have an ice cream float or a banana split at the award-winning Sea Swirl.
There are also plenty of bars, breweries, and vineyards if you're trying to catch a buzz after a long day of sightseeing.
Checking out Downtown Mystic is a definite addition to our list of things to do in Mystic Connecticut.
---
6. Seaside Shadows Haunted History Tours
While Mystic is a place rich in history, its past was once downright gruesome.
Take a walk on the dark side with Seaside Shadows Haunted History Tours if you want a chance at an encounter with the paranormal.
On your Downtown Mystic Ghost Tour, you will be treated to tales of fallen Revolutionary soldiers and lost sailors as you become engrossed in Mystic's grisly and supernatural history.
The Mystic Moonlight Graveyard Ghost Tour will take you to a hot spot of supernatural activity, a colonial burial ground. While you explore the 17th century graveyard, you will learn about Mystic's most famous former residents whose stories include war, murder, and even vampires.
If you feel chills on this tour, it may not be the cool Mystic breeze.
---
7. Mystic Aquarium
As one of the best aquariums in America, Mystic Aquarium is the place to go for those who love all things under the sea.
Adding this to your list of things to do in Mystic Connecticut, you and your family can marvel at the beluga whales as they swim in the largest beluga habitat in the United States before checking out the various species of seals and sea lions as they sunbathe on the rocks.
At the Ray Touch pool, you can touch and even feed stingrays.
Feeling brave? You can even pet a shark.
They also have an Undersea Explorer VR, which is an interactive experience that combines education with technology to make you feel like you're swimming alongside the ocean's most majestic creatures.
Between the beautiful animals and interactive exhibits and activities, there is something for everyone to enjoy at the Mystic Aquarium. You'll have a whale of a time!
---
8. Enjoy Pizza at Mystic Pizza
Mystic Pizza is a real pizzeria located in Mystic, Connecticut. It is famous for being the namesake and inspiration for the 1988 film of the same name. We absolutely had to add Mystic Pizza to the list of things to do in Mystic Connecticut!
The restaurant has been in operation since 1973 and serves a variety of pizza, salads, and Italian-American dishes. The menu is known for its large selection of specialty pizzas, including the famous "Mystic Pizza" with tomato sauce, mozzarella cheese, and a blend of toppings.
Visitors to Mystic Pizza can expect a casual, family-friendly atmosphere, with a focus on good food, friendly service, and a fun dining experience. '
he restaurant has become a popular tourist destination and a staple of the Mystic community, known for its historic charm and connection to the beloved film. Whether you're a fan of the movie or just looking for a great slice of pizza, Mystic Pizza is definitely worth a visit.
---
9. Embrace the Coastal Beauty
Take advantage of the town's location along the Long Island Sound. Head to the waterfront area for scenic walks, picnics by the sea, or even a relaxing boat tour with Mystic Boat Adventures.
The shimmering waters and fresh sea breeze make for a memorable family experience
---
10. Step Aboard a Wooden Whaleship
For an extraordinary experience, consider boarding the Charles W. Morgan, a historic wooden whaleship located at Mystic Seaport Museum. This magnificent vessel offers a glimpse into the 19th-century whaling industry, providing a captivating educational experience for the entire family.
---
Frequently Asked Questions about Things to do in Mystic Connecticut
Is the planetarium included in the admission ticket to the Mystic Seaport Museum?
No. If you want to visit the planetarium while at the Mystic Seaport Museum, it is an extra $8 fee. The planetarium is free for all visitors under the age of 5.
Can you book a private charter a the Mystic Seaport Museum?
You can book a private charter. Visit their page here to select the boat you would like.
How can I support the Denison Pequotsepos Nature Center?
The Denison Pequotsepos Nature Center is always in need of donations. Check out their In-Kind Donations page for a list of items that the center needs for their upkeep, garden, and animals.
Are the tours at Seaside Shadows Haunted History Tours appropriate for children?
While there is no minimum age a visitor has to be to attend a tour, they recommend children be at least 11 years old.
---
Pin-It For Later: Top 10 of the Best Things to Do in Mystic Connecticut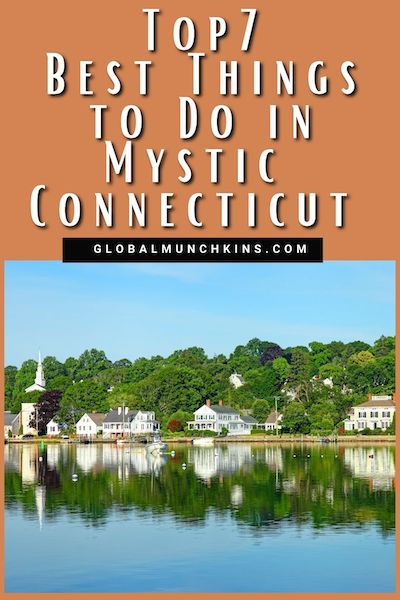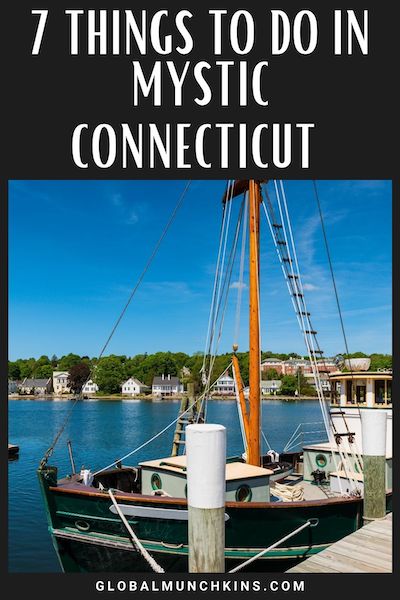 ---
If you enjoyed our list of things to do in Mystic Connecticut, you might also like:
TOP 15 OF THE BEST BEACHES IN VERMONT
17 AWESOME THINGS TO DO IN HUNTINGTON BEACH YOU'LL LOVE!
18 AWESOME THINGS TO DO IN JACKSONVILLE WITH KIDS!
50 THINGS TO DO WITH KIDS IN SAN DIEGO (20 ARE FREE!)