Similar to Destin, Panama City Beach has been a holiday hotspot for its miles of beautiful emerald coastline and white, soft sands. In the last decade the growth of the beach town has boomed, boosting the possibilities for family fun and making memories beachside!
Looking for things to do in Panama City Beach with kids? There sure are a lot! Of course, going to the beach and making sandcastles is a given. Discover the magic of this warm, sunny beachside town with these 15 activities that are sure to excite the whole family!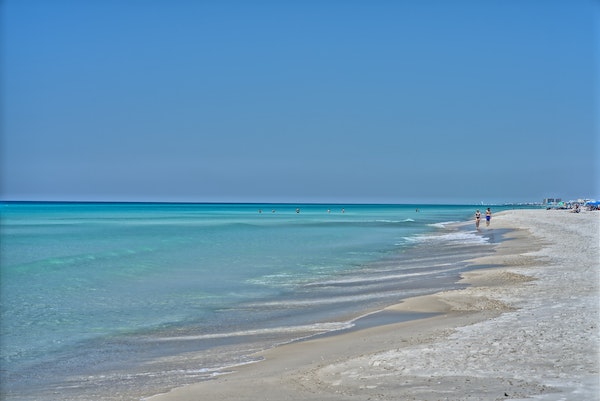 Our List of the Best Things to Do in Panama City Beach
Why You Should Go
Experience exotic animals up close at Zoo World! This zoological park boasts over 350 animals and 250 plant species. Here you can feed the giraffes from your own hand, spend time with free-flying birds in the aviary, pet free-roaming goats, and watch dozens of gators swarm as you feed them! This park also offers up-close experiences with lemurs, sloths, baby kangaroos, and baby alligators!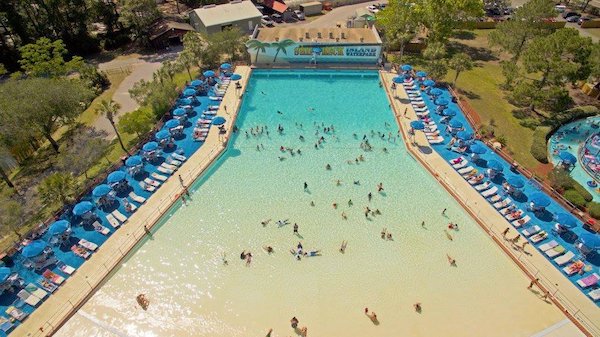 Why You Should Go
When it's hot in PCB, chances are you'll want to find a way to cool off somehow. Make it a blast at Shipwreck Island Waterpark. With several waterslides, a wave pool, lazy river, kiddie area, and great food and drink options, you'll spend the day splashing away with the kiddos. Check out Tree Top Drop, a 65-foot-tall waterslide, for a truly thrilling experience!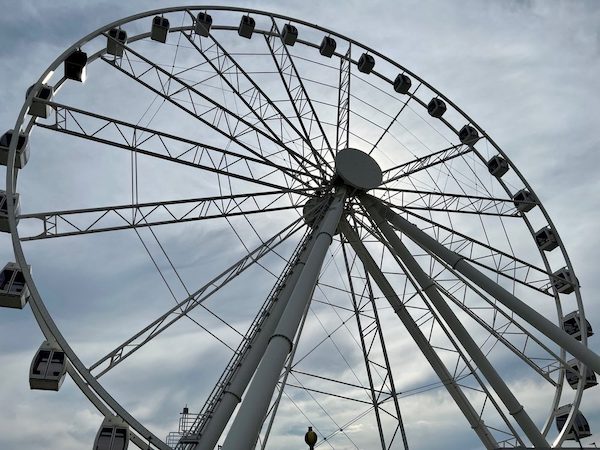 Why You Should Go
Curious about what the world looks like from a seagull's point of view? Take a ride on the SkyWheel to find out. This enclosed, climate-controlled observation-wheel style attraction takes you 200 feet high! From up here, the family will be able to survey miles of the beach town and the lovely Gulf of Mexico. The SkyWheel is great for a photo-op, too! Play the 18-hole Mini-Golf course and try out the only outdoor Ropes Course in PCB for the full SkyWheel Experience.
Why You Should Go
Pier Park is where it's at in Panama City Beach! A huge shopping center with plenty of dining and entertainment options for you and the kids, Pier Park is a great place to spend the day in PCB. From local boutiques to big-brand favorites, this center has over 100 storefronts. It also features The Grand Theatre, where you can catch a movie, and Dave and Buster's in close proximity to make for a truly fun-filled vacation.
Why You Should Go
Locals and tourists alike love coming to Pineapple Willy's restaurant for its on-beach location, good vibes, and world-famous BBQ rib buckets! Converted into a restaurant from a beach pier in 1984, this establishment offers outdoor, beachside seating. Drive here or walk straight up from the beach to get a taste of their seafood baskets, po-boy sandwiches, fresh salads, and drinks with a view.
Cobra Adventure Park
This amusement park is the home of the Wild Thing- a maximum thrill ride that will spin you to incredible new heights. This park is conveniently located on front-beach road and also features go-kart racing with a multiple-level track, Smuggler's Cove mini-golf, an arcade, and bumper boats.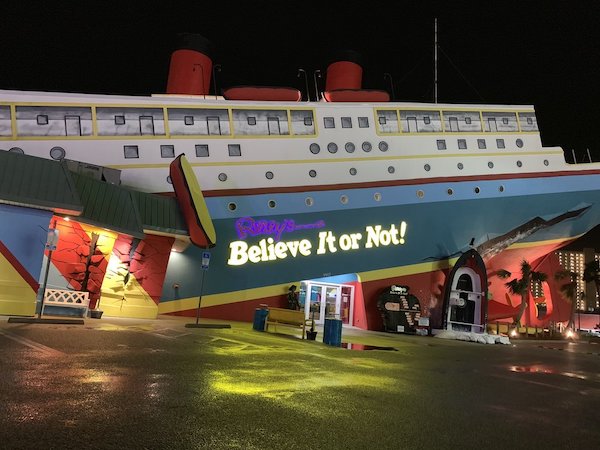 Why You Should Go
You may struggle to believe your eyes when visiting Ripley's Believe it or Not! This indoor "odditorium" museum is full of curiosities that excite the mind, featuring incredible facts and displays about things and people that existed in our world. Check out the moving 7D Theater, with motion and digital effects to enhance your choice of 3 exciting 3D movies. This attraction also houses Ripley's Impossible Laser Race and the Marvelous Mirror Maze, making a great one-stop place for fun times.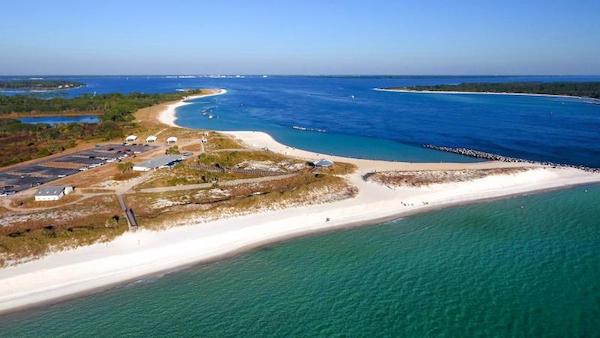 Why You Should Go
St. Andrews State Park is absolutely filled with things to do for families with a fondness for the outdoors! From bicycling, to hiking, snorkeling, watching wildlife, picnicking, camping, and kayaking, there are endless options. This park also boasts over a mile of coastline and is an excellent place to spend the day at the beach relaxing along the white sands and emerald waters.
Why You Should Go
See dozens of sea animals at Gulf World! General admission to the marine park will allow you entry to daily shows and exhibits featuring dolphins, penguins, sea lions, seals, stingrays, and tropical birds. If you're looking for a more up-close encounter, you can sign up for specialized encounters to swim with dolphins, meet a sea lion, harbor seal, or penguin!
Why You Should Go
Take the family to the skies and see things from a different point of view when you visit Panhandle Helicopter tours! With this helicopter tour service, you can choose which portion of the beach you would like to fly over and are priced accordingly. Children of any age may fly, and children over two years of age must have their own seat due to FAA regulations. Up to 4 passengers may fly!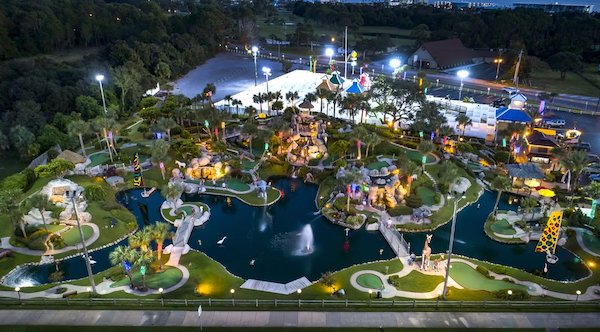 Why You Should Go
This safari-themed family fun park offers two different 18-hole mini golf courses. Play your way through the park amongst figures of giraffes, elephants, and gorillas, making your way through caves, over flowing waterfalls, and across bridges. After your game, check out the Gran Maze. Here, participate in a human-scale maze spanning the size of a football field. See who in your family can solve the maze the fastest!
This massive museum of "edu-tainment" will have your kids learning new things and having tons of fun at the same time! See interactive, interesting scientific exhibits featuring physical challenges, weather, space, and art. Wonderworks also features an indoor, 36-feet-high glow-in-the-dark ropes course, laser tag, and Space Fury 360 bumper cars for fun for the whole family!
Why You Should Go
Shell Island is one of the most beautiful places to go in the Panama City Beach area. This undeveloped stretch of coastline allows you and the family to visit a preserved beach, abundant with life. Spend the day here checking out the local wildlife, lounging on the beach, searching for hermit crabs, looking for seashells, or snorkeling. There are several ferry companies that will take you to Shell Island. Some boating companies offer dolphin tours, snorkeling, and more! Be sure to bring your own food and drink as there are no options to buy provisions on the beach.
Why You Should Go
Hop aboard the Sea Screamer for a nautical trip that your family is sure to remember! Sea Screamer tours offers 2-hour narrated dolphin cruises at either daytime or sunset, during which you will tour the beautiful waters of the Gulf Coast and see where the dolphins hang out! The Sea Screamer also offers drinks and is equipped with a restroom. Be sure to reserve your time at least a few days in advance, and be ready to take lots of photos!
Why You Should Go
Featuring the only roller-coaster in Panama City Beach, Race City amusement park is full of activities! Here, you can ride go-karts, explore thrill rides, play in the arcade, compete with bumper boats and bumper cars, play mini-golf, and feel the thrill of free-fall at the sky-coaster, all in one place!
Where to Stay
Panama City Beach has plenty of hotels, motels, and condos along the coastline to choose from, all with quite central locations along Front Beach road.
A couple of the most popular are the Holiday Inn and Shores of Panama Resort.
Map of Things to Do in Panama City Beach
Frequently Asked Questions About What To Do in Panama City Beach With Kids
What is there to do in Panama City Beach for free?
Public Access Beaches
Pier Park
Conservation Park
Frank Brown Park
Camp Helen State Park
Shell Island
Is Panama City Beach Family Friendly?
Absolutely! The beach town is one of the most popular Florida vacation spots for families, and PCB has tons of kid-friendly outdoor and indoor activities to fill your day with.
What can you do with kids in Panama City Beach at night?
The SkyWheel Experience
Cobra Adventure Park
Race City Amusement Park
Wonderworks
Ripley's Believe It Or Not
Pineapple Willy's
Dave and Buster's
Pier Park
The Grand Theatre
Coconut Creek Mini Golf and Gran Maze
If you enjoyed our list of things to do in Panama City Beach with kids, you might also like:
15 FUN THINGS TO DO IN TALLAHASSEE YOU'LL LOVE!
15 EXCITING INDOOR ACTIVITIES IN ORLANDO YOU'LL LOVE!
Pin for later: 15 Exciting Things To Do in Panama City Beach!