There are ways to make your Disney vacations even more magical. Things like Disneyland Magic Morning & Disneyland Extra Magic Hour will take your trip up a notch without a doubt. So your question now probably is, how do I make it happen and what all does it entail? Lucky for you, we've got the down low on Disneyland Magic Morning and plan on telling you all the reasons why it's totally worth it. If you aren't a morning person, it can be easy to disregard the offer for a Magic Morning but we're begging you to stick around so we can show you why this is one early morning is worth waking up for. After all, there's always time for a nap later in the day and plenty of caffeine in the parks with the new additions of Starbucks.
Everything to know about Disneyland Magic Morning & Extra Magic Hour
What is Disneyland Extra Magic Hour & Disneyland Magic Morning and how are they Different!
Disneyland Extra Magic Hour
Disneyland Extra Magic Hour is only an option for Disneyland Resort hotel guests. It allows hotel guests to enter the park 1 hour early before the crowds arrive and you can go early to a park pretty much on every night of your stay. 
Disneyland Extra Magic Hour Days:

Tuesday, Thursday, or Saturday.

California Adventure Extra Magic Hour Days: Mondays, Wednesdays, Fridays, and Sundays
Disneyland Magic Morning
Disneyland Magic Morning is, in fact, a bit different. The Disneyland Magic Morning is for guests with a 3+ day ticket, so you actually do not have to be staying at a Disney hotel. This is awesome news if you've got a big family or hotel points and have plans to stay elsewhere off property. Basically, you get to enter Disneyland park early on one of the days your tickets are valid for. This means early admission to everything from shops to dining and attractions.
Whatever you want to beat the major crowd to, have at it! The park will be open to you for one whole hour before the general public, but make sure to be heading towards the entrance about 1.5 hours prior to opening so you don't waste any of your extra magical time.
Disneyland Magic Morning is typically on Tuesday, Thursday, or Saturday. The Disneyland Magic Morning does not currently ever allow early entrance to California Adventure.
How to Get Extra Magic Hour
To get Extra Magic Hour is pretty simple, when you are booking your room reservation it is already included with your stay, there is nothing special you have to do. (By the way, if you are booking a room I highly recommend you use our friends over at Tink's Magical Vacations, not only will they plan your entire vacation for FREE, they will save you money as well. They are truly Disney Experts)
How to Get Tickets with Magic Morning
To get tickets with Extra Magic Morning you must by a 3+ Day ticket. (You can check out my ways to grab Discount Disneyland Tickets Here)
You must purchase your tickets online before arrival to the park. If you buy your tickets at the Ticket Booth, they will not be valid for the Disneyland Magic Morning. As always, make sure to check the calendar before booking anything just to ensure that everything will go as planned.
Why It's Super Awesome
Beating everyone into the park.

There are so many benefits that come with entering the park early, but let's face it part of the coolness of Disneyland Magic Morning is simply being there before everyone else. It feels like you have special access and can really set the tone for an awesome day. There's nothing better than kicking things off on the right foot. (Pro Tip – Arrive an Extra 15 minutes early to the gates if you have a room reservation and arrive 45 minutes to the parking structure if you have Magic Morning)

Getting a head start on FastPasses.

FastPasses can really make or break your day at Disneyland when it is crowded. Luckily, Disney has opened some of the FastPass quest for early entrance guests. There are no FastPasses during early entrance, but you can collect them for later on in the day.

Reserve Fastpass with Max Pass Early

One of my favorite Disney Fastpass Secrets is using the MaxPass. If you have a MaxPass, you will be able to access the app as soon as you enter the park and reserve FastPasses this way. You'll want to use this time to reserve a really hard to get attraction like Space Mountain, Guardians of the Galaxy: Mission-Breakout!, or the number one thing on your family's list of must do's.
You can ride all the rides that don't offer a FastPass, but tend to get lengthy lines.

Be strategic with your hour and set a loose plan beforehand. Some rides, many in Fantasyland, don't offer a fastpass so hitting them during this time can be really smart. It may be the only way to avoid waiting in a lengthy line for common favorites like Peter Pan.

Enjoy a Character Breakfast later in the morning.

I never enjoy the character breakfast in the park because I feel like I am missing out on riding rides while the park is slow. Magic Morning changes everything. The Extra Magic Hour & Magic Morning are amazing to get on as many rides as possible, but once the rope drops for general admission the park starts to get busier. My tip is book a character breakfast about an hour after the park's general admission. You will get two hours of rides in and then you will be ready for a nice hearty breakfast.  Here is how to book your Disneyland Dining Reservations
Bonus Pro Tips
Early Morning Park Hop –
If you are using your Extra Magic Hour at Disneyland, spend your first two hour in Disneyland, then hop over to California Adventure as soon as it opens. This is probably the best way to maximize your time and hit all the big ticket rides. While there is no guarantee, the parks are a bit slower right when they open. If you can pack your favorite attractions in during your hour at Disneyland Magic Morning, then you can go to California Adventure and get one or two big rides in before major crowds arrive. In this case within the first three hours at the parks, you've probably hit nearly all your must-dos. From there, you can slow down and be stress-free taking in the parks at whatever pace you'd like.
Grab a quick bite in Downtown Disney
Earlier I said to dine at the in park Character breakfast later in the morning, and while that is great, you might also want to just go go go. So, grab a bite at Downtown Disney before heading into your Magic Morning. Jamba Juice and Starbucks open at 7 am so you can grab a quick bite or coffee and then head into the parks.
Avoid the Water Rides (Especially Grizzly River Run)!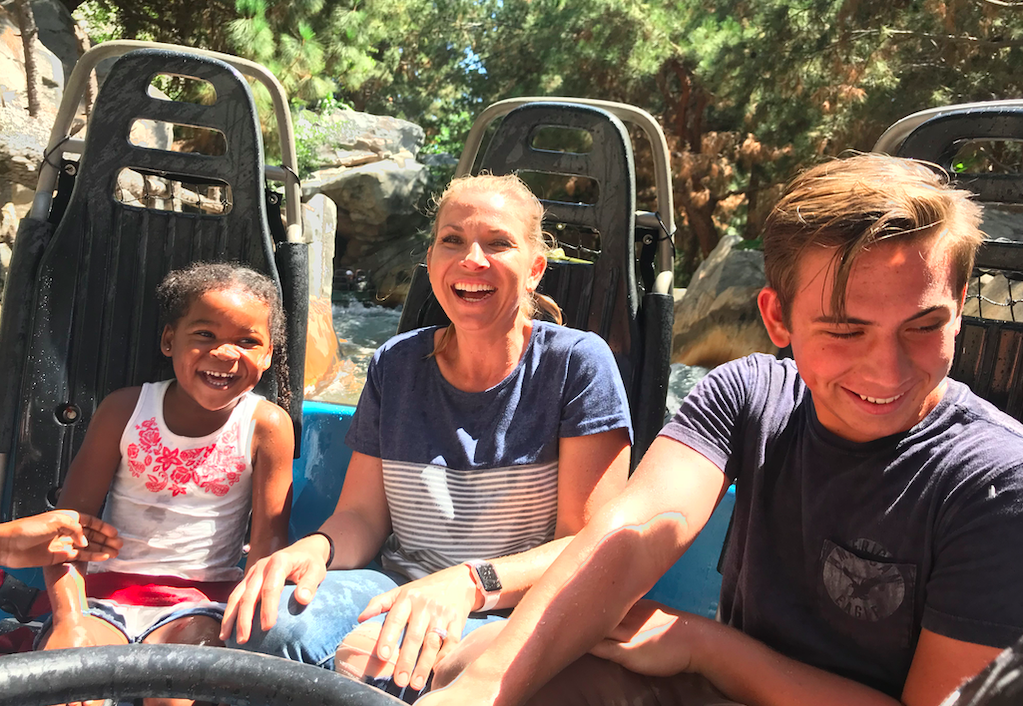 I say grab a Fastpass for Splash Mountain or Grizzly River Run, because we have mage the mistake of riding these water rides in the morning. While we had a blast, it was not fun being wet for quite a while during the day. 
Extra Magic Hour is a Must for Star Wars Land!
Star Wars Land is coming June, 2019 and it will be a packed part of the park for a very long time. Thus, if you want the best access to ride the Millenium Falcon, I highly recommend saving some time and getting the Magic Morning!
Have any questions about Disney Magic Morning? Ask in the comments
or send me a message on my Instagram Page
You Might Also Enjoy:
Disneyland Birthdays- 10 Tips to Make the Day EXTRA Special
12 Ways to Beat the Heat + Outsmart the Disneyland Crowd
Top 10 Amazing Things To Do in Anaheim beyond Disneyland
Not sure which hotel to choose Disneyland Hotel vs Grand Californian? Check Travel with Tykes here.
Pin for Later – Everything to know about Disneyland Magic Morning & Extra Magic Hour