If you're looking for a fun family vacation spot, look no further than Quincy, Illinois – or as we like to call it, the "Gem City."
This charming little town is located in western Illinois, right where Missouri, Iowa, and Illinois meet. It's been a hidden gem for centuries – literally!
Back in the 1800s, it was the perfect place for settlers to make their fortune with all the farming and building opportunities. The state of Illinois recognized Quincy's potential and gave it the nickname that's stuck ever since.
Nowadays, Quincy is still just as delightful as ever. It's right on the Mississippi River, making it the perfect place for a weekend getaway with the family. There are so many things to do in Quincy that you'll never get bored! From historical attractions to cultural activities to top-notch restaurants, this town has it all.
So pack up your little gems and come on down to Quincy, where you'll have a gem of a time! And don't forget to check out the 15 best things to do in Quincy Illinois while you're there. Trust me, you won't want to miss out on any of them!
---
Best Things to Do in Quincy, Illinois
If you're looking for a destination that combines rich history with modern amenities, Quincy Illinois is the place to be. With its charming downtown area and historic district, Quincy offers visitors a glimpse into the past while still providing all the conveniences of a modern city. Here are some of the best things to do in Quincy Illinois.
---
Why You Should Go
Who would have guessed that a small Midwestern town would be home to an ornate, Morrocan-style castle? Situated on the bluffs overlooking the Mississippi River, the Villa Kathrine was built in 1900 for W. George Metz, a wealthy Quincy native.
While this structure eventually fell into disrepair, it was beautifully restored in 1998. Tours are available on an appointment-only basis, and architecture enthusiasts are sure to appreciate this unique home.
---
Enjoy the local food scene
Quincy has several fantastic restaurants, ranging from American comfort food to Italian cuisine. One unique feature of some Quincy restaurants involves serving both pizza and Mexican fare at the same joint.
You can grab a delicious pizza, Mexican, and margaritas at Gem City Restaurant or The Tower of Pizza and Mexican. 
Kelly's is another excellent spot to grab a bite. This joint is known for its extensive salad bar, featuring its famous cheese soup and massive, homemade cinnamon rolls.
Another Quincy must-do is a visit to Maid-Rite, serving (you guessed it) Maid Rites. This Quincy staple food comprises ground beef on a bun with mustard, ketchup, and pickle, kind of like a sloppy joe without the sauce.
---
Why You Should Go
The Quincy Museum looks more like a mansion than a museum, but it happens to be both! This home was built in 1890 and has been beautifully restored, featuring details like rich wood materials, ornate chandeliers, and lovely fireplaces.
Today, visitors can tour the home and enjoy the museum exhibits, showcasing displays on dinosaurs, wildlife, Native Americans, and more. This museum is especially lovely during the holidays when it is decked out with tons of lights and several Christmas trees.
---
Why You Should Go
The Quincy Art Center is one of Quincy's best free attractions. This art museum houses over 400 works by regional and national artists. You can also view their rotating exhibits, and they even have art classes for kids of all ages.
---
Why You Should Go
For a small town, Quincy has a surprisingly vibrant arts community! This is reflected in the Quincy Symphony Orchestra Association, which typically presents around five concerts every year.
The Quincy Symphony Orchestra regularly performs with the Quincy Symphony Chorus, so you can experience both instrumental and choral music. Their shows are located in Quincy Junior High School, which is easily one of the most elaborate auditoriums in Illinois. 
---
Why You Should Go
Constructed between 1835 and 1838, the John Wood Mansion is an incredible home and historic site that attracts several visitors. This home was built by John Wood, the founder of Quincy, who became the governor of Illinois in 1860.
Guests can tour this ornate mansion, featuring details like Doric columns, antique furniture, and elaborate woodwork. On the grounds, you can also explore an 1835 Pioneer Log Cabin, which is well-preserved from its time.
---
Why You Should Go
Not only is Quinsippi Island perfect for nature lovers, but it is also home to incredible history. This island is a 130-acre park located on the Mississippi River.
In addition to the many trails, sand beaches, and forest areas you can explore, this island houses a log cabin village where visitors can experience life in the 1800s. The island also hosts the Annual Frontier Settlement Day, a live reenactment of 19th-century settlers, where you might even see a real-life "President Lincoln."
---
Explore Downtown Quincy
Why You Should Go
Also known as "The District," downtown Quincy is home to several boutiques, restaurants, coffee shops, and festivals. Washington Park, located in the center of downtown Quincy, was the site of the historic Lincoln-Douglas debate.
Today, several events take place in the park, like "Blues in the District," a summer blues series, and the farmers' market. If you need a bite to eat after exploring and shopping throughout the neighborhood, stop by one of the many restaurants, like Thyme Square Cafe, the Maine Course, or the Pier.
---
Take a Day Trip to Hannibal
Why You Should Go
Only about a 20-minute drive from Quincy, Hannibal, Missouri is ideal for visitors who love to read. Hannibal was the boyhood home of author Mark Twain, also known as Samuel Clemens. Many of his stories in The Adventures of Mark Twain and The Adventures of Huckleberry Finn were based on Hannibal and the surrounding area.
Guests can explore the Mark Twain Cave, Mark Twain's boyhood home, and walk up to the Mark Twain Memorial Lighthouse. Hannibal also has an adorable downtown area with plenty of eateries, including Java Jive (an ice cream and coffee shop), The Brick Oven (a pizza joint), and the Mark Twain Brewing Company.
---
Why You Should Go
Located next to Washington Park, Quincy's History Museum houses permanent and rotating exhibits that range from the pioneer era to the present day. This museum is housed in a historic building that features a three-story corner tower and a sculpture garden with architectural artifacts.
Permanent installations include Early Quincy, the Edward Everett Gallery, Window Onto the Square, the Stained Glass Gallery, and the City of Mormon Refuge. History enthusiasts are sure to love this attraction!
---
Why You Should Go
Clat Adams Bicentennial Park comprises three acres and is located on Quincy's riverfront. This park is a lovely spot to hang out at sunset, showcasing a beautiful view of the river, a fountain, and an adorable gazebo. Clat Adams also hosts several celebrations, like the Fourth of July fireworks and community band concerts.
---
Indian Mounds Park
Why You Should Go
Encompassing 37 acres of land, Indian Mounds Park has an incredible view of the Mississippi River, a swimming pool, walking trails, and picnic areas.
However, its actual claim to fame is that it is home to some of the best-preserved Indian burial grounds in the country. Along the north road of the pool, a walking timeline tells the story of the Quincy area, ranging from the last ice age until the European settlement.
---
Why You Should Go
Quincy Community Theater dates back to 1923, when the founders presented two or three plays per year at the Illinois Veterans Home. Today, this theater presents several shows every year at their 500-seat auditorium in the Oakley-Lindsey Center.
The organization offers plenty of summer acting classes for kids and adults, a fun activity for the theater enthusiast in your life!
---
Why You Should Go
Originally known as "Scotties Skateland," Scotties Fun Spot was renovated in 2010 to include laser tag, a massive arcade, bumper cars, and mini-bowling, along with its original roller rink. The onsite Winner's Grill serves pizza, nachos, pretzels, and sweet treats. With so much to do, this is an excellent hangout for the entire family!
---
Visit a local winery
Why You Should Go
Wine connoisseurs are guaranteed to enjoy the Quincy area, as it is home to the Mississippi Valley Wine Trail, comprised of five wineries along the Mississippi River. Each winery along the trail is family-owned and operated, with some of these businesses dating back to 1857.
Along the way, you'll enjoy stunning bluff views, lush vineyards, and pristine lake areas. Be sure to savor the tasty, handcrafted wine at all of these venues. Wineries on the trail include Baxter's Vineyards, Lake Hill Winery, Village Vinyard Winery, Spirit Knob Winery, and Hopewell Winery. 
---
Map Of Things to Do in Quincy Illinois
---
Frequently Asked Questions about Things to do in Quincy Illinois
What is Quincy famous for?
Located on the western side of Illinois, where Iowa and Missouri meet Illinois, Quincy is famous for being the "Gem City." In the 1800s, Quincy was a vibrant transportation hub for railroads and riverboats, linking to many destinations in the West and South.
What is there to do in Quincy, IL for kids?
Scotties Fun Spot
Quincy Public Library
Quincy Community Theater
Indian Mounds Pool
Quincy Gems Baseball Game
Why is Quincy, IL called the Gem City?
Quincy is called the Gem City due to the abundance of crops, farmland, and goods produced in the area. The state gave Quincy the nickname "Gem City" due to all of its agricultural gems. 
What is Quincy Historic?
"Quincy historic" refers to the many historical landmarks, buildings, and districts located in the city of Quincy, Illinois. Quincy has a rich history dating back to the 19th century, and many of its historic buildings and landmarks have been well-preserved, offering visitors a glimpse into the city's past.
Some of the most notable Quincy historic sites include the Quincy historic district, the Quincy Museum, the Governor John Wood Mansion, and the History Museum on the Square. Quincy historic sites also include several well-preserved buildings that date back to the city's early years, as well as historic cemeteries and parks.
Overall, Quincy historic is a term used to describe the many historical attractions that make Quincy, Illinois a unique and fascinating destination for history buffs and anyone interested in exploring the city's past.
---
If you enjoyed our list of things to do in Quincy Illinois, you might also like:
[15 AMAZING] THINGS TO DO IN PEORIA ILLINOIS WITH KIDS
20+ FUN THINGS TO DO IN CHICAGO WITH KIDS BESIDES THE BEAN!
---
Pin for later – 15 Exciting Things To Do In Quincy Illinois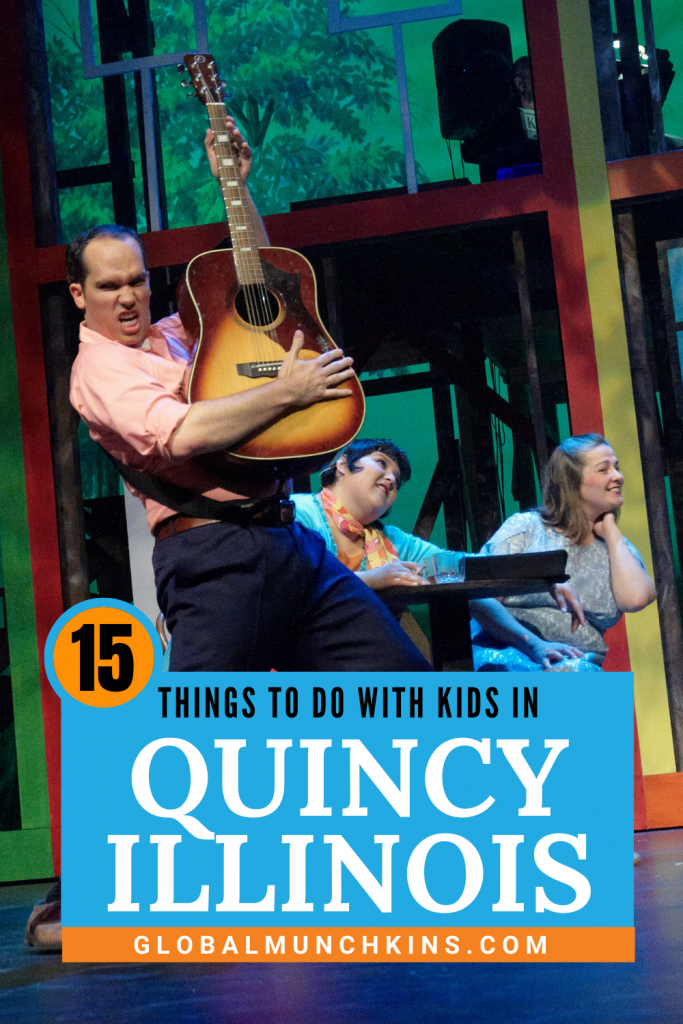 Latest posts by Ashland Hendrix
(see all)