Lake of the Ozarks boasts more than 1,150 miles of shoreline, which entertains over five million visitors each year. Just a few hours from St. Louis, this enormous manmade lake was created for its clear water, gentle waves, and numerous coves and bays.
Lake of the Ozarks is a popular destination for boating, fishing, swimming, and other water sports while the Central Missouri area is also home to many golf courses, state parks, and resorts.
Families of all sizes can find plenty of adventure activities that make Summer memories last a lifetime. We went ahead and compiled a list of the best Lake of the Ozark AirBnBs for your next trip!
---
Located two hours outside of Kansas City, this spacious lakefront property combines a main house, a guest cabin, and a private dock with room for up to 16 guests. It sits on nearly 2 private acres with ample parking and easy access to the water. There are four spacious bedrooms in total in the main home, all offering queen beds which makes them perfect for family gatherings or friends traveling together.
The interior design includes high quality furnishings and finishing touches including large windows that provide natural light and spectacular views. You and your crew will have nearly 900 feet of shoreline all to yourself including a spacious dock with a large swim platform and floatations, plus a full bar with television for entertaining.
The kids won't complain either because the property is covered (main house, cabin, and dock) in high speed WiFi, so they won't have to sacrifice their Youtube viewing for all that icky nature.
This property is definitely one of our favor Lake of the Ozark AirBnbs!
---
Not every property in the Lake of the Ozarks area is, or needs to be, lakefront in order to be desirable. This quiet cottage offers a quaint, relaxing space for those guests that need a bit of space to themselves, perhaps to reconnect with a spouse or finish up that great american novel you've been working on for eight years now.
The cottage itself comes with a few amenities like a TV/DVD player, plus a queen size bed in the upstairs loft. Downstairs you'll find an electric fireplace, a sofa-bed and a surprisingly spacious updated kitchen. If you need a few more creature comforts, the cottage hosts have you covered.
They offer a gas grill, fire pit with Adirondack chairs (located between main house and cottage), as well as a one-person hammock that hangs and swings out front on the porch for those perfect summertime siestas!
---
The property at Lake of the Ozarks Airbnb that provides the best bang for your buck may be this beautiful split-level home which has 10 beds and sleeps up to 15 guests.
While the superhost does live upstairs, the downstairs property is over 1,800 square feet which sits on 10 acres of private property which has hiking trails, a stocked pond for fishing, a zip line, swimming pool, horseshoe pits, a frisbee disk golf course, fire pit and campfire area, plus a R/C race track! 
The living room has a full size pool/ping pong table, TV, DVD player with family and kid friendly movie, tons of board games, laser lights, a poker set, and a slot machine. From the living room you'll step out to a covered back patio that features plenty of comfortable seating, a charcoal grill, swimming pool, and large sand play area a few feet away.
Believe it or not, the best part may be that it's only a few blocks from Lake of the Ozarks, and a few miles away from town and Truman Lake. Pets are welcome, as long as they're friendly, and are well-behaved off a leash because the property doesn't have a fence. 
---
When searching the Lake of the Ozarks Airbnb listings you'll definitely want to consider this beautiful oasis with an entertainment dock because while solitude is good, partying on the lake is almost always better.
This incredible vacation spot is a rare find at the Lake of the Ozarks given it sits on a flat lot in a quiet cove off the main channel. It has super easy access to restaurants on the lake, and to local stores.
Each morning you'll walk out on a two-tiered patio that opens to a large entertaining dock which includes a full bar, kayaks, an extra boat slip, lily pad, fire pits, plenty of games, grill, griddle, and smoker. This is perfect for family get togethers and fun!
The house has been completely updated throughout and includes a steam shower. This is lake life at its absolute peak! 
---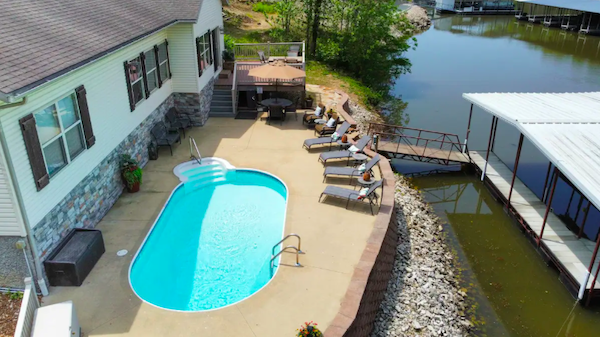 Up to eight members of your group can call this gorgeous Lake of the Ozarks Airbnb home for a few days, although you may never want to leave. If you're looking for plenty of outdoor space that's close to the excitement but off the main channel, then your search is over!
This Airbnb is equipped with a huge deck and firepit, gas grill, private dock with swim platform, pirate plank platform, kayaks, and Adirondack chairs for plenty of fun without leaving the area. The nearest town is a short drive away for groceries or anything you might need as well.
The home itself if clean and updated with a fully equipped kitchen with gorgeous views of the lake. The large screened in porch will keep those non-sun-lovers happy as they sip on a cup of coffee or tea while the kids relax in the living room playing board games or enjoying some television. 
The master bedroom offers another stunning view of Lake of the Ozarks, and it comes furnished with a queen size bed.
---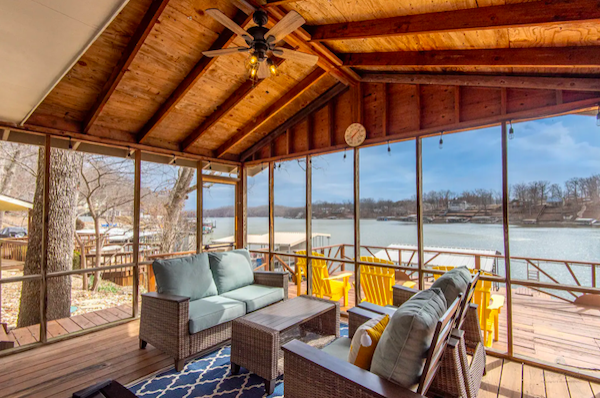 Travelers can relax in this entire Lake of the Ozarks Airbnb home that has its own private pool right on the shoreline. Up to 10 guests will enjoy 1,900 square feet of spacious waterfront ranch home that is positioned at the end of a quiet cove on Osage Beach.
The in-ground pool is surrounded by a beautiful outdoor patio area for those that want to swim but have totally rational fears about lake monsters. The master bedroom is anchored by a king size bed a features a flatscreen TV, an inviting private bathroom, a walk-in shower, bathtub, and plenty of space for your personal belongings.
Queen size beds adorn the other bedrooms, while two queen size air mattresses are available for kids or for your in-laws. High speed WiFi is available on the property, but no pets are allowed unfortunately. This Lake of The Ozark AirBnBs is a perfect destination for you and your family!
---
The Lake House may have been a terrible Keanu Reeves movie, but this Lake of the Ozarks Airbnb is a gem of a find. The house sleeps seven guests across three bedrooms, and invites everyone to get away from it all and enjoy the gorgeous lake.
This beautiful lake home has a stunning view of the Hurricane Deck Bridge and offers a private porch off of the master suite, with a larger porch off of the lower level that is equipped with a gas grill and table for dining. The hosts also have a private boat dock where swimming and fishing are encouraged, or if you want to sit quietly and enjoy the day, you're invited to do that, too.
A word of caution for those of you that may be at the mid-life-crisis sports car age: the property's short gravel road is best suited for front wheel drive or all wheel drive vehicles. Low clearance vehicles may not find the gravel so friendly to their undercarriage. 
---
A brand new listing for 2022, this Lake of the Ozarks home is pet friendly, sleeps up to 13 guests, and is perfect for larger families, or a multiple-family visit. The four bedroom, three bathroom, 2,200 square foot property is an amazing location for a big lake family adventure!
No-wake enforcements offer safe swimming, boating, kayaking, fishing, or relaxing floating right off the dock. The property location even offers quick access to popular spots such as Htoads and Shady Gators on the lake. The home itself is a quick drive from town for groceries, shopping, dining, mini golf, or go-karts for the kids.
The living room is stacked with windows for plenty of natural light and offers stunning views of the lake at sunset while being decorated with imaginative Boho decor. The kids will enjoy hours of play time fun with the pool/ping pong/dining table combo. This is a stunning property that needs to be seen to be believed.
---
If you're looking for an amazing Lake of the Ozarks Airbnb in the real Missouri Ozarks, then this cabin is the perfect spot. It sits on a piece of land where to babbling creeks converge, giving this repurposed hunting cabin a resplendid peacefulness that you'd be hard pressed to find anywhere else.
Nestled on 120 acres of private land, this spectacular landscape offers numerous creeks, ponds, and rolling hills and fields to explore. Each morning you'll wake up with nature and enjoy your morning coffee as the kids and pets roam free as you decide what to do, or not to do, in this slice of heaven.
Up to four guests will sleepy comfortably in a cabin that offers a full size bed in the main room, a dining table, an electric fireplace, and television. A well-equipped kitchen is home to a refrigerator, microwave, two-burner hotplate, coffee maker, nad a small toaster over. It's a simple set-up, but you won't need much more than this. The kids will enjoy climbing the ladder to the loft above that houses two twin beds for sleeping.
Fiery Fork Creek is ready for your family to make a lifetime of memories like so many other generations before you. Kids can catch crawdads, float boats, or build small dams while sitting in stunned silence as deer, beavers, geese, and turkeys make their way through clearings in the woods. While there is cell service, no internet is available, but then again, maybe that's just what you're looking for. 
---
This quaint but stylish Lake of the Ozarks Airbnb home is perfect for travelers who aren't looking for frills, just a nicely remodeled home with some amenities and plenty of peace and quiet on the lake.
Your group will enjoy lakefront views with quick access from the paved neighborhood roads. The home also features an amazing large deck for sunset dining, entertaining, or just watching the worries of the world pass on by.
The property also has an adjacent open area across the street with an additional lake view to enjoy the evening or walk the pets. Deer are known to frequent the neighborhood so you'll want to have your camera ready to snap away at some summer memories!
---
If you enjoyed our list of amazing Lake of the Ozarks Airbnbs, you might also like:
15 STUNNING AIRBNBS IN CHATTANOOGA
15 STUNNING AIRBNBS IN PARK CITY FOR EVERY BUDGET
10 UNIQUE AIRBNBS IN TEXAS FOR THE ENTIRE FAMILY
AIRBNB DISNEY WORLD – 15 MAGICAL AIRBNBS NEAR DISNEY
10 BEAUTIFUL AND UNIQUE AIRBNBS NEAR ZION NATIONAL PARK
---
Pin for later: 10 Amazing Lake Of The Ozarks AirBnbs