Maui is by far one of my favorite Islands! From staying at the Grand Wailea, to all the amazing things to do with kids and even visiting Turtle Town, we love everything Maui has to offer.
Maui is more than just beautiful beaches and incredible tropical weather. It's home to a diverse culinary scene too, including a variety of breakfast options that are sure to satisfy any craving. That is why we broke it down to our top 6 Best Breakfast on Maui!
---
Our Top Picks for Best Breakfast on Maui
From local favorites to international cuisine, we've rounded up the top spots to indulge in the best breakfast on Maui. Whether you're a pancake lover, a fan of eggs benedict, or prefer something with unique island flair you can't find anywhere else, our list of the best spots in Maui's breakfast scene has got you covered.
Ready to check out our list for the best Breakfast on Maui? I mean since breakfast is the most important meal of the day… let's go ahead and dive head first in!
---
#1 Kihei Caffe
Are you ready for our #1 pick for the best breakfast on Maui? Let us introduce you to the Kihei Caffe. The Kihei Caffe is a popular breakfast spot with two locations, one in Kihei and the other in Kaanapali. They serve up some seriously delicious breakfast dishes and the portions are huge!
The menu at Kihei Caffe features a variety of breakfast options. You've got your classics like omelets and pancakes, with the banana macadamia nut pancakes being a serious must-try, to more unique offerings like loco moco, a Hawaiian dish consisting of rice, a hamburger patty, and a fried egg, and huevos rancheros. Many of the dishes are made with locally-sourced ingredients, giving them a fresh and authentic taste.
The vibe inside the restaurant is super laid-back and welcoming. Don't be surprised if there's a line to get in, but trust me, it's worth the wait. Plus, the service is fast and the staff is always friendly, making you feel right at home.
With its tasty food, generous portions, and welcoming atmosphere, it's no wonder Kihei Caffe has become a beloved institution on the island.
---
#2 The Gazebo
The Gazebo is a popular breakfast restaurant located in Napili Bay, on the north shore of Maui. It's known for its delicious breakfast dishes, stunning ocean views, and relaxed atmosphere.
One of the standout items on the menu at The Gazebo is their famous banana macadamia nut pancakes. These fluffy pancakes are served with a generous scoop of whipped cream and a drizzle of coconut syrup, making them a must-try for anyone looking to tantalize those taste buds.
Other popular dishes include their omelets, breakfast burritos, and their fried rice, which is some of the best on the island.
The restaurant itself is right smack dab on the beach, giving you stunning views of the ocean while you enjoy your meal. It's a great place to relax and soak up the island vibes.
Unfortunately, it's these same reasons that make The Gazebo such a popular spot. Hungry customers are known to post up outside as early as 7am, waiting for the front doors to open at 7:30am.
If you need to sink your teeth into those fluffy pancakes but can't stand to wait, it's never a bad idea to swing around to the back entrance and grab a to-go order starting at 8am.
I mean, is anything better than a mouthful of pancakes while watching the waves crash on those famous Maui shores?
---
#3 The Plantation House
The Plantation House is an amazing restaurant that serves up some seriously tasty breakfast dishes. The menu has something for everyone, from classic eggs benedict or veggie omelet to more unique dishes like their crab cake benedict or the decadent banana macadamia nut waffles.
The menu features some seriously tasty entries, although we would recommend skipping the caramel pancakes. They're a little too "caramelly," and NOT in a good way! You have been WARNED!
The food is all-around fantastic, but the best part about The Plantation House has to be the view. It's located up in the hills, overlooking the ocean and the lush green landscape.
The outdoor seating area is so beautiful and peaceful, you'll feel like you're in paradise. Plus, the staff is always super friendly and welcoming, making the whole experience even better.
If you're looking for a special breakfast spot in Maui, The Plantation House is definitely worth a visit. The food, the views, and the vibe all come together to make it a truly unforgettable experience.
Trust us, you won't be disappointed!
---
#4 Down the Hatch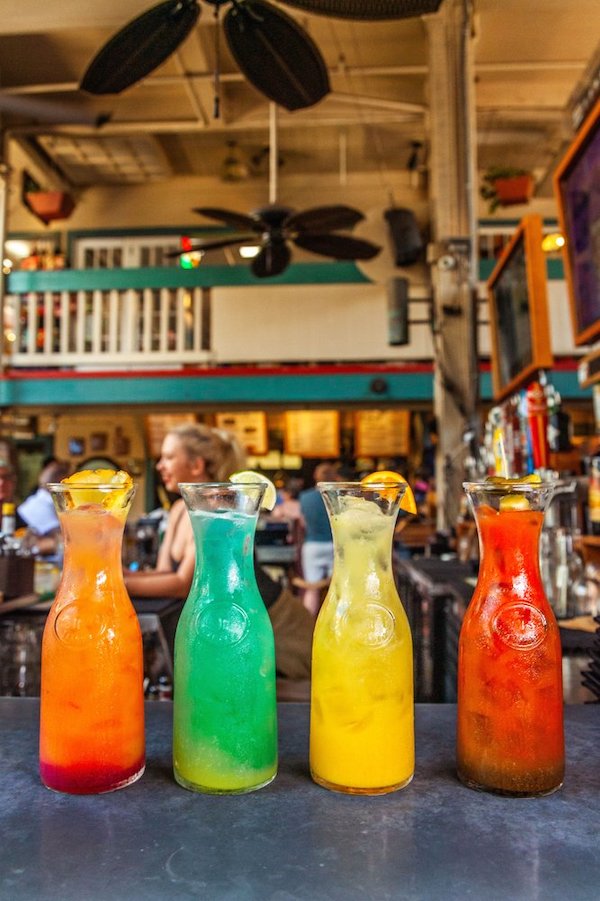 Next on our list of best breakfast on Maui is Down the Hatch. Down the Hatch is a popular restaurant located in the town of Lahaina, on the west coast of Maui. Known for its delicious food, fun atmosphere, extensive drink menu, and, you guessed it, delicious breakfast!
Down the Hatch's breakfast menu is small but mighty, featuring classic options like pancakes, eggs, and bacon, as well as some unique dishes like their "Hangover Cure," a breakfast sandwich piled high with bacon, sausage, eggs, cheese, and hash browns.
Another one of the standout items on the breakfast menu is the "Hatch Benedict," a dish featuring two poached eggs served on an English muffin with grilled ham, spinach, and hollandaise sauce.This dish is seriously delicious and an absolute must-try while on the island!
Of course, no breakfast at Down the Hatch would be complete without a drink or two. They offer a variety of morning cocktails, including a "Morning Margarita" and a classic "Screwdriver" made with fresh-squeezed orange juice.
If you're in the mood for a morning meal with a fun and lively atmosphere, you've got to check out Down the Hatch!
---
#5 Leoda's Kitchen and Pie Shop
Leoda's Kitchen and Pie Shop is a charming little restaurant located in Lahaina, on the west coast of Maui. While they're known for their delicious pies and baked goods, they also serve up some seriously tasty breakfast dishes.
One of the standout items on the breakfast menu at Leoda's is their "Omelet Style" French Toast. This unique twist on a classic breakfast dish involves soaking the French toast in egg batter and cooking it omelet-style with fillings like ham, cheese, and veggies.
Another popular breakfast dish at Leoda's is their "Fried Chicken and Waffles." The waffles are made with malted flour for a crispy texture, and the fried chicken is cooked to perfection with a spicy-sweet glaze.
But the real star of the show at Leoda's has to be their pies. They offer a variety of sweet and savory pies that are all made in-house with fresh, local ingredients. Some of the most popular flavors include banana cream, coconut cream, and chocolate mac nut.
If you're looking for a delicious breakfast spot and the most amazing pies baked on Maui, Leoda's Kitchen and Pie Shop is definitely worth a visit. The food is fresh and flavorful, the atmosphere is charming, and the pies are simply out of this world!
---
#6 Kula Bistro
Kula Bistro is a cozy little restaurant located upcountry in Kula, Maui. While they serve up delicious lunch and dinner dishes, their breakfast offerings are equally impressive.
One of the best items on the breakfast menu at Kula Bistro is the "Farmers Market Omelette." This hearty dish is filled with a variety of fresh veggies sourced from local farmers markets, as well as cheese and avocado for a creamy texture.
Another popular breakfast dish at Kula Bistro is the "Eggs Benedict." They offer a classic version with ham and hollandaise sauce, as well as a more unique option with smoked salmon and capers.
If you're in the mood for something sweet, the "Banana Macadamia Nut Pancakes" are a must-try. These fluffy pancakes are filled with chunks of banana and macadamia nuts for a tropical twist on a breakfast classic.
And for those who want to start their day with something healthy, the "Acai Bowl" is super refreshing, filled with acai berries, granola, fresh fruit, and honey for a delicious and nutritious meal.
Whether you're in the mood for something savory or sweet, Kula Bistro has got you covered with a variety of delicious options. It's definitely a breakfast spot you won't want to miss on your trip to Maui.
---
Frequently Asked Questions about Best Breakfast on Maui
Can you make reservations at Kihei Caffe?
Kihei Caffe does not accept reservations, and it is a first-come, first-served basis restaurant. The restaurant is quite popular, especially during breakfast and brunch hours, so it's recommended to arrive early to avoid long wait times.
Is there a dress code at The Plantation Restaurant?
The Plantation House is an upscale restaurant located in Kapalua on the west coast of Maui. While there is no strict dress code, the restaurant encourages guests to dress in resort-casual attire.
Can you sit down and eat at Leoda's Kitchen and Pie Shop?
Yes, Leoda's Kitchen and Pie Shop does have seating available for its customers. Inside the restaurant, you'll find a rustic decor with wooden accents, warm lighting, and comfortable seating. The outdoor seating area is surrounded by lush greenery, making it a perfect spot to enjoy a sunny Maui day.
Is Down the Hatch a good spot for lunch and dinner?
The lunch and dinner menu at Down the Hatch features a variety of dishes, from classic burgers and fries to seafood options like fish tacos and shrimp po' boys. One of their most popular items is their "Drunken Shrimp," which are sautéed in tequila, lime, and garlic for a delicious and unique flavor.
In addition to the food, Down the Hatch is also known for its extensive drink menu, which includes a variety of craft cocktails, beer, and wine. They even have a "Painkiller" drink that's made with rum, pineapple juice, and coconut cream – it's the perfect tropical cocktail!
---
If you enjoyed our list of the best breakfast on Maui, you might also like:
26 AMAZING THINGS TO DO IN MAUI WITH KIDS [ULTIMATE MAUI GUIDE]
THE BEST LUAU IN MAUI [HERE ARE THE TOP 8 CHOICES]
TURTLE TOWN MAUI [A MUST VISIT] + IT'S FREE AND FUN!
---
Pin-it for later: Best Breakfast on Maui