Picking out which Walt Disney World resort to stay at with your family can be overwhelming. There are more than twenty options available after all! Most of the Disney hotels are wonderful in one way or another, but you don't just want wonderful… you want magical! Below I am going to highlight the five most kid-friendly resorts at Disney World so you can find a magical fit for your family.
Best Disney Resorts for Kids – Our Family's Top 5!
We've been Disney Vacation Club Members for over 20 years now, which I think makes it pretty clear we think the experience of staying on property is worth it! When you stay at the resorts, it's like you get to stay within a Disney bubble with kind cast members, safe and clean grounds, and a little sprinkle of pixie dust everywhere you look.
Let's jump into our 5 absolute favorite Disney resorts for kids!
1. Disney's Beach Club Resort
For us, this is the one. The Beach Club feels like a second home to us and we have so many memories here. We love the location, the pools, everything. Let's jump into the reasons this resort gets the #1 spot on my list.
When you stay here, you get two resorts for the price of one! Disney's Beach Club Resort, designed to remind guests of luxurious New England beach houses, is attached to Disney's Yacht Club Resort, so you'll have easy access to all of the shops, restaurants, and lounges at both locations.
The Beach Club Resort can accommodate families big and small, running from the standard room that sleeps up to four to the sprawling villa that accommodates nine. You're bound to find something that fits both your family's needs and budget.
The pool, or should we say waterpark, at the Beach Club Resort is one of our favorites. This is important because (if you have time in your schedule) we highly recommend doing a pool day to break up your trip. This is especially important when you have toddlers as it gives everyone a breather from lines and crowds in the parks.
Stormalong Bay encompasses three acres, consisting of three pools, a lazy river, slides, waterfalls, and hot tubs. One of the pools is a sand-bottom pool, which makes you feel more like you're wading into the ocean rather than just a plain old pool. Our 2-year-old LOVES this.
The size and features of Stormalong Bay are a major perk, but it's a double-edged sword. There are multiple pools, but the massive pool deck makes it more difficult to chase after multiple little ones who decide they want to explore or jump from one pool to the next. It's not a dealbreaker, but I do recommend keeping a close eye!
The location of the Beach Club puts you right in the heart of the action. It's on Crescent Lake, so Disney's Boardwalk is only a short walk away and offers plenty of shops, restaurants, and entertainment. The Swan and Dolphin resorts are also nearby, adding even more dining options to the already generous selection.
Perhaps the best part of this resort is that it is within walking distance of EPCOT. Plus, it is a short Skyliner or boat ride to Hollywood Studios. While you can get to and from EPCOT and Hollywood Studios quickly, traveling to and from the Magic Kingdom and Animal Kingdom, on the other hand, means having to take the bus.
Last but not least, one of our Disney World favorites is located on site. Beaches and Cream Soda Shop serves delicious burgers, milkshakes, and over-the-top ice cream creations that your kids will go crazy for. Our family tradition is to get the kitchen sink. Cape May Café is on site and great as well, offering a casual buffet and character dining for breakfast.
Being a deluxe resort, the Beach Club may cost a pretty penny, but, if you want a luxurious stay with an emphasis on kid-friendly accommodations, it's the best.
---
2. Disney's Art of Animation Resort
Disney's Art of Animation Resort celebrates characters and locations from various films, including The Little Mermaid, Cars, Finding Nemo, and The Lion King. Everything from the rooms, hallways, and courtyards pays homage to these beloved films with authentic Disney theming. You really feel the Disney touch here and young kids get an absolute kick out of it.
Inside the Cars-themed suite, you'll find a room set up to resemble a garage. The drawers look like a mechanic's tool chest, the couch has leather cushions reminiscent of classic car seats; everything is designed to satisfy your inner Lightning McQueen. Ka-chow!
The Little Mermaid suite is full of delightful details too, including a clamshell headboard complete with a pearl overhead light. The walls are adorned with familiar faces, including Flounder, Sebastian, and Prince Eric.
A huge bonus of staying at the Art of Animation Resort is access to the Skyliner, which serves as transportation to EPCOT and/or Hollywood Studios.
The Art of Animation Resort is also home to the largest pool in the whole Disney World portfolio. It includes a splash pad and playground, perfect for toddlers and small children.
It's also worth noting that Disney's Art of Animation Resort is a value resort, so you will end up saving money when staying there. Plus, there are family suites that can sleep up to six, saving you from having to book a second room if you have a large family.
On the other hand, because it is a value resort, there are no table-service dining options. The Landscape of Flavors offers lots of dining options that you can help yourself to, but some tired parents may not want to get up and down to fix their small children a plate.
So, we rank Disney's Art of Animation Resort highly for its great price point and easy transportation to EPCOT and Hollywood Studios. Your kids will love it!
---
3. Disney's Contemporary Resort
As they say, location, location, location; and this Disney Resort has one of the best!
Disney's Contemporary Resort is just a 10-minute walk to the Magic Kingdom. There is a separate checkpoint that allows guests staying at the Contemporary Resort to bypass other busy security locations. Additionally, you can avoid waiting with the crowds for the monorail and get to and from your room at your own pace. However, if your littles aren't up for the walk, the monorail remains a great option for taking you in both style and in air conditioning.
The Magic Kingdom and EPCOT are very close to the Contemporary Resort, but you can easily reach Hollywood Studios and the Animal Kingdom through the use of only one central bus queue.
Another big plus when staying at the Contemporary Resort is their selection of restaurants. California Grill has a stunning view. This is also where Chef Mickey's is located which is one of the best character-dining experiences.
The structure of Disney's Contemporary Resort is an A-frame that rises over the Magic Kingdom, Bay Lake, and the Seven Seas Lagoon. The monorail goes straight into the building which gives you an opportunity to see the monorail come and go on the floor below you or in the lobby. Little ones will marvel at this unusual sight, adding to the trademark Disney magic.
A potential downside to staying at Disney's Contemporary Resort is the lack of Disney theming in the hotel rooms. While the rooms in the Contemporary and Bay Lake Tower are carefully curated with modern and chic finishes, you will be hard-pressed to find many signs of Mickey. The villas and deluxe studios in particular feature very little to no Disney theming at all. Some people will love this, others will be disappointed so I always find it worth noting.
Both a positive and negative of this resort is the activity level. Because it is so close to the parks, has great restaurants, and often hosts conferences, this is not the hotel for you if you're hoping to get a break from the crowds after a long day at the park.
Long story short, this unique resort is an excellent choice for you and your family if you want to be near the parks, have quick access to delicious food, and have fabulous views of the park and closing fireworks from the comfort of your own private balcony.
---
4. Disney's Caribbean Beach Resort
Over at Disney's Caribbean Beach Resort, you'll feel like you've been transported out of Florida and straight into a Caribbean paradise. The resort is designed to resemble the islands of Aruba, Barbados, Jamaica, Martinique, and Trinidad.
I recommend requesting a room in the Aruba or Jamaica wing. From here, you can easily take the Skyliner into the parks.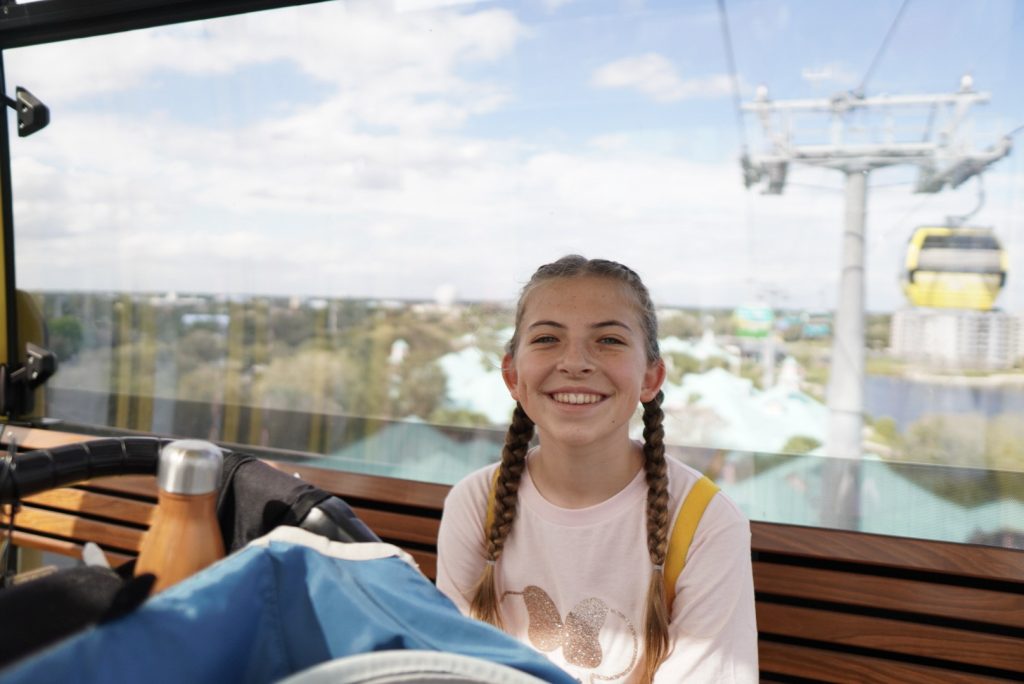 While your child may or may not be enchanted by the idea of staying at a Caribbean-themed hotel, they're almost guaranteed to be enchanted by the pool. The Fuentes del Morro Pool is designed to look like a Spanish citadel, this zero-depth entry pull has gorgeous turrets, spiral staircases, and cannons that shoot water.
There are two water slides, including one that has over an 80-foot drop for older children and other daredevils. Little ones will love the shipwreck play area, which looks like an old pirate ship marooned in the center of the pool and features three slides.
Perhaps a point of contention for those looking to book a stay at Disney's Caribbean Resort are the rooms. A typical room is a bit larger than the average Disney hotel room and comes with a convenient option to sleep five rather than four, but, while the rooms are, well, roomy, they lack the bright, colorful Disney aesthetic. The décor is predominantly brown with touches of green and orange with only the tiniest bit of Disney-themed decorations.
In 2023, the Caribbean Resort did away with their pirate-themed rooms much to either the joy or chagrin of frequent guests of this hotel. While the theming was very on point, the beds were large, difficult to get in and out of, and the rooms felt smaller than they should. These rooms were renovated and now are filled with The Little Mermaid decor, featuring cool island colors, painted seascapes, and just overall feel more appropriate for the theme of Disney's Caribbean Resort. Currently, these rooms are only located in Trinidad, which is further away from some of the onsite attractions.
A very important thing to consider is that this two-floor resort has no elevators. If you're bringing a stroller or traveling with someone who is mobility impaired, request a room on the first floor.
As one of Disney's deluxe resorts, this is an excellent option if you want to save a little bit of money but not settle for a smaller room that you typically find at the value resorts. With its super relaxing atmosphere, amazing pool, and reasonable room prices, Disney's Caribbean Resort is great for both large and small families.
---
5. Animal Kingdom Lodge
Perhaps one of the most distinctive resorts in Walt Disney World is the Animal Kingdom Lodge, which puts you right in the middle of all the action.
"What action?" You might ask. That would be the wild animals that are roaming right outside this resort's windows! In fact, the Savannah View rooms allow you to step out onto your balcony and be face-to-face with giraffes. They also overlook gazelles, zebras, ostriches, and more. It is an experience unlike any other. The first time we stayed here I was absolutely mind-blown by how cool it is to see the animals from your room.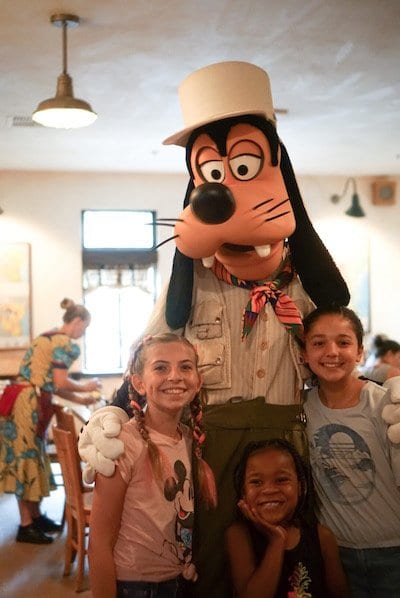 The standard rooms use colors and textures that reference The Lion King film, as well as other aesthetics that evoke images of Africa.
A downside to the Animal Kingdom Lodge is the location. There are only buses to the park, which may disappoint you or the little ones if they were hoping for some variety in transportation options. Additionally, the bus ride between the Animal Kingdom Lodge and the Magic Kingdom is approximately twenty minutes, which can seem like an eternity if your children (or you) are hot, tired, and cranky.
Luckily, there are plenty of great pools, like the Uzima Pool, to help them cool off. The 11,000-square-foot pool features a waterslide and zero-depth entry to mimic a natural shoreline. Small children and those less confident in the water can sit or walk along the edge without worrying about going too deep thanks to this gradual decline. The Samawati Pool is excellent too, offering two water slides, a water playground, a rope bridge, and water cannons.
Aside from the pools, there is the Hakuna Matata Playground and Pumba's Fun and Games Arcade where children can play, as well as recreational activities like painting classes, campfires, and movies under the stars on select days and times.
---
Frequently Asked Questions about the Best Disney Resorts for Kids
Which of these resorts are value and which are deluxe?
The Art of Animation is one of five value resorts at Disney World. The remainder are considered deluxe. 
Prices for all resorts vary depending on the time of booking, length of stay, and type of room. 
What additional activities can children do at the resorts? 
Across all resorts, there are campfire gatherings and arcades. There are also playgrounds at the Animal Kingdom Lodge, Art of Animation Resort, Caribbean Resort, and fourteen other Disney World locations.
Are there dining options for adults too?
The Yachtsman Steakhouse, located at the Yacht Club Resort, and California Grille, located Contemporary resort, are fine dining options designed with adult patrons in mind.
If you enjoyed our list of the best Disney Resorts for kids, you might also like:
50 UNBELIEVABLE DISNEY WORLD TIPS (YOU'LL ACTUALLY USE & LOVE)
THE BEST ANIMAL KINGDOM RESTAURANTS – DINE ON THE WILD SIDE!
OUR TOP FAVORITE 5 DISNEY WORLD GOOD NEIGHBOR HOTELS AND 4 REASONS TO STAY AT ONE
Pin for Later – The 5 Absolute Best Disney Resorts for Kids
Latest posts by Emily Myers
(see all)