If there was one favorite theme park my kids love to go to the most in Disney World, it is Animal Kingdom. So, we end up finding ourselves quite often at this park. You'll be surprised to find that Animal Kingdom not only has some amazing rides but also has some of the best restaurants in Disney World (including my personal favorite.)
The park celebrates a variety of global cultures, including Asian and African traditions. Lucky for us, it also features a number of restaurants that serve delicious ethnic dishes, great breakfast, lunch and dinner. So, let's check out the best Animal Kingdom Restaurants
---
Pandora Dining Options
Eating in Animal Kingdom is a great way to stray from the usual theme park food. Our family all agrees that Animal Kingdom has some of the best sit down options in all of Disney World. Each restaurant is so unique and offers a true experience. Heading to Pandora The World of Avatar there is only one restaurant in the land from Avatar. 
---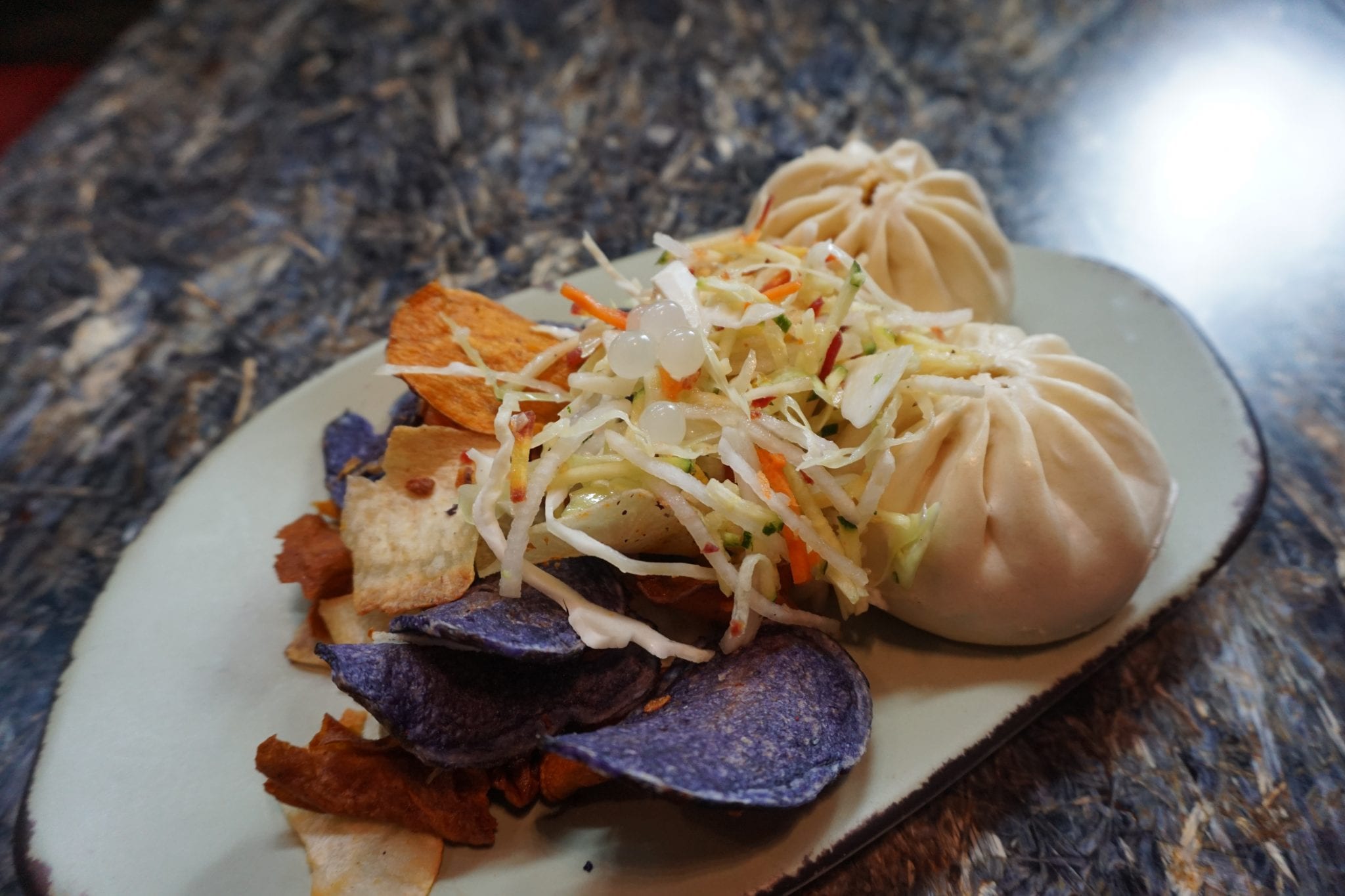 While Pandora mainly focuses on quick-service dining options, Satu'li at least gives you the vibe of a table service restaurant. You will order in a quick service line, and then find a seat in the beautiful Na'vi inspired dining room. Every time we eat here, it is such a peaceful experience.
We always end up relaxing here for a bit, even after our yummy food is all gone. The food is truly delicious, and it is of restaurant quality. You have to try the Chili-spiced crispy fried tofu bowl, and grab Pandoran Sunrise drink while you are at it!
I think the most popular dish, and my kids' favorite is the cheeseburger pods. Personally, for me, I love the delicious bowls you can create, think of Chipotle-style dining with a Na'vi twist.
Check out our How to Make Your Kids Glow at Pandora
---
Yak & Yeti

– Best Animal Kingdom Restaurants
I am going to be honest here, we did not visit the Yak & Yeti for years. The name (Yak Yeti local foods cafe) did not sound great to me and from the outside, it looks kind of meh. This last trip to Disney World, we decided to give this animal kingdom restaurant a shot, let me say this, it might be the best restaurant out of all 4 Disney Parks.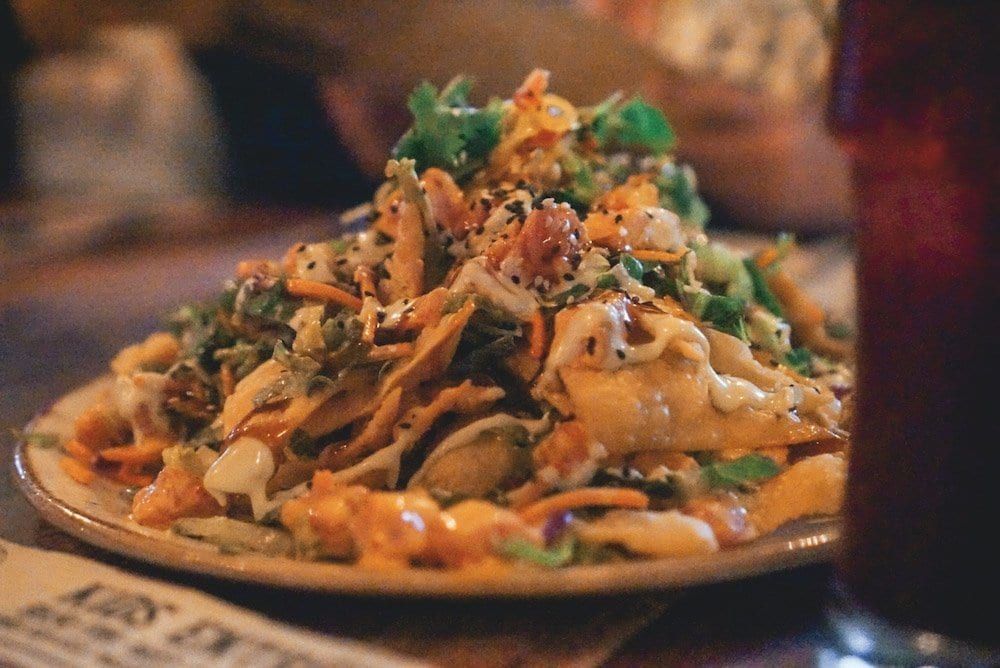 Yak & Yeti puts you in the setting of a restaurant owner who has collected treasures from all across Asia. Right off the bat, the food was amazing. For appetizers, we devoured the ahi nachos and the firecracker shrimp.
The menu is inspired by various regions of the continent. The entrees we loved the most were the Chicken Tikka Masala and the seared salmon. As for drinks, I think the Pink Himalayan was the hit. All of this incredible food was surrounded by an even more incredible decor.
If you have one place to dine in Disney World, I truly recommend Yak & Yeti as it is better than even some of my favorite Disney Springs restaurants and Magic Kingdom Restaurants
---
Tusker House Restaurant

– Best Animal Kingdom Restaurants – Character Dining
On your Disney Vacation you are bound to do a character breakfast. You will find the Tusker House Restaurant at Harambe Marketplace. This is one of the best character dining experiences, and you will get to meet Mickey, Donald Duck, and Daisy! Breakfast, lunch, and dinner are offered.
Tusker House is beautifully themed, and reminiscent of an open-air African bazaar.
The buffet-style meal includes specialties like peri-peri marinated salmon, stewed African vegetables, and curried rice. Enjoy your meal in one of several dining rooms featuring African artifacts. We make an effort to dine at Tusker House every time that we visit Disney World. Tusker is definitely worth making reservations for!
This past time we dined for breakfast and by far the hit was the bananas foster waffle. Otherwise, I would say I prefer to dine at this restaurant at dinner time as breakfast was your classic character dining food.
---
Restaurants on Discovery Island
Tiffins Restaurant made the list for best animal kingdom restaurants for adventure seekers and someone looking for a truly deluxe dining experience.
Tiffins is a signature dining spot, which means it counts as two table service points if you are on the disney dining plan. This globally-inspired space will make you feel like a world traveler, and they have got a menu to match.
This Animal Kingdom restaurant is definitely geared for more adventurous eaters as specialties include a whole-fried fish and charred fresh octopus paired.
The one dish you should definitely have is the South American chocolate ganache, oh sweet mama. There is a kid's menu available, also, for less adventurous young diners! Whether you want to eat at Tiffins for lunch or dinner, you should look into making reservations.
---
Situated next door to Tiffins Restaurant, the Nomad Lounge also celebrates global explorers. It is a comfortable, yet exotic setting. The lounge serves a variety of specialty cocktails, including the Guava Margarita and The Night Monkey. Say hello to some fun for mom and dad!
Small plates, such as tuna poke and chicken satay, are also available. Disney's Animal Kingdom is jam-packed full of activities, so it is nice to sit back and relax for a bit. Your dining plan will not be accepted here, which is very important to note.

---
Another amazing place that made our list for the best Animal Kingdom restaurants is, Pizzafari! Pizzafari is a colorful and spacious family-style dining restaurant. It is perfect for both small and large parties visiting the Animal Kingdom. Who doesn't love family dining?
At Pizzafari you'll receive enough pizza, chicken alfredo, Caesar salad, and baked ziti to share with everyone in the family. Pizzafari is also known for its miniature cannoli dessert plate. Lunch and dinner menus are available. You can make reservations for a sit-down meal at this safari-inspired restaurant, but keep in mind they offer quick service as well.
---
Rainforest Cafe, which is right at the entrance of Disney's Animal Kingdom, will truly transport you. The animatronic wildlife and fantastic theming make it feel like you are right in the middle of the jungle. Rainforest Cafe has an extensive menu. It includes everything from seasonal seafood dishes to pasta creations to sandwiches.
This makes it perfect for the whole family! Specialties include the Lava Nachos appetizer and the Jungle Steak and Shrimp plate. Breakfast, lunch, and dinner menus are available.
You should make reservations if you plan on dining here during your trip! This is also a great place to buy some wild animal souvenirs, as they have a cute gift shop connected to the restaurant.
If you don't have time to hit up Rainforest Cafe at Animal Kingdom make sure to check it out at Disney Springs, or their sister restaurant the T-Rex Restaurant at Disney Springs, it's highly recommended.
---
Quick Service Dining Options
There are several Animal Kingdom Quick Service Dining Spots – You can check out our full post here. on the best quick service restaurants in Animal Kingdom.
FLAME TREE BARBECUE – Quick and Delicious BBQ
Harambe Market – Mixture of cuisines from Short Rib to Tikka Masala
Kusafiri Coffee Shop and Bakery
Yak & Yeti Quick Cafes (Yeti Local Food Cafes)
Tamu Tamu Refreshments
Starbucks
There are also several carts where you can grab hot dogs and other quick bites.
---
Animal Kingdom Lodge Food
If you aren't planning on visiting the parks you can still enjoy some of the best animal kingdom restaurants without park admission. The Animal Kingdom Lodge (located very close to the park) has some of the best restaurants i have ever been to.
---
Dining at Boma-Flavors of Africa does not require park admission because it is at the Animal Kingdom Lodge Resort. This makes it a great dining option no matter what park you spent the rest of the day in. Boma, as the name suggests, is a buffet-style establishment influenced by the dishes of over 50 African countries.
Specialties include Tunisian couscous salad, seafood gumbo from Cote d'Ivoire, and South African corn and beef bobotie quiche. Breakfast and dinner menus are available. Buffets are very popular, so be sure to book reservations.
---
Sanaa – Best Restaurant at Animal Kingdom Lodge
I absolutely love Sanaa, it might be my favorite restaurant in all of Disney World. It is located in the Kidani Village of Animal Kingdom. The plates are incredible, you will enjoy some delicious Naan Break with incredible slow-cooked meat and vegetable dishes.
I can't help but eat too much when I am here as everything is ridiculously good. If you love Indian or East African Food this place is for you.
---
Special Dining Events at Disney's Animal Kingdom
Circle of Flavors is a family-friendly dining event. Because the Animal Kingdom is so different from other parks, it is the perfect spot to branch out from the typical restaurant experience. Your family will gather at the train station in Harambe for the first part of your culinary journey. You will then travel to Rafiki's Planet Watch and the Harambe marketplace for additional activities. Each stop features different foods, musical performances, characters, and themes. You must make reservations in advance for this event, and keep in mind park admission is required as well.
---
Rivers of Light is the nighttime spectacular at Disney's Animal Kingdom. We love doing dinner and a show at least once on our Disney trips, and so will you! You will enjoy a delicious meal at either Tusker House Restaurant or Tiffins Restaurant.
After that, you and your group will enjoy VIP seating for the evening's Rivers of Light event. All ages are welcome and an additional fee applies for this event. We strongly encourage making reservations in advance for this event.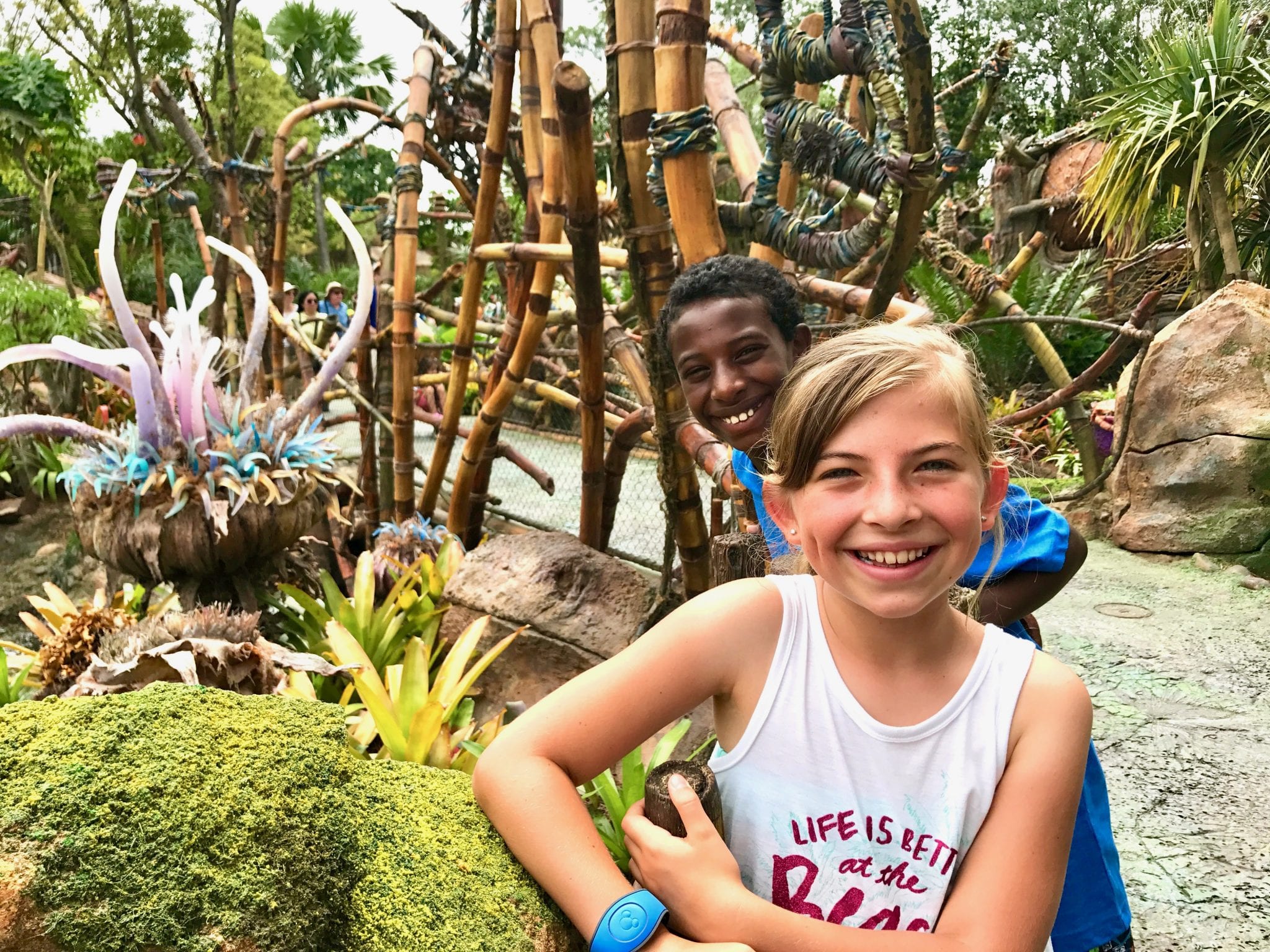 ---
Festival of the Lion King Signature Dining Package
Turns out, you do not have to go to New York to get a taste of Broadway. You can see the Festival of the Lion King, which is an amazing Broadway-style show, right in Animal Kingdom! Complete the experience by adding on this signature dining package.
You will be served 3 delicious courses, get VIP seating for the show, and you will get a special safari tour through the African outback. It is truly a special experience and will be so memorable for your entire family.
---
There You Have It, Our complete list of the Best Animal Kingdom Restaurants, if you have any questions feel free to leave one in the comments

.
Also, Check out All our Disney World Vacation Planning Tips and Guides here.
---
If you're confused about Walt Disney World dining, leave us a comment and be sure to check out our articles like;
DISNEYLAND DINING RESERVATIONS – 5 THINGS YOU SHOULD KNOW!
DISNEY WORLD TIPS & TRICKS [OVER 100 AMAZING MUST KNOW TIPS]
HOW TO CHOOSE THE BEST DISNEYLAND CHARACTER DINING FOR YOUR FAMILY.
---
Pin for Later – The Best Animal Kingdom Restaurants – Dine on the Wild Side!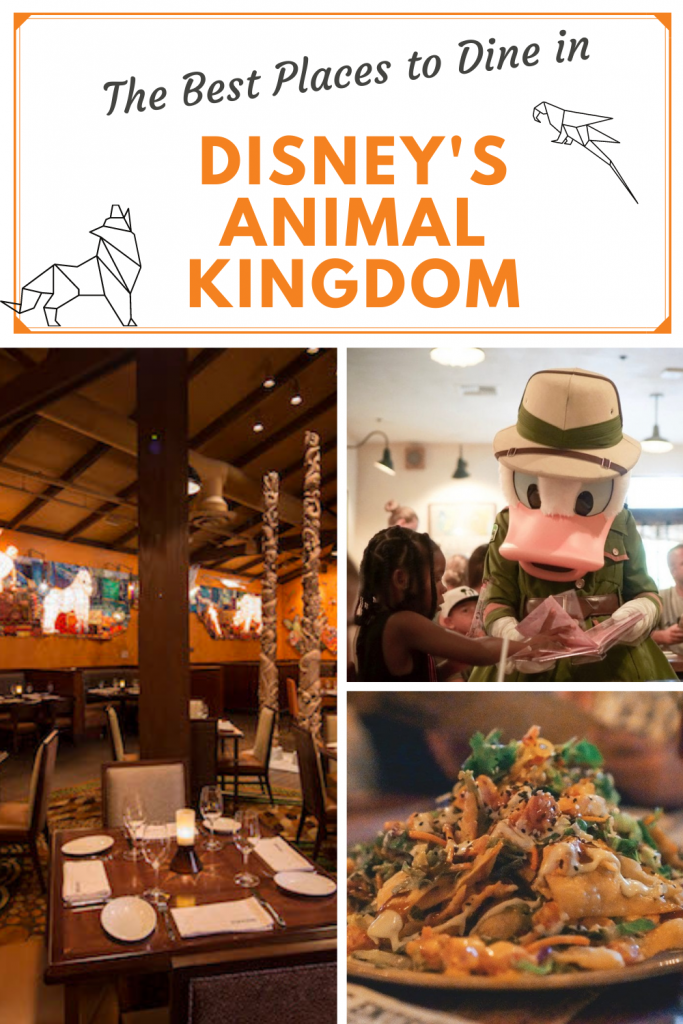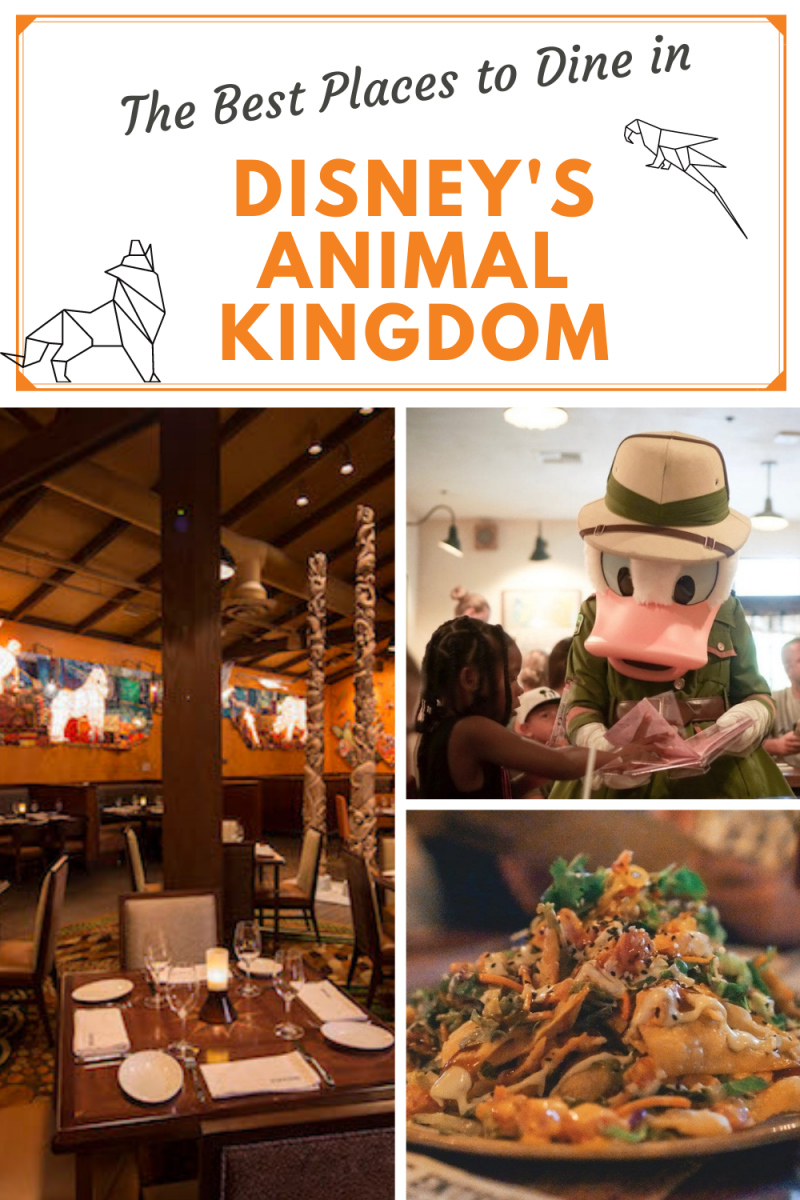 ---
If you enjoyed this article about the best Animal Kingdom Restaurants, you might enjoy:
THE BEST SUMMER DISNEY WORLD OUTFITS
AIRBNB DISNEY WORLD – 15 MAGICAL AIRBNBS NEAR DISNEY
EVERYTHING YOU'LL LOVE ABOUT THE DISNEY WORLD MONORAIL HOTELS
DISNEYLAND VS DISNEY WORLD! WHICH IS BEST FOR YOUR VACAY?
ULTIMATE DISNEY WORLD PACKING LIST [+ 12 UNIQUE ITEMS YOU MUST PACK]
---
Frequently Asked Questions about the Best Animal Kingdom Restaurants
Do they have breakfast at Animal Kingdom?
Yes, there are several options from quick service to sit down dining.
What is the best sit down restaurant at Animal Kingdom?
Yak & Yeti is a must visit. Their food is top notch.