Disney Springs has certainly changed over the past few years. Formally Downtown Disney, the complex has been completely revamped in recent years with theming reminiscent of Old Florida. After this revamp, we came to love spending a couple of evenings here on our trips to Disney World.
You are going to find the the Disney Spring restaurants have some of the best food in all of Disney World right here.
It is a great place to grab a bite to eat, especially with a big group. You'll discover the very best of Disney Springs dining in this guide. These are the places to go if you have got something to celebrate or want to sit down for a nice family gathering.
Whether you are looking for a counter service restaurant, sit-down, or even just a place to grab some craft beers or quick service, you will find it at Disney Springs!
Anything to make it easier for your family to plan your next Disney World vacation is something we think is well worth doing!
Disney Springs Restaurants with the Best Food & Ambience
This is arguably one of the most visually appealing restaurants at Disney Springs! On top of that, the Boathouse features a delicious menu. First off, the restaurant sits right next to the Amphibicar boarding area. Second, it boasts gleaming polished wood, nautical accents, and historical boating ads as artwork.
I love the open-air waterfront bar. The menu includes oysters on the half shell, swordfish steak, Boathouse pimento cheese, and Gibson's "Sandwich King" award-winning burger.
The Boathouse is a good option for big groups, especially if some of you want seafood. This is because while the seafood is delicious, you will find they also offer plenty of other options.
---
The Edison is impossibly cool. You will feel like you have just walked into a 1920s speakeasy with the steampunk theming. The food menu includes specialties like Electri-Fries with Edison special sauce, the Tesla shrimp Cobb salad, and the "Mile High" chocolate cake.
Not surprisingly, the drink menu is where the establishment really shines. They have seasonal cocktails, like the bourbon-based Leather & Tweed.
You should check out their regular offerings, like the Gimlet as well. Mixologists handcraft these drinks to perfection. I recommend you make reservations for this location.
---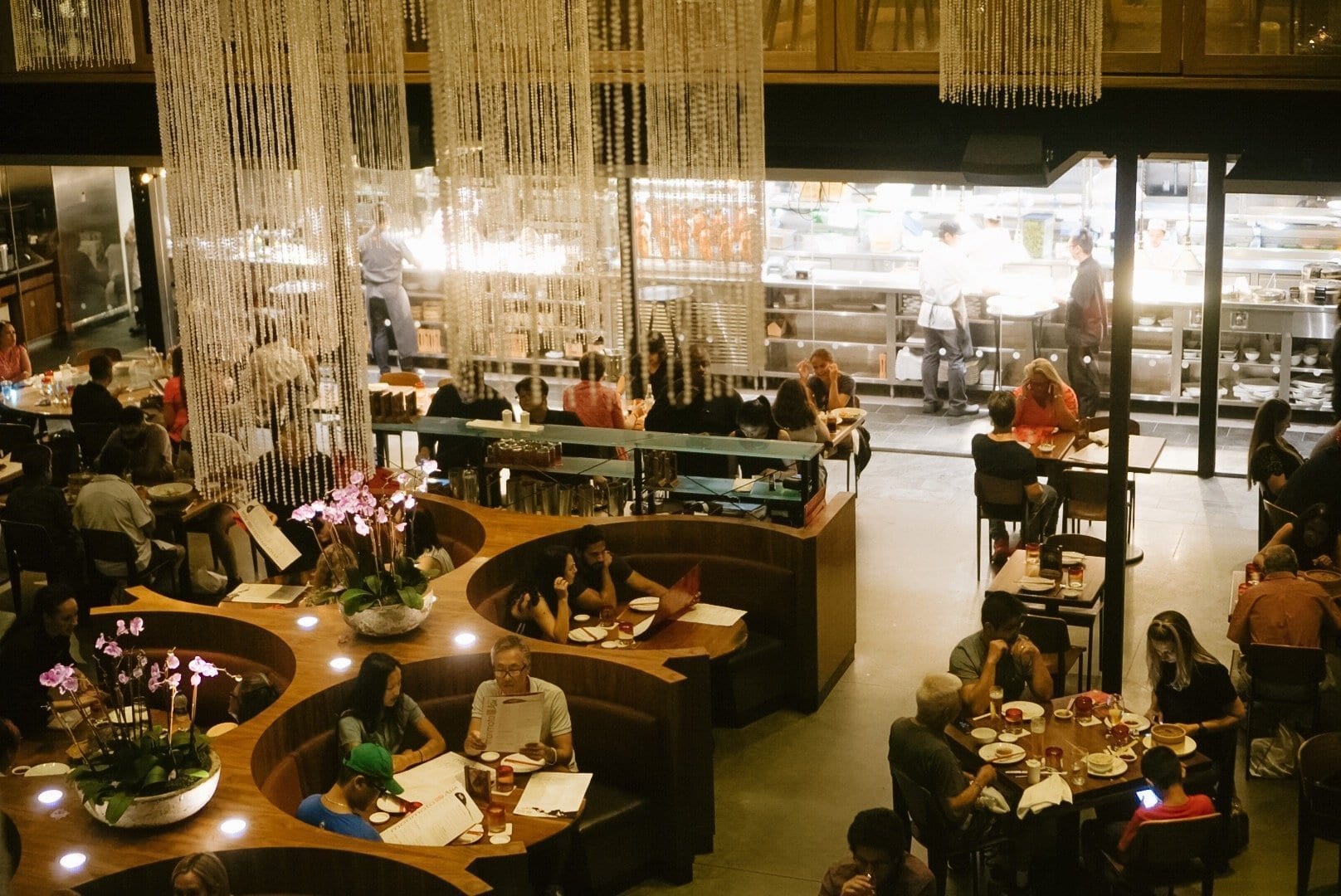 Morimoto Asia might be the best Disney Springs restaurant of them all. Morimoto is the brainchild of Iron Chef America star Chef Morimoto.
It is a sleek, modern space featuring clean lines and huge, sparkling windows. This Disney Spring restaurant's menu pays homage to a number of Asian nations.
It includes everything from sushi, portobello mushroom fries, Kung Pao chicken dumplings, Morimoto poke salad, and garlic miso vegetable ramen. Asian-inspired cocktails, sake, and beer are also available. If this is at the top of your list, be sure to make reservations.
---
Frontera Cocina is the Disney Springs Restaurant if you are looking for some incredible Mexican food and drinks. Their margaritas are simply the best I have ever had.
When it comes to the food, you certainly will not be disappointed. The ceviche is out of this world, and the endless list of entrees are exceptional.
---
Comfort Food in Disney Springs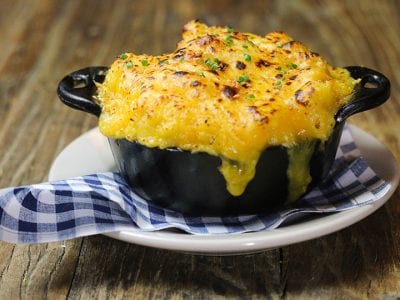 Homecomin' takes pride in using locally grown farm-to-table ingredients. They have created a menu filled with Floridian and Southern specialties. On an equally important note, it is a very comfortable spot to dine.
Their comfort food options include "Church Lady Deviled Eggs," the "Key West Shrimp Cocktail," the chopped pork barbeque plate, and fried chicken salad. Celebrity chef Art Smith oversees the menu options.
This means you can't go wrong with Homecomin' for Sunday brunch or a casual dinner any night of the week. Be sure to make reservations, especially when traveling with a group.
---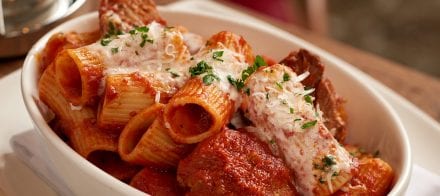 If you're craving authentic Italian fare, you can't go wrong with Maria & Enzo's. This trattoria has been designed to honor the golden age of air travel. It has a luxurious feel while still being comfortable.
This is a great place to dine whether it is for a special date night or an evening out with the whole family.
They serve specialties like arancini and calamari that are sure to delight. If you're interested in a more secluded meal, check out Enzo's Hideaway tucked away in the restaurant's basement.
It the coolest restaurant secret in Disney Springs. If you fancy some delicious Italian, I recommend making reservations.
---
Where to Grab a Drink + a Bite
Dockside Margaritas is designed to look like a Florida roadside fruit stand in the 1960s. With a chill vibe, frequent live music, and an enviable spot next to Buena Vista cove, this is the perfect spot to grab a drink and relax awhile.
The menu includes classic lime margaritas, unique options like the habanero pepper margarita, and several seasonal beers on draft. It is a great way to relax after a long day at any Disney World park.
---
House of Blues is a tried-and-true favorite for live music junkies. The Disney location features the same great bands, delicious menu, and super-cool-yet-relaxed ambiance that the chain has become famous for. The menu includes "Carolina Mess" fries, which are topped with brown gravy, pickled jalapenos, and plenty of cheese.
Another favorite is their BBQ chicken on a fresh salad. If you are feeling hungry be sure to check out the racks of baby back ribs or the "Juicy Lucy" burger.
A wide variety of cocktails, wines, and beers are also available. You should make reservations if you plan on going to the House of Blues during popular dining hours.
---
If you love Irish pubs, Raglan Road is the place for you! Their menu includes traditional beer-battered fish and chips, bread and butter pudding, and a variety of burgers and salads.
The whole family will love Raglan Road's casual, fun atmosphere. This Disney Springs restaurant features authentic theming.
There is also a daily 90-minute live performance entitled The Rhythms of Raglan. During the show diners can enjoy Celtic dancers, great music, and spectacular costumes. Reservations are recommended for this location.
---
Disney Spring Restaurants for a Date Night
A highly-touted establishment, Wine Bar George has over 130 wine offerings from around the world. The on-staff sommeliers choose options from both famed wineries and newcomers, ensuring there is truly something for everyone (and every budget!) on the menu.
Not only do they have an extensive wine selection, but they offer a number of small plates. The hummus with naan bread and house-made meatballs are popular favorites. You can make reservations here, but don't hesitate to stop in for a tasting if you're in the area!
---
Far, Far Away from Theme Park Food
Paddlefish is on the list of Orlando Magazine's "Best Seafood Restaurant" of 2018. It is located in the Lake Buena Vista riverboat. The tastefully designed space boasts a large menu, including specialties like lobster guacamole made at your table.
On top of that, they have crab cakes, lobster corn dogs, New England clam chowder, and Alaskan king crab. Of course, the dessert menu is also exceptional, showcasing a brownie milkshake and key lime pie. You will feel far away from the world of typical theme park food, and it will be oh so good.
---
Jaleo had its grand opening in early 2019 and is one of the newest additions to Disney Springs. The menu at this colorful, family-friendly establishment features authentic Spanish fare.
I love that it includes lots of small plates to share. Start your dining journey at Jaleo with pan de cristal con tomate (unique, airy bread brushed with fresh tomato) or one of seven queso options.
But wait there is more! The Chef's Tasting Menu features some of Jose's favorite dishes. You can also create your own meal from a massive selection of tacos, salads, meats, and sides. A full bar and a children's menu are also available. Be sure to make a reservation if you would like to dine at Jaleo.
---
Quick Disney Springs Restaurants for Kids & Families
Blaze Pizza
We probably hit up Blaze Pizza at least one time on our visit to Disney World. It is simple, super fast and pretty delicious. Yes, it is a chain, but sometimes you just need something that is easy and you know will be good. The pizza gets cooked in about 5 minutes and the kids love to make their own creations.
---
D-Luxe Burger
D-Luxe Burger is another great place to grab a bite to eat with the family. There are numerous burgers to choose from, even some breakfast burger options. Don't fill up on burgers though because, in my opinion, their shakes are incredibly delicious.
---
Disney Springs Sit Down Restaurants with Entertainment
T-Rex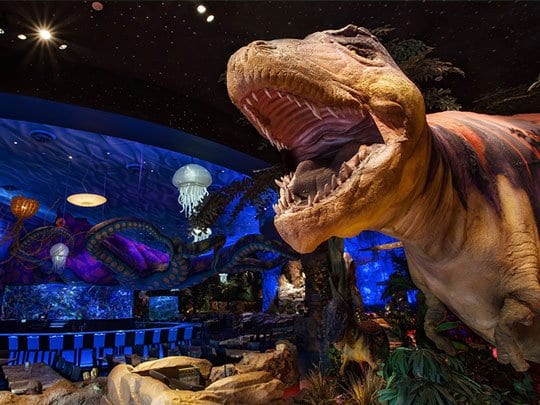 The T-Rex restaurant is a spinoff of the Rainforest Cafe's you probably have come across. This is an incredibly decorated restaurant with dinosaurs that roar, a dino dig to entertain the little ones while you wait to check in and some food that I have to say is pretty darn delicious. There are several different themed rooms. My personal favorite is the ice age room with the Wooly Mammoth.
---
Splitsville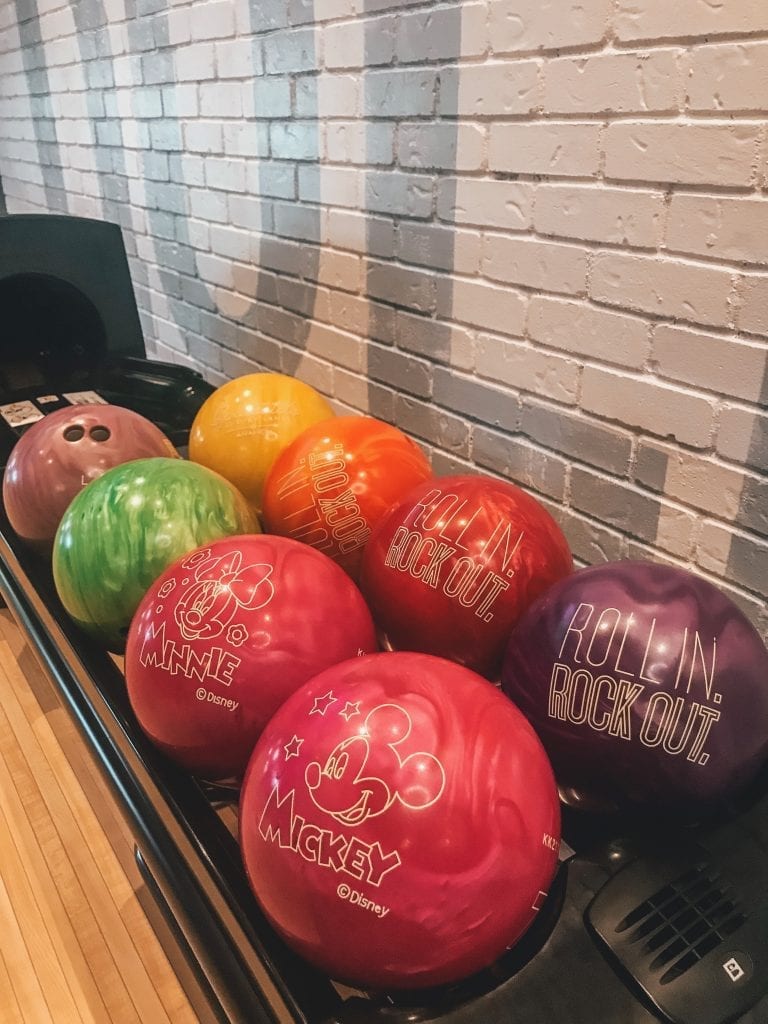 Sitting at dinner is never fun for kids, but at Splitsville it will be. At Splitsville, you can enjoy dinner and bowling.
The rooms are pretty amazing, you can be setup in your own private bowling area, or share with others. Their menu has a wide variety of options from pizza to sushi, so bring your appetite and your best bowling attire. This place truly is a ton of fun.
---
Disney Springs Delicious Treats
How could we pass up on delicious sweet treats. We definitely saved the best for last. There are some incredible places to grab dessert at Disney Springs.
---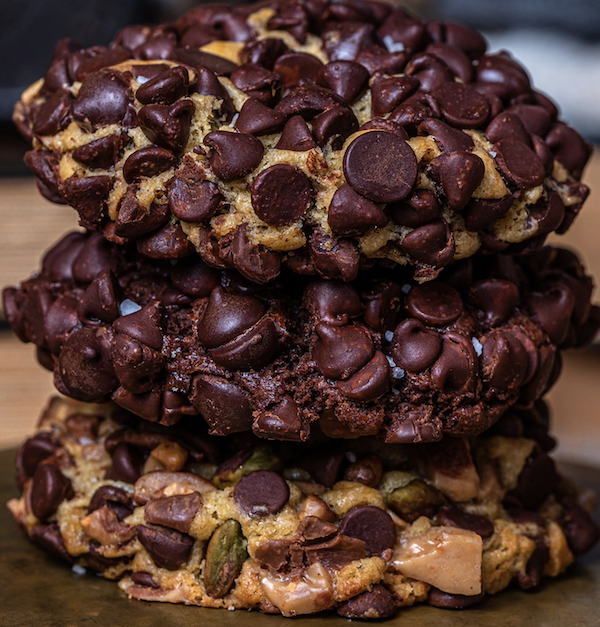 Gideon's Bakehouse is simply incredible. You will find their famous "almost half pound" cookies that take over 24 hours to create. Prepare to experience flavors ranging from their celebrated Original Chocolate Chip to addicting Pistachio Toffee.
People do line up for these amazing cookies so be prepared for a bit of a wait.
---
Sprinkles Cupcake ATM
Have you ever been in need of instant cupcakes? I think we all have. Well, have no fear cause at Disney Springs, you can grab a delicious cupcake at the Sprinkles ATM. This adorable ATM allows you to order your favorite cupcake with a few taps on their integrated tablet.
If you want to see all the delicious cupcakes, you could go inside the Sprinkles store, but my daughter insists the ATM is the only way to go.
---
Amorette's Patisserie is a must-try for anyone with a sweet tooth! It is modeled after sophisticated bakeries in New York City. The establishment serves a variety of delicious treats, including lots of limited-time Disney Specialties.
For example, a one-day Monsters' Inc. cupcake was available on February 3, 2019, in honor of "Code 2319! Throughout the new Wanda Vision series on Disney +, there would be a new Wanda Vision dessert.
Regular menu items include New York style cheesecake and a variety of character cakes that feature Mickey Mouse, Minnie Mouse, and Donald Duck.
---
One of the must-visit destinations at Disney Springs is the Ghirardelli Soda Fountain and Chocolate Shop. This iconic chocolate shop has been a fixture at Disney Springs for many years and is a favorite among visitors.
The shop offers a wide range of chocolate treats, including milkshakes, sundaes, and chocolate-covered strawberries.
---
Secret Tips for getting Disney Springs Restaurant Reservations
Most people don't know this but there are actually two ways to snag a Disney Springs Restaurant dining reservations.
---
My Disney Experience App
The most common way is the My Disney Experience App. Reservations open up 180 days in advance so plan to book early. You will find reservations get booked up the quickest
---
The Secret Reservation App that Most People Don't Notice
One of the things I discovered on our last trip was that on the Frontera Cocina website they had a spot to make a reservation via Open Table. So I checked out Open Table and sure enough 20 other Disney Springs Restaurants also were available to book.
It is so unknown that often times you can book a reservation for the same day, which is nearly impossible at DIsney World.
---
Map of the Best Disney Springs Restaurants
---
Pin-It for later: Ultimate Guide for Disney Springs Restaurants
---
If you have any questions about planning your Disney World trip, please reach out in the comments! You may also want to check out these articles.
Disney World Tips and Tricks [Over 100 Amazing Must Know Tips]
7 Reasons Why a Disney Travel Agent Will Make Your Trip 100% Better
Discount Disney Tickets- Disney World Tickets on the Cheap
---
Frequently Asked Questions about Disney Springs Restaurants
Do you need a Reservation for Disney Springs Restaurants?
Most Restaurants do require a reservation. Check the Disney World App to book a reservation and some restaurants do take Open Table
Is it Free to visit Disney Springs?
Yes, it is free to visit Disney Springs. Even parking is Free
How do i Book a Reservation at a Disney Springs Restaurant
Log into your My Disney Experience account and under the Things to Do tab, click Make Reservations under Dining.
You can also check Open Table for some Dining Reservations
What are the best restaurants at Disney Springs?
The BOATHOUSE
Chef Art Smith's Homecomin'
The Edison
Enzo's Hideaway
Frontera Cocina
Morimoto