Epcot boasts some of the best restaurants in all of Walt Disney World making it one of my favorite parks, obviously. I mean what is better than delicious food and a thrilling theme park all in one! Disney's Epcot is not only a celebration of science and technology but of cultures around the world. Because of this, you can experience a wide array of international cuisines without ever leaving park property!
If your family is planning a trip to Epcot soon, you'll enjoy this guide, which will take you on a whirlwind tour of Epcot's best dining experiences. We have broken it up by the best restaurant in each World Showcase Country so you can find exactly what you're looking for. If you are looking for Epcot's Best Quick Bites, check out my article here)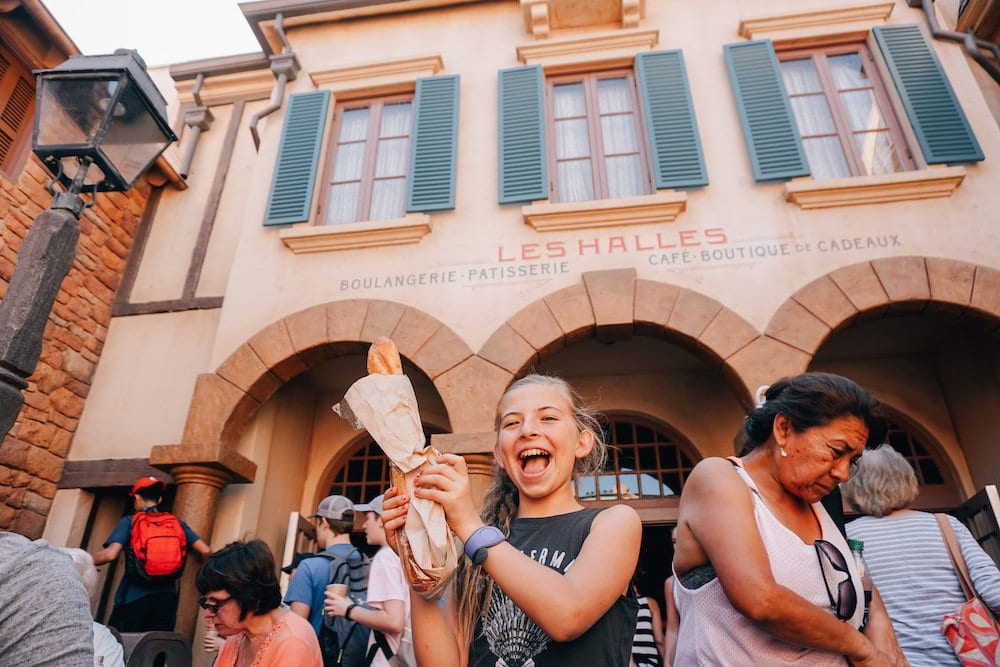 Best Fine Dining
Canada- Le Cellier Steakhouse
Le Cellier offers guests the chance to enjoy world-class fare in the cellar of a Canadian-inspired chateau. With delectable food, including filet mignon served with wild mushroom risotto and drizzled with truffle butter sauce, you are sure to be impressed. Of course, the menu includes a signature poutine dish. This is a popular "loaded fry" dish that Canada is well known for.The restaurant also offers a carefully curated wine menu. I do recommend making a reservation for this restaurant. Take a look at their menu here!
Best Character Dining – Akershus Royal Banquet Hall
This is actually my favorite place to take my daughters for a princess breakfast. Akershus is themed like a medieval castle and offers breakfast, lunch, and dinner character meals among beloved Disney princesses. Ariel, Aurora, Belle, Cinderella, and Snow White are frequently in attendance. Thus, it is the perfect dining experience for your own favorite little princess. Menu options include Norwegian specialties, such as dilled salmon gravlax and Jarlsberg cheese for breakfast.
You can enjoy a Flyt cheese and spinach stuffed pasta drizzled with balsamic glaze for lunch or dinner. A children's menu featuring grilled chicken and other American fare is also available. You will definitely want to make reservations in advance, and in the meantime here's more info!
The Best Place to Grab a Brat & a Brew – Biergarten Restaurant – Germany
If you would like to experience Oktoberfest year round, I suggest you make your way to the Biergarten Restaurant. It was one of the best restaurant experiences in Epcot if you love a feast. They will serve everything to you in a communal buffet style, so there is plenty to go around. Keep in mind, There is a dance floor for when you get a few beers in you! Learn more about Biergarten Restaurant.
A Taste of China
Nine Dragons Restaurant – With a menu inspired by various regions of China, Nine Dragons offers a beautiful experience, with carved wood accents and gorgeous Chinese lanterns throughout the establishment. Lunch and dinner are available, with specialties including pork belly bao buns, typhoon shelter shrimp, and Canton pepper beef. Don't forget a slice of Chinese ginger cake for dessert! Again, you will want to look into making reservations. Here's a look at the menu.
Best Family French Restaurant – Chefs De France
Paris is truly one of the most magical cities, so I love that Chefs De France does such an amazing job of transporting you there. Their food, of course, is what makes this place so great. However, it is also the atmosphere and the fact that they provide such a unique dining experience. Their menu is always rotating but if they are offering onion soup, do not pass it up! More about Chefs De France here!
Best Gourmet French Restaurant – Monsieur Paul
They would not be doing France justice in the World Showcase without at least having two incredible restaurants. Monsieur Paul serves delicious gourmet French cuisine and has a great setting for special occasions. You should make reservations in advance to ensure a spot at their tables, and keep in mind there is also a dress code. Find out more here.
Best Place for Fish & Chips – Rose & Crown Dining Room
Rose & Crown is modeled after a traditional English pub, with comfortable seating for the whole family. The restaurant also features an outdoor patio where your party can dine overlooking Epcot's lagoon.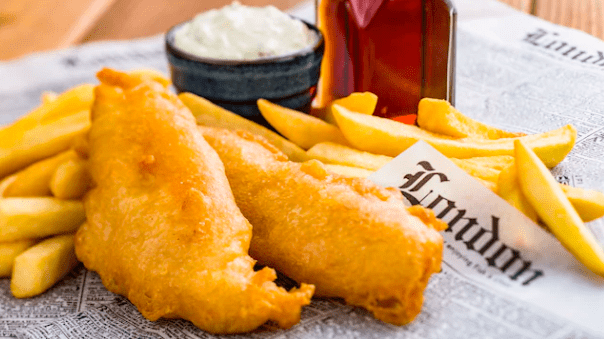 Meal options include British fare, such as chips & fish and bangers & mash, in addition to a full children's menu. You can also enjoy scrumptious desserts, including the restaurant's specialty, toffee pudding! Guests over age 21 can also enjoy the attached Rose & Crown Pub. See what they serve besides fish & chips!
Best Mexican Restaurant
San Angel Inn Restaurante
–
Situated inside of the Mexico pavilion's Mayan pyramid, San Angel Inn has gorgeous theming under a starlit "sky." The establishment offers lunch and dinner, with menu specialties including Sopa Azteca, a traditional tortilla soup with avocado and cheese, Chile Relleno, featuring pulled pork, pine nuts, and almonds stuffed in a poblano pepper, and the catch of the day, always served fresh on a bed of roasted potatoes with cilantro-lime and Veracruzana sauce. Traditional Mexican dessert offerings and a full bar are also available. Reservations are recommended for this location. Here are further details!
Best Place for Tapas – Spice Road Table Morrocco
Influenced by Morocco's seaside restaurants, Spice Road Table features a variety of Mediterranean-inspired small plates you can share with your entire group. Specialties include brioche and beef sliders, yellowfin tuna served with a medley of fresh vegetables, and beef and chicken skewers alongside perfectly roasted potatoes. If you're looking for an amazing dinner experience, Spice Road Table's outdoor dining area is the perfect place to watch Epcot's nighttime spectacular over the lagoon. Reservations are recommended for this location. Find out more here.
Japan's Unbeatable Hibachi – Teppan Edo
Teppan Edo is my kids favorite Epcot restaurant. It is a traditional Japanese hibachi restaurant with a sleek, modern feel. Your chef will make your meal directly in front of you in the Teppan-yaki style! This is a fun dining experience for the whole family and you can customize each meal to suit different diners' tastes. We have had our waiters make a wide variety of things but the best was an Olaf out of onions.
In addition to the grill menu, Teppan Edo offers a variety of sushi rolls and sides. Guests over age 21 can also choose from a selection of Japanese beer, sake, and sake-based cocktails. Reservations are recommended for this location. See what's on the unbeatable menu!
Best Epcot Restaurant in Italy
Via Napoli Ristorante e Pizzeria – Overlooking the plaza in the Italy pavilion, Via Napoli offers a menu influenced by the culinary delights of Southern Italy. With appetizers like fried risotto balls and prosciutto e melone and entrees including wood-fired pizzas and lasagna napoletana, you can't go wrong with this family-friendly establishment! A wonderful wine menu is available for guests 21 and over. Be sure to make your dining reservations in advance. Here are further details.
Future World Grub –
Garden Grill Restaurant
–
This character dining buffet restaurant features revolving seasonal breakfast, lunch, and dinner menus of primarily locally sourced foods. Standards include Mickey-shaped waffles for breakfast and sweet potato sticks with macaroni and cheese for little ones. Chip and Dale, along with Pluto and other famous friends, visit guests' tables during their meals. The Garden Grill dining area slowly rotates, giving diners the chance to enjoy various murals, a farmhouse, a thunderstorm, and a rainforest. Reservations are recommended for this location. Here's the menu!
Best Underwater Dining – Coral Reef Restaurant-
This restaurant has quite the theme, dining under the sea certainly is not too shabby. Inside the Coral Reef Restaurant, you will be surrounded with views of a living coral reef. Keep your eyes peeled, you might even see a scuba diver! Their menu changes seasonally, but you can always count on it being delicious. Check out the cool views you'll have if you book here!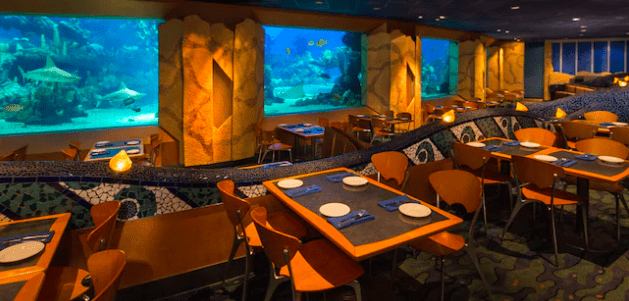 Now that you've had a glimpse into the wide variety of restaurant options that are available to you at Epcot, it's time to begin planning your meals! Don't forget to check out special events like the Frozen Ever After Dessert Party and limited-time options during the Festival of the Arts, Flower and Garden Festival, and Food and Wine Festival.
If you need help planning and booking your magical Walt Disney World vacation, contact our friends at Tink's Magical Vacations. They are truly Disney Experts, and not only are their services FREE, but they will save you both time and money.
Still trying to decide what to eat in the other parks?
Check out these articles;
Try the Grey Stuff It's Delicious- 7 Best Magic Kingdom Restaurants
Live It Up with the Best Hollywood Studios Restaurants