As a mom of six, traveling with my family is both exciting and challenging. One of the biggest hurdles we face is finding affordable flights that fit within our budget.
Luckily for us, my Husband is a pro when it comes to finding the best cheap flight hacks out there!
Over the years, he has learned several cheap flight hacks that have helped us score incredible deals on airline tickets. That said, below, we are sharing some of our top tips and tricks for finding cheap flight deals that every traveling person should know.
---
Our Best Cheap Flight Hacks
Finding the cheapest flights requires a bit of research and planning, but the savings are well worth the effort. By following these cheap flight hacks, you'll be well on your way to securing budget-friendly airline tickets for your next family adventure.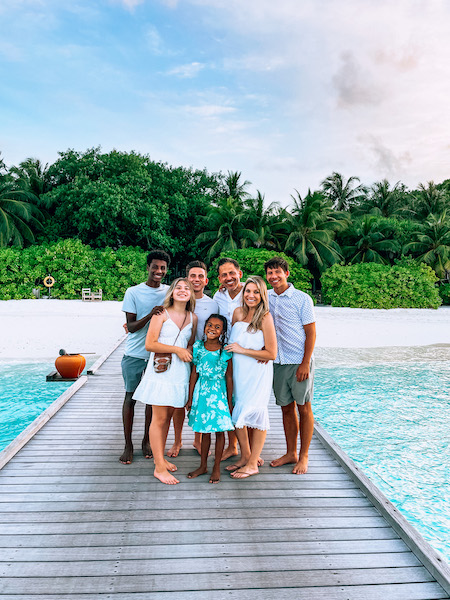 ---
Be Flexible
When it comes to finding cheap flights, flexibility is key. Avoiding peak travel seasons and being open to flying on weekdays instead of weekends can make a significant difference in flight prices. By adjusting your travel dates by a few days, you might be surprised by the savings you can achieve.
---
Use Price Comparison Websites
Flight search engines like Google Flights have become my go-to tool for finding the best flight prices. Google Flights allows you to search multiple airports at once and provides various filters to refine your search based on preferences such as non-stop flights or specific departure times.
It's an excellent resource for comparing prices across different airlines and finding the most affordable options.
---
Set Up Price Alerts
Many airlines and travel websites, including Google Flights, offer the option to set up price alerts. By enabling these alerts, you'll receive notifications whenever there's a drop in flight prices for your selected routes.
This feature allows you to track flight prices over time and grab the best deals when they become available.
---
Look for Price Guaranteed Flights
Keep an eye out for flights on Google Flights that have a price guaranteed symbol. This means that if the price of the flight drops after you book, you'll be refunded the difference.
It's a great way to protect yourself from potential price decreases and ensure you're getting the best possible deal.
---
Leave the Destination Empty on your Search
Sometimes you might know when you want to travel but not where you want to go. In such cases, you can use a unique feature on Google Flights.
By leaving the destination field empty, Google Flights generates a map that displays all the destinations around the world and their corresponding prices. You might be surprised to find that flying to Europe could be cheaper than domestic flights within the United States.
---
Utilize Airline Points
If you've accumulated airline points through loyalty programs or credit card rewards, you can maximize their value by using sites like points.me.
These platforms provide information on the cheapest flights available using points, helping you stretch your rewards to cover more of your travel expenses.
---
Consider Alternative Airports
When searching for cheap flight tickets, it's worth exploring nearby airports as well. Sometimes, flying in or out of smaller or less popular airports can result in significant savings.
Check if there are alternative airports within a reasonable distance from your origin or destination and compare prices to find the most affordable options.
---
Take Advantage of Secret Flying Deals
Secret Flying is a website that specializes in finding mistake fares, hidden deals, and other discounted flights. They scour the internet for airline pricing errors and promotions, allowing you to snag unbelievable flight deals.
Keep an eye on their website or sign up for their email alerts to stay informed about the latest offers.
---
Opt for the Cheapest Month to Fly
If your travel plans are flexible, consider choosing the cheapest month to fly to your desired destination. Flight prices can fluctuate throughout the year, with certain months offering lower fares due to factors like low travel demand or off-peak seasons.
Use Google Flights or other flight search engines to explore the prices across different months and plan your trip accordingly.
---
Maximize Credit Card Perks
Many credit cards offer travel rewards, such as airline miles, cashback on travel purchases, or access to airport lounges. Research credit card options that align with your travel goals and apply for ones that provide the most value for your needs.
By using a travel rewards credit card for your flight bookings and other travel-related expenses, you can accumulate points or miles that can be redeemed for future flights, hotel stays, or other travel perks.
---
Be Patient and Diligent in your Search
Finding the best cheap flight deals requires patience and persistence. Prices can fluctuate frequently, so it's essential to keep checking flight search engines and monitoring price trends.
Don't rush into booking the first deal you come across. Take your time, compare different options, and wait for the opportune moment to book when the prices align with your budget.
---
Additional Tips on Cheap Flight Hacks
It's important to note that while these strategies can help you find great deals, it's essential to consider other factors such as foreign transaction fees, baggage policies, and overall travel convenience when making your final decision.
Additionally, keep in mind that budget airlines often offer cheaper flights, but they may have limited amenities and additional fees, so it's important to weigh the pros and cons.
---
The Overall – Best Cheap Flight Hacks
Overall, when it comes to booking affordable flights, being flexible with your travel dates, using price comparison websites like Google Flights, setting up price alerts, and considering destinations based on their prices are some of the most effective strategies.
Don't forget to explore options for utilizing airline points and always keep an eye out for the cheapest days to fly. With these cheap flight hacks in your arsenal, you'll be well-equipped to find the best deals and make the most of your family's travel experiences.
Happy travels!
---
Frequently Asked Questions about Cheap Flight Hacks
What is the best flight booking hack?
The best flight booking hack is to be flexible with your travel dates and destinations. By being open to different options, you can take advantage of lower fares and better deals.
Which is the best way to book cheap flight tickets?
The best way to book cheap flight tickets is to be flexible with your travel dates and destinations. Searching for flights on different dates or during off-peak times can often lead to lower fares.
Utilizing price comparison websites and setting up price alerts can help you track and snag the best deals available.
---
Pin-it for Later: Cheap Flight Hacks