Just like other Florida beach cities, like Ft. Lauderdale,when visiting Naples Florida, the possibilities are endless due to all the fun kid-friendly activities. There are various interactive museums, water fun, parks, and more. Naples is one of the Sunshine State's desirable vacation destinations.
For those trying to find an almost sunny place year-round, Naples Florida is the place to visit, this makes a beach vacation possible every day. The clear water of the Gulf of Mexico and the white sugar soft sand make Naples Beaches top-rated throughout the state
Why You Should Go
Located on 170 acres, this world-class garden features dozens of themed gardens that are from various areas of the tropics and subtropics. It also has 90 acres of walking trails that offer educational entertainment for all ages.
It's a great relaxation day to enjoy the beautiful weather for parents and allow the kids to take in the scenery, follow the pathways, and view the native wildlife that is often seen throughout the garden areas.
There are activities for everyone no matter their age. Each month they have various activities and themes located throughout the garden to entertain, teach, and observe. On some days they even allow dog walking, it's a great way to enjoy the day with your kids.
Why You Should Go
The Naples Zoo is one of the city's most loved attractions and gets visitors from around the country. Since 1969, the zoo has been a fan favorite and features dozens of species and opportunities for all ages.
Kids can enjoy seeing their favorite animals such as lions, monkeys, giraffes, and more. Featured at the zoo is also a 20-minute boat cruise that goes through islands of primates living in a natural habitat such as monkeys, lemurs, and apes.
Throughout the zoo and gardens, there are dozens of learning opportunities and staff members that do shows, meet and greets, and educational programs.
Why You Should Go
For those hot summer days, there is nothing better than spending the day at the waterpark with your family. Located in downtown Naples, the waterpark features over 1 million gallons of water. The waterpark features water slides, a lazy river, pools, a kids splash playground, and more.
Why You Should Go
This family-friendly museum allows people of all ages to experience STEAM-powered activities and events. It features a range of activities that are meant to get the brain moving and encourage various learning opportunities.
The museum features different areas for kids of all ages. For example, kids 8-14 have a private space where they are able to use computers, use different equipment like sewing machines, and have various experiences.
Throughout each month there are different events and activities for all age groups to enjoy and interact with their own age groups. It's a place where every visitor will find something of their own to do and enjoy.
Manatee Sightseeing & Wildlife Adventures
Naples Florida is a beautiful habitat for natural wildlife and has unique ecosystems that can't be seen without these professional charters. Southwest Florida is home to one of the largest concentrations in North America, Naples is also the only place in Florida where manatees are found year-round.
Take a day and enjoy the Gulf Of Mexico water and view manatees and other wildlife native to the area such as birds, sharks, alligators, and more in their natural habitat. They offer various tours and different charters that are suitable for all ages. They use eco-tours that leave daily and are very informative for everyone.
The bird gardens is a conservation organization and nonprofit that is dedicated to protecting parrots that are in captivity. It's a great place to bring children to learn about exotic birds and have the opportunity to interact with over 100 different species from around the world. During your visit, you get the opportunity to visit through miles of trails and different natural habitats.
Why You Should Go
Created in 2001, this nonprofit organization provides a safe way to view wildlife in a controlled environment, allowing people of all ages to interact with dozens of exotic wildlife. This organization cares for exotic animals that were purchased and can no longer be cared for or survive in the wild.
This is a great place for children of all ages to enjoy and spend the day learning about various species such as goats, jaguars, big cats, and more. The staff is extremely knowledgeable and can answer any questions you may have. They also provide tours and explain various things seen at the preserve.
Sudgen Regional Park
One of the only freshwater beaches is Sudgen Regional Park located in Collier County. This park is great for all ages and provides various outdoor activities throughout the year. It's one of the most popular parks throughout the summer and is known for its 4th of July Celebration.
The park itself features a 60-acre lake, beaches, and walking paths. Throughout the year the park offers water skiing and sailing classes and various events each month. For families, it has tons of activities and areas to enjoy summertime. They provide picnic spots, paved paths, and different sports equipment.
Cambier Park
Why You Should Go
Located on 12.84 acres, this park is located in downtown, Naples. Parks are one of the best things to do in Naples due to how many there are and they are free admission! On rest days or days where you need a break, taking your kids to Cambier Park gives you a chance to relax while the children play.
Cambier Park is famously known for their castle-like playground. It features designated sections for all ages, shaded picnic areas, and more. The park has facilities such as shuffleboard courts, basketball courts, baseball fields, and more.
Why You Should Go
If your kids love wildlife, one of the best activities is going on a dolphin-watching tour. This tour takes you around Marco Island and lets you see the dolphins in their natural habitat. They have been operating for over 30 years and have various tours to meet each family's needs.
The tours are daily and have different times to fit every schedule. Along with the boat tour, they also offer a secluded beach option. This is a better hands-on option and allows you to get off the boat and search for shells while watching the dolphins.
Why You Should Go
Located between Naples and Marco Island, this island is only accessible by boat and features beautiful untouched white sandy beaches, and is the only pet-friendly beach. The water shuttle departs seven times a day and has boat rentals available to enjoy your own private tour.
This island is great for those who want their own private access to a beach and family time. While visiting, chances are you will be able to see Florida's beautiful native wildlife. It's a nesting ground for sea turtles and other animals that your children would love to see.
This learning center stretches across 110,000 acres of mangrove forest, and protected waters, and the reserve is committed to preserving the area using research, education, and land protection. It's a great way to view tropical birds, and native Florida animals, and enjoy the scenery.
For kids, they have a learning center that is 16,5000 square feet that features educational items, research, and training facility, classrooms, 140 seat auditorium, and aquariums. The visitor center offers various hands-on experiences for all ages, that includes interactive exhibits, an art gallery, and nature trails. Throughout the year they also feature various events and activities.
Coral Cay Adventure Golf
Why You Should Go
Naples is known as the "Golf Capital of The World" with over 80 full golf courses located within the city. Found minutes from Naples Bay, Coral Cay mini golf has two 18-hole courses. The courses feature mini golf holes with bridges, reefs, water features, caves, and harbor views.
The course features well-maintained botanical gardens to get a tropical feel. Along with mini-golf they also have a concession area that has the snacks kids crave while on vacation. This is the only mini-golf site in Naples.
Tin City
On every vacation, everyone loves to have souvenirs and merch to bring back home or memories of your trip. Tin city is located in downtown Naples and features a boardwalk full of fun shops and activities for all ages.
It's also a great place to enjoy a family dinner with waterfront restaurants. While shopping is the main purpose of this area, there are various water adventures available to enjoy. Included there are daily sightseeing cruises, fishing charters, jet boat thrill rides, and more. This area has an activity for everyone in the whole family.
Naples Pier
Why You Should Go
Famously known for the best view overlooking the West coast of Florida, the Naples pier is a perfect place to spend the night or day enjoying the views and wildlife Florida has to offer. It's a popular spot for fishing, sunset watching, dolphin spotting, and enjoying the view of the Gulf of Mexico.
Located two blocks from the Pier are some of the best places to shop and eat in Naples, the possibilities are endless. During the day and around sunset there are often street performers where you can enjoy live music.
Map of Things to Do in Naples Florida
Frequently Asked Questions about Things to Do in Naples Florida
What is Naples, Florida best known for?
Naples, Florida is known for its high-end shopping, world-class culture and sophisticated dining. But Naples is also an affordable family destination that appeals to nature lovers and beach aficionados.
When is the best time to visit Naples, Florida?
Between the months of March and May, when the weather is not too hot and the crowds not too large and prices not too high.
If you enjoyed this list of things to do in Naples Florida, you might also like:
THE 10 ABSOLUTE BEST FAMILY RESORTS IN FLORIDA
TRAVELOGUE DAY 17- NAPLES PORT/ CAPRI
15 AMAZING THINGS TO DO IN MARCO ISLAND
Pin for Later: Things to do in Naples Florida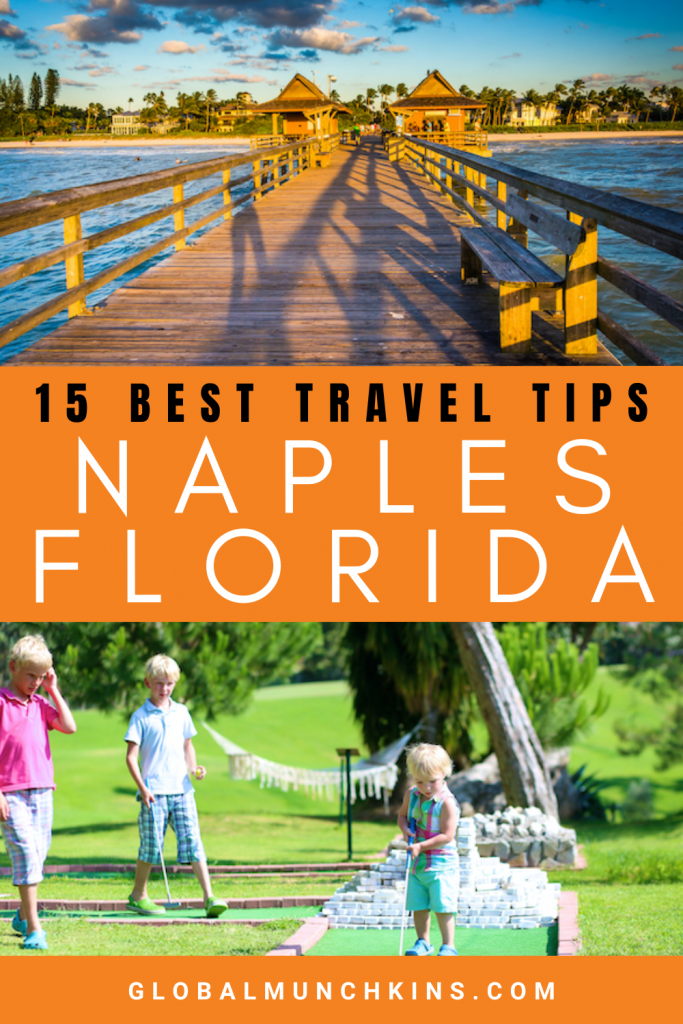 Latest posts by Ashland Hendrix
(see all)