Being a family of 8, has allowed us to become somewhat experts on traveling with kids and finding all the best things to do with kids in different cities! The great city of Indianapolis is nestled in the center of the state of Indiana. Indianapolis is an exciting place that has a rich and interesting history.
There are tons of activities located in the city that the entire family can take part in.
You will not be disappointed with the menu of kid-friendly activities available in Indianapolis. From exploring the Indianapolis Zoo to enjoying a day at the races at Indianapolis Motor Speedway, there are a ton of things to do in Indianapolis with kids. Let's check out our faves!
---
The Indianapolis Zoo is first on our list of things to do in Indianapolis with kids! This zoo is located in White River State Park and brings the beauty of wildlife and flowers to the local people.
With a lush botanical garden, three hundred twenty different species of animals, and an aquarium, the Indianapolis Zoo should be on your list of must-see destinations. They always have seasonal events, as well as rides and attractions for the entire family. Buy tickets here!
---
The Children's Museum of Indianapolis has over five levels of fun that everyone in your group will love. From dinosaurs to outer space, your child will be able to explore the scientific world around them. Daily shows and programs are offered in addition to live theater shows.
Check out the sports legends experience, it's an amazing area with baseball and soccer field.Your kids can try out all sorts of sports in this fun interactive area.
Convenient lockers are available for rental, and an awesome food court is available.
We definitely recommend adding this to your list of things to do in Indianapolis with kids!
---
The Indianapolis Museum of Art has an outdoor art sanctuary that is a great place for families with children of all ages. There are over one hundred acres of beautiful land that is decorated with art that your children can actually climb on.
You can visit the outdoor art sanctuary for free without having to buy a ticket for the museum. It is a great place for your children to run around and release excess energy. Hiking around unique sculptures will keep your kids entertained for hours!
---
Rhythm Discovery Center is an interactive, hands-on percussion museum where children are encouraged to touch as many things as possible. Musical instruments from around the world and through the years are on display for children to explore.
Children five and under can gain entry completely free of charge. Children not only get to play with different instruments, but they are actually enjoying an educational experience you will not find anywhere else.
---
Located in Downtown Indianapolis is a fun place for the whole family. Back 9 Golf is a place similar to Top Golf where you can launch balls and try to hit your best shot. Their is a fun scoring system, delicious food and TV's all around to watch your favorite sporting event.
---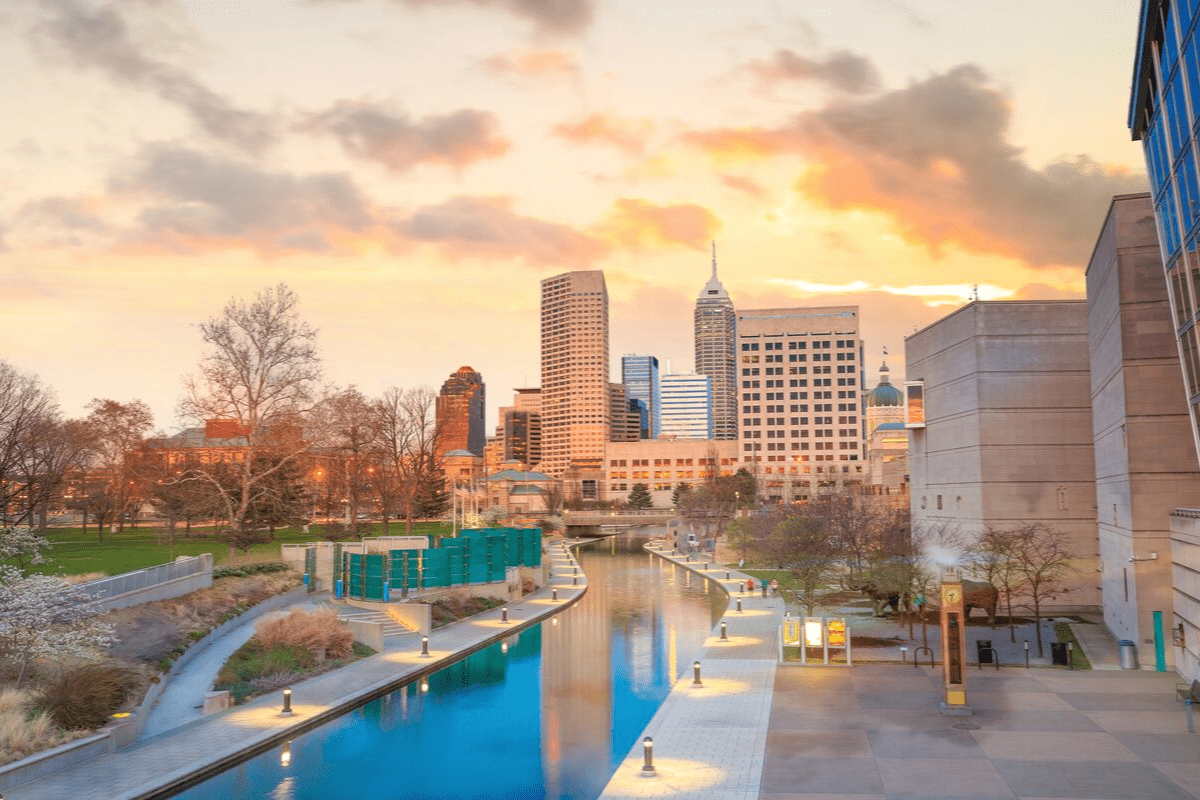 The Indiana State Museum rocks for a number of different reasons. Your children will be able to learn about a number of different topics ranging from outer space to plotting earthquakes. Tickets are reasonably priced, but extra tickets are needed to take advantage of the IMAX theater. Buy tickets here!
---
Located in Circle Center Mall, Glow Golf is a great activity to take part in when the weather is bad. The entire golf course glows in the dark, which creates a unique and exciting experience.
You can expect ninety minutes of thrilling fun when you visit Glow Golf. A laser maze is also available in the same facility.
---
If your kids love learning about history, they will love visiting Conner Prairie, which is a lot more than just a historical museum. You can roam Prairietown Village as if it was 1836, with real live actors included in the mix.
The characters are highly knowledgeable and children can learn old fashioned skills, such as how to carve a bowl. Apart from the village life, there is also a petting farm, as well as an area dedicated to the Civil War.
---
If you are ready for a fun and exciting adventure, Escape Room Indianapolis is the best place for you. You can work together as a family to find the keys, solve the puzzles, and answer the riddles that will help you find your way out of the room.
Seven different escape rooms that are completely unique are offered. Each room has its own difficulty level and storyline that goes with it.
---
Nothing is better than a day at the ballpark with the family. When visiting Indianapolis, be sure to take the kids out to see the Indianapolis Indians play ball at the notorious Victory Field.
Dollar Menu Monday and Kids Eat Free Sundays are great times to visit the ballpark if you are trying to save on funds. Lawn sitting is available, and a great option for kids who are a little squirmy.
---
Your child could be the next Van Gogh, but you would never know unless you visit the Indianapolis Art Center. Art classes and art camps are available for children ranging from ages two through eight. Crafts that your child can take part in range from woodworking to glassblowing.
Ceramic making and jewelry making classes are also available to take advantage of.
---
In this play zone for kids, you will find two stories of indoor fun and activities for your kids to enjoy. Giant climbing structures and blocks are just the beginning of what Kid City has to offer.
A play grocery store is available for your kids to put their imaginations to the test, as well as an arts and crafts area. This is a cost-friendly place to take your kids when outdoor activities are not an option in Indianapolis.
---
A day at the track is sure to be a memory that your kids will never forget. The Indianapolis Motor Speedway is the home of the infamous Indy 500 and the Brickyard 400. You can enjoy watching the cars race around the track at stunning speeds.
For a slower pace, you can browse through the Indianapolis Motor Speedway Museum, where you can find all of the historic facts you could possibly want to know about the track.
---
If you love football, you should not hesitate to take the entire family to visit Lucas Oil Stadium, which is the home of the Indianapolis Colts. Sporting events are always a great option for things to do in Indianapolis with kids!
here are tours of the facilities that last around ninety minutes. The tours allow visitors to see behind the scenes areas, such as the locker rooms and press box. More than sixty-seven thousand fans can fit in the stadium underneath the retractable roof.
---
Home of the Indiana Pacers and the Indiana Fever, Bankers Life Fieldhouse is a must-see venue while visiting Indianapolis.
Take the entire family to see a basketball game or enjoy one of the many concerts that the venue holds. Disney on Ice and Jurassic World Live Tour are just a few of the family-friendly events that are up and coming at Bankers Life Fieldhouse.
---
Head a little way out of town to Hunters Honey Farm where you can make your own candles! They also host a variety of events, so be sure to check the calendar. Admission is Free!
---
If you are looking to get back in touch with nature, Eagle Creek Park is the right place to do it. The vicinity has over four hundred acres to explore, with activities like zip-lining and golfing. A dog park is available, along with a rowing center.
The beach is a great place to spend the afternoon on a lazy day. Enjoy walking along the marina or picnicking in one of the shelter houses. This is a cost-friendly place where your entire family can have some wholesome fun.
---
Anyone who is looking for a way for the family to get active together should consider visiting Climb Time Indy. This indoor rocking climbing facility offers adventures for all ages and physical abilities.
Over eight thousand five hundred feet of climbing space is available to enjoy that includes over four thousand holds. Climbing equipment and gear is available. A kid's club is offered on weeknights for children under the age of twelve.
---
Virginia B. Fairbanks Art & Nature Park
On the Newfields campus in Indianapolis, Indiana, lies the Virginia B. Fairbanks Art & Nature Park. With over 100 Acres, often known as the 100 Acres or Fairbanks Park, is a public interactive art park.
---
The Mind Tripping Show is a great activity for the entire family that will have everyone rolling in laughter. This is an interactive show that has a psychological twist to it. Be prepared to have your perceptions of reality questioned and pushed to the limit in this mind-boggling adventure. Mind reading and illusions are just the beginning of what the Mind Tripping Show has to offer.
*This is a show that older children will enjoy, but I would not take any younger tots.
---
Go Bowling at Royal Pin
In the summertime it can get hot and humid in Indianapolis. This is a great time to head indoors and enjoy a nice round of bowling. Royal Pin has several locations located throughout Indianapolis.
---
At Clowes Memorial Hall, you will find live entertainment that your younger children will fall in love with. There are live shows that will entertain even the littlest members of your party. From Peppa Pig Live to Baby Shark Live, there are a number of shows that switch throughout the year.
---
Holliday Park is the perfect place to enjoy the great outdoors. It offers picnic areas along with hiking trails that showcase the beauty that Indianapolis has to offer. The large playground area provides the ideal place for your children to spend some time stretching their legs.
The Nature Center has multiple hands-on activities that you are sure to love and the architectural ruins are fun to examine after hiking down the wooded trails the area offers.
---
When looking for things to do in Indianapolis with kids, you can always turn to the fair! There is a wide range of activities that take place at the Indiana State Fairgrounds. From concerts to carnivals and everything in between, the fun at the Fairgrounds never stops.
During the fair season, there are tons of animal exhibits to explore, as well as carnival rides and games to enjoy. The Indiana State Fairgrounds is the perfect place for some down-home fun that is affordable for the whole family.
---
The Central Library is the heart of Indianapolis because it hosts a large number of authors and family-friendly activities. From crafts to holiday-themed events, there is always something going on at Central Library that is cost-friendly or even free.
---
Fly on a Hot Air Balloon at Indy Hot Air
Indy Hot Air is the top Hot Air Balloon company in all of Indianapolis. Wake up early and get ready to fly high above the beautiful city. This is no ordinary Hot Air Balloon though.
Making its way on our list of things to do in Indianapolis with kids, the Indy Hot Air balloons are unique, from clowns to dragons your kids will love the magical balloons they have. It's a magical experience especiallyif you never have done a hot air balloon before.
---
The USS Indianapolis was the last US ship to sink during World War II. This memorial pays tribute to the men who served. Of the twelve hundred sailors that were on board of the USS Indianapolis, only three hundred seventeen survived to tell the tale.
By visiting memorials, like this one, you can increase your knowledge about the history of this great country as a family unit.
---
You can take a guided tour where you can visit the governor's office as well as the Senate chamber. You can also visit the House chamber and the Indiana Supreme Court chambers, which give a quick insight into how Indiana lawmakers work.
Guided tours are available through the weekday only, and if chambers are in session, you will not be able to visit that specific area. You can stroll the grounds of the Capitol building, where you will find gorgeous landscape and panoramic views.
The Indiana State Capital is on our list of things to do in Indianapolis with kids, because it is educational and a great learning opportunity for your kiddos!
---
Map of Things to Do in Indianapolis with kids
---
Things to do in Indianapolis with Kids – Why You Should Go
Keep in mind that these are just a few of the kid-friendly activities that you can enjoy while visiting Indianapolis! All of the places on this list have kid-friendly environments and activities, are cost-friendly and enjoyable. You are sure to have the time of your life, and so will your kids.
---
Pin-it for later: 20 Amazing Things To Do in Indianapolis with Kids you'll Love!
---
If you have any questions about family travel, feel free to leave them in the comments! You can also head over to Instagram and ask me a question there!
---
Frequently asked questions about Things to Do in Indianapolis with Kids!
What are Free Things to do in Indianapolis?
Lockerbie Square Historic District
The Colonel Eli Lilly Civil War Museum
Indiana War Memorial Museum
Concerts on the Canal
Indianapolis City Market
The Indiana State Library
What is there to do in Indianapolis with toddlers
Children's Museum of Indianapolis
Tuttle Orchards
Nine Lives Cat Cafe
Smiley's Indoor Playground
Indianapolis Zoo
---
If you enjoyed reading about things to do in Indianapolis with kids, you may also like:
11 [Easy Ways] to Buy Cedar Point Discount Tickets!
13 Ridiculously Fun Things To Do in Baltimore, MD with Kids
Road Trippin! Surviving a Family Road Trip & What to bring on a road trip + planning tips