I decided early on in our parenting journey that the best money we could spend on our kids would be based on building memories together as a family, and still to this day it is one of the BEST decisions I have ever made. It is why we have chosen to prioritize travel for so many years and more recently why we built a gorgeous backyard court, actually a Sport Court multi-game court. Check out the 5 reasons we are OBSESSED with our brand new backyard court and why you are going to want one too!
5 Reasons Our NEW Sport Court Backyard Court was the BEST Decision EVER!!!
Thank you Sport Court for sponsoring this post.
1. Our Sport Court Backyard Court Allows Us to Soak Up More Memories with the Kids
I know it sounds cliché, but you really do wake up one day and realize that your kids are almost grown. For me, it was the beginning of high school for my oldest and the thing that kept crossing my mind was the idea that I only had four more years.
Only four more years of having him under my roof, only four more summers that he would be home with us before moving on to college, JUST FOUR MORE YEARS – that was it! The thought alone was crushing to me. And, I knew that he was just the beginning, his brothers and sisters would be following right behind him and before I knew it, they would all be grown.
So, I had to do something. My husband and I decided to invest in a backyard court and I can honestly say that our Sport Court multi-game court has made a huge difference. Now all the kids want to do is play games in our backyard together. It is the first thing they do when they get home from school and the only thing they want to do all weekend long!
Having a court at home gave us our kids back and made our house the go-to house for all of their friends too. The memories we are making are precious and I am so excited for summer.
2. It's More Than Just Basketball, Our Sport Court Multi-Game Court offers 8+ Family-Friendly Games
Can you believe that on our one court we can play basketball, pickleball, volleyball, badminton, tetherball, four square, and more? It's crazy, right?
I would have thought I needed to live on a huge plot of land, but the experts at Sport Court skillfully utilized our smaller space to give us a court beyond anything we could have dreamed up ourselves.
One of the best things about our multi-game court is how simple it is to switch the court from one game to the next. With kickstands on the sides of the pole and basketball hoop, we can easily adjust both the nets and the basketball hoop height.
And, the tetherball and the net poles are in sleeves which allows them to easily be lifted out and stored. I mean they seriously have thought of everything. It's incredible!!!
With so many options, every member of the family has a game they love, even with our wide age range with the kids.
The boys love basketball, like LOVE it!! Ella can't get enough tetherball, Livvy loves showing off her foursquare skills, dad loves volleyball and I am a huge fan of pickleball. What sport would be your favorite?
3. Having an Outdoor Basketball Court Gets the Kids Off Their Screens
Every parent of teens that I know has one common complaint – they are ALWAYS on their cell phones. And, when they are not on their cell phones they are on their video games. It's so frustrating! Not to mention unhealthy.
That is another reason I love our outdoor basketball court. A day has not gone by since our Sport Court multi-game court was completed that the kids are not outside playing some sort of game together.
It's seriously a miracle. I had anticipated less screen time with the court but I never imagined they would be outside for hours like they are. It's awesome!
4. Our Sport Court Backyard Court Allows Us to Stay Active As a Family
Health is a top priority in our family and while we have always focused on eating healthy together, we really never prioritized being active together. Man, have we been missing out!
Working out is so much more fun when it includes an hour or more of cardio with your kids on your own backyard court. Not only are we moving our bodies, which is healthy, but we are also decreasing stress and pumping our body with all of those feel-good endorphins.
I have never laughed so much while exercising, it's a blast!
Oh, and our local Sport Court CourtBuilder® also informed us that our Sport Court tiles are also excellent for working out on so I think I am going to try some of my own cardio workouts outside. I have a hunch I am going to enjoy them much more in the fresh air.
5. Our Sport Court Multi-Game Court Will Offer Endless Entertainment This Summer!!
What I am most excited about with our Sport Court multi-game court is the fact that all summer long our kids are going to have entertainment.
The one thing I dread every summer is trying to constantly come up with things to do with the kids. It is especially difficult because my husband and I both work from home.
However, with our new Sport Court multi-game court, I know the kids will have tons of entertainment right in our own backyard.
Plus, the kids' friends have already been hinting that they hope they can hang out at our house all summer long and I'm all for that!
In fact, 15 years ago when we bought our house I remember my husband and I talked about how we wanted to be the house that all the kids wanted to hang out at when our kids hit high school. We wanted to be able to get to know our teens' friends and we wanted to be able to monitor them and make sure they were making good choices. Our Sport Court backyard court is finally making that dream a reality.
BONUS – Everything You Ever Wanted to Know About Building A Sport Court Multi-Game Court
If you are anything like me, after reading the five reasons we are totally obsessed with our own backyard court from Sport Court, you want ALL the details. That is why I included the next few paragraphs. Read on to learn how we made the decision to build a court, find out what the installation process was like and check out the final court reveal in detail. Then explore the Sport Court website to see all of the amazing options you could create in your own backyard.
How We Chose to Build a Sport Court Multi-Game Court
With the kids getting older it has gotten more and more difficult to do things together as a family. Between school, homework, and after-school sport commitments, plus the fact that the kids enjoy hanging out with their friends, or being glued to a screen 99% of the time, we started feeling like it was time for an adjustment.
We wanted to do something that would help us bond better as a family, we wanted to create an environment where the kids' friends wanted to hang out at our house, we wanted the kids off their screens and we wanted to be active together.
BAM! One afternoon it hit us, what if we built the Ultimate Backyard Court? So, we did some research and found Sport Court. Their helpful team came out, took measurements, and informed us of all of our options.
We were shocked by the variety of options available to us. Not only did they figure out how to fit an outdoor basketball court in our tract home backyard, but they also told us that they could create a multi-game system allowing us to maximize our space while elevating the atmosphere in our backyard.
We were STOKED!!!
You should definitely check out everything they offer by visiting the Sport Court website here.
Installation Process
The installation process totally exceeded my expectations. Our Sport Court CourtBuilder® was timely, dependable, and easy to communicate with.
Our personal process began with a few in-home consultations which consisted of measuring the prospective court area, discussing options, and looking through pamphlets and samples. And, of course, discussing costs, maintenance, and warranties.
Once the court design was approved and ready to go, the Sport Court team got started building it. Our multi-game court replaced an older existing cement basketball court so it was a little more simple than some construction might be.
The Sport Court team said they still added quite a bit of concrete around the court to make room for all of the amazing options and games we had wanted.
The entire process was smooth and completed within just a few weeks.
Our Sport Court Multi-Game Court Reveal
What started as a basketball hoop is now a Sport Court multi-game court our whole family loves. Boasting tons of total family-fun activities our customized backyard court is everything we could ever want and more!
I still can't believe how much the Sport Court team was able to fit into our smaller tract home backyard. Check out the full Three-Point Line.
I love how simple it is to pop Ella's tetherball pole in and out of Liv's foursquare court. The versatility is impressive!
Within a few clicks, we can move from pickleball, up to badminton, or volleyball. With levels for both regulation men's and women's volleyball.
And, these attached kickstands make it super easy to reach those higher levels without the need of a step ladder.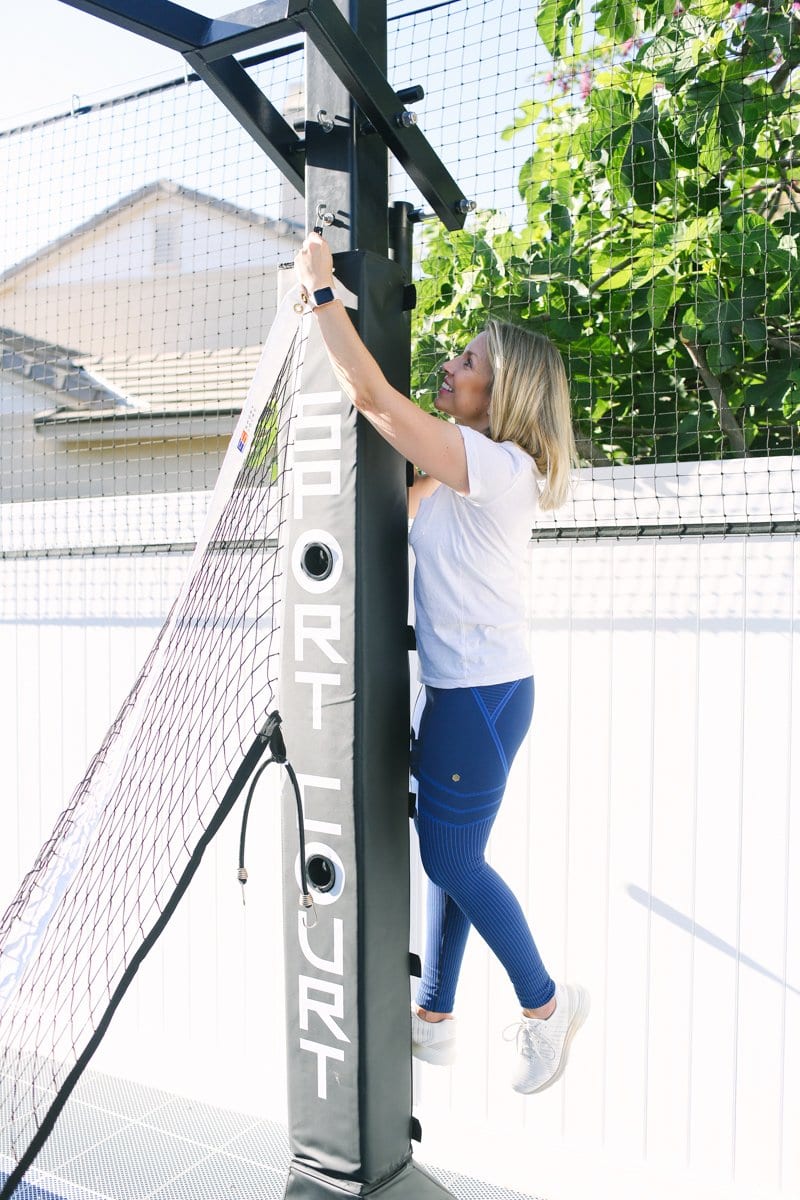 I really loved that we were able to pick the Sport Court tile colors. I feel like our new court really elevates our whole backyard. It's just beautiful!
Our Sport Court multi-game court has already exceeded our expectations and I cannot wait to see all the amazing lifelong memories we will create this summer playing on this court together.
What game would you play most on your own Sport Court multi-game court?
You may also be interested in these posts
Latest posts by Mama Munchkin
(see all)